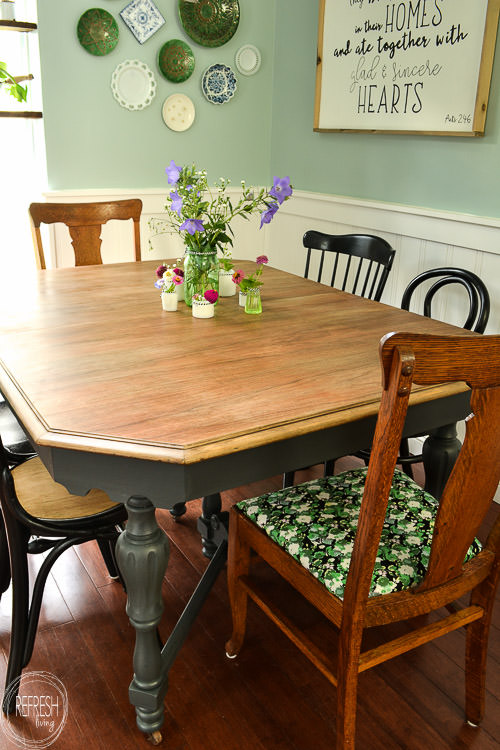 Does anyone else get giddy when they find a steal of a deal, on something they've been searching for forever?  I had to contain my excitement when I saw this table at a furniture thrift store for a price that made my mouth drop open.  $97 for a vintage table and five chairs?!  "Keep it together – you don't want them to know how fabulous of a deal this is and tell you you're reading the tag wrong, or that you can't use your coupon."
Yep, I had a $25 off coupon at this store too.  I had been searching for a table for our eat-in kitchen/dining room for well over a year.  I needed one that was small enough to fit in the small space, large enough to seat six, and could be expanded to fit more for holidays and family gatherings.  This table ticked off all the boxes.  The stars were aligned, and I had to purchase this table and run.  (I wish I had taken a picture of the complete set in the store, but I clearly didn't have time for that.)
I threw in a $5 chair to get my purchase up to $100 to be able to use the coupon, and walked out the door with a table and five chairs for $72.
But wait, it gets better.  I didn't need the chairs, because I had a couple in my garage that I planned to use, so I posted them on Craigslist and sold the set of them for $35.  I'll do the math for you.  That's $37 for this gorgeous piece of solid wood furniture, matching exactly what I needed for my space.
The moral of this story?  Wait it out. Have a vision for what you want in a space, but don't rush to purchase the first thing you see.  You might be surprised what you'll come across if you have the time to wait and search for it.
Anyway, the table sat in my garage for over a year, until the $100 Room Challenge rolled around this summer and I chose to make over my eat-in kitchen nook. With a dining table that only ate up $37 in my budget, I still had a lot of cash to dedicate to a few other DIY projects.  You can see that whole $100 dining room here.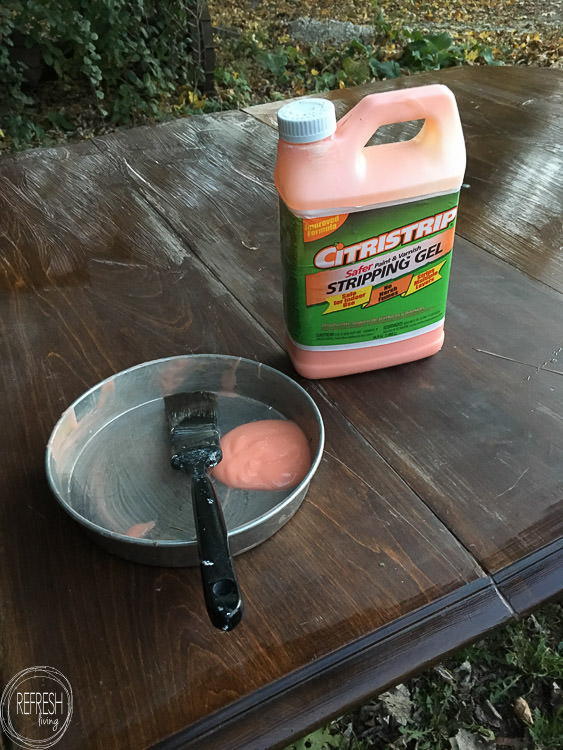 Most of my efforts in this table refinishing project were in the top.  It looked as if it had been finished a couple of times, because the leaves were a different shade than the actual table.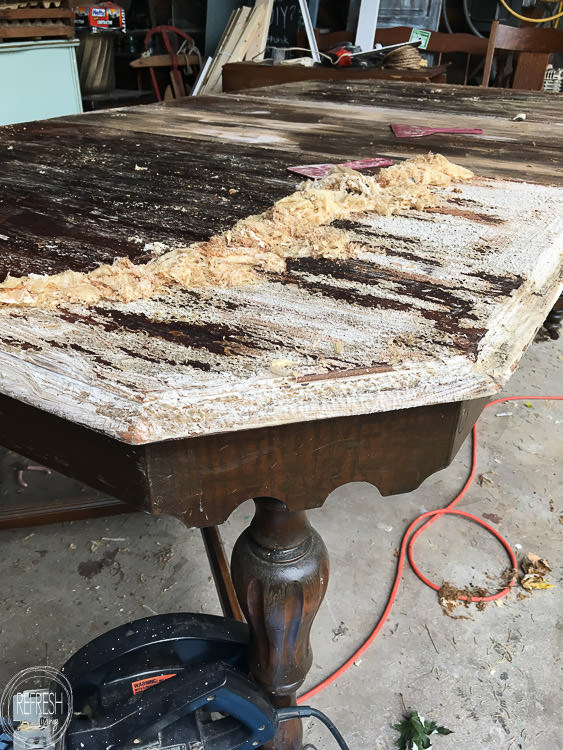 I started by using my favorite type of stripper, Citri-Strip, to take off the first layer.  (I have a post coming soon with all of my tips for stripping wood furniture.)  I ended up doing three different coats of stripper, but it still wasn't lightening up to the shade I wanted.  Plus, there were a couple of water/mold marks that just weren't coming off either.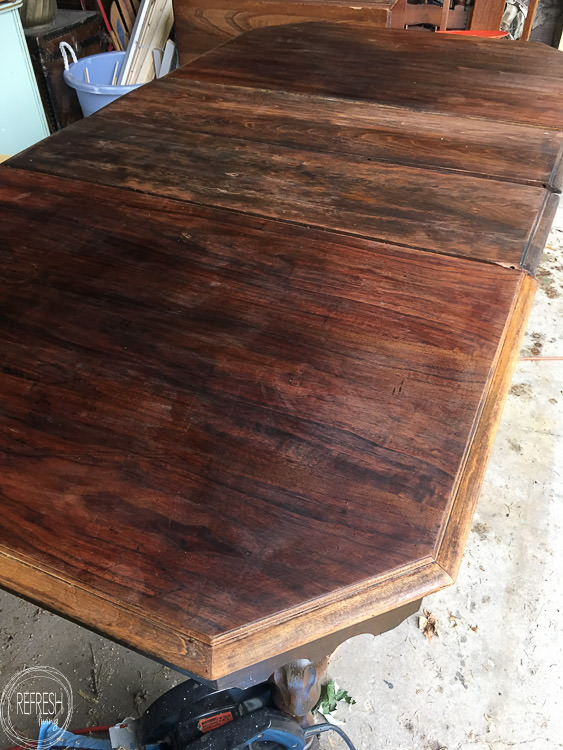 I turned to Zinsser Wood Bleach to help take out the rest of the color.  This was the first time I had used this product, and I was very pleased with the result.  Basically, it's a two step process.  Solution A goes onto the surface, and then solution B is applied.  Some fancy chemical reaction occurs and it bleaches the wood.  After sanding the table top with my electric sander and 220 grit sandpaper, it was just the finish I was looking for.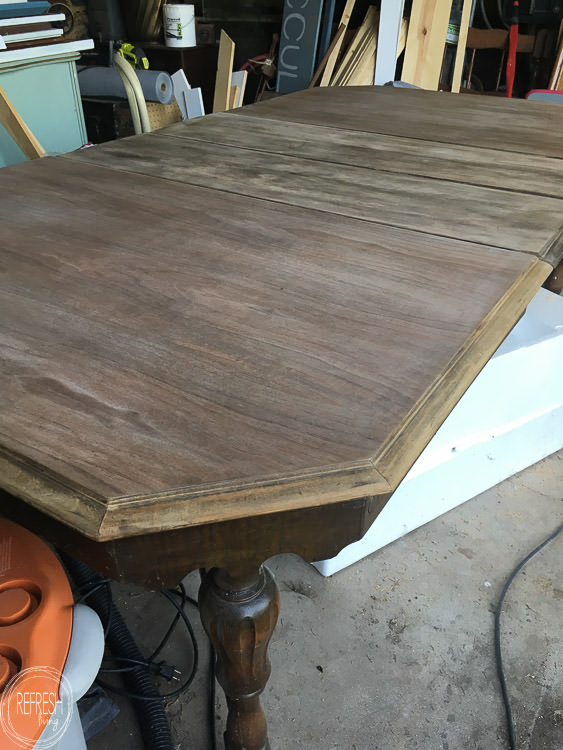 To preserve the top, I applied 5 coats of Minwax Wipe-On Polyurethane in Satin.  I like the look of the hand rubbed finish of this product, especially on a piece with lighter wood.  It doesn't go on as thick as if you were to brush on Polyurethane, though, so ultimately it takes more coats.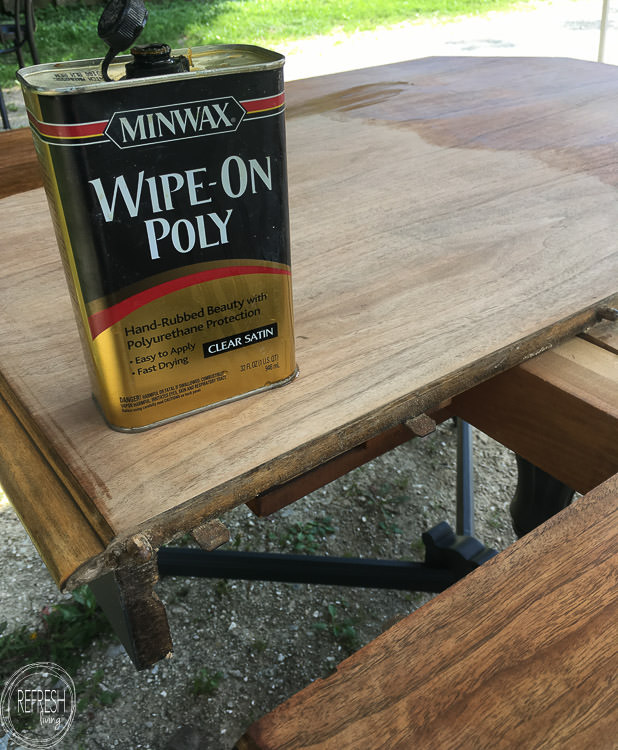 I will say that it is so much easier to wipe it on than to use a brush on polyurethane.  There's no need to worry about brush strokes or hair and bugs getting caught within the finish, because each layer is so thin, all those little nasties easily come off when you sand between coats.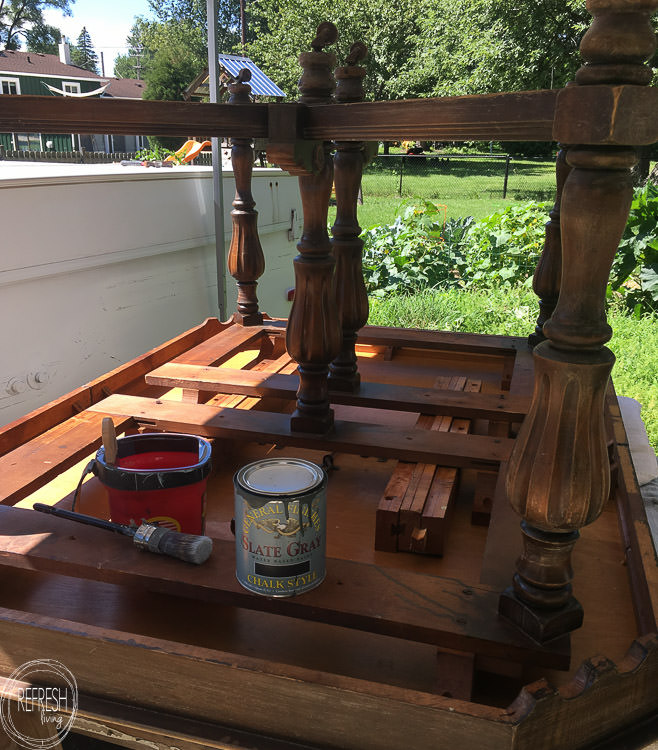 For the base of the table, I used General Finishes Chalk Style Paint in Slate Gray.  After applying two coats and letting it dry, I sprayed on Rustoleum's Acrylic Topcoat.  (After painting those legs, there was no way I was going to take a brush with topcoat.  Spraying saved me at least an hour or two in work!)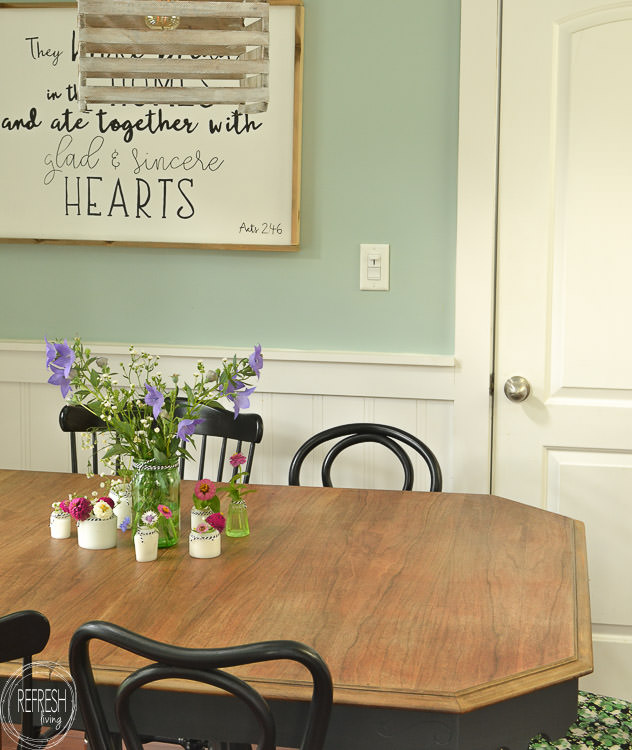 As far as durability, it's holding up really well.  I have three young and disgustingly dirty kids, so they do give this table a run for it's money.  So far, I've been able to wipe up spills and messes with a damp cloth and a little dish soap, and it cleans up very nicely.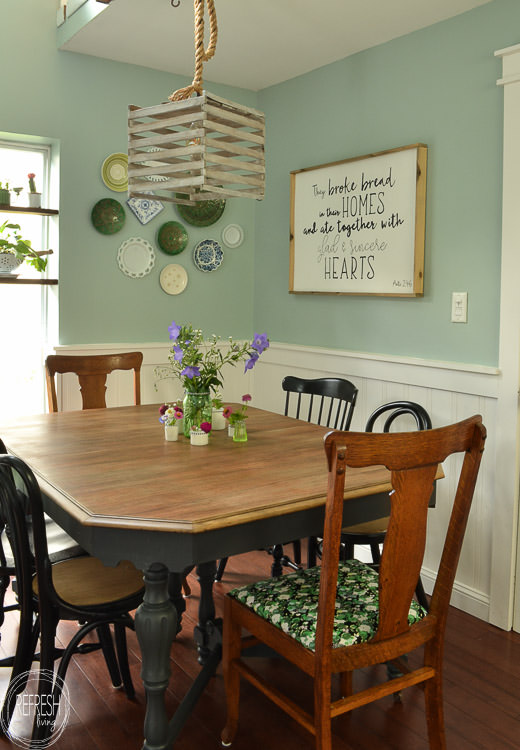 I'm not much of a coaster person, but you better believe I have coasters on this table.  There were way too many hours put into this tabletop to let water rings ruin it!
Like it? Pin it! (Thank you.)
Like what you see? I'd love for you to follow along!

Join the Refresh Living DIY & Upcycling Community
Join the subscriber list to receive one to two emails per month with updates from the blog. PLUS, you'll gain access to my printables and graphics library. Every new design I create will be added here, and you'll have free access - forever!