Detailed steps on how to strip wood furniture to reveal the natural wood finish. These tips make stripping furniture easy with great results.
We're talking about stripping furniture! No fancy introduction today – we're going to go right into the best stripper for wood furniture and my favorite tricks for stripping furniture. And, no matter how I word posts about furniture stripping, I always, always, smirk to myself the entire time. Everything reads quite awkwardly when talking about this topic.
I've also heard from some readers that when they try to search for the best strippers for furniture, they have trouble finding what they're looking for because other posts seem to pop up. So, if that was you and you were actually trying to look for how to strip furniture then you've found the right place. No surprises here. Anyway, feel free to smirk along with me as you read this post. Here we go!
For a full video tutorial of everything in this post, please scroll to the bottom.
This post contains affiliate links. For a detailed description of my disclosure policy, please click here.
Materials Needed for Stripping Furniture
Citri-Strip (definitely my favorite stripper)
cheap bristle paint brush
plastic wrap, sheeting, or drop cloth
How to Strip Furniture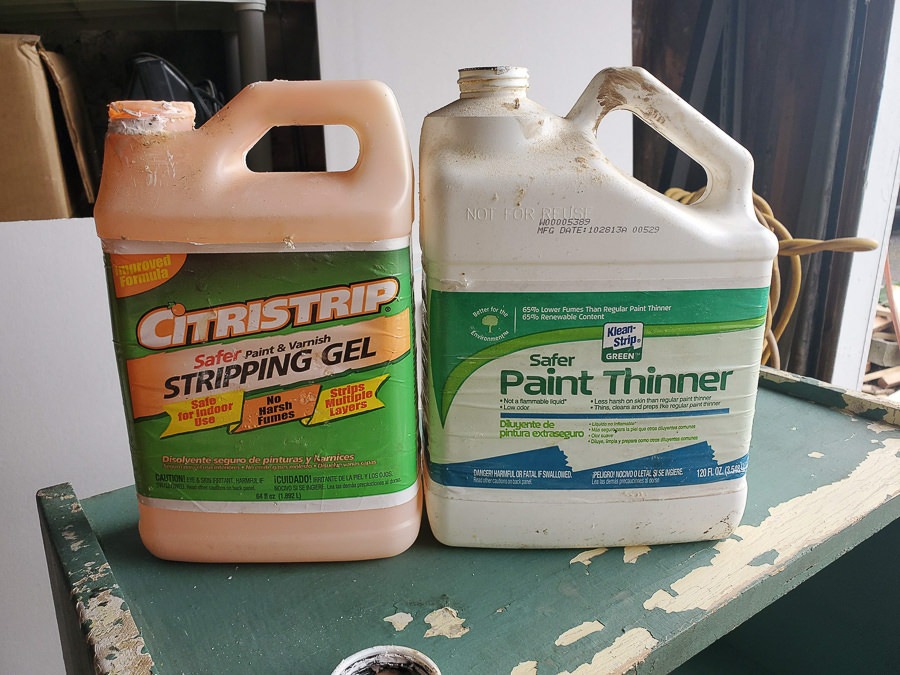 The first step is to lay on the Citristrip in a thick layer using the cheap brush. I prefer to work in sections, usually stripping the entire top of a piece first, and then doing the sides after that. Stripper tends to be pretty messy, so doing parts separately helps me to have a place on the piece that isn't covered in stripper to grab onto if needed.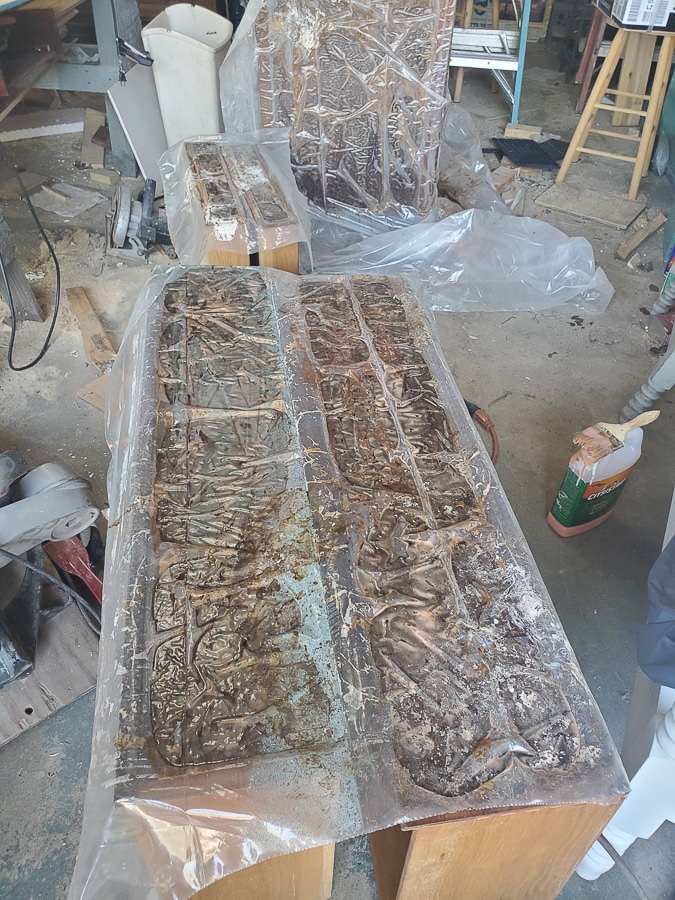 After the stripper is applied, I lay a piece of plastic across the entire surface, pushing down lightly to help the stripper make contact with both the surface and plastic. Don't skip this step! I know it seems like an optional extra, but whenever I use this trick, the actual stripping process is much easier. If you don't add the plastic, I've found the stripper dries out faster, thus making it much harder to remove later.
I like to let the stripper sit under the plastic overnight. By the next day, the stripper has had adequate time to work, and the finish usually comes off really easily.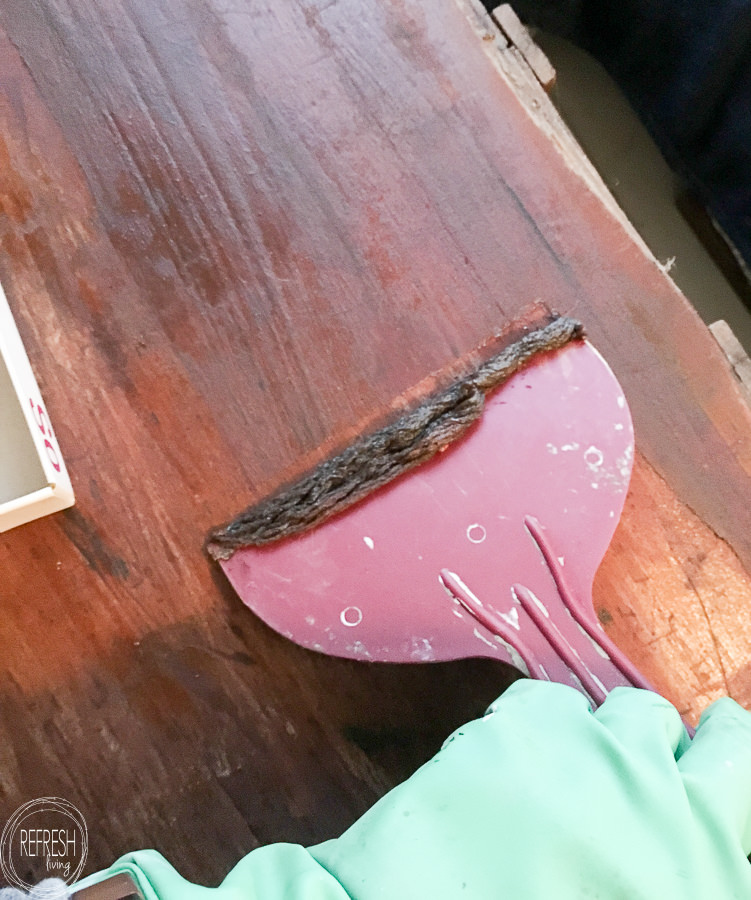 To remove the stripper, use a plastic spatula to scrap away the finish. This step is messy! I like to use a small box lined with a plastic bag to scrap the finish into and easily throw away. At this step, you should see most of the finish being scraped off. If it's not pulling off the finish, let it sit covered in plastic for a few more hours to see if that helps.
Sometimes, after one coat of stripper I can remove most of the finish to move on to the next step. Sometimes, the piece needs another coat to remove the rest of the finish. If you're unsure, I'd recommend just doing one more coat of stripper. It will make the rest of the process much easier and faster!
Cleaning Away the Stripper Residue
No one likes stripper residue. After stripping away the finish, use fine grade steel wool (400 grit or higher) dipped in paint thinner, mineral spirits, or stripper wash to wipe away the excess stripper and gunky finish. I usually follow this with a scrap towel to remove extra dirty mineral spirits.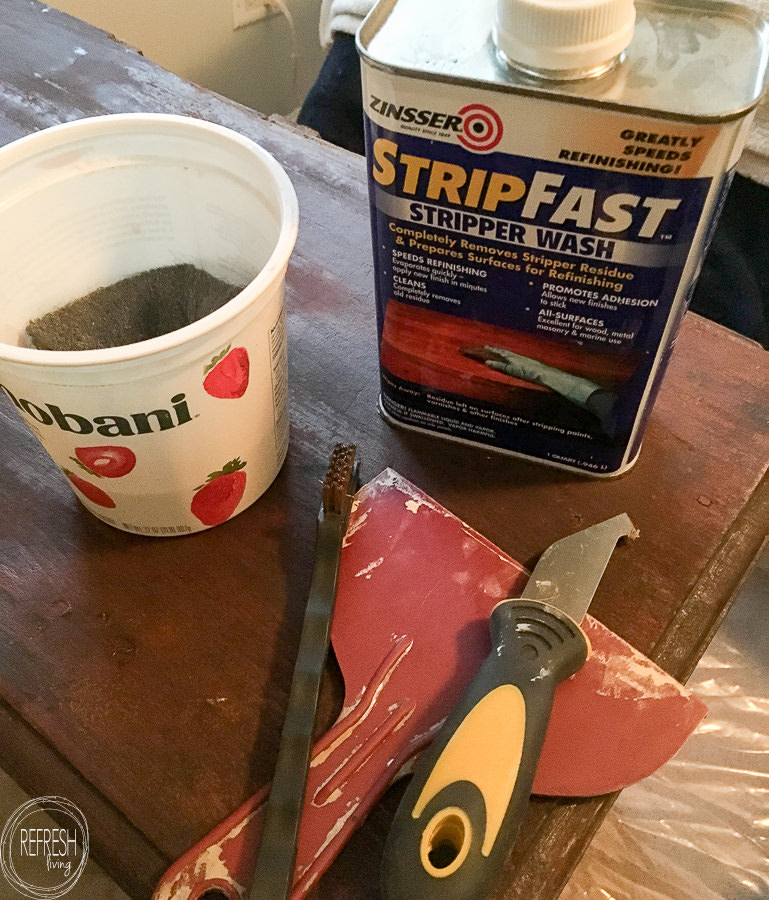 Using a wire brush or the edge of a metal scraper works well to remove the extra stripper caught in grooves and crevices.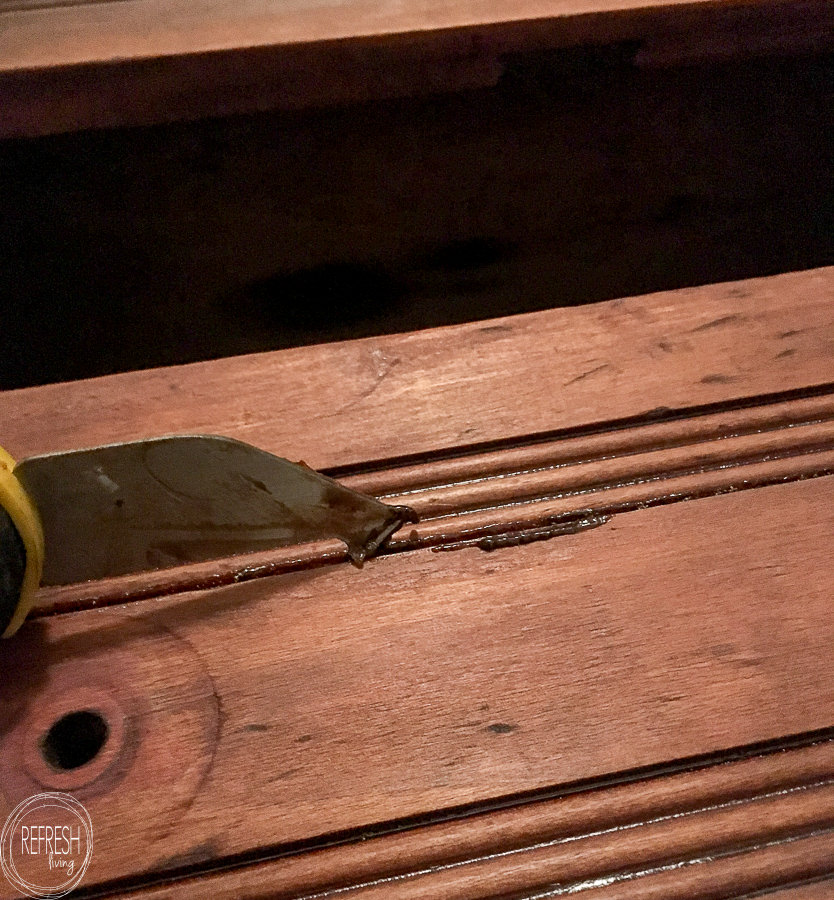 Sanding to a Consistent Finish
After removing the excess stripper, use 120 grit sandpaper to finish removing any extra finish that might be leftover.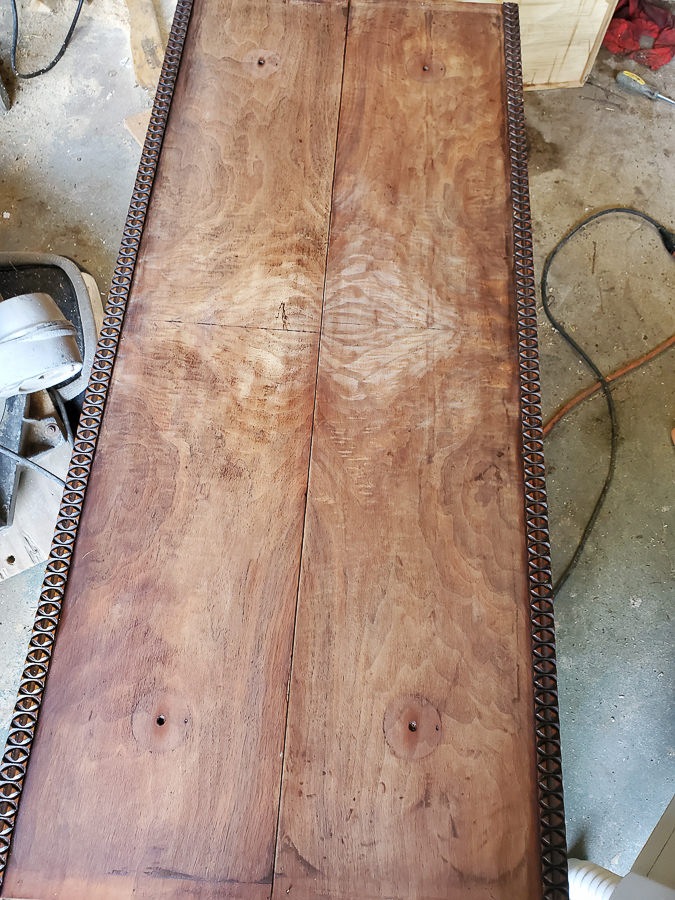 Then, lightly sand with 220 grit sandpaper for a smooth finish. After sanding, use a tack cloth or cotton shirt to remove an excess dust.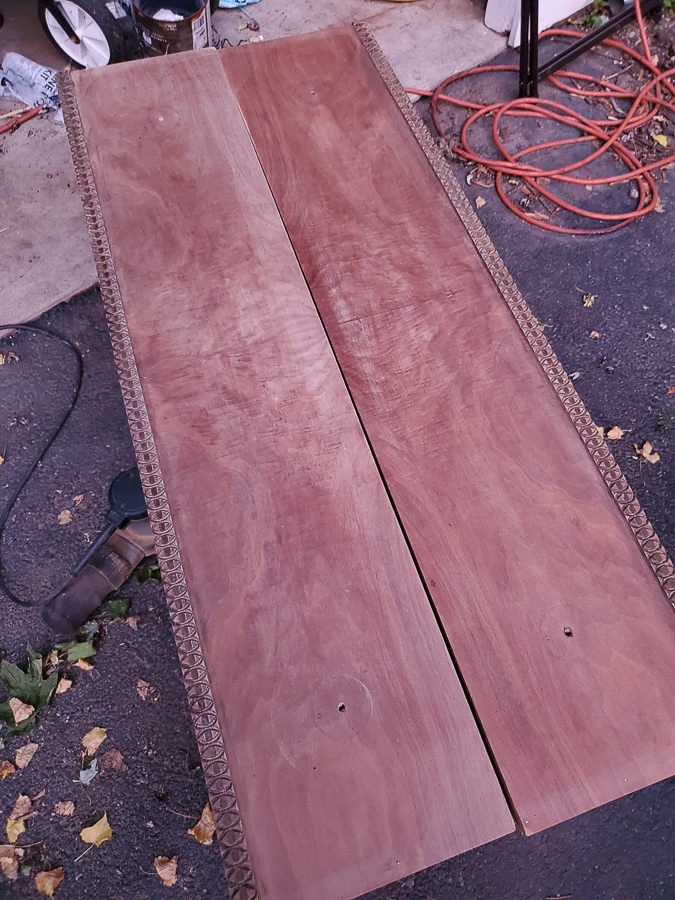 At this point, the piece can be finished with polyurethane, clear acrylic topcoat, or furniture oil. I'm intending to write a post describing all the choices for topcoats for wood furniture. We'll see when that actually happens.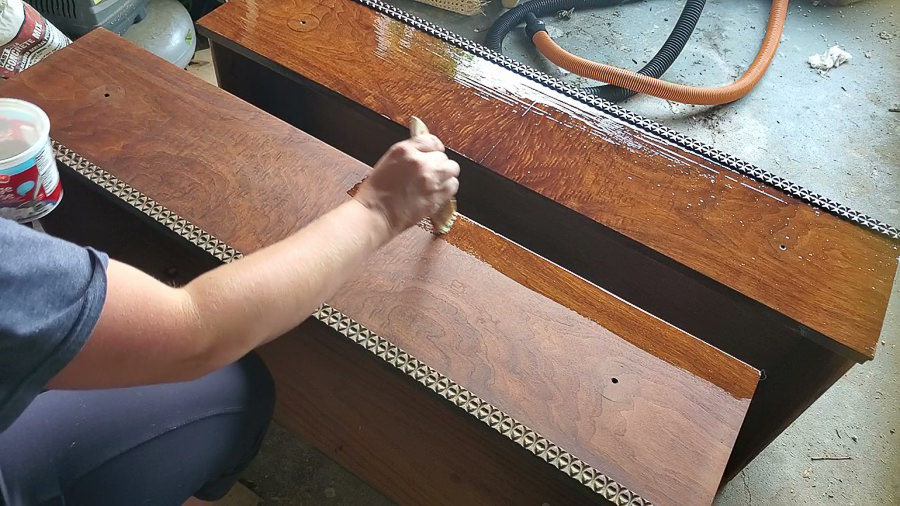 A few stripped wood furniture projects
Video Tutorial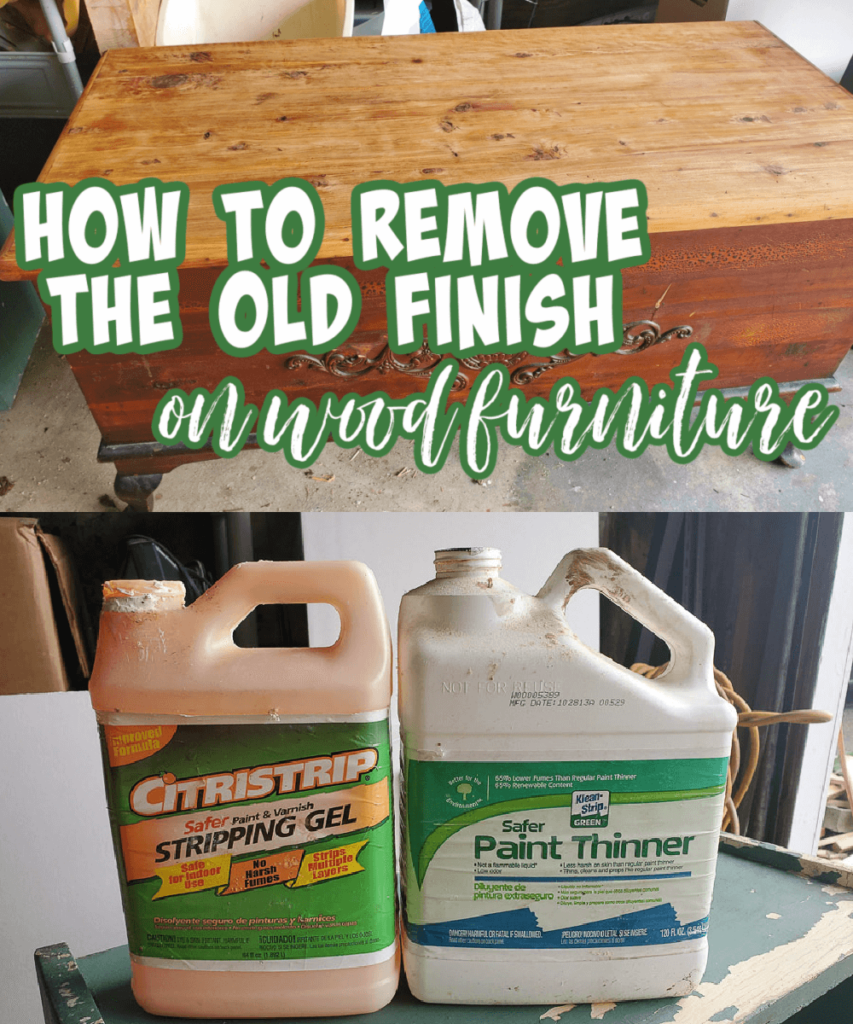 Join the Refresh Living DIY & Upcycling Community
Join the subscriber list to receive one to two emails per month with updates from the blog. PLUS, you'll gain access to my printables and graphics library. Every new design I create will be added here, and you'll have free access - forever!