Looking to restore an old piece of furniture back to its natural wood finish? Follow these easy steps on how to strip and sand furniture to remove old paint and stain and start fresh with natural wood.
A couple of years ago, I saw this dresser sitting by a mailbox. It caught my eye, and caused me to turn and find a garage sale at that home. I bought a couple of items, and then asked how much for the dresser at the front of the driveway. The owner told me they were actually just throwing it away, so if I wanted it, I could take it. Honestly, I tried to hide my elation, but still made sure to show my appreciation that they were giving me this gorgeous piece of furniture.  I'll take it!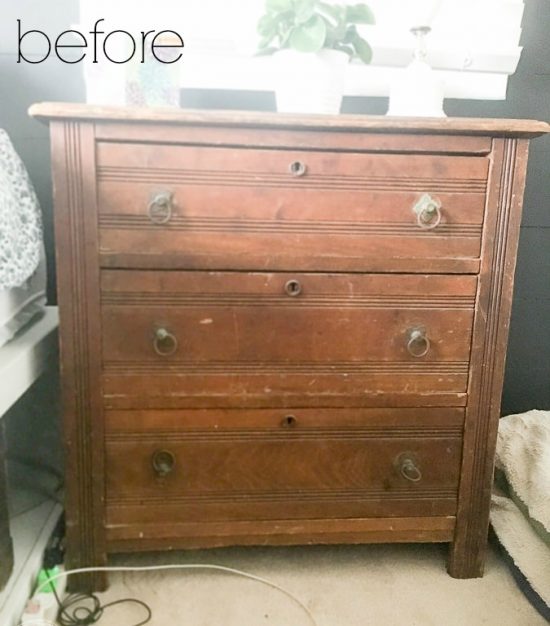 Okay, it wasn't actually gorgeous when I put it in the back of my car, but I knew it could be beautiful. I'm a sucker for Knapp joints on drawers (also called pin and cove or half moon joints) and will almost always snag up a piece of furniture with them (at the right price, of course). If you've ever worked with old furniture before, you've probably seen the joints I'm talking about: waving semi-circles with wooden pegs in each circle. These joints were used between 1870 and 1900, so they are always exciting to find, and I will do whatever I can to restore old pieces with them.
For this piece, I wanted a natural wood finish. The original color was dark, and reddish, and it was in really bad shape. The hardware was crusty, greenish and a little gross, but when I put a magnet to it, it didn't stick, which told me that there was original brass underneath all the gunk.  One of the legs had been repaired with screws previously, and a couple of nails were starting to pop out of the top, but besides that, it was actually structurally solid. I knew that with a little bit of elbow grease, this dresser could look like new!
I decided to bring back the natural color of this wood and let the beauty of the 100+ year old wood shine!
Supplies for Stripping and Sanding Furniture to Natural Wood
Citristrip (my favorite stripper for furniture, hands down)
Orbital sander (with 80 and 220 grit sandpaper discs)
Old rags or towels
How to Strip Furniture to Remove Old Finish
In order to get back to the raw wood, the first step is to strip off the old layers of finish, paint and varnish. I've found that if you take the time to strip off the finish, it's much easier to sand the piece in the next step. If you don't strip it first, you'll have tons of old finish stuck on your sanding discs and need to replace them constantly, and it will take forever to sand down the piece. I highly recommend taking the extra step to strip off the finish (or paint) before sanding.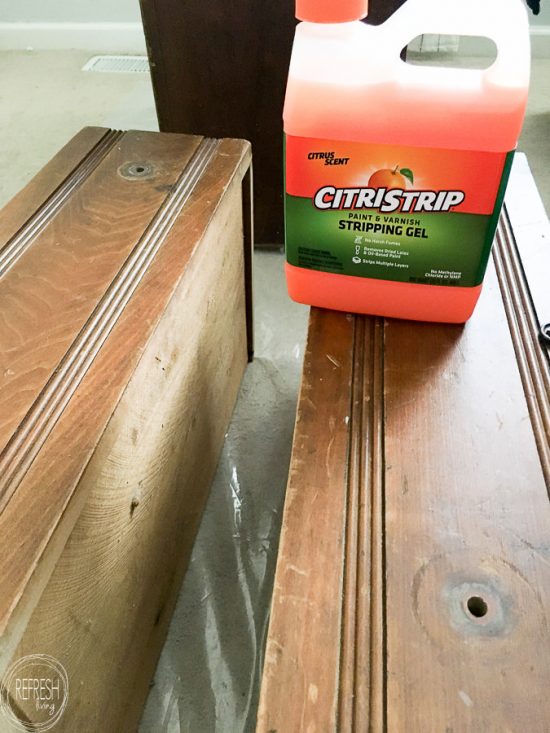 I've found the best stripper for furniture is Citristrip. Simply paint it on with a clean paintbrush and let it sit for at least 30 minutes. If I plan to wait until the next day to remove it, I always cover the piece with saran wrap or plastic. I've found that by retaining the moisture in the stripper, it keeps it in contact with the finish and is much easier to scrape off.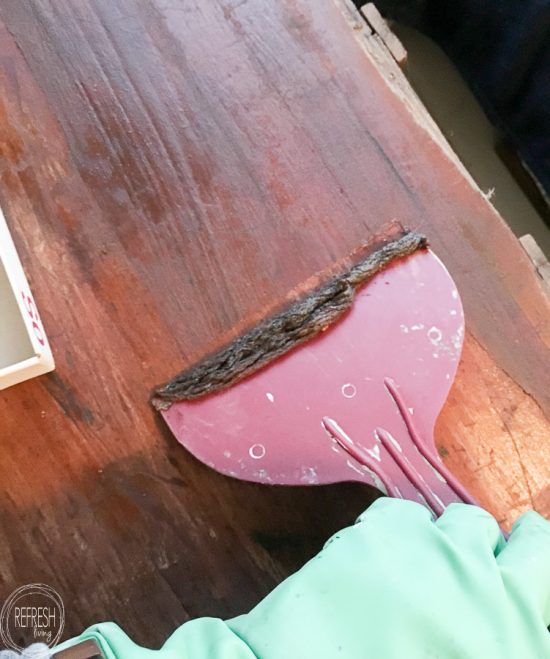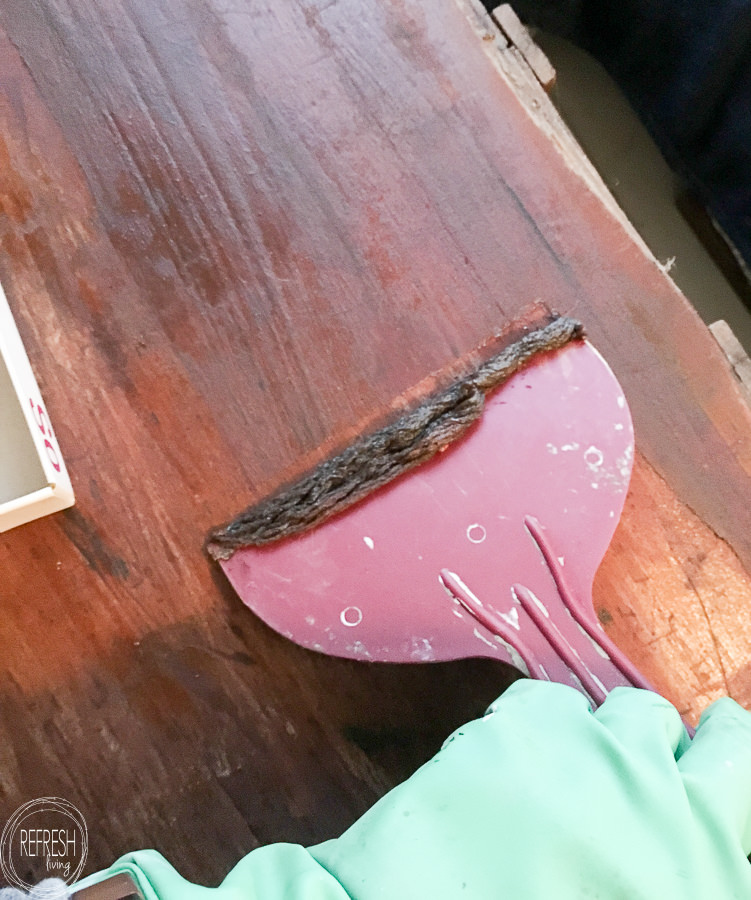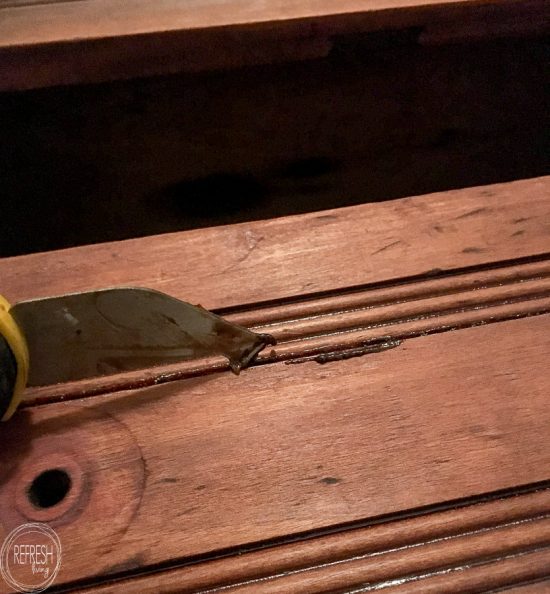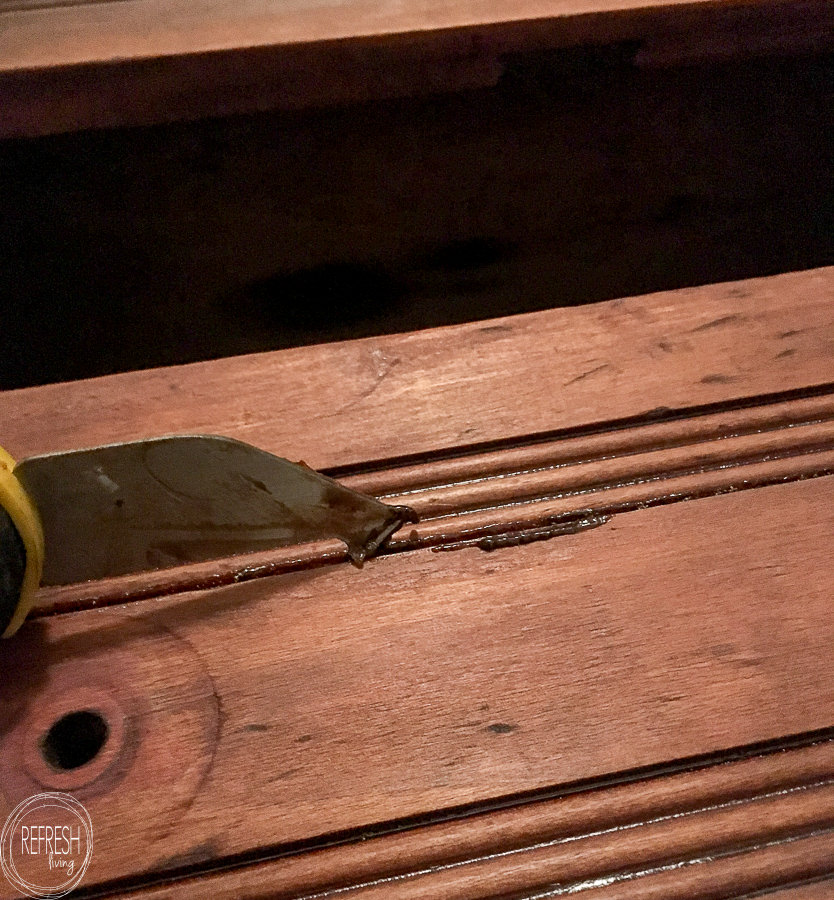 Then, I use a plastic scraper (metal can easily scratch the wood) to remove the stripper. This step is messy! Be sure to wear gloves and have an empty box or bag to scrap the icky stripper into.  I also use a wire brush and metal scraping tool to remove the gunk from grooves.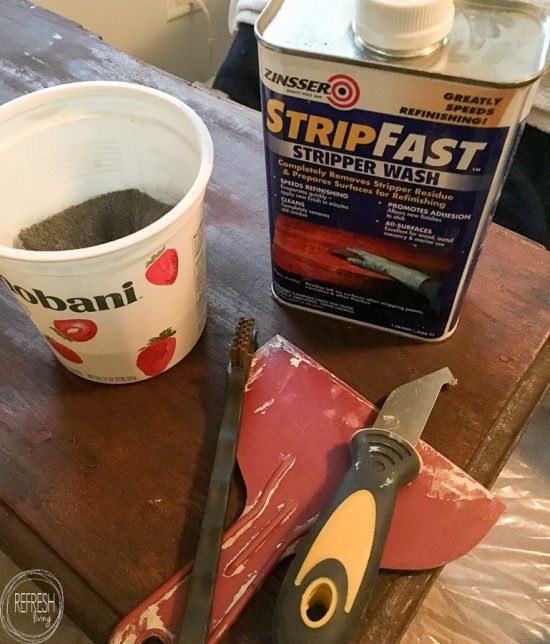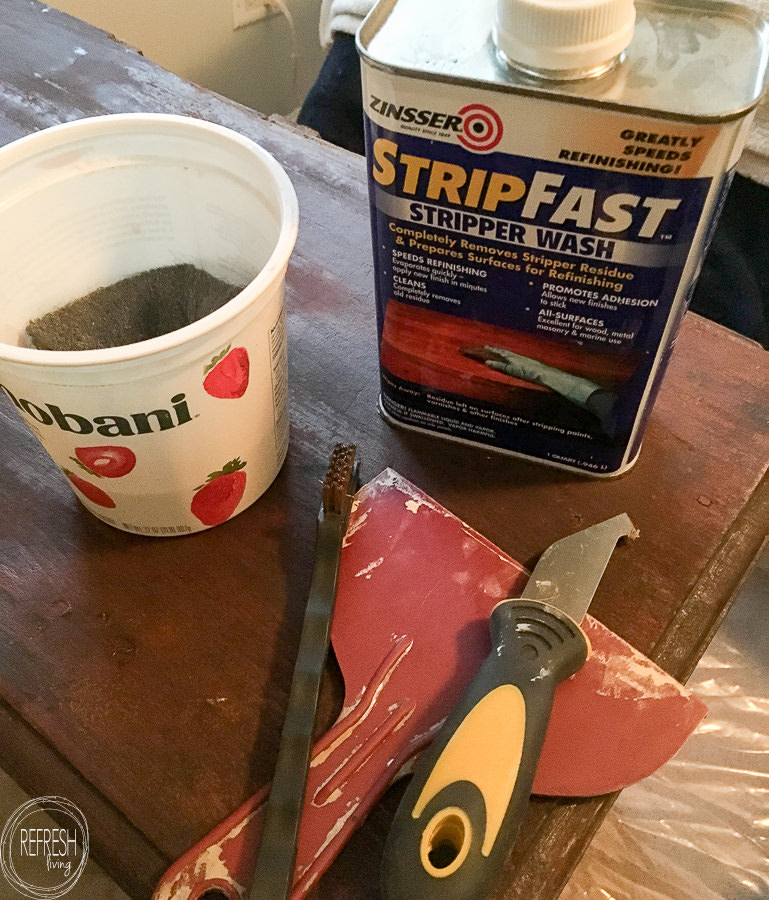 After stripping off all the gunk, I use mineral spirits (and in this case stripper wash that I found on clearance) and fine grit steel wool to clean off the excess stripper.  You'll find that the steel wool and mineral spirits get pretty dirty, pretty quickly. I end up using a couple of different pieces of steel wool and batches of mineral spirits throughout the process. If you try to use the same batch, you'll find yourself smearing old stripper and it won't do a whole lot of removal after a certain point.
Sometimes, I find I need to use a second coat of stripper, which usually only happens if there were a lot of old layers of finish or paint. The second coat is usually a lot easier to remove, and you'll find the clean up much easier as well.
How to Sand Furniture to Remove the Old Finish
After cleaning with the mineral spirits and allowing the piece to thoroughly dry, the last step in removing the old finish is to sand it to the natural, raw wood.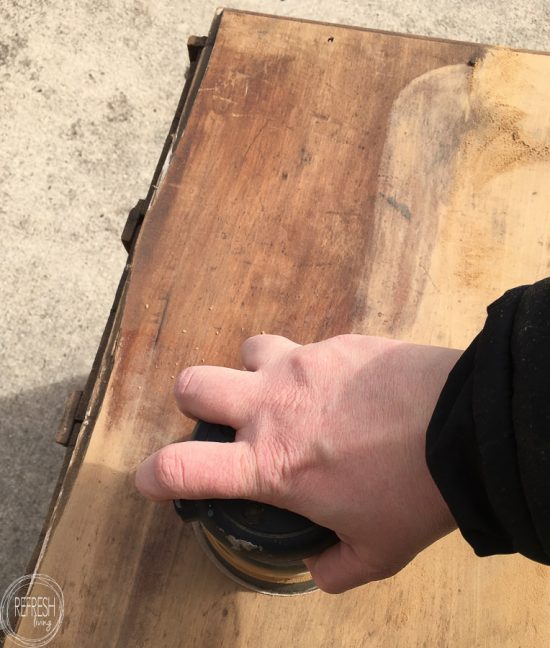 In my opinion, the best tool to use to sand furniture is a random orbital sander. I've found the smaller, detail sanders (like a mouse sander) don't remove the finish nearly as well, and belt sanders are bulky and can easily gouge the wood if not used correctly.  Orbital sanders fit in the palm of your hand but pack enough power to completely remove any leftover finish.
I start with 80 grit and use this to remove all of the finish. Then, I go over the entire piece with 220 grit to smooth it all out.
How to Finish a Natural Wood Piece of Furniture
Once a piece has been stripped and sanded to raw wood, the finish possibilities are endless. You can stain it to a color of your choice, or simply seal with a clear finish.  If you are choosing to keep it natural, you probably want the lightest shade of wood possible. Unfortunately, no matter what type of top coat you use, it will darken the wood.  My favorite finish for keeping the wood light, but also sealing it so the wood doesn't get stained or marked up is to use a wipe on poly.  I like using wipe-on products on raw wood because it puts a thin coat on the piece with a hand-rubbed look.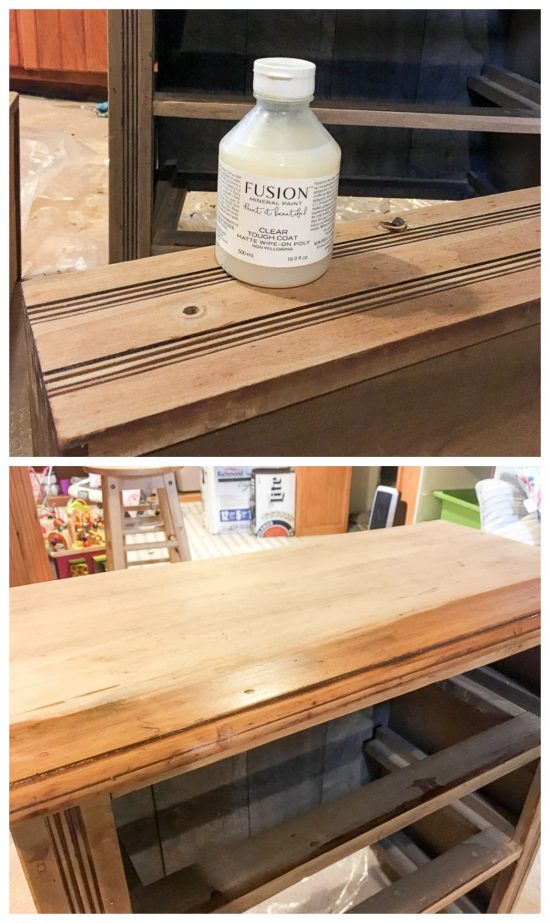 There are a couple of options for a wipe-on finish. Fusion makes a wipe-on poly acrylic that dries to a very matte finish.  This is the finish I chose to use because I had it on hand, and I love the flat matte finish while still protecting the wood.  There is also wipe-on polyurethane in satin or semi-gloss finish that is oil-based. It's important to keep in mind that polyurethane will yellow over time, thus slightly changing the color of the finish with age, while polyacrylic does not yellow.  Hemp oil is a natural sealer for wood, but it needs to reapplied every 6 months or so as the wood starts to dry out.
I've used all three of these finishes and like them all to seal wood. Depending on the look I am going for and the usage of the piece determines which of these finishes I choose to use.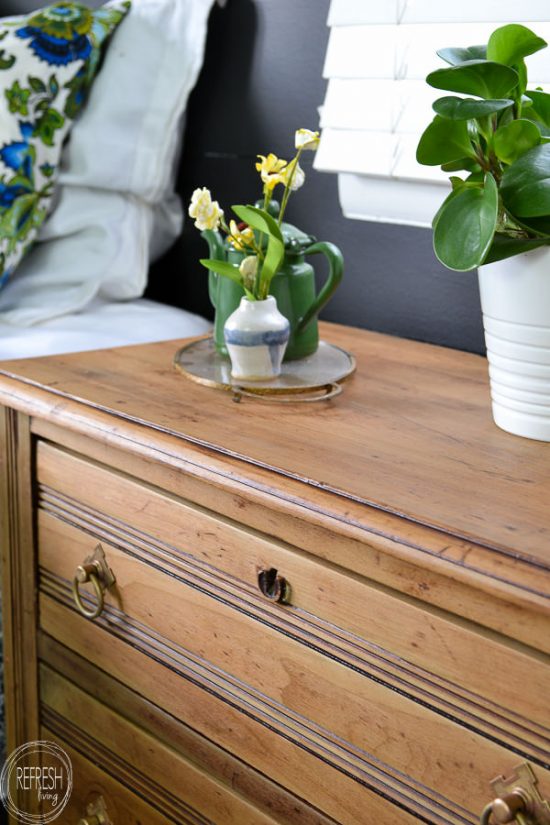 I wish there was a way to capture the true color of this piece in photos. The wood is reading slightly darker and redder in the pictures than it does in person. You can see how beautiful the matte finish looks on the the wood, though!  I also love how the original stain is still in the nooks and crannies and the carved wood keyholes.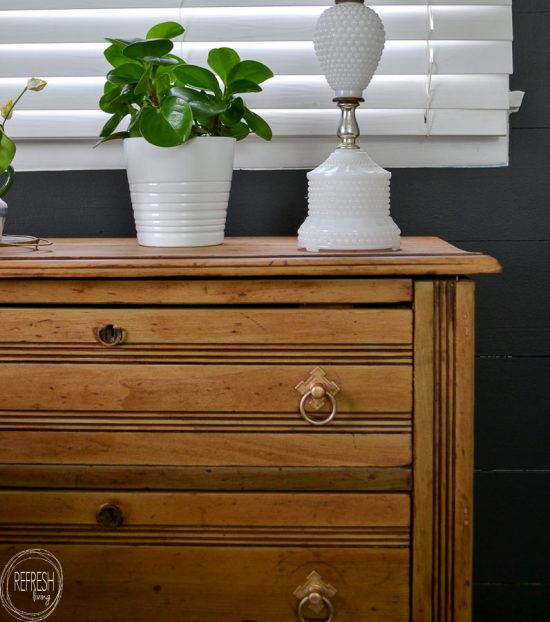 I cleaned up the brass hardware using the ammonia method I described in this post on how to clean brass hardware.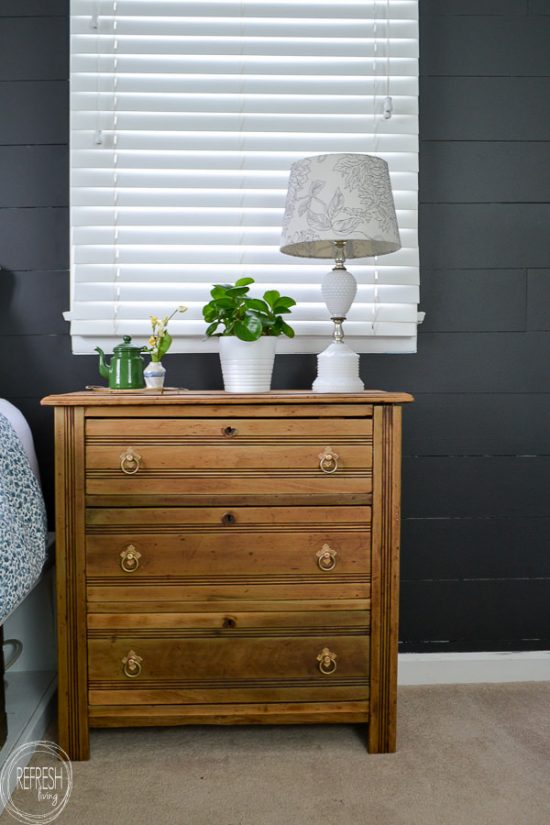 This bedroom is part of my $100 master bedroom makeover (which I have yet to finish). You can see how this room used to look in this post.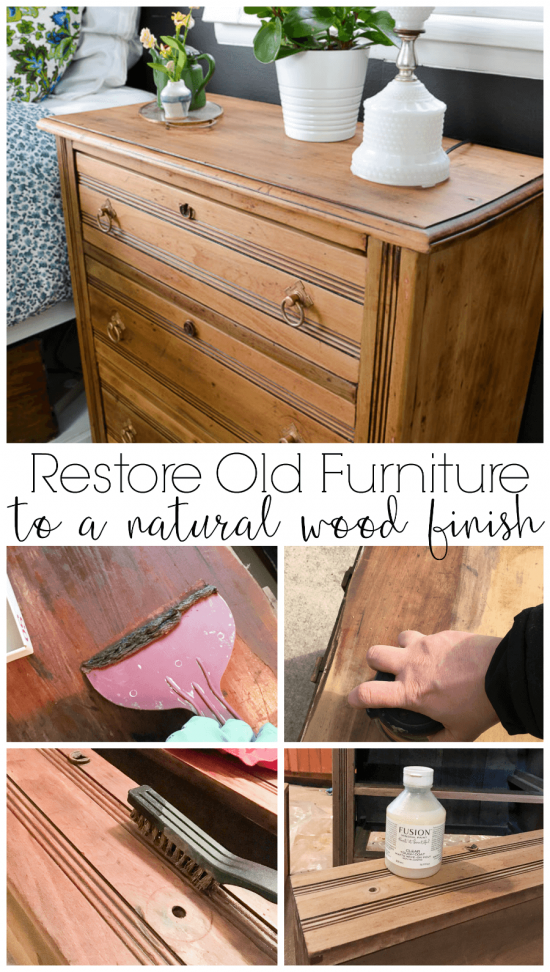 Don't forget to check out these other amazing furniture transformations and tutorials from my fellow furniture-flipping friends!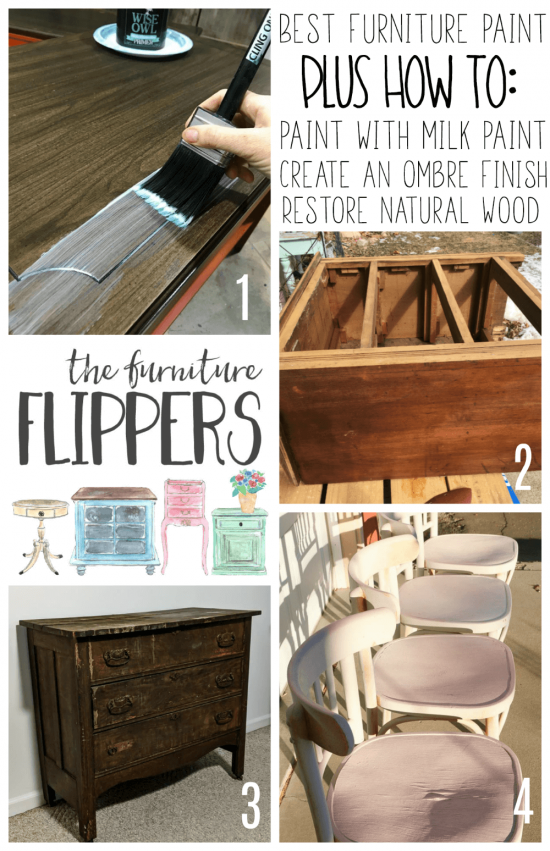 Like what you see? I'd love for you to follow along!

Join the Refresh Living DIY & Upcycling Community
Join the subscriber list to receive one to two emails per month with updates from the blog. PLUS, you'll gain access to my printables and graphics library. Every new design I create will be added here, and you'll have free access - forever!