In true Refresh Living style, I'm starting off the new year with a $100 room makeover. I'm planning to update our master bedroom with only $100. Follow along each week in January to see what I'm able to accomplish with some repurposing, refinishing, and DIY projects galore!
Happy 2019! Last year, I made it one of my goals to finish projects to completion, rather than starting something, getting 75% done, and then moving on to the next exciting idea I had floating around in my head. Although there are still some unfinished projects around my house (especially in the backyard, where the snow and winter came faster than I would have liked), I've felt that I've been able to at least improve in my bad habit of leaving projects unfinished.
Besides just starting, and finishing, new projects in 2018, I also made it my goal to simply finish old projects. Admittedly, some of these had been sitting, unfinished, for seven years! Embarrassing. I tackled most of these this past year, but I still have one room that I've neglected to completely finish: our master bedroom.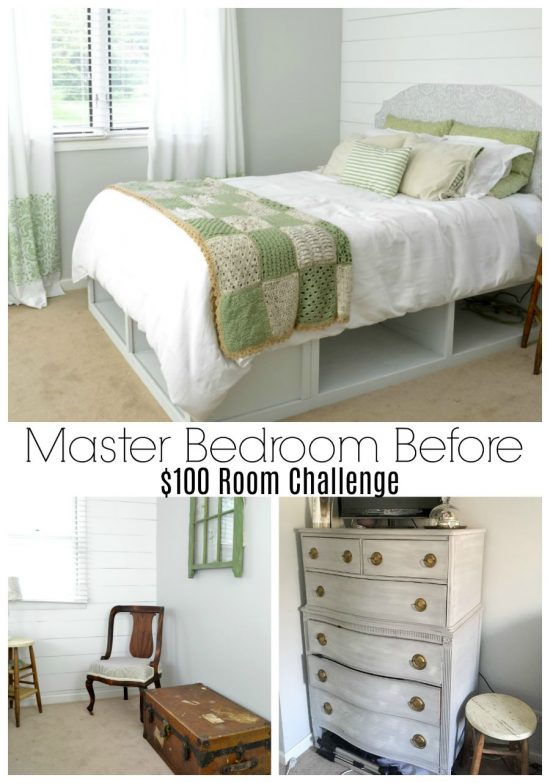 Three years ago, I updated our bedroom, and although it looks way better than when I started (here's the before), there are still quite a few blank walls, unfinished touches, or projects that since need to be completed.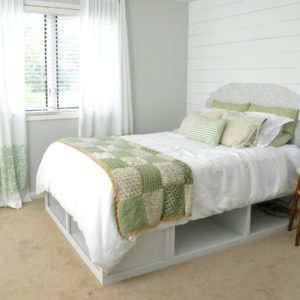 Here are the problems:
When I built our bed, I never finished the storage crates. They were purchased years ago, I just need to stain them.
The curtains (which I originally made from white sheets) need to go. They were a little too long to start, so my large dog curls up in them (his dog bed is literally only 2 feet away, but he prefers the curtains), thus pulling down the curtain rod brackets and making me angry.
The walls are very bare. That green window has since been taken down and used as decor in another room, so there is nothing hanging on any of the walls…yet.
I originally intended to build floating shelves in the alcove between the entrance and our closet, but never got around to it.
I'm so sick of the boring white plank wall and the muted DIY stenciled headboard. I was originally going for a calm, farmhouse vibe, but have since figured out that it's just not for me.
I'm also bored of the l

ight gray dresser I painted several years ago

. It blends in the with the walls and is blah.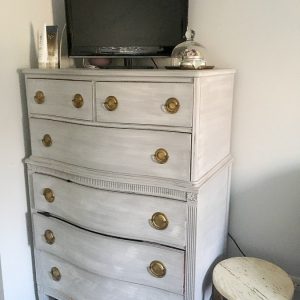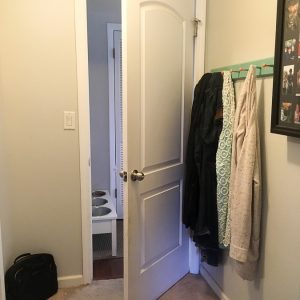 Here's what I plan to do about it (with $100):
Stain the crates with leftover stain – $0
Purchase or make new curtains – $30
Wall decor (I have 3-4 budget-friendly projects in mind for this) – $20 for all of them
Paint the plank wall – $15
Update headboard with wallpaper – $30
Paint dresser with paint I already have – $0
Install floating shelves in the corner – $0
As long as I keep within the budgeted costs listed above, I should be able to finish the room for under $100.  The real problem might be actually finishing all of the projects. However, I'm committed to not letting myself slip into my old ways, and I feel that the projects I have planned can easily be completed in a month.
I'll update my progress throughout the month and post our new room on the last Wednesday of January.  Until then, want to take a look at the other two rooms I've completed with only $100?!
 Check out the other $100 room makeover plans:
Join the Refresh Living DIY & Upcycling Community
Join the subscriber list to receive one to two emails per month with updates from the blog. PLUS, you'll gain access to my printables and graphics library. Every new design I create will be added here, and you'll have free access - forever!