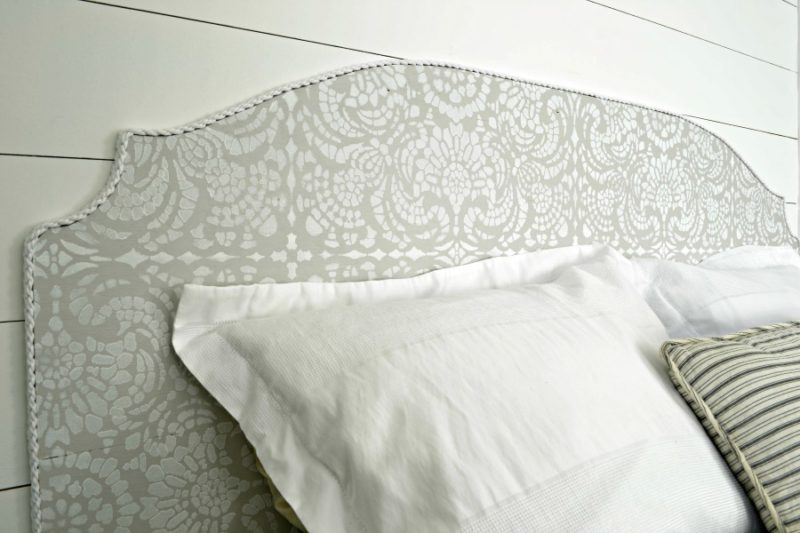 For those of you that have read any of my posts, you know I don't enjoy spending a lot of money on anything, including my home decor and furniture.  As part of our master bedroom overhaul, I refused to buy a new headboard and instead decided to make one.  I combined my love of paint and my love of power tools to whip up this DIY headboard.
Supplies Needed:
1/2″ plywood
jigsaw
decorative stencil (I love the stencils from Royal Design Studio)
paint
decorative trim
nails or airnailer
Steps to Make a Headboard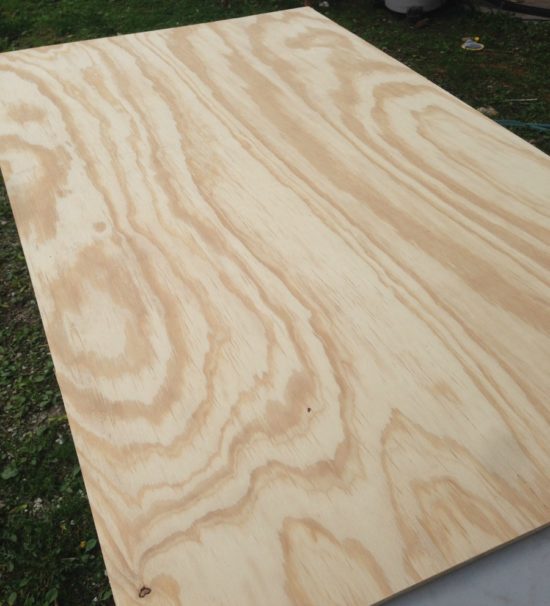 I decided to use 1/2″ plywood because it's thick enough to retain its form, but also not too thick or heavy and unmanageable to work with.  Because I was painting my headboard, I used a B/C grade sanded pine plywood, but if you wanted to stain it, I would opt for a higher grade, or a birch or maple veneer plywood.
I did a quick Google search for "headboard shapes" and found some great images of different shapes to choose from.  I ended up picking a fairly simple one, and then saved the image to my computer to be able to print it.  I used the Paint program to enlarge the image.  If you're unfamiliar with this process, I talked about it in this post that shows how to make large lettered signs.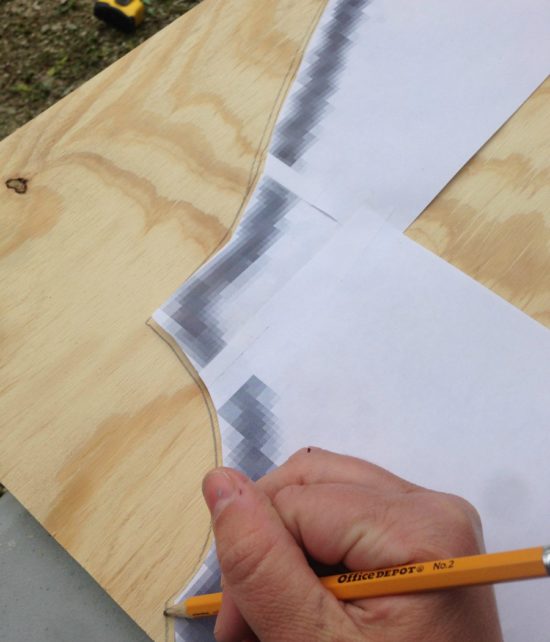 After printing out the shape and cutting it out, I used it as a template to trace on my piece of plywood.  I just flipped it over and traced the mirror image on the other side rather than cutting out two identical templates.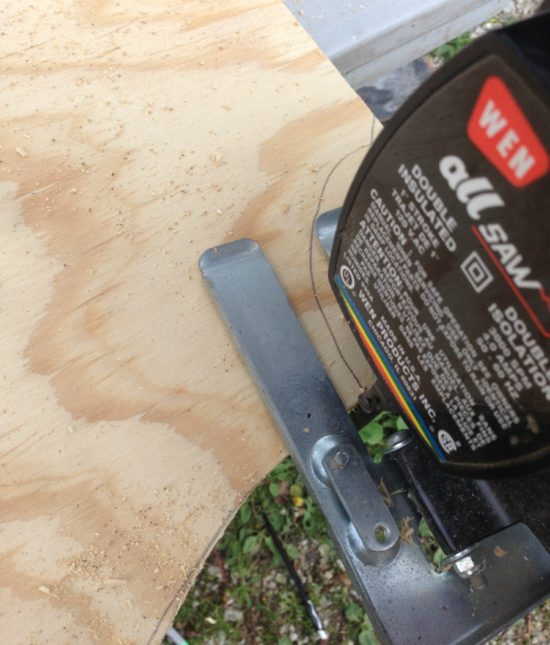 I used a jigsaw to cut out the shape, and then sanded it down with 120 and then 220 grit sandpaper.  It took three coats of paint to cover the knots and wood grain, but a sample pint of paint was just enough.
Now the fun part:  stenciling!  Royal Design Studio has a huge selection of stencils, both for wall murals and for smaller craft projects.   I used a wall stencil called the Esperanza Lace Tile.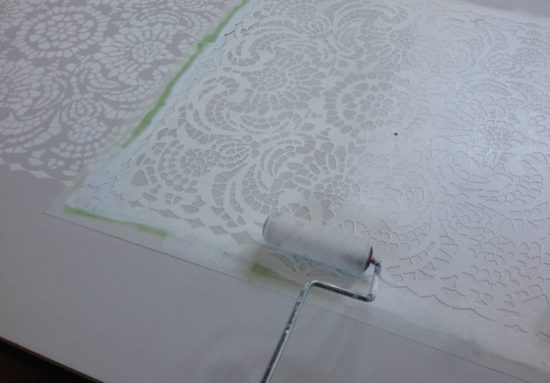 I used my favorite trick to getting perfectly clean stencil lines.  I use this two part stenciling technique whenever I'm stenciling a small project or using painter's tape on a piece of furniture, but I do not use this method if I am stenciling a wall.  So, if I was using the Esperanza Lace Tile for my wall, I would just use paint.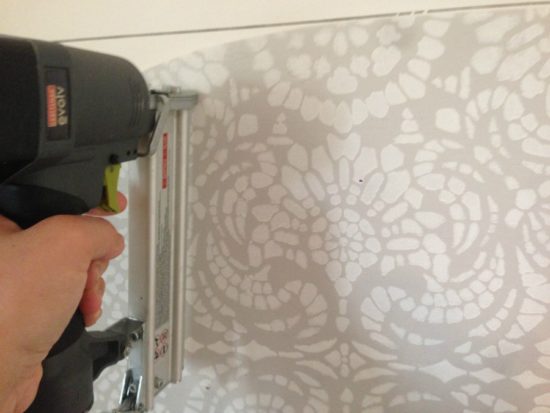 After it dried, I simply attached it to the wall by nailing it into the studs.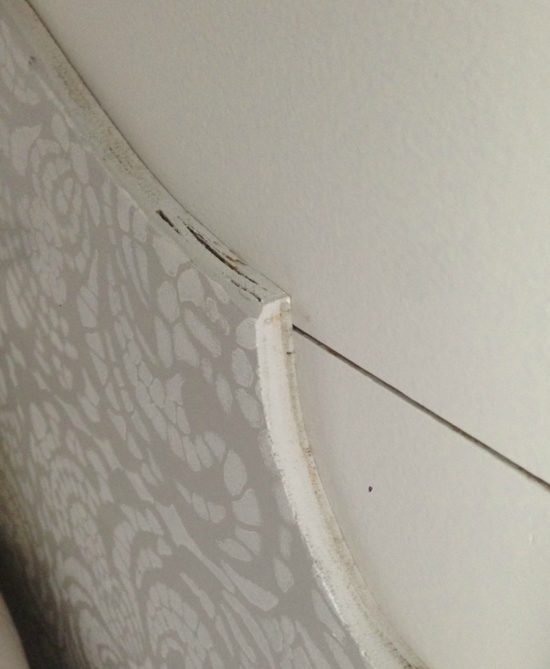 Because the sides of plywood are just not pretty, even if they are painted, I decided to wrap a piece of trim around the sides.  Most fabric stores have a variety of different trims in varying thicknesses and colors, so it's easy to find one that matches the style of your headboard.  Ribbon would also work well for this, too!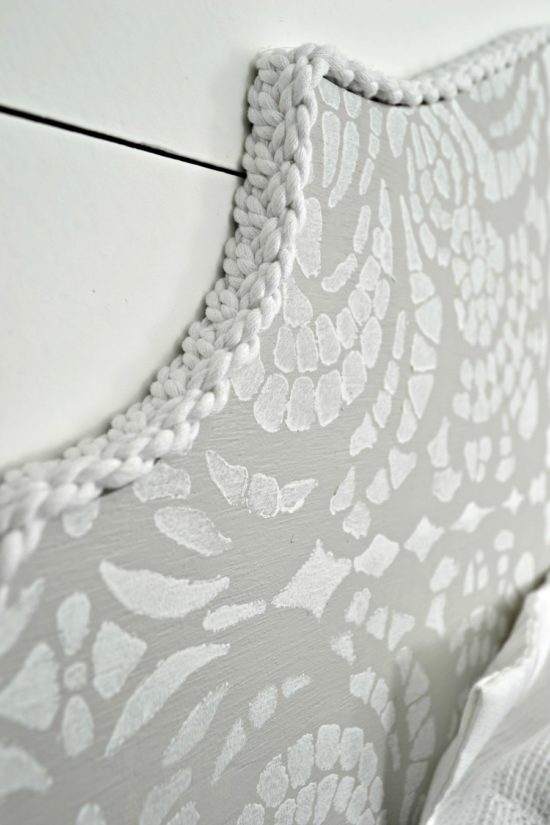 All and all, it was a super easy update to our bedroom, and cost a fraction of what it would cost to buy a new one!
Can you picture how beautiful this stencil would be covering an entire wall?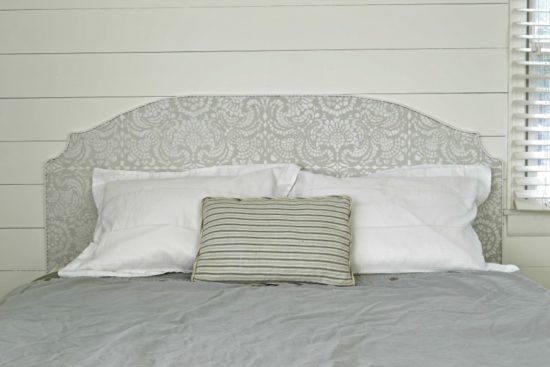 I also built the base of our bed as a storage platform similar to a Pottery Barn bed.  I'll be posting all about that project soon.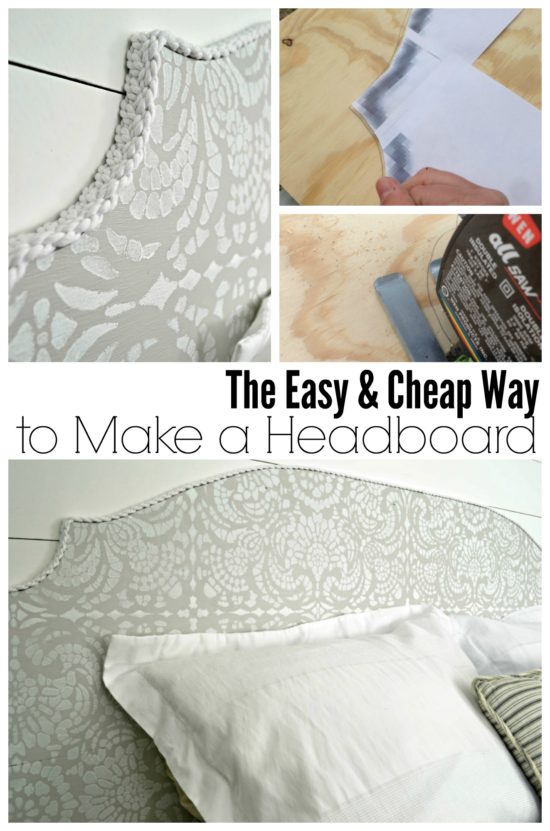 In the mean time, I'd love for you to see how I updated our entire master bedroom on a budget.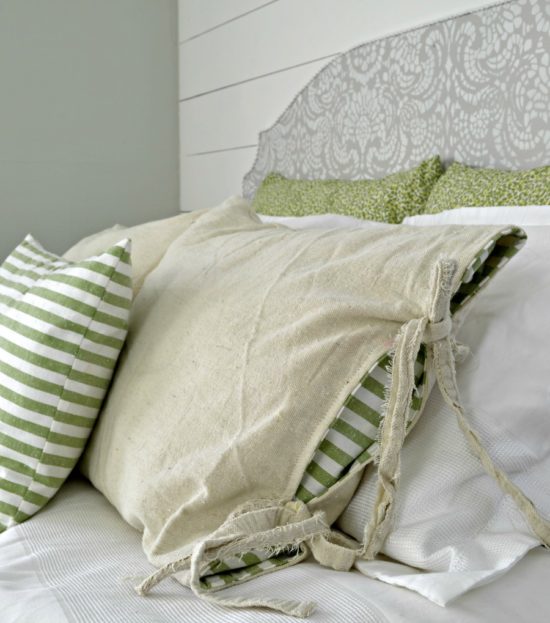 Like what you see? I'd love for you to follow along!
Facebook || Pinterest || Instagram || Google + || Bloglovin'