Make a DIY fireplace screen or for your fireplace that helps to insulate the opening and looks decorative. This fireplace screen looks like stacked logs, but it's really just a thin cover that is easy to move when you want to have a fire.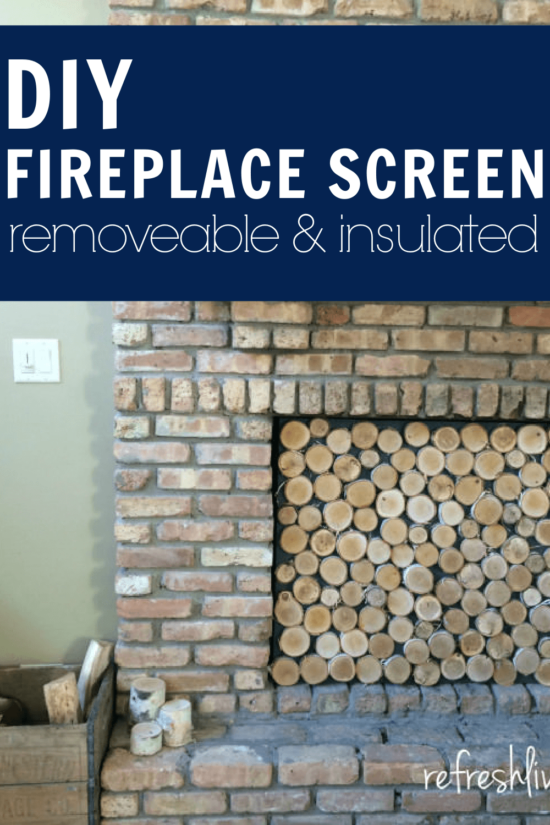 This DIY fireplace screen with stacked logs looks way better than our ugly fireplace AND it provides some extra insulation. It was a simple, inexpensive project that I've been using as our fireplace screen for more than seven years!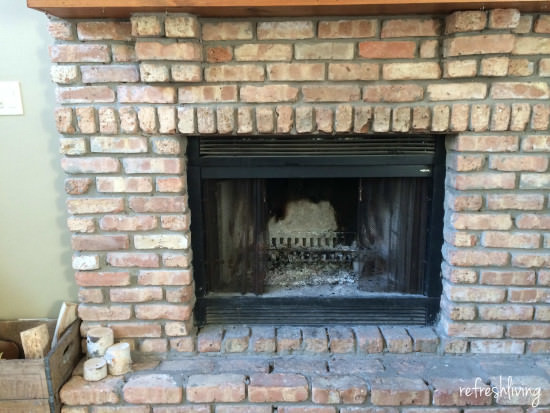 Our wood-burning fireplace is an energy hog, drafting in cold air in the winter and hot air in the summer (even when we have the flue closed!) During the winter, the floor in front of the fireplace is cold, and that half of the room is always quiet chilly. I looked into fireplace covers and insulation screens, and honestly, they were all pretty ugly. I set out to create my own.
This post contains affiliate links. Feel free to read my full disclosure policy here.
Supplies Needed to Make a DIY Fireplace Screen
How to Add Insulated to Fireplace Screen
I cut a piece of 3/8″" plywood down to fit in the opening.  Then, I cut down one inch thick styrofoam.  (I bought it from Menards for $1.50.) I used foam adhesive to glue the foam panel to the back of the plywood.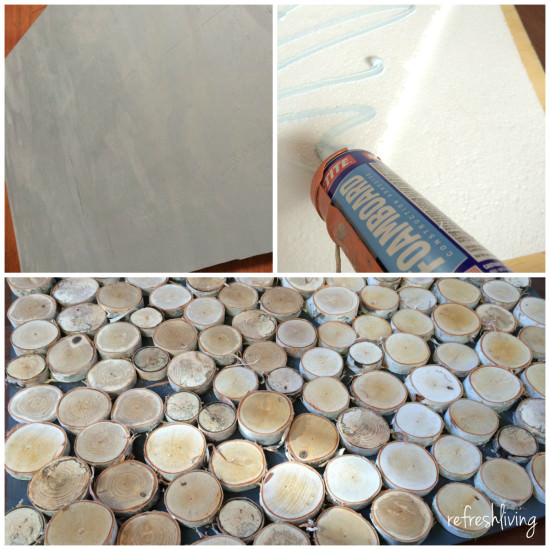 I painted the front of the plywood with dark gray paint so it would look similar to the openings between stacked wood. I just reused leftover paint for this. If I had black paint, I would have used that, but the dark gray worked as well.
Attaching the Wood Discs to the Fireplace Screen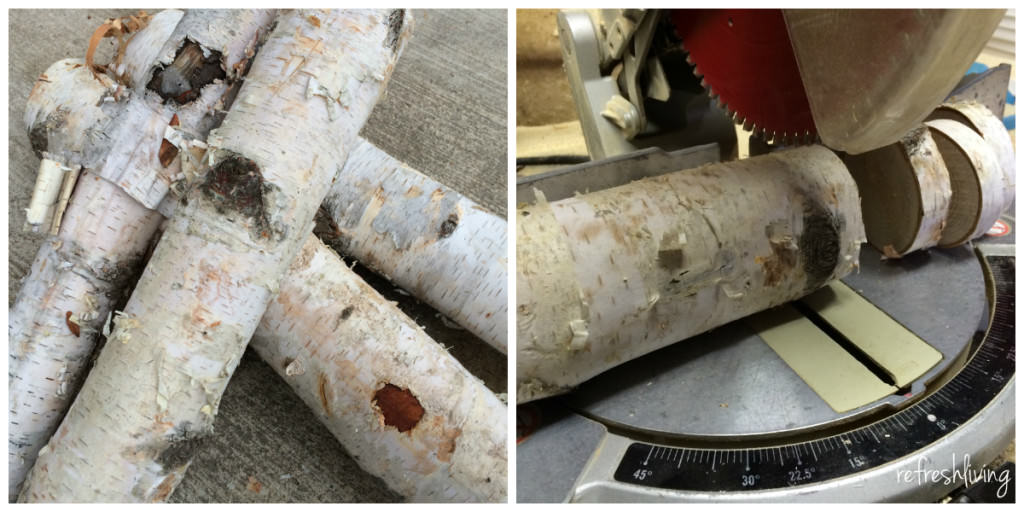 I wanted to use birch logs for this project, but you could use any type of wood to make the wood discs. If you didn't want to cut the discs yourself, many Etsy sellers have wood discs for sale. Here is a pack of 100 wood slices.
To make my birch discs, I found a nursery by my school that carried birch yule logs, which ended up working perfectly.  I cut them down into varying widths (between 1/2 inch and 1 1/2 inches).  I've devoted a whole post on how to buy birch logs for cheap.
I dried the birch discs in my oven at 200 degrees for about two hours. If you plan to glue the discs down, this step is very important. If you plan to nail the discs to the plywood, drying the discs is optional.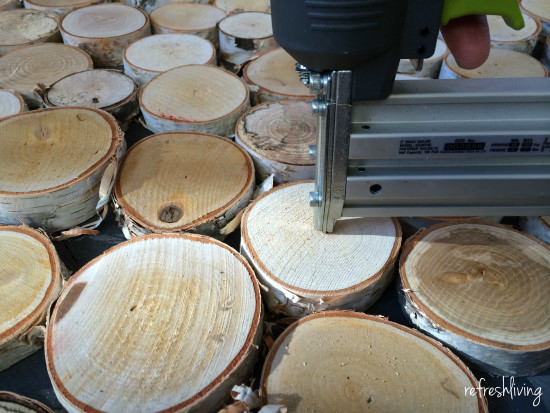 I decided to nail my discs down because I didn't want to wait for the glue to dry. I used a couple of different lengths of nail to ensure each log was attached well, without nails hanging out of the back of the foam. The nail holes were so faint, that I actually couldn't even tell which logs I had nailed down just by looking.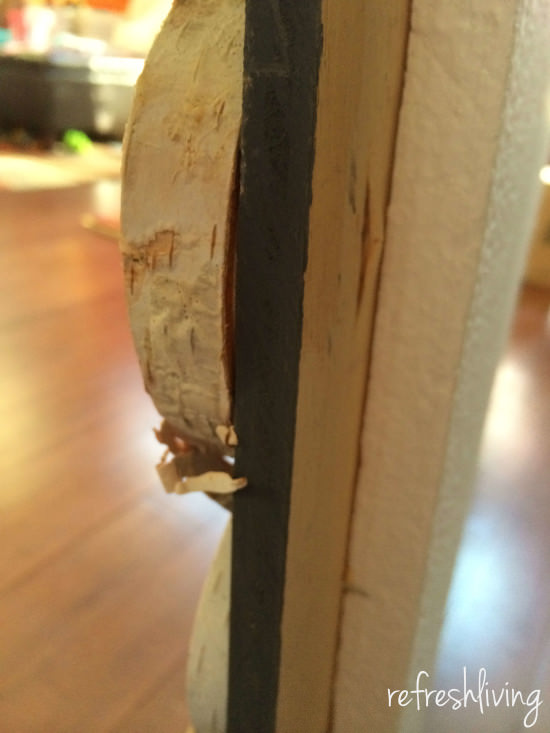 I had to tip it over a couple of times to see which logs fell out and still needed to be nailed.
Right now, it's sitting in the fireplace opening, but I plan to put a latch on either side of the fireplace to hold it in place. Of course, it needs to be easily removable so we can still use it for fires!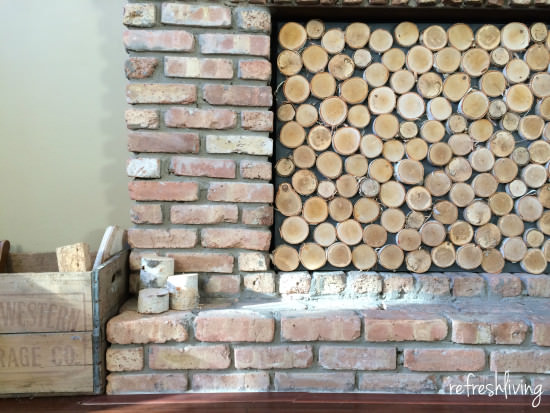 Update: Seven years later and we are still using this DIY fireplace screen! It's held up really well and is so functional, I don't plan to ever get rid of it unless I design a different one for a new look.
Join the Refresh Living DIY & Upcycling Community
Join the subscriber list to receive one to two emails per month with updates from the blog. PLUS, you'll gain access to my printables and graphics library. Every new design I create will be added here, and you'll have free access - forever!