Tour our small bathroom before our DIY remodel. To update the bathroom, we installed new tile in the shower and floors, added a vanity that was made from an antique washstand, and installed antique beadboard on the ceiling.
If you've ever visited my blog, you may know we own a little ranch on a little lake in southern Wisconsin. Not much has been done to this house in the way of updating since it was built in the early 1970s. My husband and I are tackling every project at the house (with the help of my dad) until it's updated. You can see the whole lake house cottage here.
1970s Bathroom Before
Here's a look at the 1970s bathroom that's next up on the renovation list: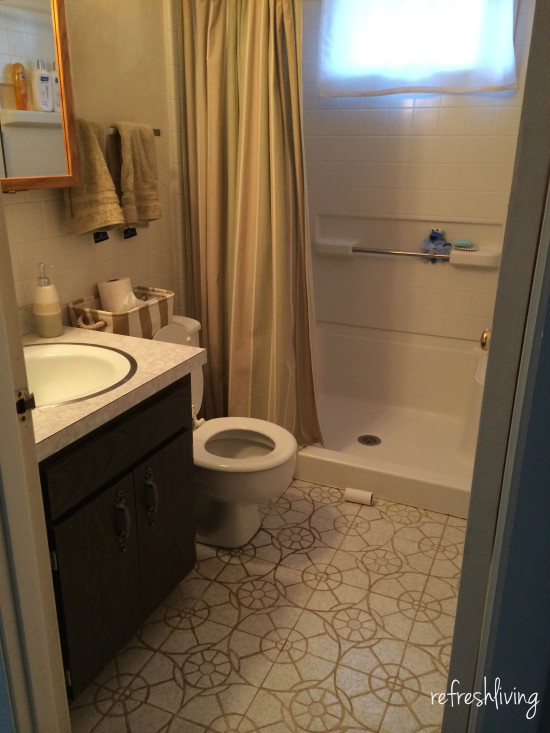 Everything was original to when the house was built, except the walk-in shower that needed to be installed when my grandparents lived there. Although it made the bath tub accessible for them, the shower was just not practical for us (my kids love baths).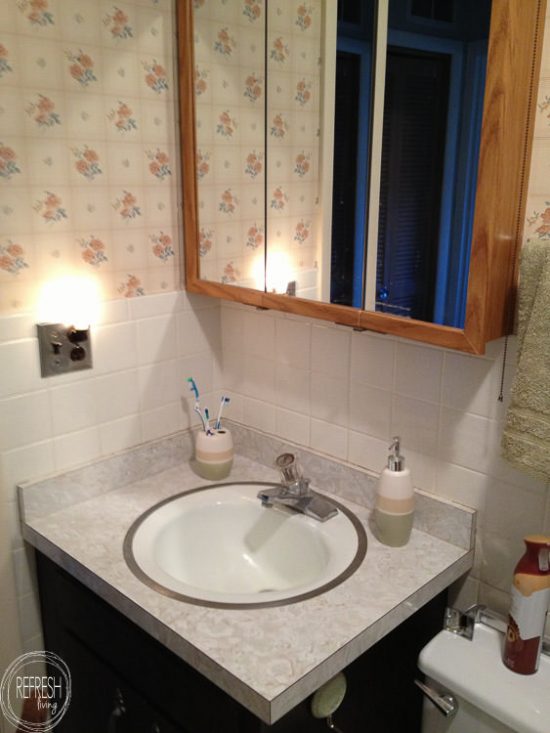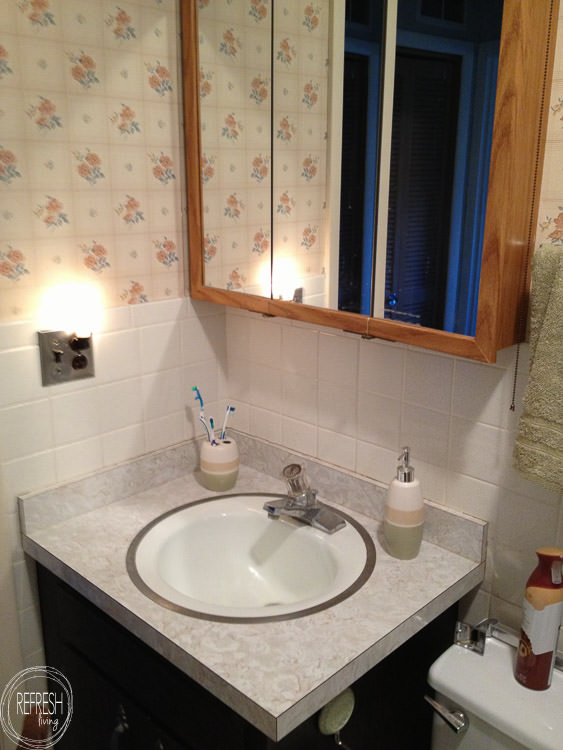 The sink was a laminate, faux gold marble and the faucet was a builder's grade faucet original to the house. Judging by the looks of the wallpaper, it was probably added in the 80s.
Bathroom Remodel Progress
After ripping out the shower, tile and vanity, here's how the room looked.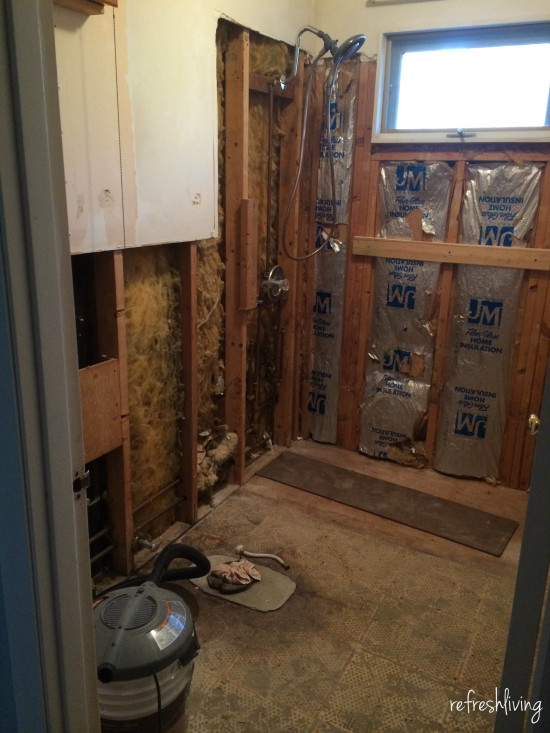 Because we had a small budget for this entire bathroom ($1,500), we saved money by buying simple and inexpensive tiles. White ceramic subway tile is very inexpensive, but it can be designed in many ways that makes it look more expensive than it really is.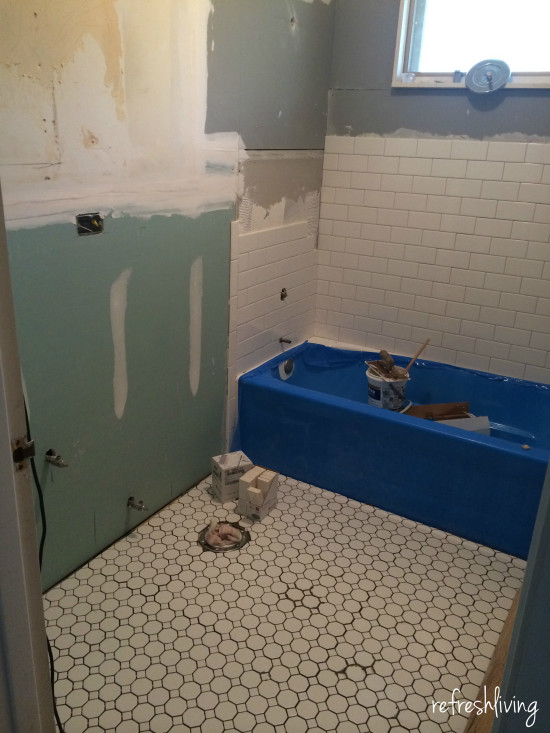 At $0.15 per ceramic subway tile and about 600 tiles, we're talking $90, plus $20 for the bullnosed edges, to tile all the way up to the ceiling. The floor tiles were $2.57 a square foot, but when you only need 25 square feet, it only set us back $65. (I wasn't able to find an exact match to our tile from Home Depot, but here's a close inexpensive alternative they still carry.)
Beadboard Ceiling in the Bathroom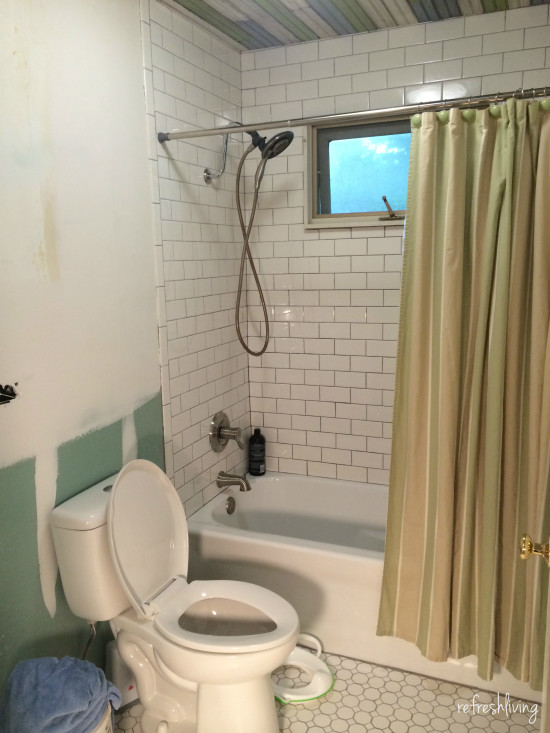 If you look up at the ceiling in the photo above, you can see a sneak peek of the antique beadboard ceiling in this bathroom. I have a full tutorial on how to install beadboard wood planks on the ceiling here. This is one of my favorite projects in the house. I think it gives the bathroom such unique character and some extra color!
1970s Bathroom Remodel Final Tour
Check out how the space came together with a new vanity (made from an old piece of furniture), the beadboard ceiling, and a ton of DIY projects using vintage and antique finds by visiting this post: Full Bathroom Remodel on a Budget.

Join the Refresh Living DIY & Upcycling Community
Join the subscriber list to receive one to two emails per month with updates from the blog. PLUS, you'll gain access to my printables and graphics library. Every new design I create will be added here, and you'll have free access - forever!