Master bedroom makeover before tour. I updated a boring bedroom with cheap furniture into a farmhouse master bedroom with a platform bed I built and a plank wall.
It's April, that time of year for spring cleaning, yard work outdoors, and redesigning rooms! Yep, that's right. I'm participating in Calling it Home's One Room Challenge again this year, and I can't wait to share my progress with you on our master bedroom.
After participating in the One Room Challenge twice last year, I realized something about myself. I have a major problem with finishing what I start, especially when it comes to room designs. I'll start with a vague vision, and then see it through about halfway, and then leave it be for months, or years, justifying it to myself by saying, "Well, at least it's better than it started. This will do."
The only rooms I haven't done this with are my One Room Challenge bathrooms. Clearly, I really just need deadlines, and without them, I don't finish anything that I start.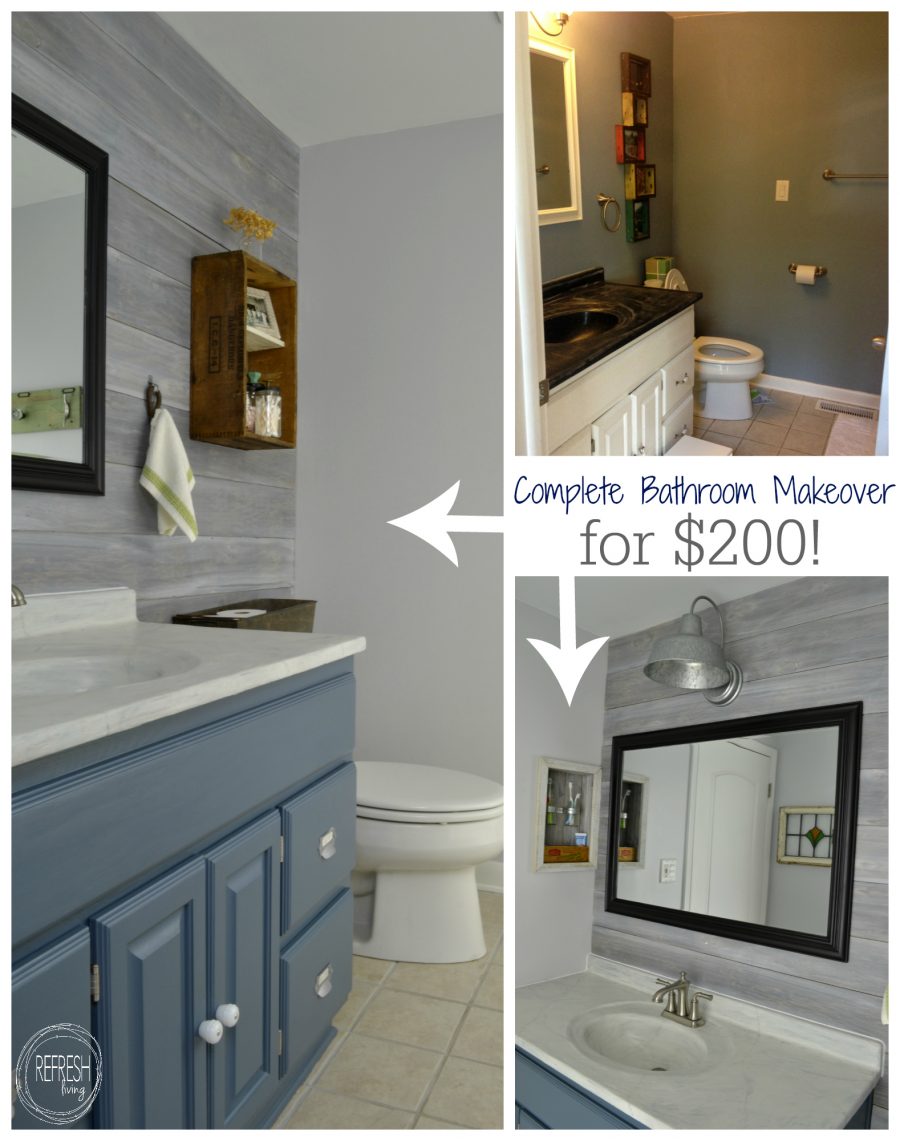 Master Bedroom Before Photos
Here is what our bedroom looks like today.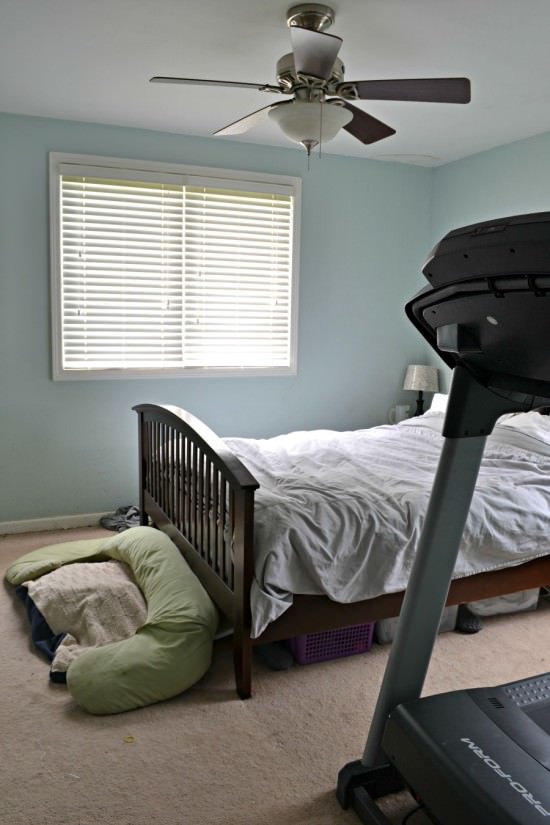 Clearly, it's boring, which is problem number one, and the second problem is that there is a treadmill taking up a forth of the entire room.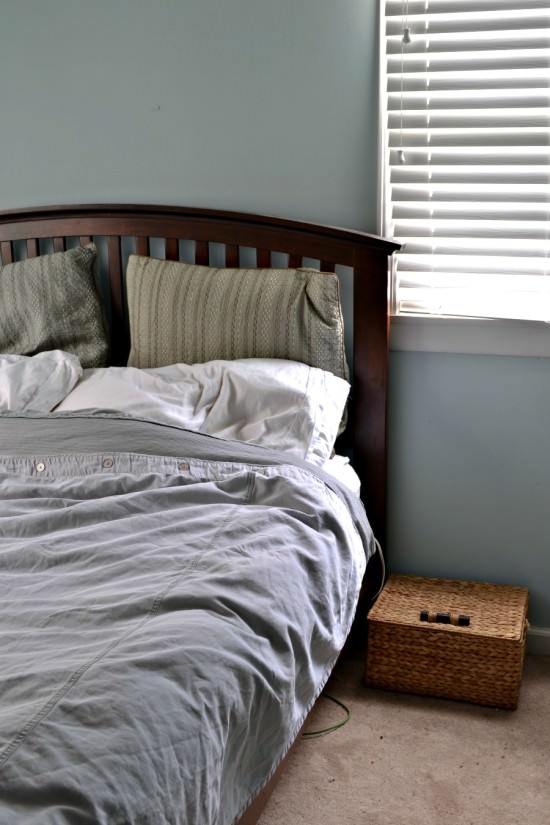 Oh yeah, and another problem. My nightstand is a basket on the floor.
My husband's lampshade still has the plastic on it from the store. There is a water mark on the ceiling from a roof leaf we had two years ago.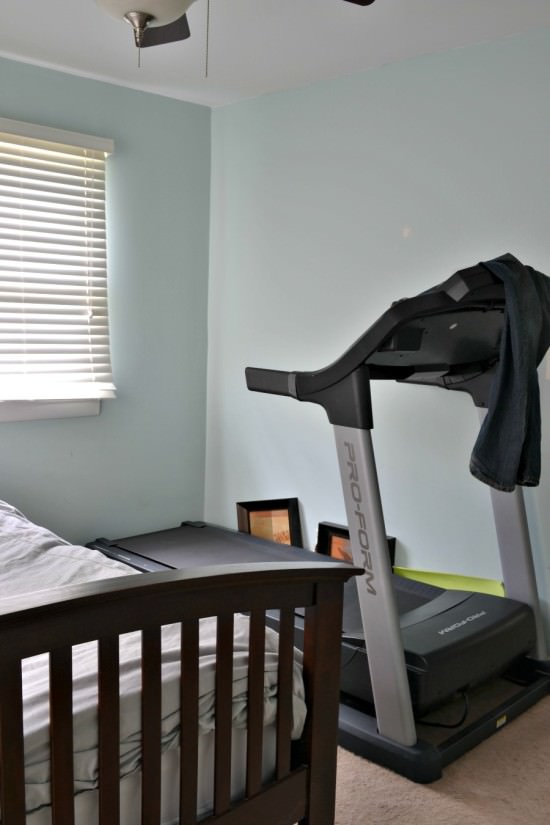 One of those pictures fell down, so I took the other off rather than putting the one that fell back up. I didn't get far with them though. They've been sitting on the floor for over 2 years. This is embarrassing.
It's time to change this boring mess of a room! My vision for the space is a vintage farmhouse bedroom, all completed on a major budget.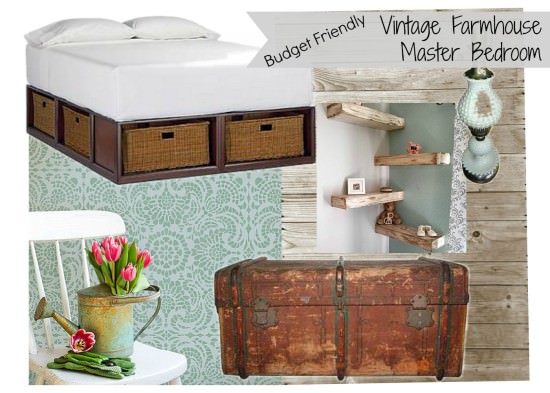 Week 2: How to Paint over Water Stains on the Ceiling
The key to covering up those water stains is to prime them, with a oil-based, stain-covering primer. Rustoleum Cover Stain Primer is my favorite primer for covering stains – it has yet to let me down! I usually do two coats of primer, especially on massive stains like this one.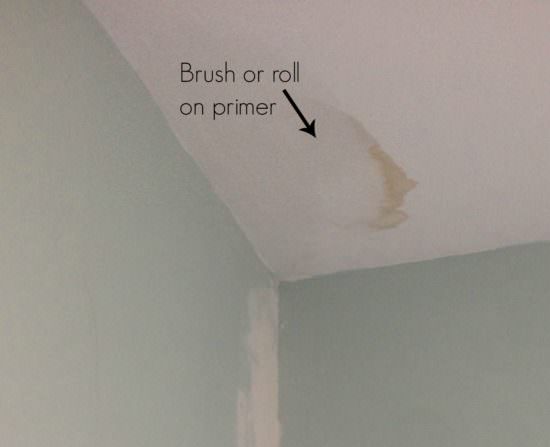 *This primer is oil-based, which means you will need paint thinner or mineral spirits to clean out your brush. I know some people prefer just to use a cheap brush and throw it away to save the hassle of cleaning it. The choice is yours!*
After the primer has dried, roll on ceiling paint to match the color of your ceiling.
Week 3: Installing a Plank Wall
This week, I was able to install our faux shiplap plank wall, and I'm already loving how it looks. Obviously, it still needs to be painted, but that should go fairly quickly.
I've installed two other plank walls (one at my own house in our bathroom with shiplap and one at a friend's house, in her bathroom as well) and I still follow this process on how to install a plank wall.  For this wall, I used wood filler to cover up the holes and the seams since I plan to paint it white and want a more seamless look.
Week 4: DIY Platform Queen Bed
I built a platform bed to add a ton of storage to our bedroom.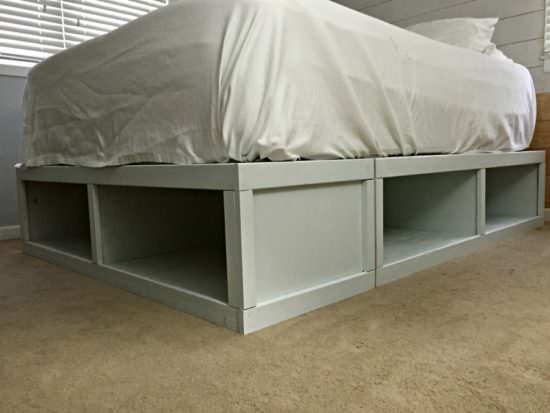 Final Reveal
You can see the final reveal of this bedroom here: Farmhouse Master Bedroom Makeover. AND, I've updated the room again, this time for under $100. Now, it has a black shiplap wall, way more color, and a ton of vintage finds.

Join the Refresh Living DIY & Upcycling Community
Join the subscriber list to receive one to two emails per month with updates from the blog. PLUS, you'll gain access to my printables and graphics library. Every new design I create will be added here, and you'll have free access - forever!