It's April, that time of year for spring cleaning, yard work outdoors, and redesigning rooms!  Yep, that's right.  I'm participating in Calling it Home's One Room Challenge again this year, and I can't wait to share my progress with you on our master bedroom.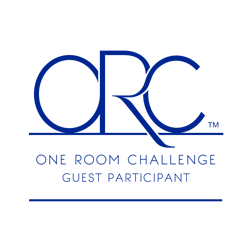 After participating in the One Room Challenge twice last year, I realized something about myself.  I have a major problem with finishing what I start, especially when it comes to room designs.  I'll start with a vague vision, and then see it through about halfway, and then leave it be for months, or years, justifying it to myself by saying, "Well, at least it's better than it started.  This will do."
The only rooms I haven't done this with are my One Room Challenge bathrooms.  Clearly, I really just need deadlines, and without them, I don't finish anything that I start.
To give myself a kick in the butt, I'm actually going to do two rooms this year – my master bedroom and our eat-in kitchen.  Call me crazy, and you'll be correct, but I know the only way I will ever finish these rooms is to give myself a reason to get them done.
Here is what our bedroom looks like today.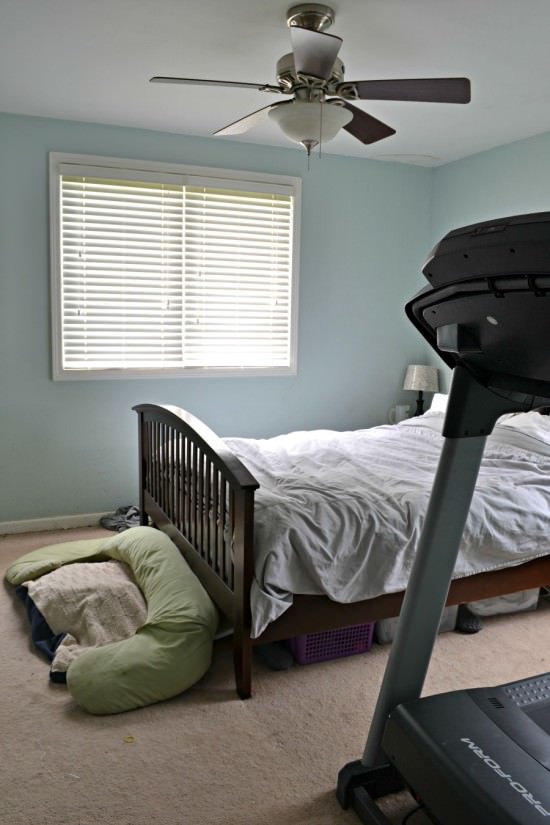 Clearly, it's boring, which is problem number one, and the second problem is that there is a treadmill taking up a forth of the entire room.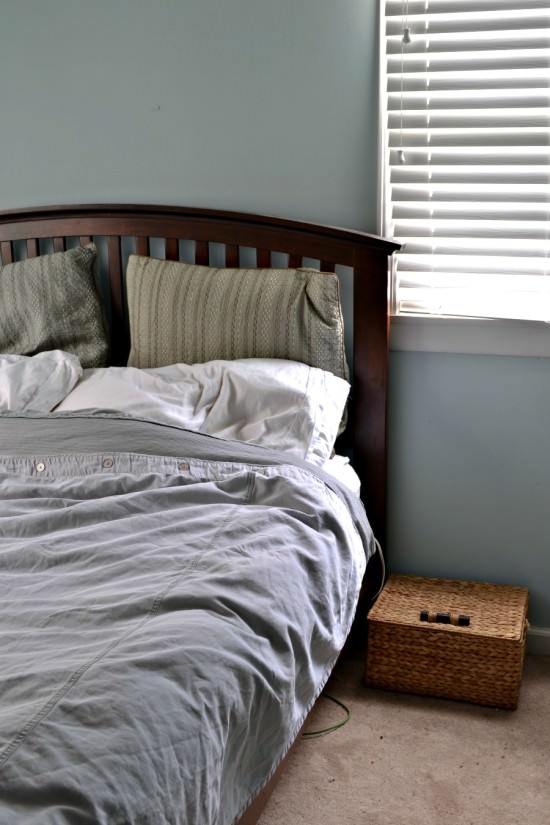 Oh yeah, and another problem.  My nightstand is a basket on the floor.
My husband's lampshade still has the plastic on it from the store.  There is a water mark on the ceiling from a roof leaf we had two years ago.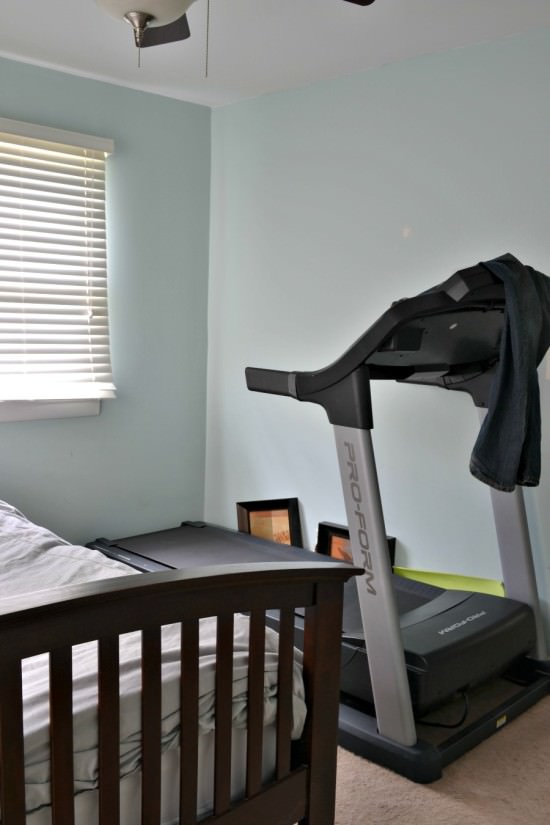 One of those pictures fell down, so I took the other off rather than putting the one that fell back up.  I didn't get far with them though.  They've been sitting on the floor for over 2 years. This is embarrassing.
It's time to change this boring mess of a room!  My vision for the space is a vintage farmhouse bedroom, all completed on a major budget.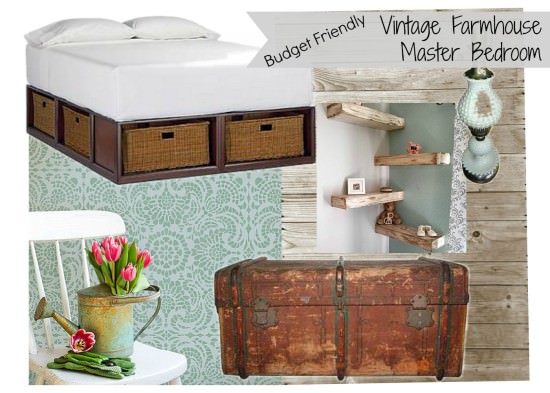 I've already picked up a few vintage goodies for the space, and have plans to build a new storage platform bed.  Our house is small (case in point – the treadmill is in our bedroom, because that's the only place there is room) and we need to make smart use of our space.  This bed will provide us with room to store off-season clothes, which will free up closet and basement space!
I always design on a budget, and this room will be no different.  You'll see a ton of easy DIY projects that I hope will reinvigorate this blah bedroom!
Here's a rundown of my to-do list:
move that treadmill OUT!
paint ceiling and walls
install plank wall
build platform bed
make stenciled headboard
DIY curtains
build corner shelves
custom artwork
make nightstands
finishes touches and accents
I'm so excited to give this space a new life.  I hope you'll follow along for the next 6 weeks!  Or, if you're not one for bedroom designs, maybe you'll like my eat-in kitchen plans.
Now, head on over to Calling it Home and check out all the other participants that will be decorating their spaces, too!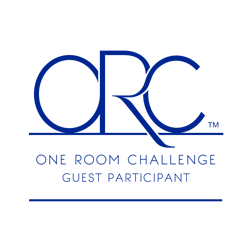 Like what you see? I'd love for you to follow along!
Facebook || Pinterest || Instagram || Google + || Bloglovin'
Join the Refresh Living DIY & Upcycling Community
Join the subscriber list to receive one to two emails per month with updates from the blog. PLUS, you'll gain access to my printables and graphics library. Every new design I create will be added here, and you'll have free access - forever!