For the last six weeks I've been busy working to update our master bedroom and I'm happy to say that I'm 90% finished and ready to reveal our new room! I love looking at room reveals and comparing before and after photos, so if you are anything like me in this way, you need to head on over to Calling it Home and check out the 200 other room transformations. But first, take a look at our bedroom makeover!
Here was our master bedroom back in April: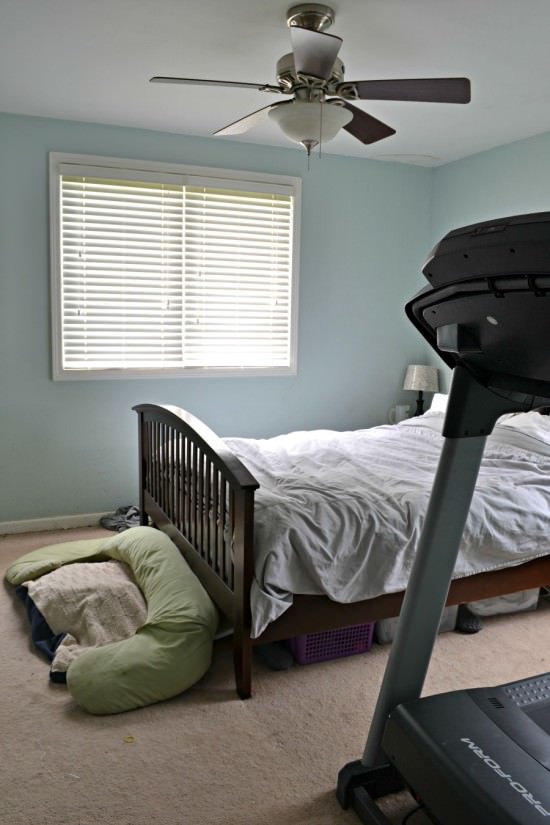 My initial plan for the space centered around a farmhouse feel with vintage touches: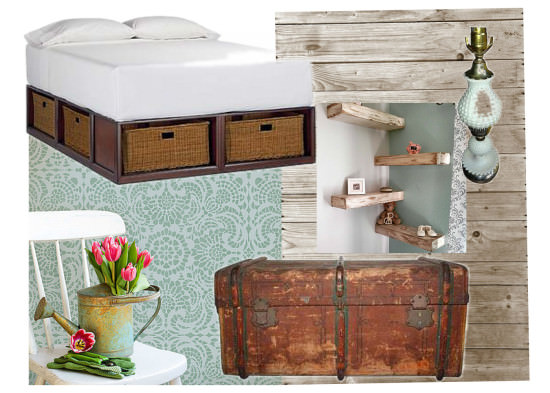 There were only two projects I wasn't able to complete in the six weeks. I planned to make my own wooden crates to slide into the cubby holes under the bed, but I simply ran out of time. All of the supplies are sitting in my garage, so I hope to finish those up soon, and then I can share my entire tutorial for my knock-off Pottery Barn bed. I also planned to install floating shelves in one awkward corner of the room, but to be honest with you, I completely forgot that I planned to make these until about week 4. By that time, I kind of knew there wasn't a chance I was ever going to get them done in time, and I was right.
Welcome to our new bedroom!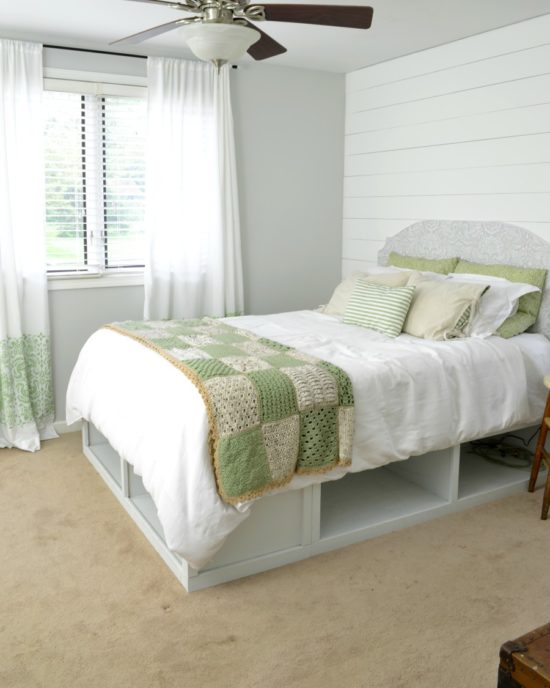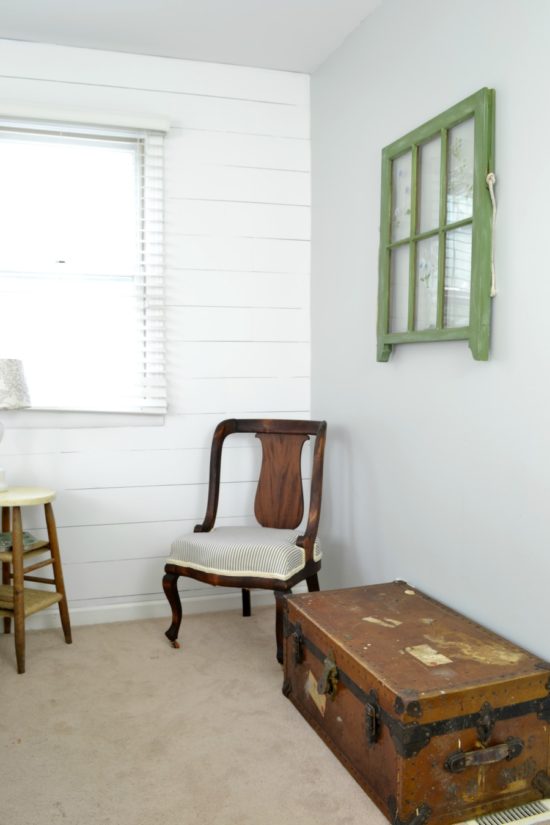 I picked up this gorgeous antique chair at an estate sale for $10. The catch? It didn't have a seat of any kind. I've never built a chair seat before, but I gave it a whirl and I'm quite proud of how it turned out.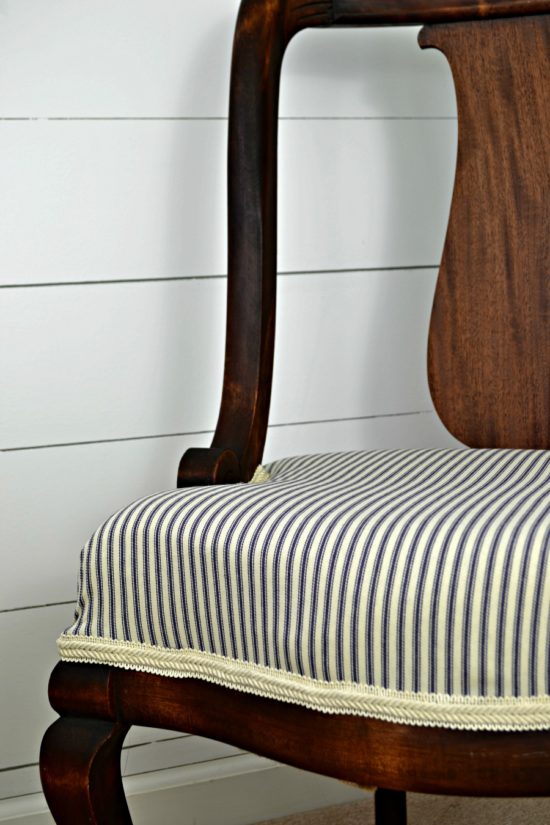 I originally planned to keep the room completely neutral with white, beige, and gray, but I couldn't resist adding in green. This shade of green is my ultimate favorite and it was amazing how much I already had tucked away in different parts of my house in this color.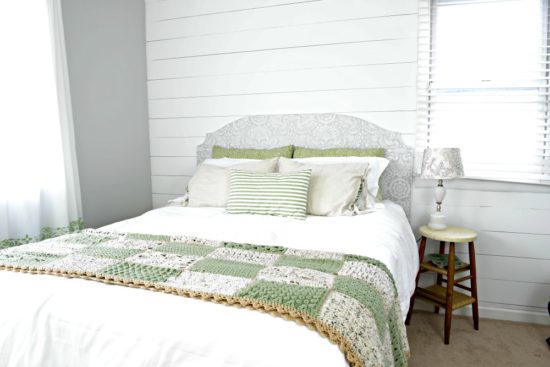 Take this beautiful blanket my sister crocheted for me a few years ago. I've kept it in the nursery for all of these years, but I think it has now found a new home in my room!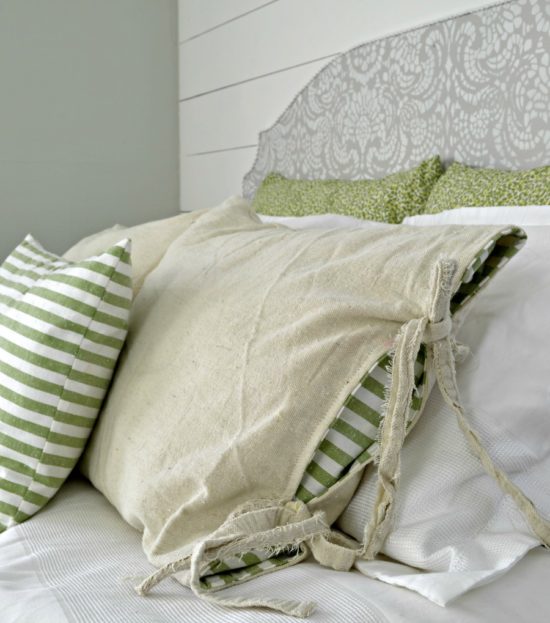 When I found these vintage green fabrics on Etsy, I knew I needed them as part of my bedding. Here's the tutorial post on how to make pillowcases with ties that are lined.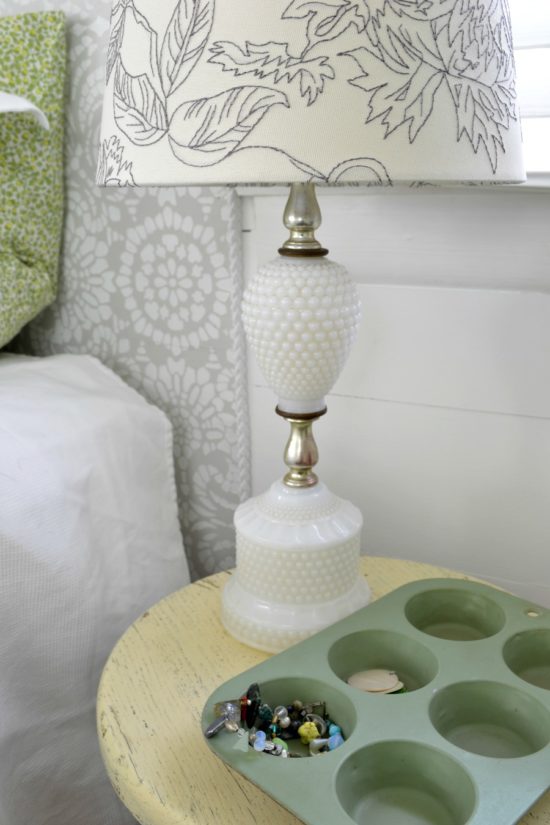 You better believe I snagged up this hob nob milk glass lamp as soon as I saw it at the thrift store! The lampshade is one of the only items that stayed in the bedroom.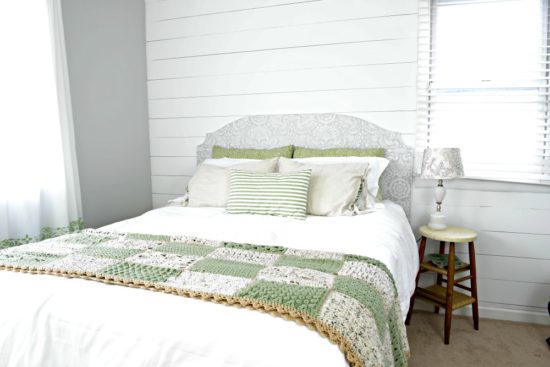 Two perfectly chippy, rustic stools are now our nightstands. Because the bed is so close to the wall on the left side, I knew I needed something small. I had these stools stashed in my garage to sell at an upcoming market, but when I remembered I had them, I knew they would work perfectly in the space. A little rope wrapped around the rungs and now they have extra storage space!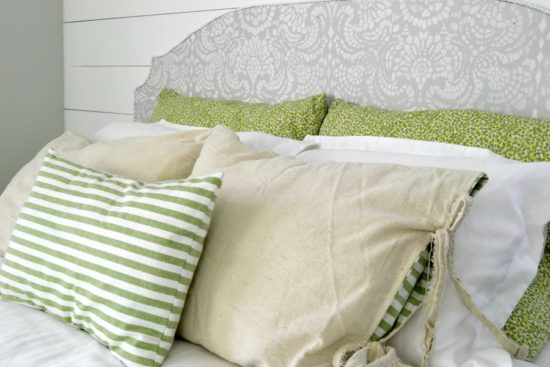 I'm sure you've seen it by now, but I also made our new storage bed and headboard! I'll have a post up soon about how I built our bed to look like a Pottery Barn bed, but for a fraction of the price.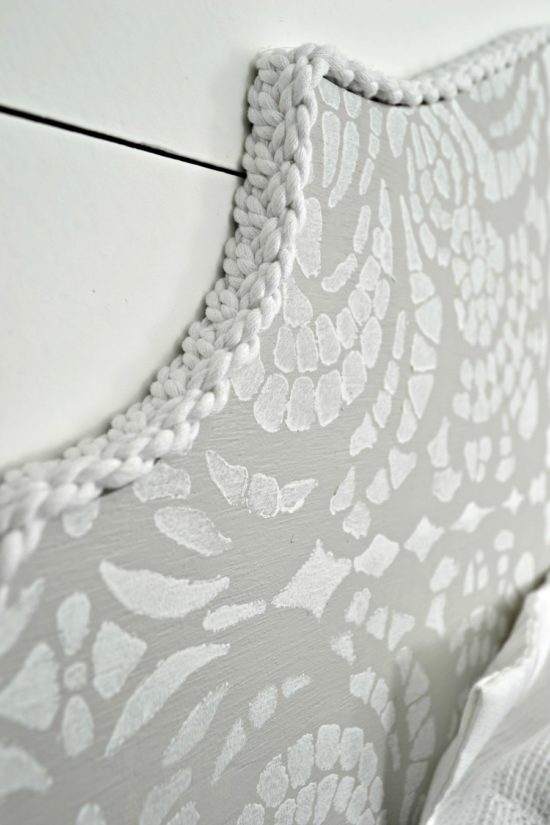 The headboard was an easy DIY project made gorgeous with the Esperanza Lace Tile stencil from Royal Design Studios. You can see the entire tutorial on how to make a headboard from plywood here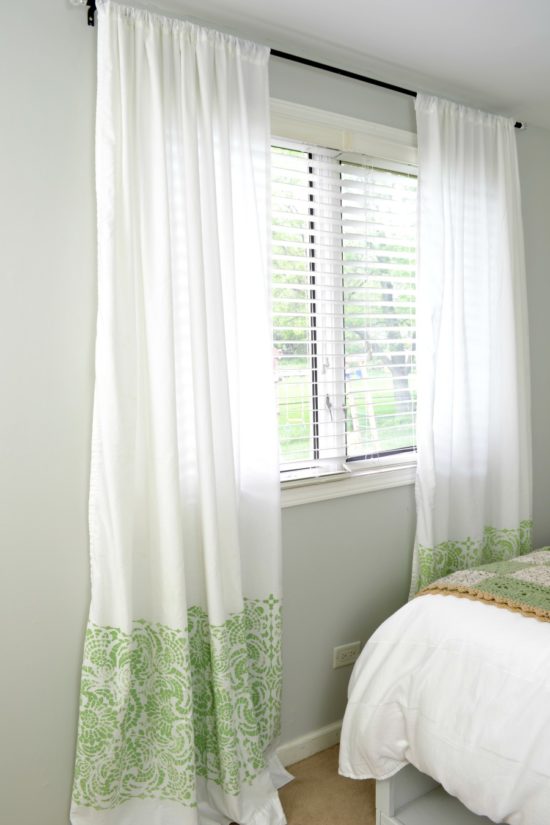 I also used the stencil to make these super inexpensive curtains from a $5 flat bed sheet. Thanks so much for following along with me as I transformed our room. I'm off to bed!!
 Update!
I can this room ANOTHER facelift a few years later for less than $100. You can see the final reveal of my budget friendly master bedroom makeover here. Here's a sneak peak of the room now:

Join the Refresh Living DIY & Upcycling Community
Join the subscriber list to receive one to two emails per month with updates from the blog. PLUS, you'll gain access to my printables and graphics library. Every new design I create will be added here, and you'll have free access - forever!