With less than $100, this bedroom got a complete makeover thanks to lots of paint, DIY projects, and second hand finds. This vintage modern master bedroom is proof that it's possible to decorate on a budget.
Our master bedroom has been a neglected space for many years. Ever since we started having kids seven years ago, it's become a revolving door of a nursery and then back to a bedroom (and a nursery to a bedroom, a nursery to a bedroom, and one again, a nursery into a bedroom). But, the last baby has recently been moved to her nursery, and I am reclaiming the room back!
If you've ever visited here before, you know that I do just about everything on budget, because I firmly believe there's no sense in buying everything new when it can be found, made, and refinished for far less. So, I thought there was no better time than now to spend a little money to update the space as part of the $100 Room Challenge.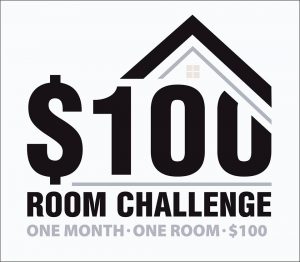 Erin from Lemons, Lavender, and Laundry is the queen of budget decorating and graciously hosts this challenge two times every year. To learn more about it, you can click here: $100 Room Challenge.
Here's how our bedroom looked before: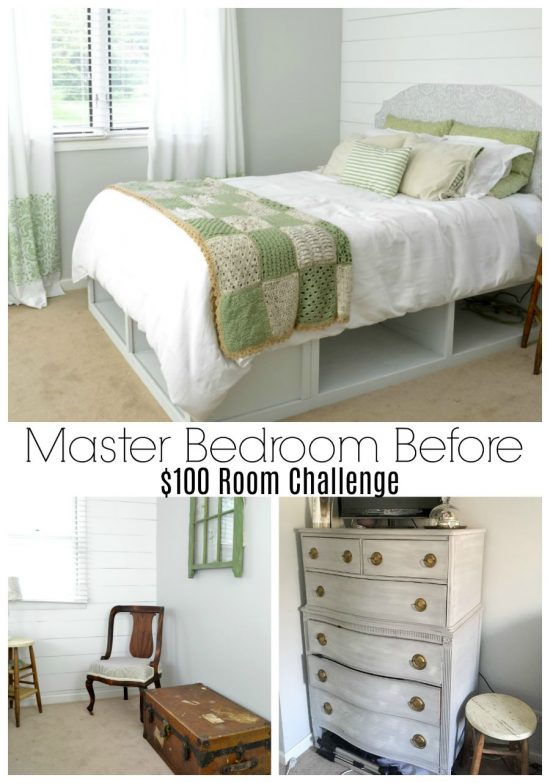 and here's how it looks now: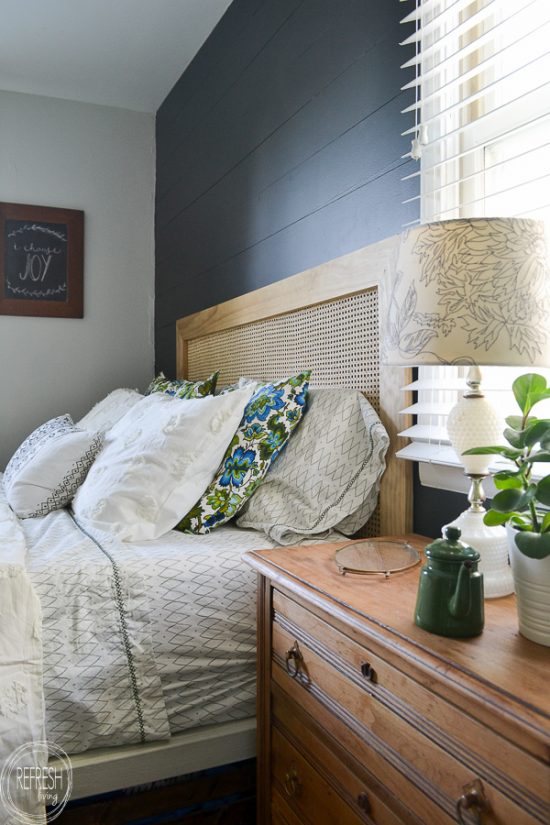 Basically, almost everything in this space was found or bought second hand, or built or made.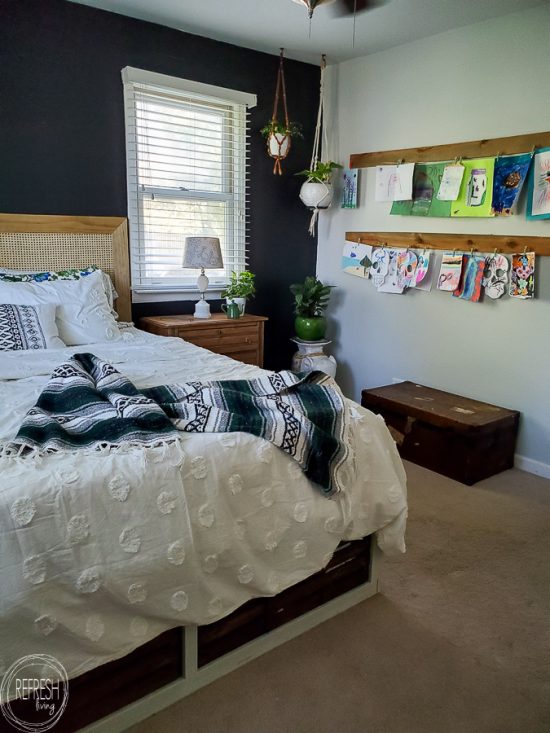 The nightstand dresser was a free roadside find that I updated by stripping it and bringing it back to natural wood finish. Here's the post on how ro remove old finish on furniture to reveal the natural wood.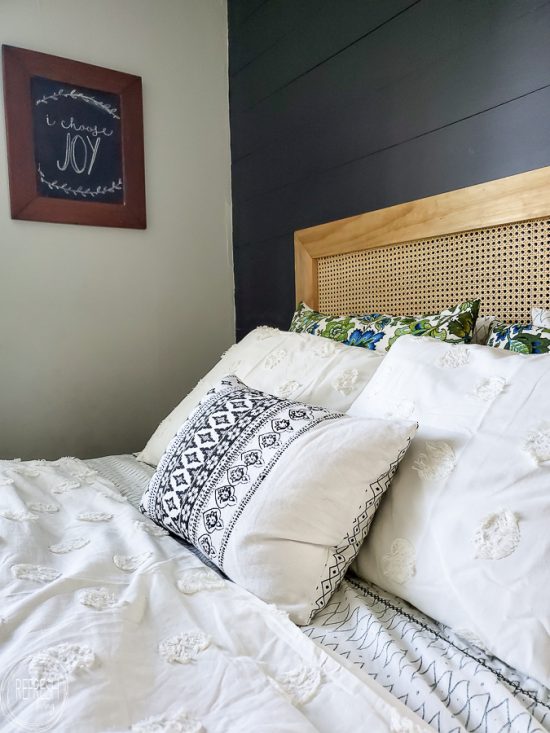 I made our new headboard with leftover wood and a sheet of cane.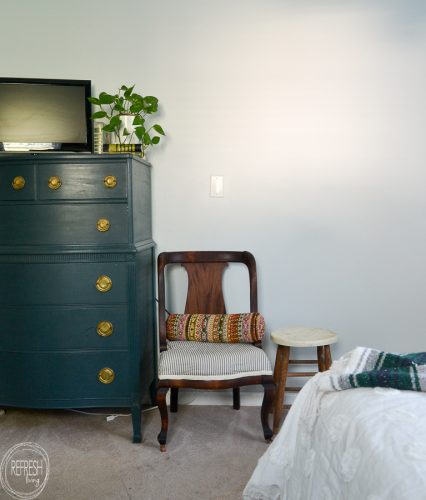 This dresser was my grandpa's, and I gave it a bold facelift with DIY chalk paint which you can read about here. I found the vintage chair in the garage of an estate sale a few years back. Lucky for me, it didn't have a seat, so I got it for a few bucks. After figuring out how to actually make a chair seat, I now have a beautiful chair that cost virtually nothing.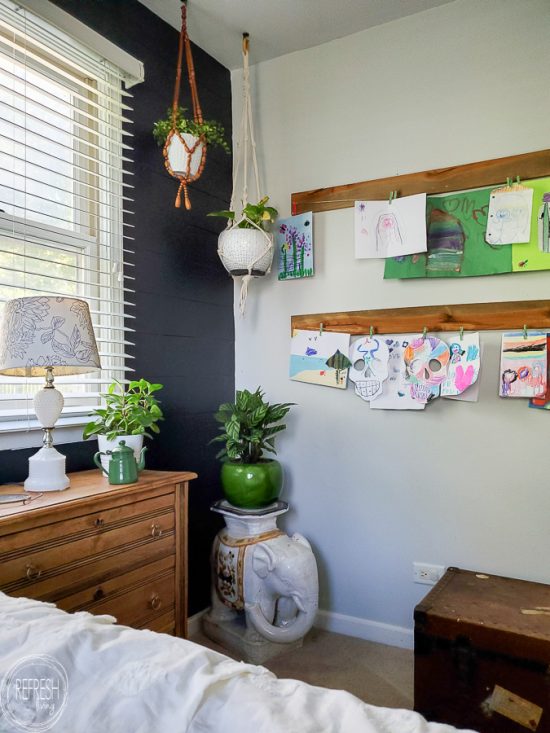 I think this corner might be my favorite part of the room! Both the elephant and green planter were garage sale finds of my grandpa's that I've kept. I made the white plant hanger from clothesline cord and I bought the vintage beaded hanger from an estate sale for $2!
My kids love to give me their art masterpieces, but there's only so much room on the side of our fridge. I created this display area in our bedroom so I can wake up to their little tokens of love, and my kids can feel special giving and displaying something they are proud of. They love climbing up on that trunk, taking down one piece (which is always a tough decision!) and adding a new piece of art and love. And, it was a free project since I used scrap wood from the garage, mini clothespins from another project, and some gold wire I bought on clearance a couple Christmas seasons ago.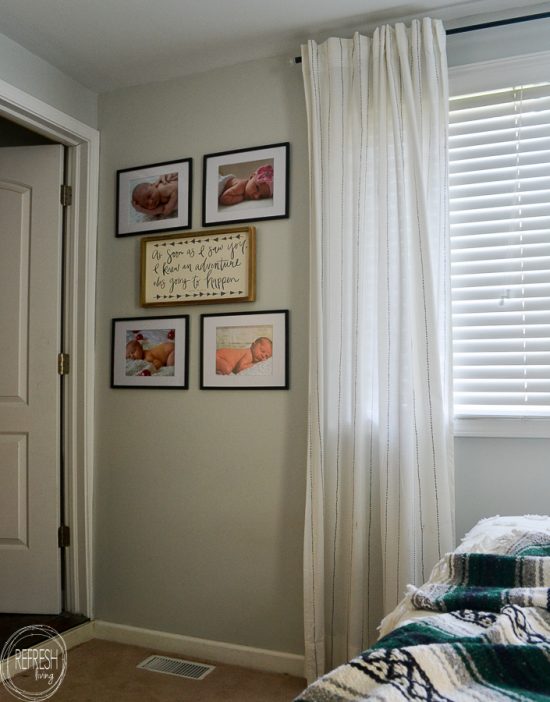 And this is my little corner of baby goodness! Each of my little girls' newborn photos hangs in frames that I bought at an estate sale for $0.25 each.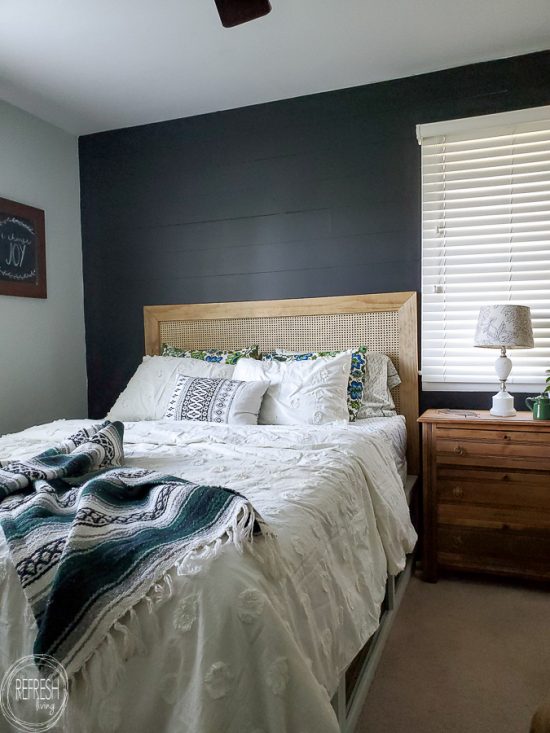 So what did I buy for this room and where did the $100 go? Here's a rundown of the budget:
New curtains – $20
Paint for the wall – $8
Paint for the dresser and frames (leftover from other projects) – $0
Vintage fabric for shams – $2
New duvet cover – $40
Caning for inside of headboard – $30
4 picture frames – $1
Vintage plant hanger – $2
Wood for headboard and art display (leftover from other projects) – $0
I think that brings the grand total to $103, which I think still counts as finishing the room with a $100 budget!
Want to see what $100 can do to transform other rooms in your home? Check out these other fabulous makeovers!
You are invited to the Inlinkz link party!
Here are my other $100 Room Makeovers:
Like what you see? I'd love for you to follow along!

Join the Refresh Living DIY & Upcycling Community
Join the subscriber list to receive one to two emails per month with updates from the blog. PLUS, you'll gain access to my printables and graphics library. Every new design I create will be added here, and you'll have free access - forever!