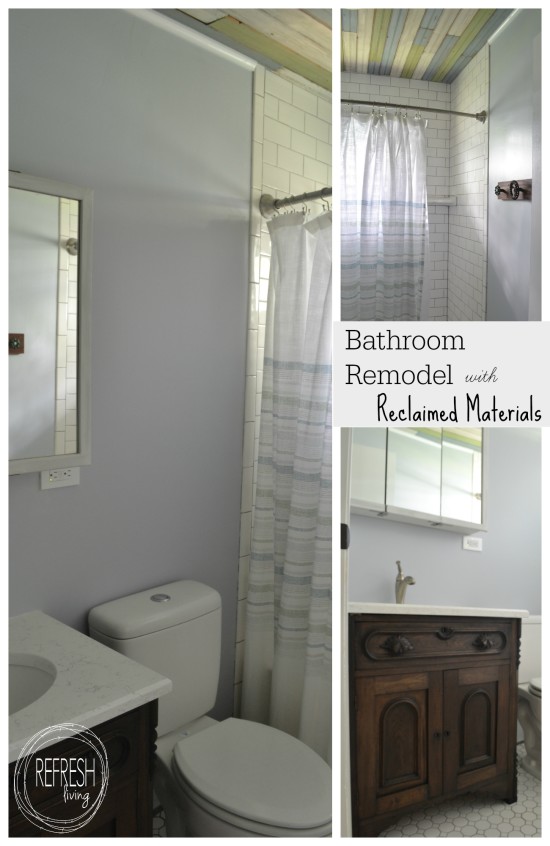 I can't tell you how ready I am to finally share this with you.  We finished our bathroom.  WE FINALLY FINISHED OUR BATHROOM!  I had all intentions of making this statement in May, at the end of Calling it Home's One Room Challenge, but we had a couple of hiccups (that actually ended up saving us quite a bit of money, thank goodness) that stretched the remodel out for four more months.  Let's not wait any longer, here is our new bathroom!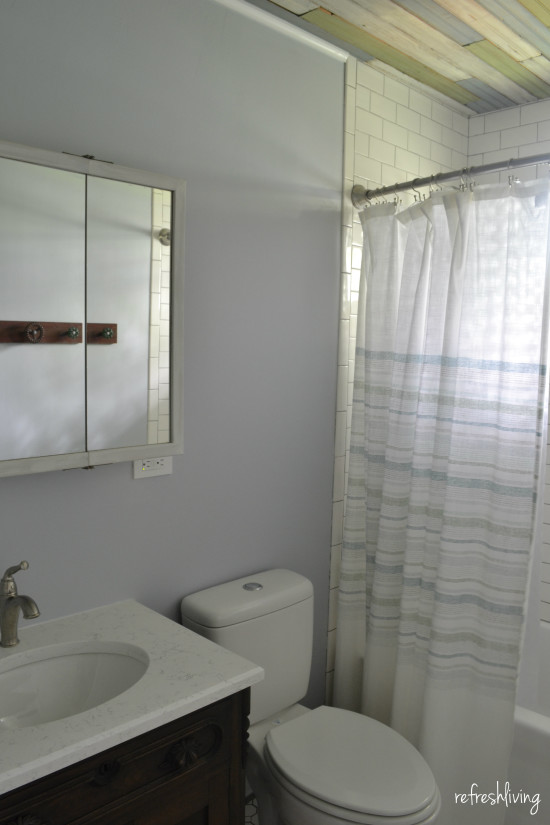 Should I show you what it looked like before?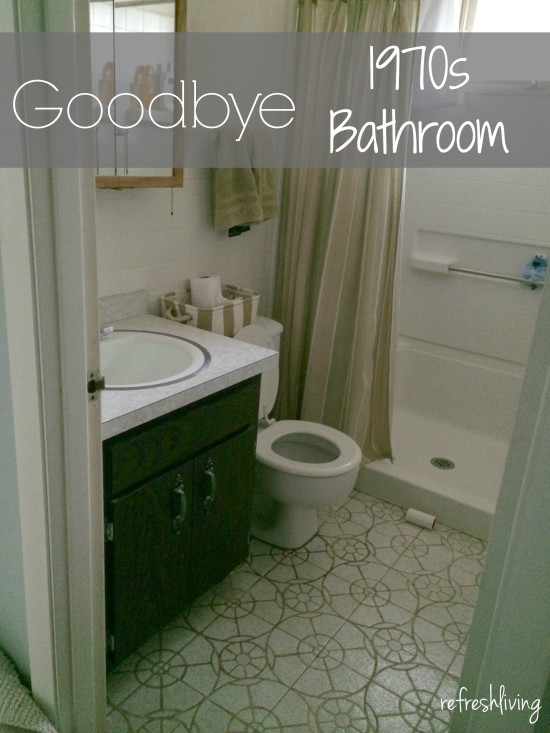 If you're interested in all the nitty gritty details of the space to begin with and the steps in the remodel, you can check out all of the remodeling process here.  To keep it short and simple, almost the whole space was gutted – shower, tiles, vanity, bottom half of the wall, and toilet.  We replaced everything on a tight budget.
We moved around the plumbing and then installed the bathtub and tile.  I chose white ceramic subway tile primarily because it is cheap, but I also liked the clean look it gave the room, especially with my ideas for such a colorful ceiling.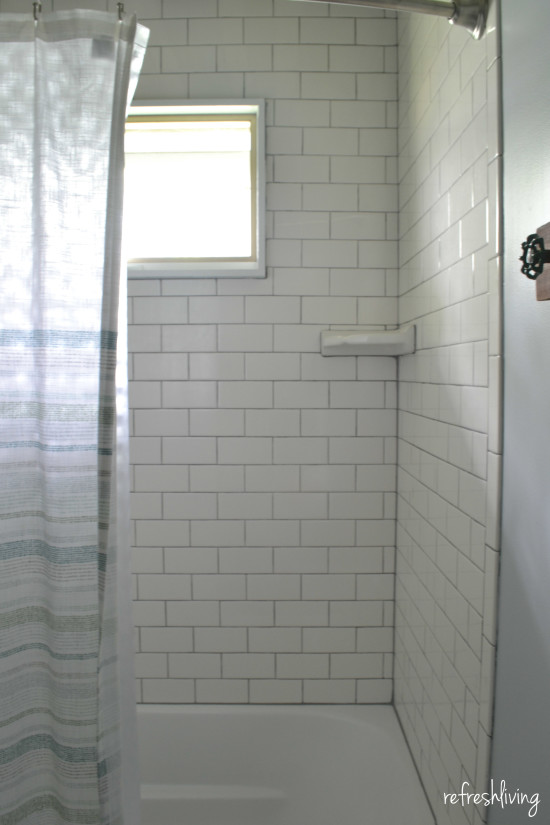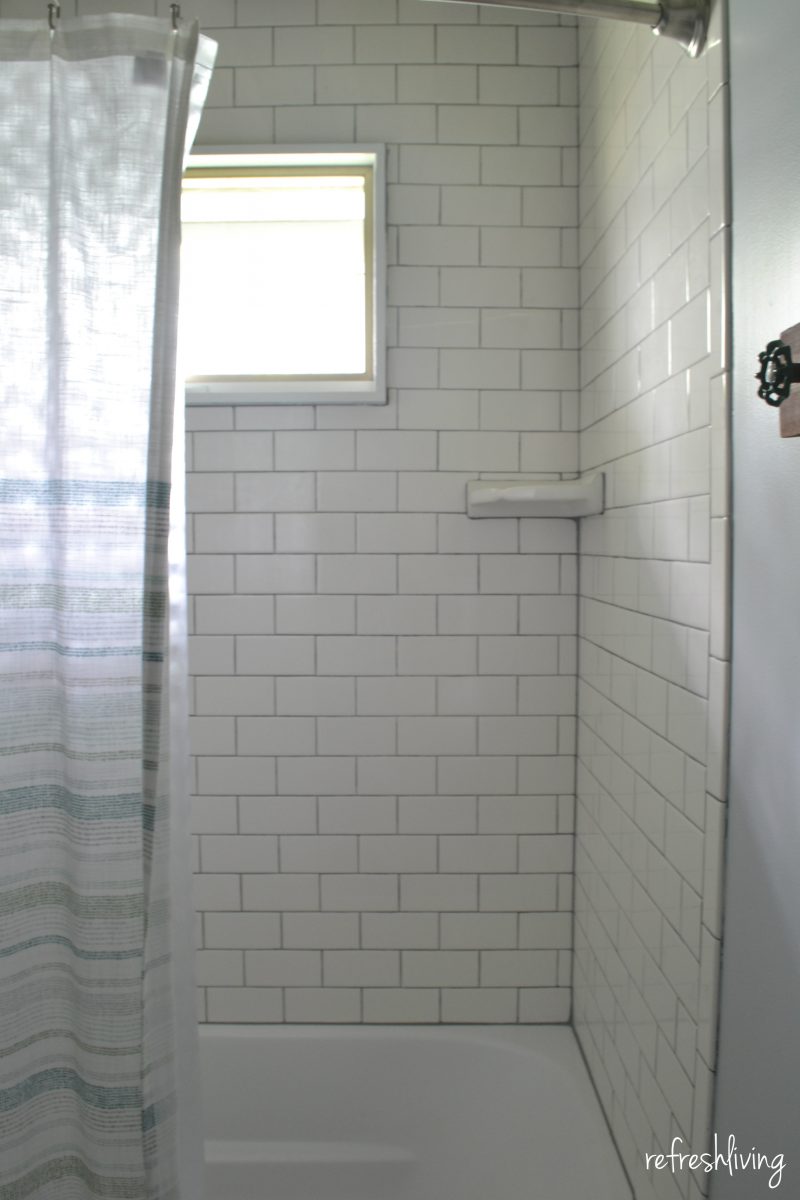 I stood firm on the light gray grout for the wall and floor tile, even though my dad thought I was crazy. I must say, I started to regret my decision after it was installed.  My dad and husband said it resembled an insane asylum, and I found myself agreeing with them. Thankfully, once the ceiling was installed, it changed the whole look of the space.
The only thing I knew I wanted in this space was an antique bead board ceiling.  This wood came from an old milk barn in Wisconsin.  I love it.  It might be my favorite thing in the whole house.  If you want to put some old wood on your ceiling, too, read this post on how I installed the beadboard on the ceiling.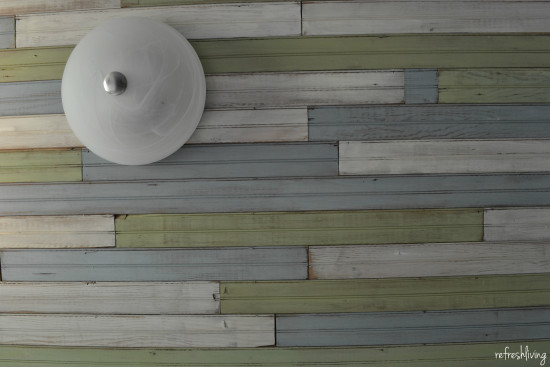 Now, it wasn't the plumbing, tile install, or ceiling that held up this bathroom remodel.  Everything in the space was completed by the end of spring, except for that vanity.
My dad found this antique washstand in an empty apartment that had been used as a sink, and as soon as I laid eyes on it, I told him that was going to be our vanity at our cottage.  The sink that was in it was rectangular and the faucet was on the side, because washstands are fairly narrow in depth.  We had ideas of how we could retrofit it to fit a countertop and add some space to the back of it so a standard sink would fit.
I found a slab of quartz countertop (but it looks just like marble) at my local ReStore for $20 and an under-mount sink for $10.  It was just big enough to fit the washstand; we didn't have an extra inch.  It was unfinished and chipped on one side, so we made a template and brought it to a local countertop shop, who quoted us at $175 to finish the stone and attach the sink.  $205 for a complete vanity sounded perfect!
Long story short, that piece of stone sat at the countertop shop for five months.  To give them credit, we did tell them not to rush on it, since it was a small side job.  After a lost template, a lost phone number, a few questions about our "vanity", we finally got our finished slab.  Because it took them so long, they wouldn't accept our payment.  We were shocked, because although it had taken so long, we understood, and we weren't upset about it.  I told you we have been remodeling on a tight budget, so our patience with this vanity top saved us a lot of money, which I am very grateful for.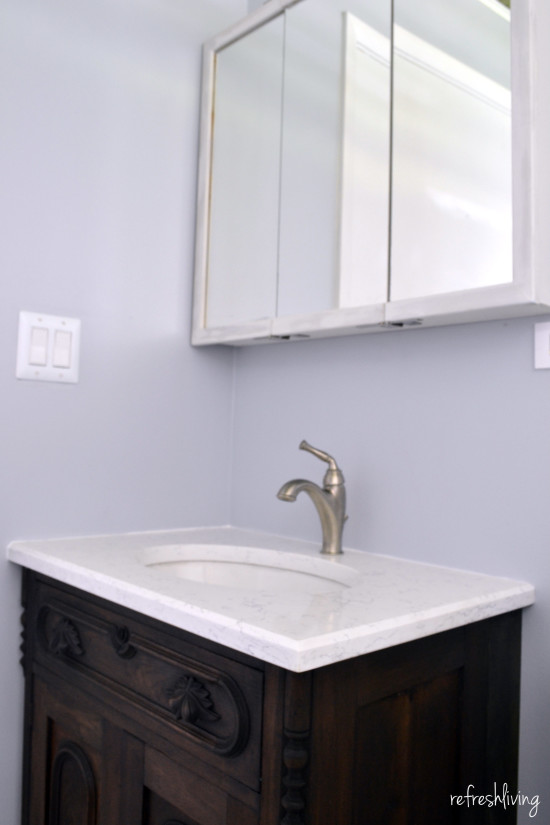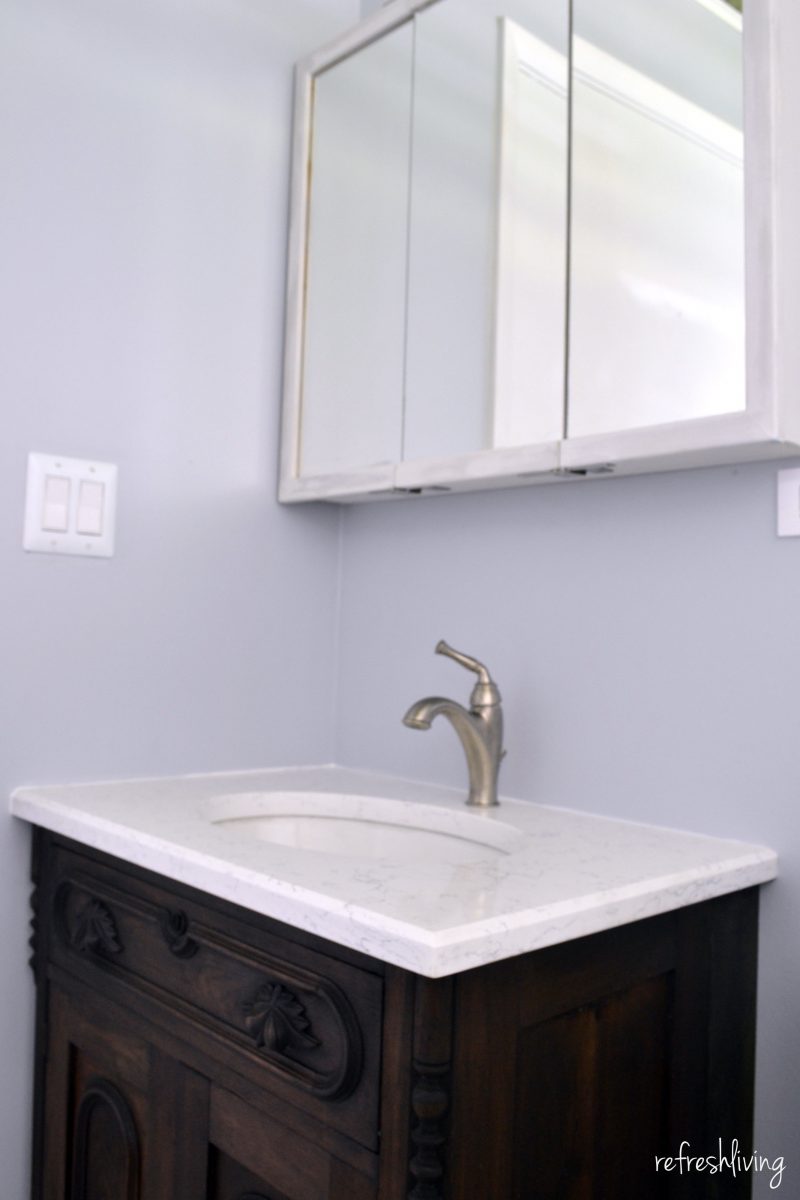 We stripped down the finish and stained the washstand in an ebony color.  My dad cut out the drawer so the sink would fit, added a panel to the back because the washstand needed to stand about 6 inches out from the wall, and added cleats to the wall for the back of the countertop to sit on top of.  (Although I was completely willing to take this on myself, my dad was pretty excited about this project, so I let him work his magic.)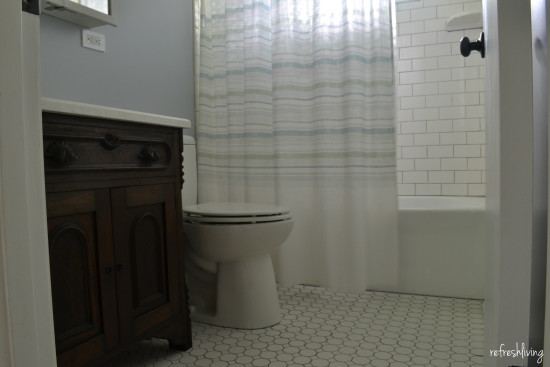 I added my vintage faucet towel rack to help us corral all those extra towels when guests stay with us.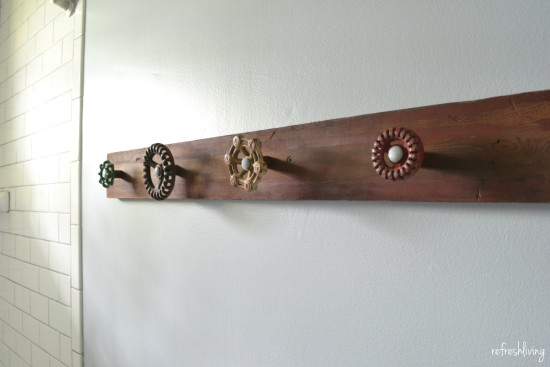 I saved more money by painting our old medicine cabinet.  I really don't love the look of it, and when I find an antique medicine cabinet with a mirror, I'll probably replace it, but for now, I have a virtually free (and still sturdy) medicine cabinet.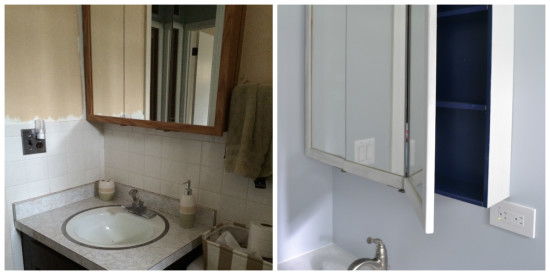 I told you our budget was tight.  Would you believe me if I told you we renovated everything for under $1,000?!?  Here's the breakdown:
Bathtub (acrylic) – $150
Toilet – $90
Countertop & sink – $30
Faucet (on clearance!) – $55
Bathtub faucet fixtures – $95
Subway ceramic tile  – $135 (900 tiles @ $0.15 per tile)
Mosaic floor tile – $65 (25 sq. feet @ $2.57 per sq. foot)
Grout & mortar – $50
Cement board, plywood, drywall, misc. – $75
Antique bead board – $80
Paint & stain (wall paint, milk paint for ceiling, vanity stain) – $30
Ceiling light and vent fan – $95
Towel rack – $10
Electrical outlets and wiring – $15
The grand total?  $975.  Our original budget was $1,500.  If you added in the countertop cost that wasn't charged to us, we would still have come in under budget at $1,150.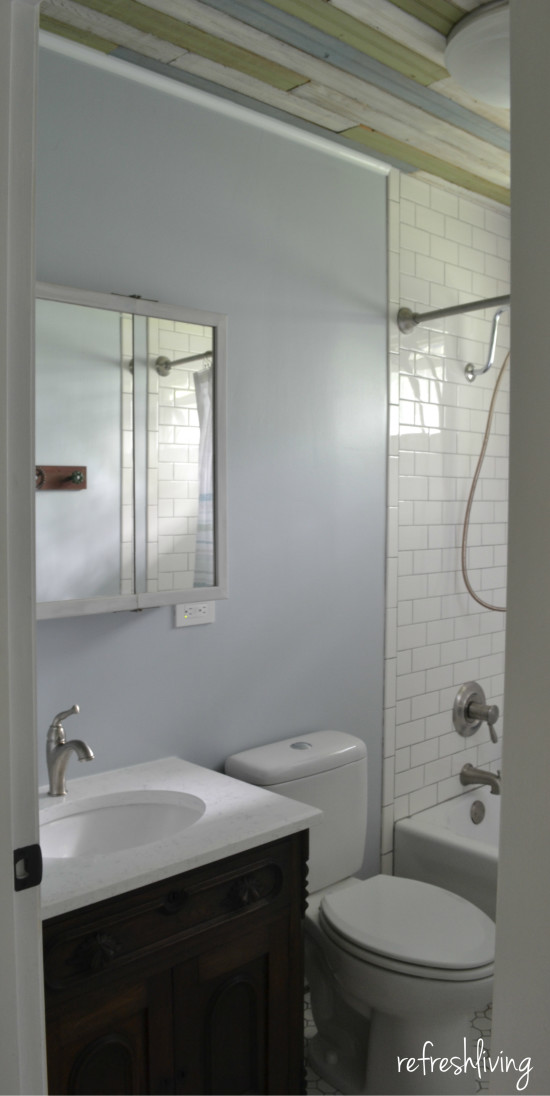 A full bathroom remodel for under $1,000?  I'll take it, and I'll give myself and my dad two big pats on the backs.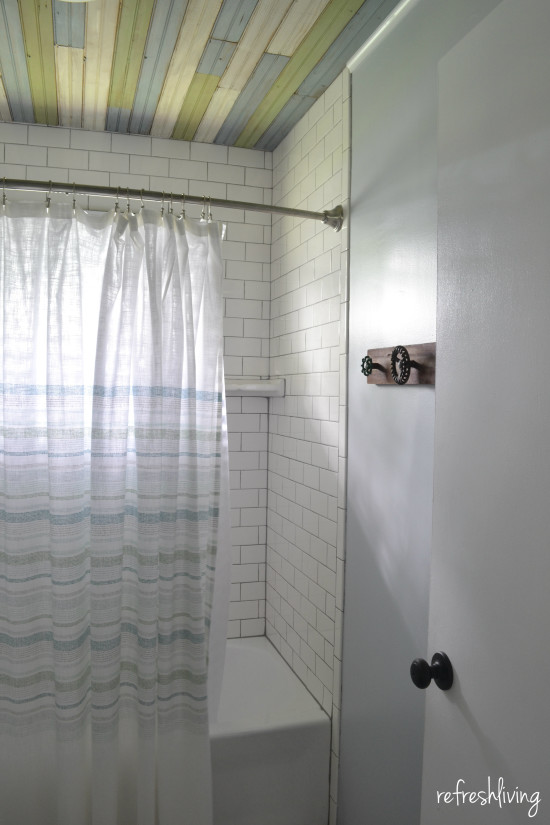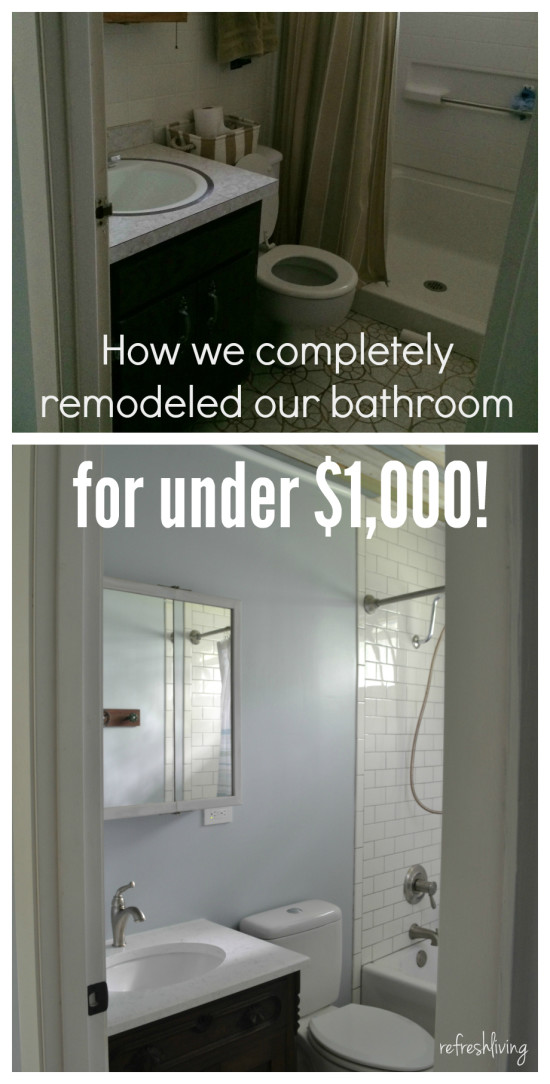 We're changing everything in our little lake house cottage.  Feel free to take a tour:
Join the Refresh Living DIY & Upcycling Community
Join the subscriber list to receive one to two emails per month with updates from the blog. PLUS, you'll gain access to my printables and graphics library. Every new design I create will be added here, and you'll have free access - forever!