Six weeks ago I started the One Room Challenge hosted by Calling it Home design challenge to give my third little girl something new.  She's destined for a life of hand-me-downs from her two older sisters, so I thought she deserved a little something special.  Plus, I've been dreaming up this nursery for close to four years and kept dragging my feet on getting it started.
Since having deadlines is one of the only ways I finish anything, the One Room Challenge was the perfect excuse to kick my butt into gear and finally start (and finish) this nursery.
Here's how the room has looked for the last five years.  Yellow.  Boring.  Dirty carpet.  Blah.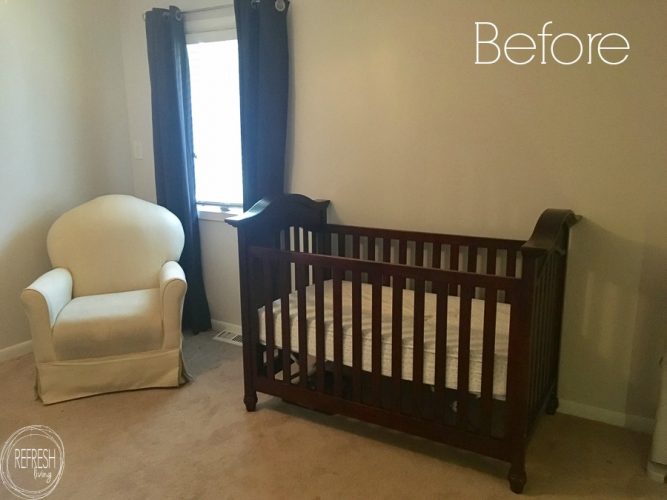 I've been sitting in that yellow rocking chair for years planning out my vintage schoolroom inspired nursery.  Years. 
And now, I'm excited to say, it's done!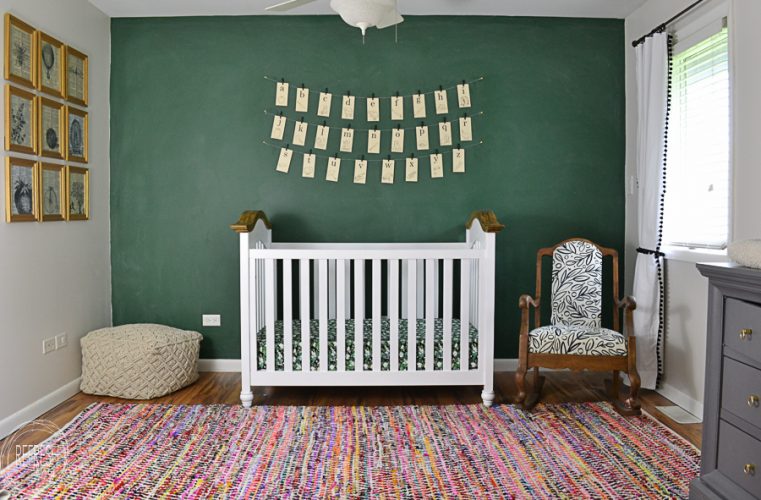 It's finished!  Yes, I finally finished a space from top to bottom.  I've never accomplished this task in any of the other One Room Challenges; there were always projects I still needed to finish.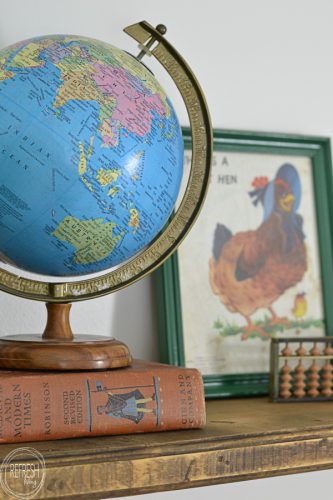 But I think this room is DONE.  And I am in love with it.  Take a look around.  I promise I won't talk too much.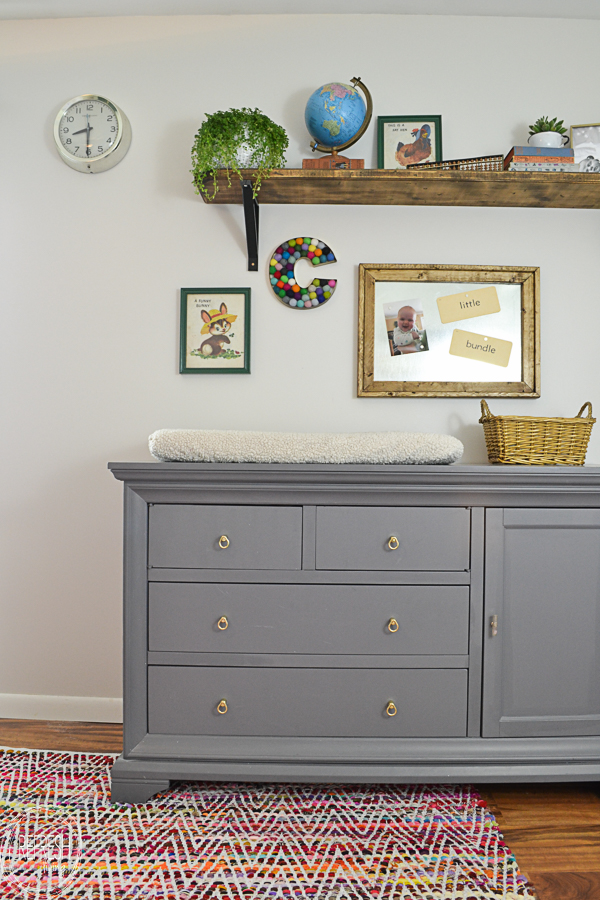 The gallery wall was so much fun to put together.  I've been collecting little vintage odds and ends for this room for awhile, so it was fun to finally display them all.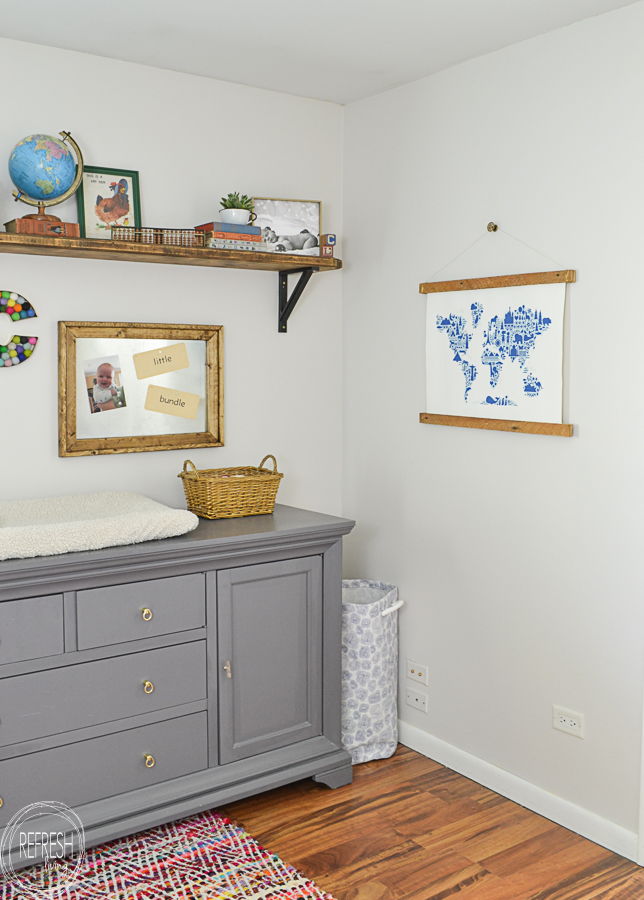 Isn't the world map from Minted just adorable?  My oldest daughter really loves maps, so I had her in mind when I picked it out, but I also thought it was the perfect modern touch on a vintage classroom accessory.  I'll be sharing all the details on how I made the frame from some old pieces of wood to mimic the look of a school map.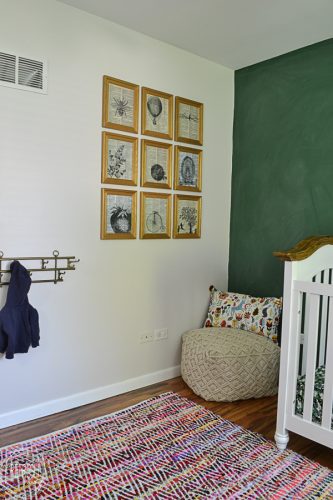 Another fun DIY project were the dictionary page art pieces.  Picking out the vintage sketches was by far my favorite part.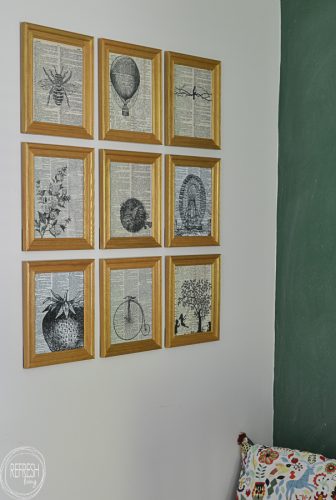 More details on this easy, large scale DIY art soon!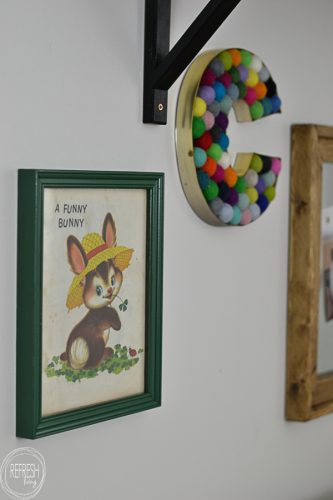 We've nicknamed our little one PJ Funny Bunny.  I'm not sure where my husband came up with that one, but when I saw this page in a vintage cloth book, I knew it needed to become artwork in her room.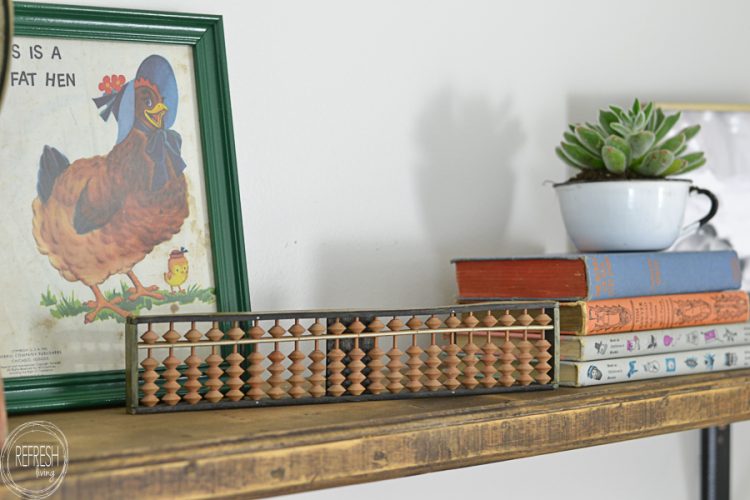 Plus another big fat hen page made the cut as well.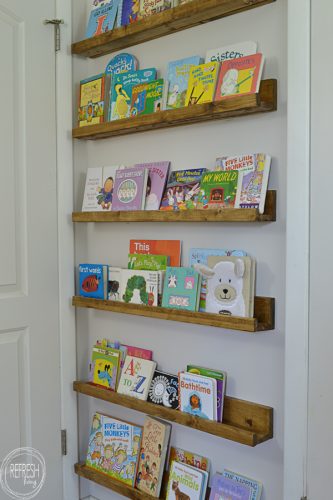 These book ledges finally make use of this previously unused space.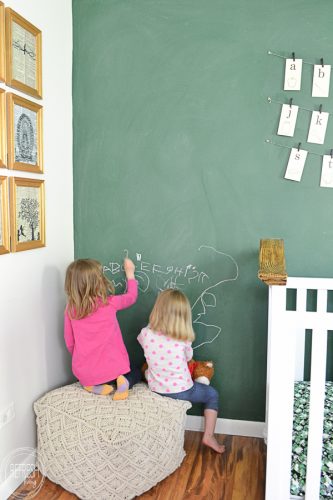 My other daughters were thrilled to learn that the entire wall was a chalkboard.  Thrilled. Rustoleum's green chalkboard paint gave the perfect vintage green color to the wall.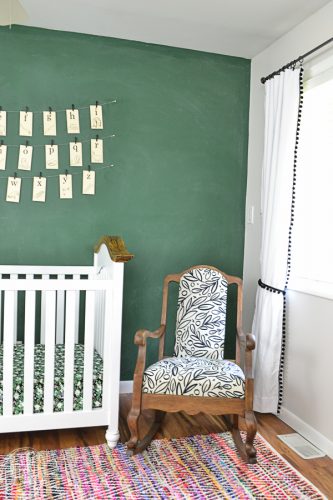 I made the curtains from a white sheet, and updated a vintage rocking chair with this Branch Toss fabric from Minted.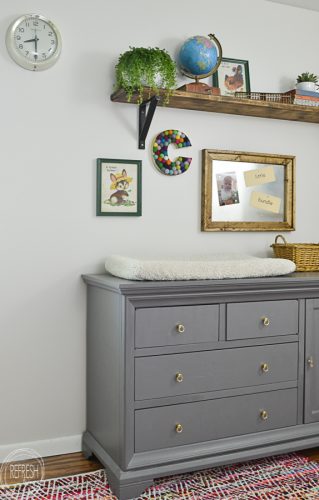 I painted the old dresser and added some brass ring knobs from D. Lawless Hardware.  More details soon about that project as well!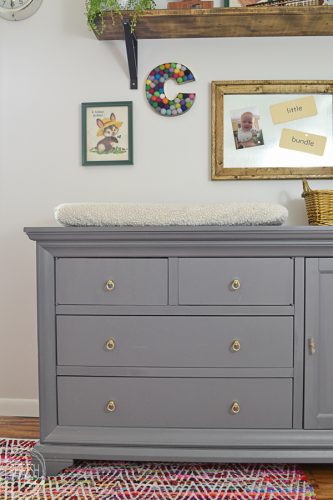 All in all, I can only hope it will be a place where learning and fun go hand in hand- just like what should happen in a classroom.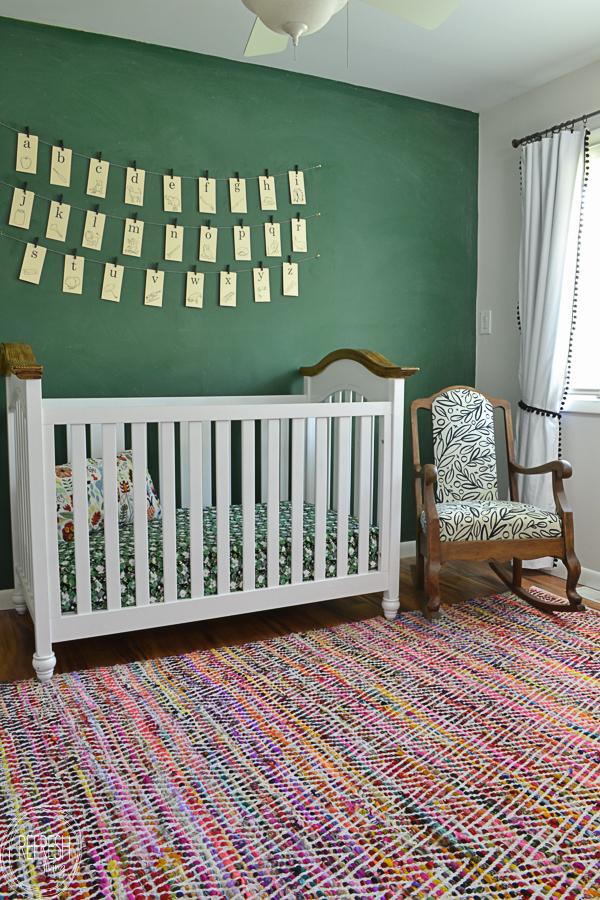 A huge thank you to those companies that provided product for this room!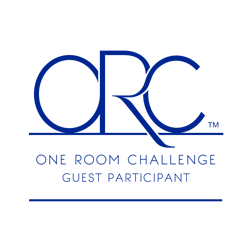 Be sure to head on over to Calling It Home to see all the other One Room Challenge participants!
Like what you see? I'd love for you to follow along!
The graphics library is free to all of my email subscribers; you can sign up by clicking the image below.

Join the Refresh Living DIY & Upcycling Community
Join the subscriber list to receive one to two emails per month with updates from the blog. PLUS, you'll gain access to my printables and graphics library. Every new design I create will be added here, and you'll have free access - forever!