We've lived in this house for over 12 years, and this room has frightened me since day one.  It's large, it's awkwardly laid out, and it had a very tall, and very red, wall.  I designed around the strange layout and red wall for years, but I decided to finally face my fears and tackle the red beast.
I LOVE shopping at flea markets, thrift stores, estate sales, and garage sales for virtually all of my home decor, and the way this room was curated is no different.  Almost every piece in this room has a previous life story and a new home in our home.
Basically, I owe this design to my grandpa. He not only passed along his love for second hand shopping and creative decorating, but he also left my family with hundreds of his gorgeous pieces of artwork as well. I've incorporated some of my favorite pieces into this room, and am so glad to finally have a place to proudly hang his pieces. Thanks Grandpa!!
Just for a quick reminder, here's how our living room looked a mere six weeks ago.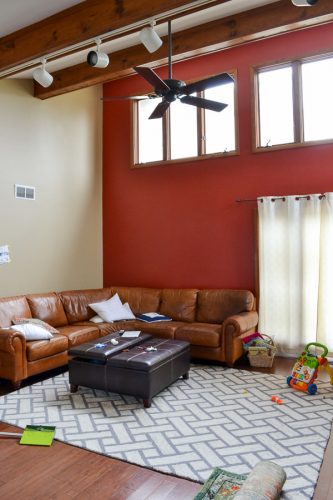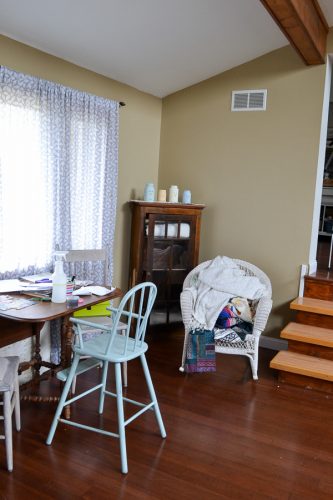 I've been waiting 12 years to say this: welcome to our new living room!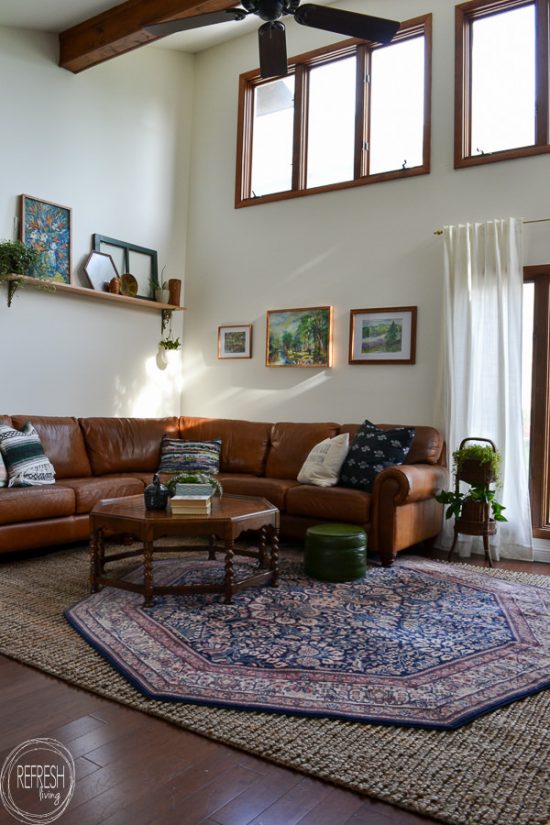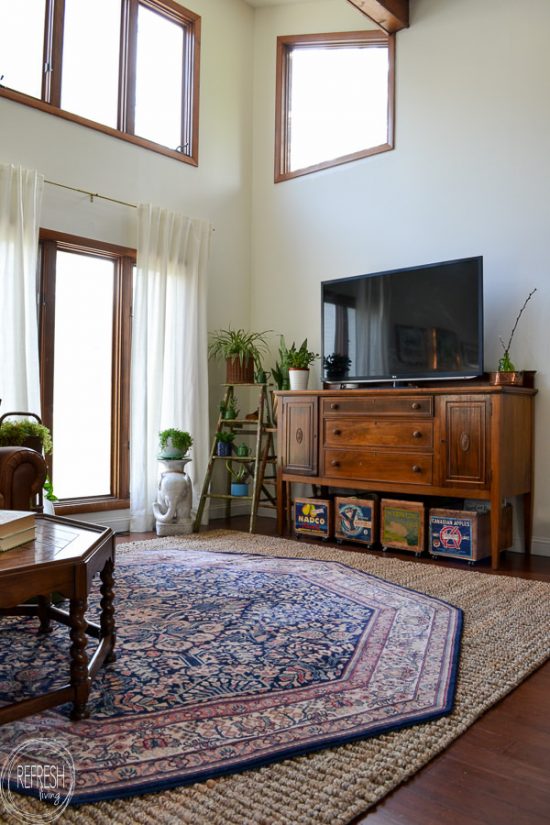 I've slowly been finding pieces of furniture that I wanted to incorporate into the room, but none of them were finished and all of them needed some TLC.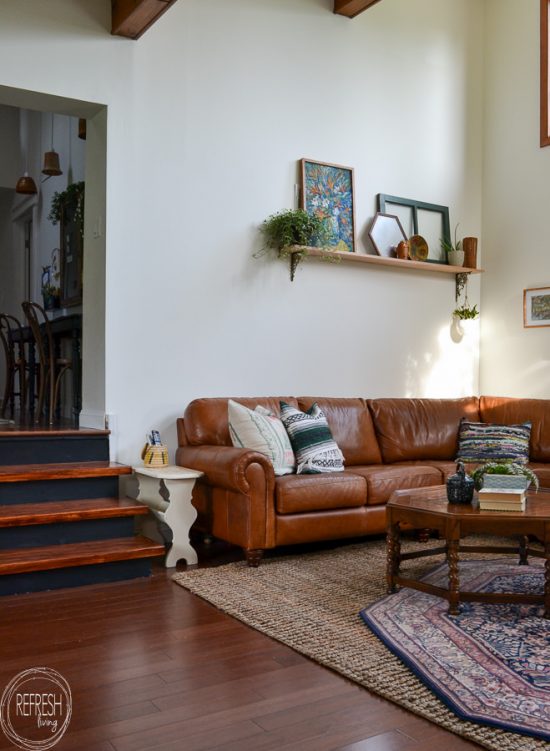 The leather couch was a Craiglist find and had a large tear in one of the cushions and some major cracking and dried patches on the other. Thankfully, it was nothing a little DIY leather repair and restoration kit couldn't fix!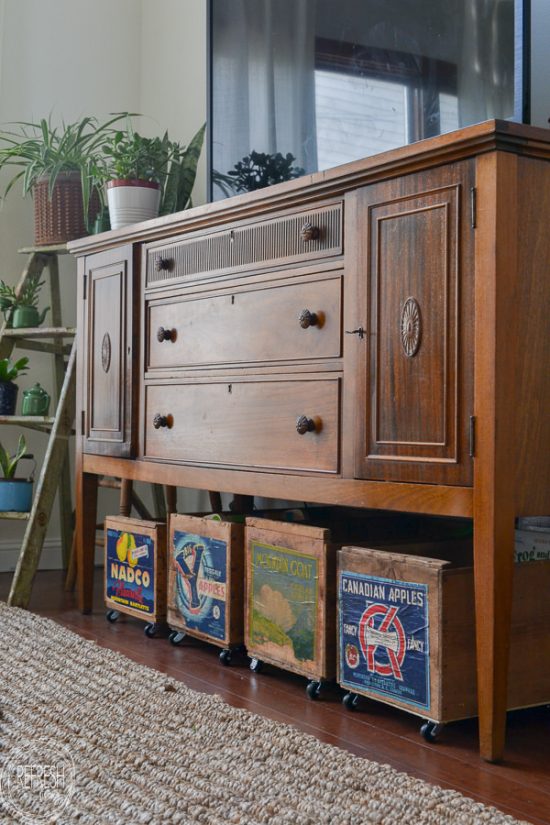 I found this sideboard at an estate sales years ago and it's been our tv stand ever since, but it also felt out of place. Now, I couldn't be happier with the gorgeous wood grain and its design.  We have three young girls living in this living room as well, as these vintage fruit crates hide all their toys in an easily accessible way.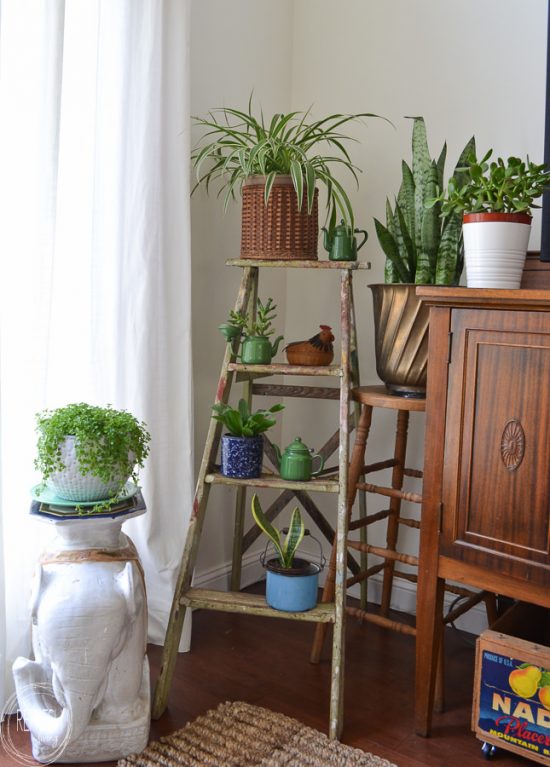 I named this my "happy plant corner" in my design plans, and it gives me all the happy vibes. With how much natural light that streams into this room, I can't believe I didn't bring in plants earlier!  That elephant was snagged up by grandfather 20 years ago.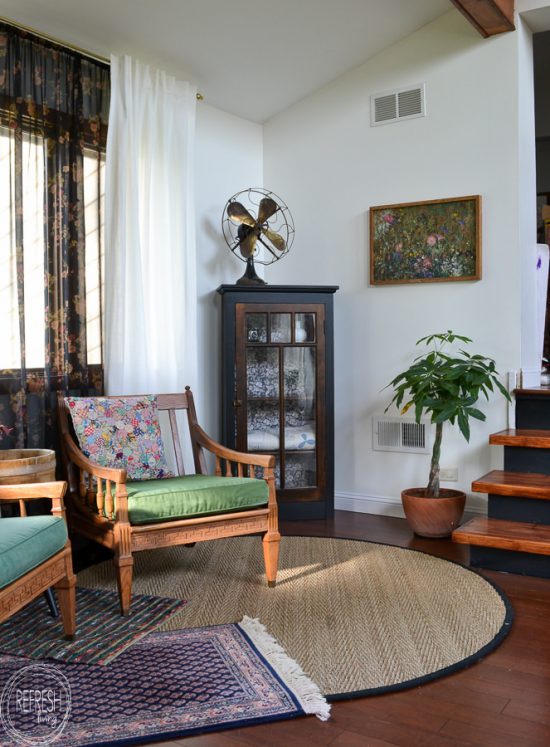 All of the artwork you see on the walls was painted by my grandpa. This piece was actually painted on strand board plywood and has such unique texture.
Here's how I took that black antique cabinet in the corner with peeling veneer and gave it a second life and new look.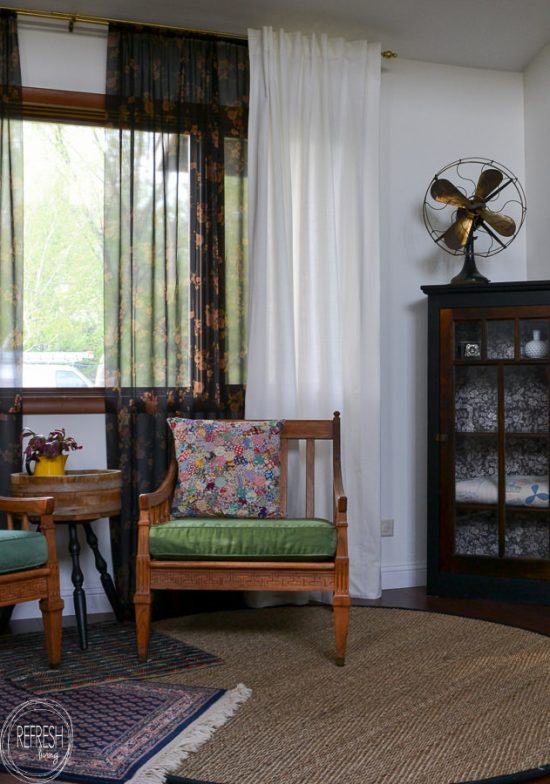 These chairs were not in my original design plan, but I happened to stumble upon them on the last day of an estate sale (= half off day!!) during the first week of the One Room Challenge, and I couldn't pass them up.  This side of the room is separated by a large gap that runs from the stairs to the fireplace, but creates a divide from the other half of the room.  These two chairs create a sitting area, but also can be used to open up the room into one large conversation area as well.  Did I mention how much I LOVE these chairs?
I made with pillows with a vintage quilt top I found at another estate sale awhile back. I didn't know exactly what I planned to do with the quilt, but I couldn't pass up the beautiful handmade artistry.
Some old drawer fronts and a half table create a much needed "entryway" – a place to hang coats and place small items for visitors.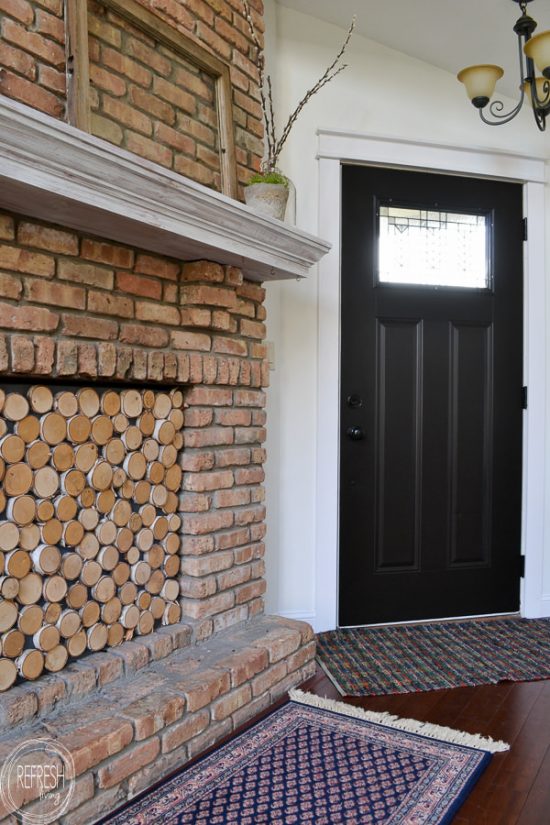 I painted the front door, but kept everything the same with my fireplace and mantel.  I have plans to create a new insulating fireplace screen and update the light above the door, but I just didn't end up having time.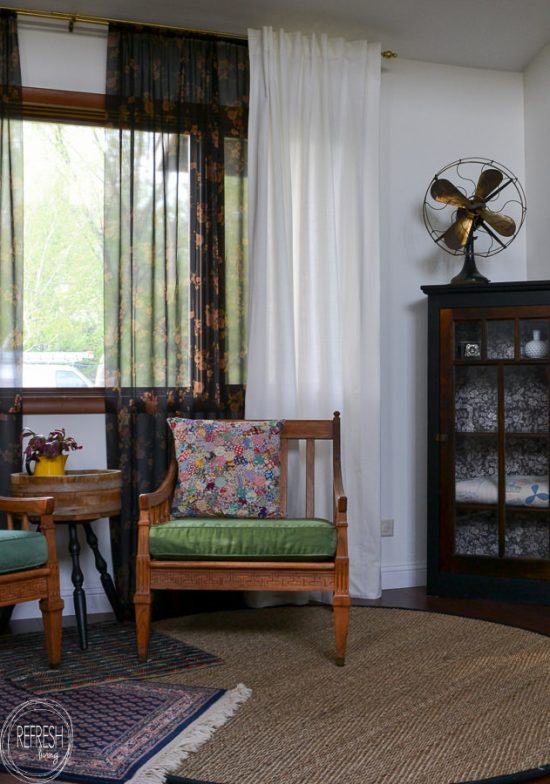 The only new rugs I brought into the room were the large jute rug and the circle sisal rug. All of the other rugs are second hand. I was starting to get pretty nervous that I wasn't going to find any rugs I liked within my modest budget, but then with only two weeks to go, I stumbled upon this hexagon rug and the two runners for $75 at a second hand furniture store.  Bonus? They had all just been cleaned, so I didn't even need to spend extra money on that.  They are exactly the colors I was looking for; I LOVE it when that happens.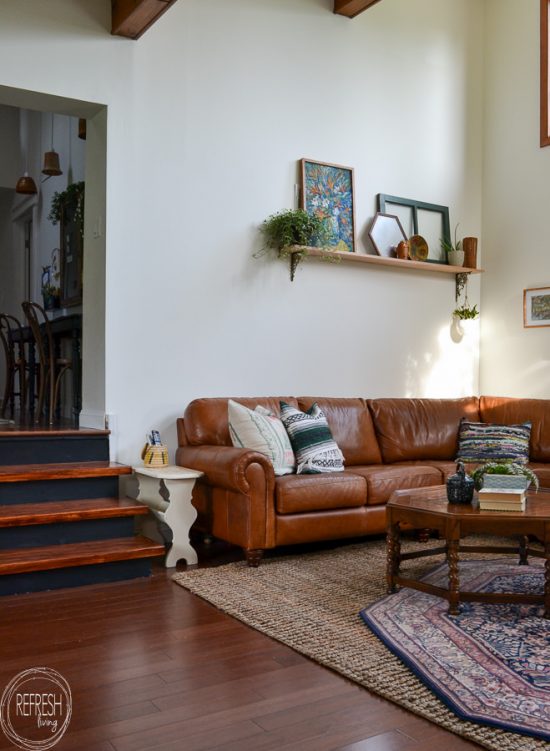 I did my best to match the laminate stair treads with the floors running throughout the rest of our house with gel stain. Although it's not a perfect match, it was a great temporary solution that saved us from completely redoing the treads.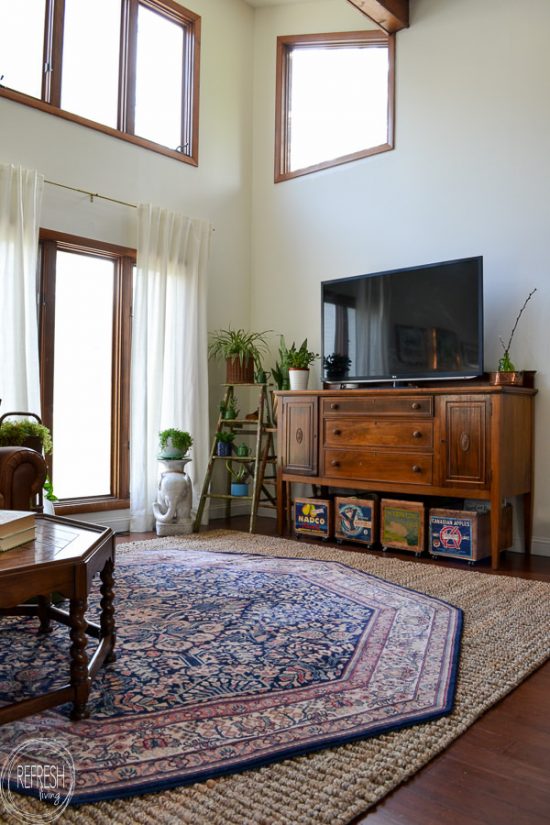 It was such a fun room to finally bring together, and it's a place where the entire family can enjoy.
Like it? Pin it. (Thank you!)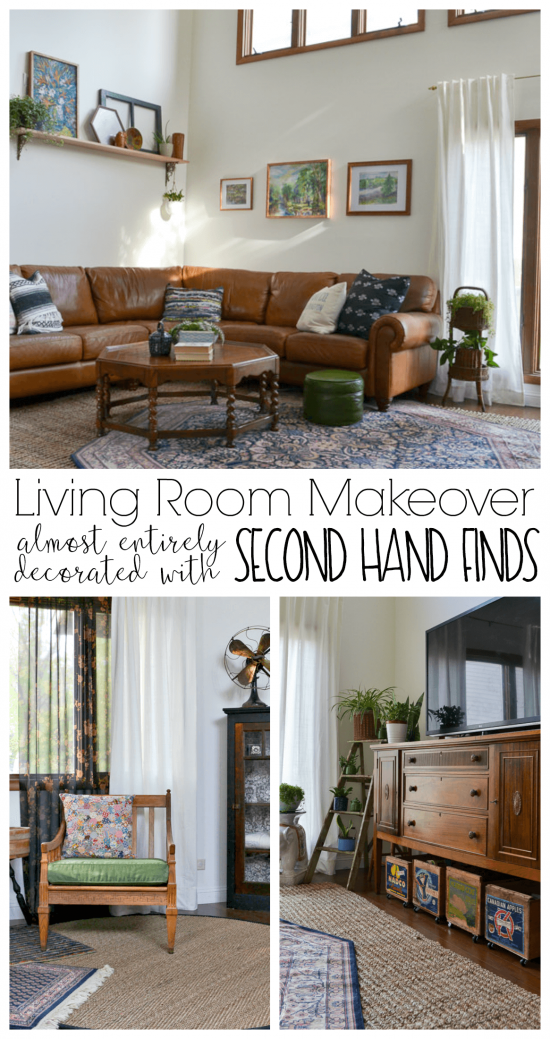 Ready for a TON of other inspiring room makeovers and create design ideas? Head on over to check out all the other One Room Challenge designs here.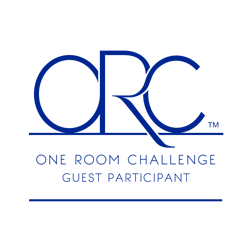 Like what you see? I'd love for you to follow along!

Join the Refresh Living DIY & Upcycling Community
Join the subscriber list to receive one to two emails per month with updates from the blog. PLUS, you'll gain access to my printables and graphics library. Every new design I create will be added here, and you'll have free access - forever!