Are you planning on painting a wall and wondering: Do I need to choose the most expensive type at the hardware store? Do I need to prime my wall before painting?  How do I cover a dark wall with light paint? Look no further, because we put the ultimate dark red wall to the test and have your answers on which paint to select!
I love changing the color of the walls in our home with paint. In fact, I've painted some of the rooms in our home more times than I'd like to actually admit. However, there is one wall in my house that has scared me to death for the last 12 years. Although the walls in the rooms around it have been painted multiple times over, I left this wall as is. Let me show you why.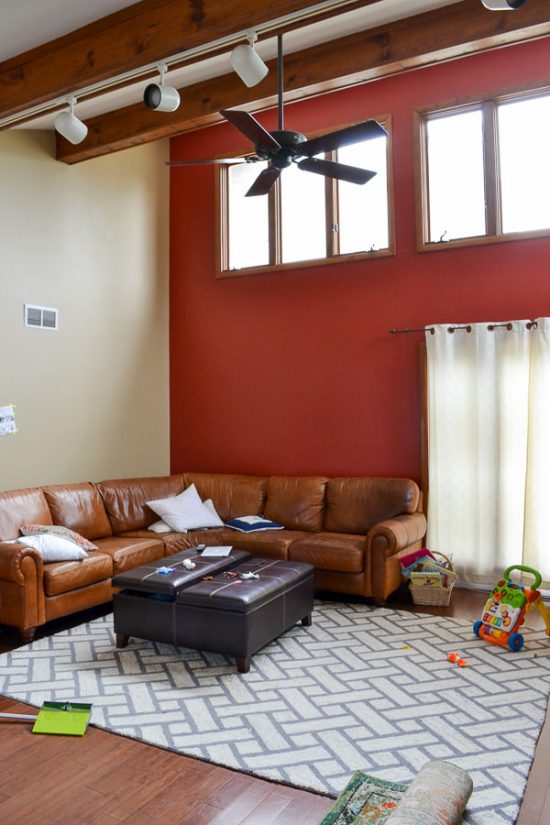 It's red, it's shiny, and it's massive. We had a couple of friends tell us we should just hire someone to paint it. But here's the thing: I don't hire people to do jobs that I can figure out how to do myself.
Like I said, I've painted my fair share of walls. Since buying our home 12 years ago and our cottage 7 years ago, I've painted 25+ rooms.  (No, these homes are not large, I just have a painting problem.) Most of the time, I don't think twice about buying the cheaper paint, or the paint that's on sale. Honestly, this paint has always done its job, and when you're decorating and remodeling on a budget like me, every dollar saved counts.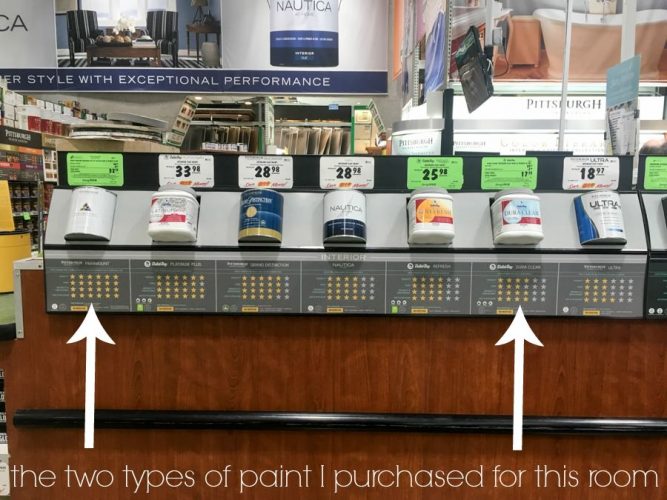 For this massive red wall, I thought I should test out a few different scenarios before committing all in on a paint type. This room had one red wall, and the other walls were a beige color (my failed attempt to make the red wall "work" when we moved in). I knew my normal "cheaper" paint would work  just fine on the beige walls, so I bought a gallon of the new white color in the lower grade of paint, and then one gallon of the highest grade of paint available at the hardware store to test. Basically, if they were going to do a fairly comparable job, I wasn't going to buy additional gallons in the more expensive paint if I didn't need to.
Because we were taking one of the hardest paint colors to paint over (red) and going over it with one of the worst coverage colors (white), I knew I needed to prime the wall first. But, just to test it out, I decided to see what each paint could do without primer as well.  The highest grades of paint have primer in them, but I wondered if it'd be enough to cover the red.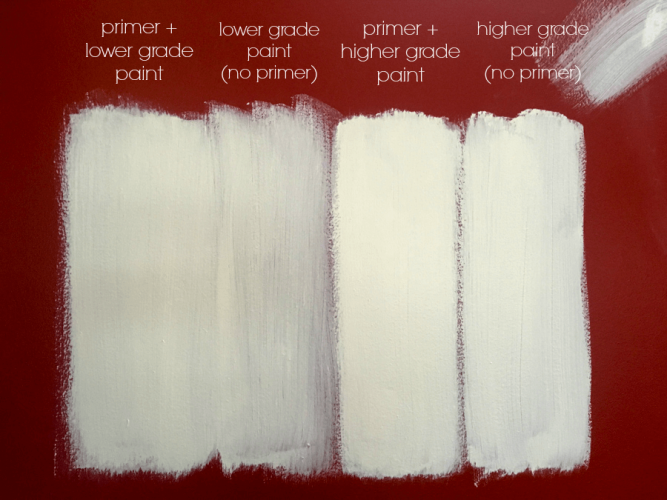 I think the picture pretty much says it all. There was quite a difference between the two types of paint, especially in the places where I didn't use primer. The lower grade paint + primer looked similar to the higher grade paint without primer, but the higher grade paint with the primer was clearly going to give me the best coverage results.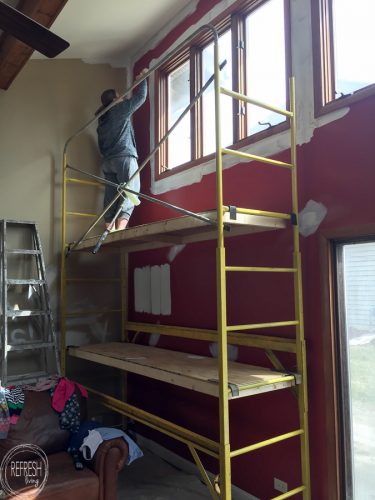 We borrowed scaffolding from my dad (but you can also rent it from home improvement stores or rental centers), primed the wall, and then gave it two coats of the highest grade paint. I was actually pretty amazed we only needed 3 coats of paint/primer to completely cover it, and as a result, was kicking myself that we didn't do this project years sooner.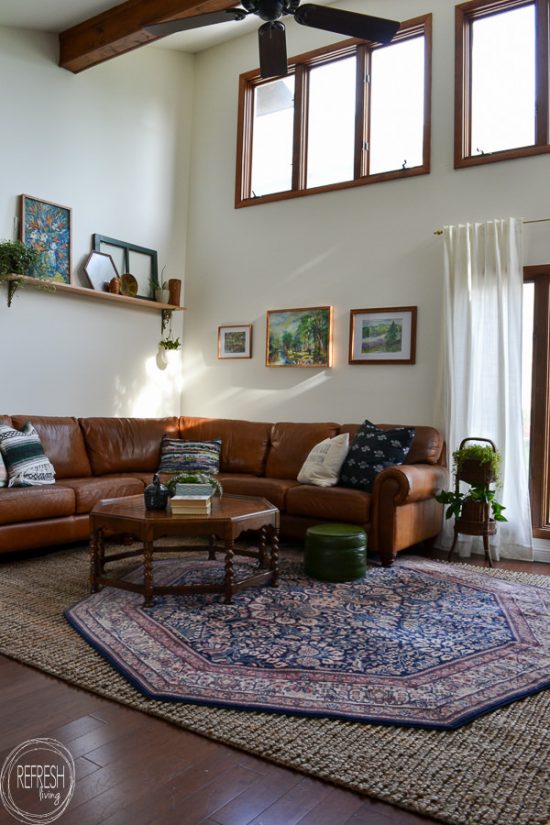 Seriously, there is no way you would be able to tell this was a red wall in its previous life.  You can see the rest of the vintage modern living room here, which I decorated on a major budget almost entirely with second-hand finds.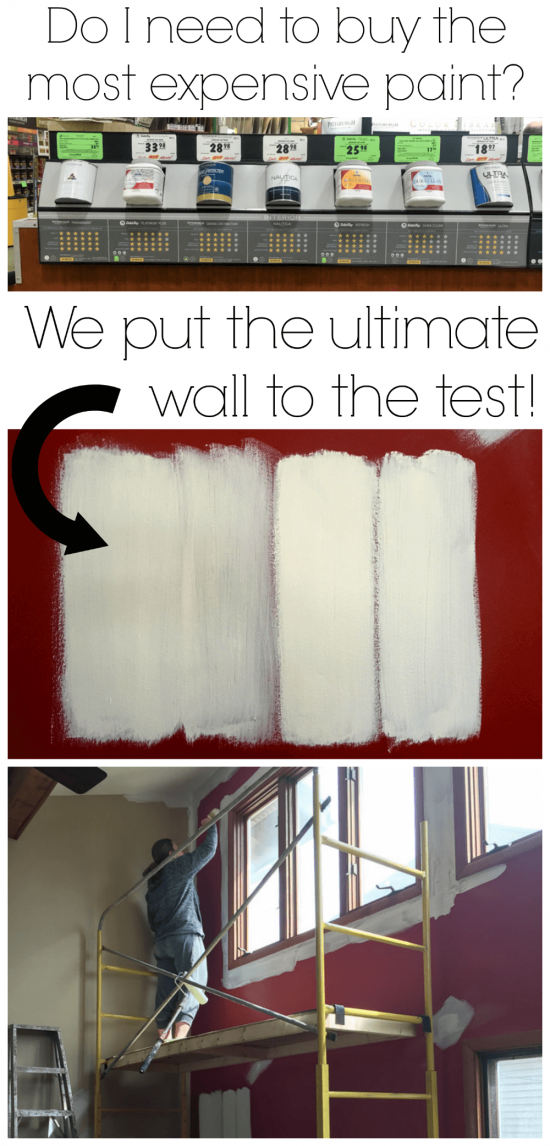 So, do I need to buy the most expensive paint?
There's not a clear cut answer here. Yes, I'd say you need to buy the highest grade of paint if you're trying to cover a red or dark colored wall. And even when you do, I'd still prime the wall first. However, if you're changing colors that are fairly similar in tone, I personally don't find the need to buy the highest grade of paint. Save some money by priming first, and then buying the lower grade of paint to finish the job. Once paint dries, I find them to all look the same anyway.
A Few More Questions Answered
Do I need to prime?
Whenever I'm painting a wall a light color, I always prime first. I've found that when I prime, I can often get away with just one coat of paint (and touch up in some areas). From a budget perspective, a coat of primer is much cheaper than a second coat of paint color, and for that reason, I'm sold on primer.
Can you see a difference in the different types of paint on the wall?
I was a little worried that I was going to be able to notice a difference in the lower grade and higher grade paints once they were on the wall. We had a little extra of the higher grade paint left over after painting the red wall, and just continued using it on the next beige wall. Once there was nothing left, we just switched to the lower grade paint. After the first coat, I could see a difference, but once the second coat was added, you can't tell where one paint starts and stops. I'm thinking this is probably because we primed first. If you're worried about it, just make the two types stop at a wall corner. You'll never be able to see a difference if you do this.
How do the speciality brands (Benjamin Moore and Sherwin Williams) compare with the home improvement store brands?
I've  tried out both brands of speciality paint as well, and I find their lowest grade in these speciality paints to be pretty comparable to the highest grade of paint sold at home improvement stores. I've heard a lot of professional painters tell homeowners that they need to buy these specialty paints. Here's my honest opinion on that statement. Specialty paints make the actual painting job much easier. They cover beautifully with less coats. However, once the paint is on the wall, I actually can't tell a difference between the paints I've used. (I will admit, though, that I've never shelled out the big bucks for the highest grade of paint at the speciality stores. I just can't do it.)
Obviously, I'm an amatuer painter when compared to professional painters, so please consider the source when I tell you I don't personally spend the money on these types of paint. I'm a budget-conscious homeowner who finds ways to save money on all of her projects – paint included. 
Do you have any advice on the best type of paint for furniture?
Well, funny you should ask, as I like painting furniture even more than painting walls! One of my most popular posts is on the best type of paint for furniture. I compare the main kinds of paint most commonly used for furniture and give you my honest opinion on each one.
What's the best order for painting a room?
If you're painting an entire room (ceiling, walls, and trim), I have an order that seems to yield the fastest and best results for me. It's actually a little different than what you'll read on a lot of home improvement websites, but it's definitely my favorite way to do it.
I hope you found a tidbit of information that might be helpful in your own painting journey!
Like what you see? I'd love for you to follow along!

Join the Refresh Living DIY & Upcycling Community
Join the subscriber list to receive one to two emails per month with updates from the blog. PLUS, you'll gain access to my printables and graphics library. Every new design I create will be added here, and you'll have free access - forever!