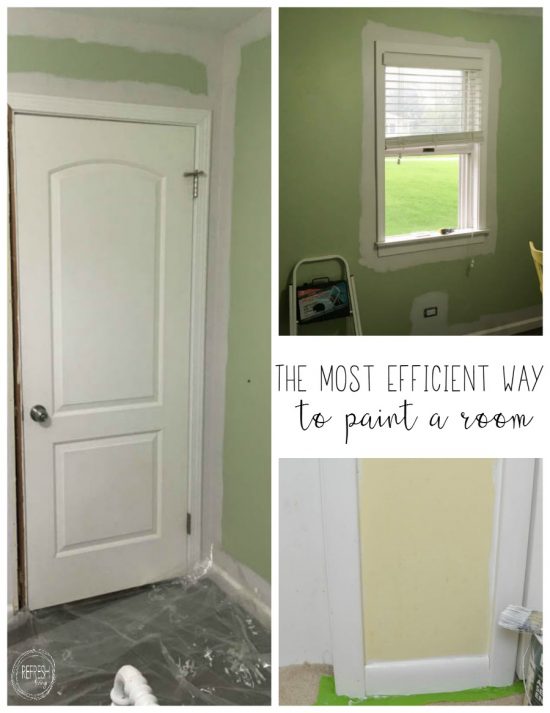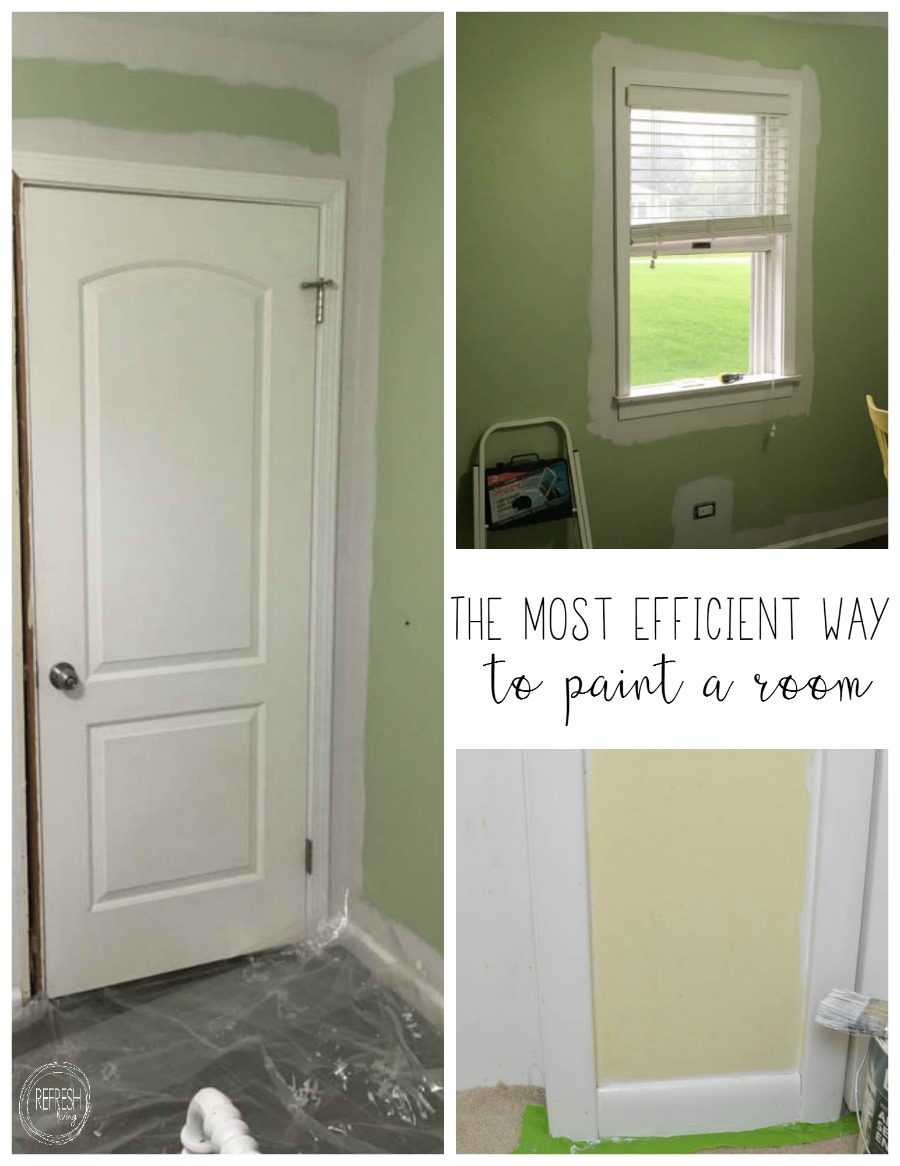 I remember when I first started painting the rooms in my house, I asked my dad about everything. Do I paint the ceiling first? What type of paint do I use on the ceiling? What's the difference between satin and flat and semi-gloss? What type of paint is the best for painting trim? Do I need to use painter's tape?
You get the picture. Basically, I didn't quite know what I was doing, but I knew I was fully capable of painting the rooms in my home, and that I didn't really have much of a choice. (If you saw the color choices when I moved in, you'd agree with me when I say I didn't really have a choice. One room had bright mustard yellow walls with a red accent wall. Anyone hungry for McDonalds?)
My dad gave me a lot of advice over the years, and I've since painted my fair share of rooms (I just did a quick count and it's above 25!), used a lot of different products, and learned a lot in the process. At this point, I sort of take for granted that everyone knows all of these tips for painting a room, but I'm sure there are plenty of people out there just starting out on their room painting journey and may have some of the same questions I did.
Here are the supplies you'll need to paint your room like a pro:
If I linked to a product in this supply list, it means I use it and I love it. After painting a lot of rooms, there are just some types of supplies that I have grown to love and now they are the only ones I will buy!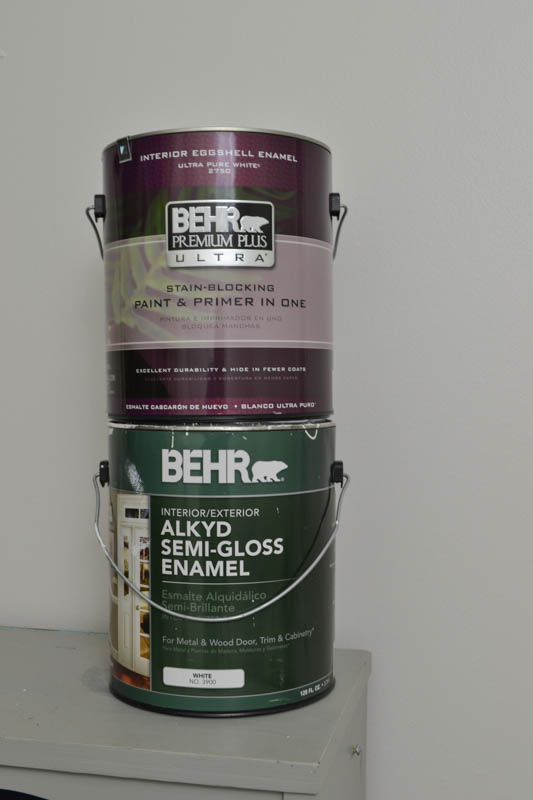 Step 1: Paint the Ceiling
I'll be honest, this is my least favorite step in painting a room, and I don't do it every time I change the wall color of a room, but there are definitely times when it just needs to be done. You'll want to paint it first because it's the area in which you have the least control when rolling, and it's okay if you get a little paint on the walls, because they are just going to be painted anyway!
Ceiling paint is really your best option for painting a ceiling. I wondered once, "Can I just use flat paint instead of ceiling paint?" and I'll say it works and looks the same in the end, but it's much messier. Ceiling paint is thicker and made to roll on without as many drips or splatters as regular paint. So although it does cost more than a low-cost flat white paint, it's worth it.
Step 2: Paint the Trim and Baseboards
I always freshen up my trim paint when I repaint a room. If you paint your trim before painting your wall color, it's a super fast process, because you can get a little paint on the wall since you'll be painting over it!
I will tell you, this order differs from most tutorials you'll find online, but I promise it is so much easier to paint the trim first, and not worry about getting a little on the wall. Plus, I find it to be so much easier to cut in the wall paint next to the trim than it is to paint the trim without getting it on the wall (unless, of course, you use painter's tape).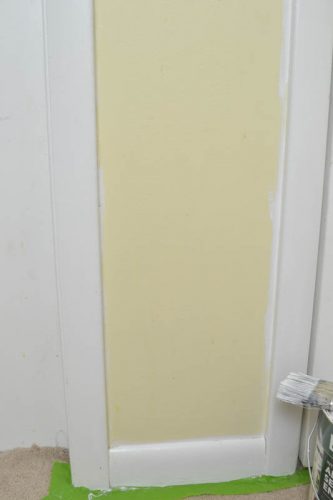 It's so important to choose the right type of paint for baseboards and trim, because they get a lot of wear and tear – scuffs, bumps, and and occasional scratch. I always used white semi-gloss paint for my baseboards. Oil-based paint gives a stronger finish, but it is much more difficult to clean up and it smells pretty awful. I'd sometimes use water-based semi-gloss and other times use oil-based, but once I tried Alkyd paint by Behr for trim, I WILL NEVER GO BACK to my old ways.
Seriously, this is the best paint for painting baseboards and trim, hands down. This paint is so durable, easy to clean, and withstands so much more than a normal latex semi-gloss.
Side Note: There are only two types of paint I will use to paint kitchen or bathroom cabinets, and this is one of them. It's that awesome.
Step 3: Cut in Wall Paint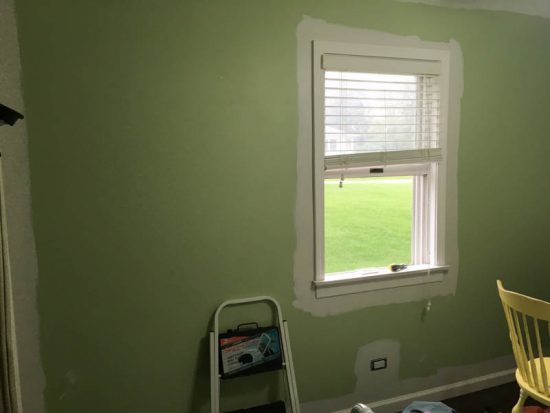 You basically have two options when it comes to cutting in the wall color around your trim, baseboards, and ceiling. You can use painter's tape, or you can cut in by hand. I started off using painter's tape because I was so scared of ruining my nicely painted ceiling and baseboards, but now I rarely use painter's tape. It adds quite a bit more time to the process, and now that I've figured out the correct brush stroke for cutting in ("Let your brush do all the work," my dad has told me, more than once…) I find that I can paint it by hand and achieve the same look as if I used tape.
Cutting in does take practice, though. If you think you have a steady hand, or want to give it a go without the tape, I would start around an area of trim, and give it a practice paint job. If you feel comfortable, continue on. If not, grab that painter's tape. No harm, no foul!
The one place where I would recommend painter's tape, especially if you are just starting out, is to use it on your ceiling when cutting in your wall color at the top. Ceiling paint gives a very flat/matte finish, and it's more difficult to clean off "oopsy" spots, especially if they are a dark color.
However, if you get a little wall paint on your trim while cutting in, you can easily wipe it off with a damp rag. (I actually have on in my hands at all times when cutting in!)
If you do choose to cut in by hand, be sure you are using an angled sash brush. It will help you out tremendously!
Step 4: Roll on Wall Paint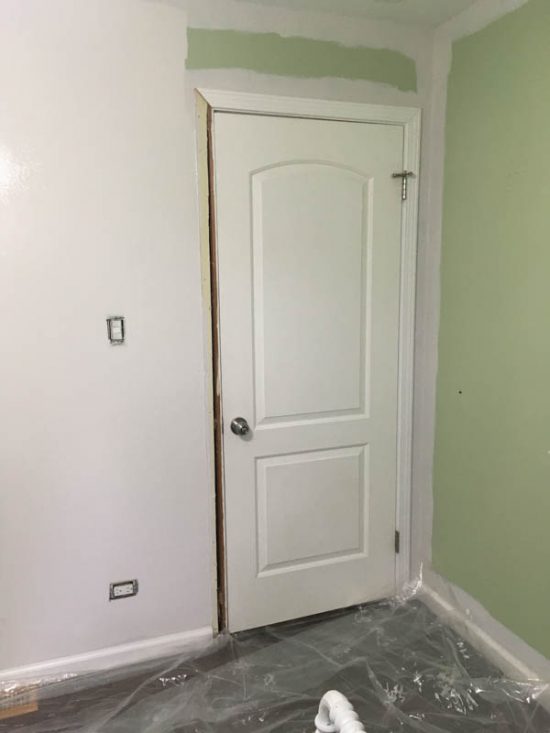 This step is easy, and by far the most fun in the process, because your new wall color is finally on the wall!
Attaching a broom pole to the end of your roller frame, or buying one with a telescoping arm, will help the process to go a bit faster and give you a little extra leverage when rolling.
When you purchase wall paint from any home improvement or paint store, you'll see a range of different qualities of paint. Although it pains me, as a budget DIYer, to say this, but there really is a difference between them and the more expensive, better quality paints really do give superior coverage. With that being said, any quality of paint will cover your walls, you might just need additional coats with some of lower grades of paint.
But then again, that also depends on what color you are painting with and what color you are painting over. If you're painting over a darker color with a lighter one, it will save you some money and time in the long run to just buy one of the higher levels of paint. I also try to bump up the quality when I'm painting a high-use area, like a kitchen.
If you're wondering about the differences between sheens, like flat, matte, eggshell, satin, semi-gloss, and gloss, you can read about the differences here. Personally, when I paint the bedrooms in my home, I use an eggshell finish. It gives me a little more cleaning and scrubbing power to clean off the mess created by toddlers and two big dogs.
Step 5: Paint a Second Coat
This step is usually fairly quick, but it's almost always a must when painting a room. Cutting in is much easier because you don't necessarily need to get right up to the ceiling or trim. Then, as you roll the second coat on, you'll notice all those little pockets that were showing the original color will be covered up nicely.
You're done, and your newly painted room looks beautiful!!
Before: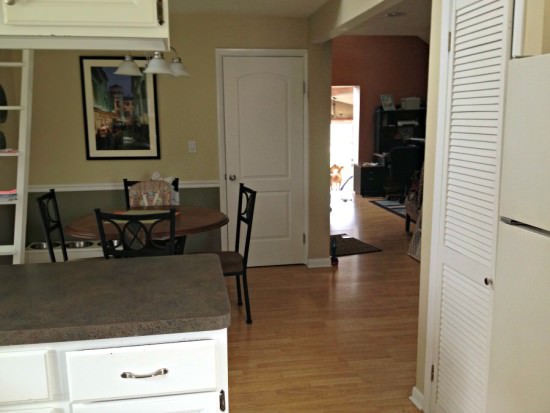 Now: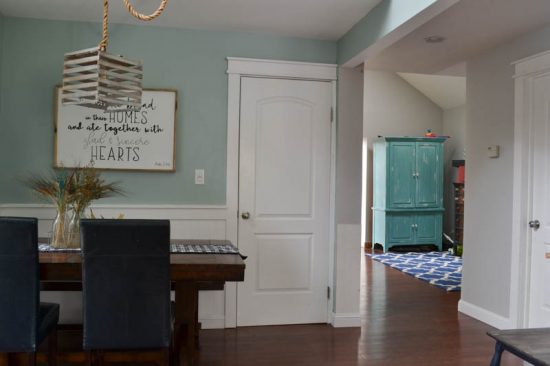 It's always amazing how paint can transform a room!
Like what you see? I'd love for you to follow along!
Facebook || Pinterest || Instagram || Google + || Bloglovin'

Join the Refresh Living DIY & Upcycling Community
Join the subscriber list to receive one to two emails per month with updates from the blog. PLUS, you'll gain access to my printables and graphics library. Every new design I create will be added here, and you'll have free access - forever!