There are so many different choices of paint, but there are some types of paint that just work better for painting furniture. This post gives the pros and cons to using wall (latex) paint, milk paint, chalk paint, acrylic paint, and alkyd paint on furniture. Plus, my personal opinion on the best paint to use when painting furniture!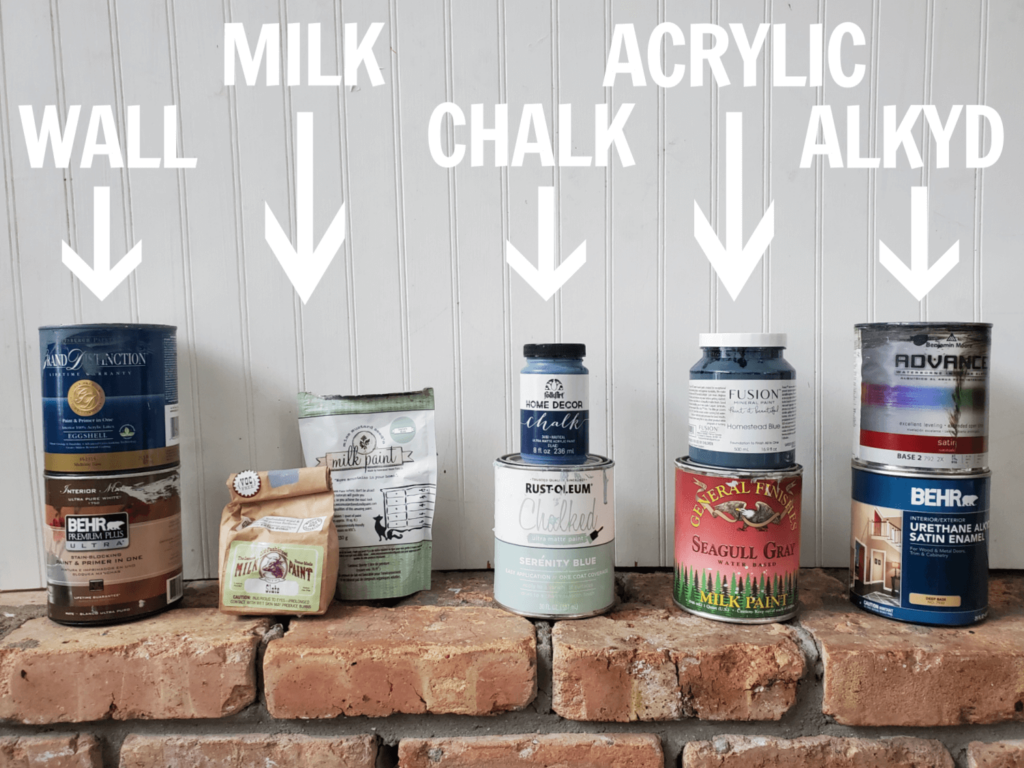 If you've ever painted furniture, or started looking into how to paint furniture, you've seen all the different types of paint that people swear is the best paint for furniture.  Most of these paints are just different brands of paint, but they almost all fall into five different categories of paint that can all be used on furniture.
I've painted a lot of furniture and tried out a lot of different types of paint, so it's time to break down the differences and reveal my favorite paint to use on furniture. I've included the pros and cons of each of these types of paint, my tips for using it on furniture, my favorite uses for each one, along with the projects I've completed with them.  Just click on the picture of the project to be directed to a complete tutorial.
After reading, if you'd like a furniture paint "cheat sheet" with all the information in this post in a very truncated (but printable!) version, just sign up to receive my newsletter.
Printable Furniture Paint Comparison Chart
By subscribing to my weekly newsletter (but let's be honest, it's really more like every other week), you can download and print this FREE 2 page furniture paint comparison chart, including a list of specific brands for the types of paint mentioned in this post. Plus, you'll gain access to my graphics library - forever!
I hope this post is informative and helpful!
Wall Paint
Overview
"Wall" paint is the type of paint you can buy from any hardware store. It's water-based and comes in a variety of sheens ranging from flat to gloss. I struggled with what to call it, because the components in the paint are different depending one which type you buy.
I am working on a post with all of the details on which type of wall paint to buy when painting furniture, but for now, I'll share a couple of tips. First, avoid anything that says "latex". (You'll usually find this at the bottom of the label on the front, but some brands I've noticed don't actually list it anywhere on the can. #nothelpful) A general rule of thumb seems to be that the lower the grade of the wall paint (in other words, the cheaper the price), it is probably latex based. The more expensive and higher grade cans of wall paint generally seem to be acrylic. (More on acrylic paint in its own section below.)
Pros to Wall Paint
It's the least expensive option for painting furniture.
It's tintable to pretty much any color you can imagine. If you don't love any of the paint swatches, you can bring in a paint swatch from another company, or have the store color match it to an item you bring in. Yes, you can paint a dresser to match the color of your favorite shirt!
It comes in many different sheens (flat, eggshell, satin, semi-gloss, gloss) which allows you to choose the amount of shine you'd like on your piece.
The glossier sheens (satin, semi-gloss, gloss) don't really need a top coat.
Cons to Wall Paint
You definitely need to prep your furniture piece well before painting. I would recommend sanding and priming with a good, strong primer (this one is my favorite primer for furniture!) which is time consuming. Here's an entire post devoted to priming furniture before painting.
If it's latex wall paint, the finish never seems as durable to me as I'd like. I often find pieces at thrift stores and garage sales that have been painted with latex paint and they are peeling, chipping, and scratching like crazy. Now, this could be a result of poor preparation, but either way, it's important to note that latex paint requires correct preparation.
With acrylic wall paint, I've found you can get away with a good sanding for preparation and don't need to prime.
Tips for Use with Furniture
Uses for Wall Paint
I only use acrylic-based wall paints for furniture and always steer clear of latex-based paints. (Unless I'm painting a wall – latex paint works totally fine for that!) I will use latex paint for the furniture pieces I build. It adheres to the raw wood nicely and holds up well.
Pieces Painted with Wall Paint
Chalk Paint
Overview
I'm sure you've heard of it; it's taken the furniture refinishing world by storm. It's a chalky, water-based paint that requires very little prep work. It finishes in a soft, matte finish. There are a large number of companies that make "chalk paints". I've used paint from five different companies, and I'll say that they are all very comparable.
Pros to Chalk Paint
Prep work really is minimal. I always sand anything I'm painting, but chalk paint really does stick well even to glossy finishes.
It dries really quickly, allowing you to re-coat sometimes in an hour or so.
It's very easy to distress, so if you're looking for a shabby-chic look, chalk paint is great.
It really is silky smooth to the touch once it has dried.
Cons to Chalk Paint
It dries very quickly, which means that brush strokes show up much more easily. Keep reading for my tricks on how to help with this.
It's thicker than other types of paint, almost too thick for my liking.
I've read you don't need to add a top coat, but I've found that if I don't use a top coat, it distresses, in other words, it can be scratched off, way too easily.
Tips for Use on Furniture
I always lightly sand all of my furniture pieces, and I would recommend doing the same, even with chalk paint.
I've found that if I add water to the paint (at about a 5%-10% ratio) it's the perfect thickness.
In order to avoid brush marks, leave the paint alone once you've painted it on. Sometimes, it's tempting to go back to a spot that's already been painted to perfect it. Don't do it with chalk paint! It dries quickly, and if you go back, you'll feel your brush dragging through the paint, and it will leave more brush strokes than were there before.
Uses for Chalk Paint
I enjoy using chalk paint to create a rustic, matte finish. If I'm wanting to distress to show the wood underneath or if I want a super flat finish, I use chalk paint finished with matte wax.
Pieces Painted with Chalk Paint
Milk Paint
Overview
Milk paint is an all-natural paint made with, you guessed it, milk protein! It's been used for centuries and creates a natural, old-world look. Milk paint is known for creating a chippy look, but it actually is fairly versatile and can be used to create different finishes.
Note: Some companies are now making pre-mixed "milk paint", but it's technically not milk paint. Instead, it just gives a finish that is similar to milk paint. I have no problem with the pre-mixed kind, but as I describe the type of paint below, just know that I'm talking about true, powder-based milk paint.
Pros of Milk Paint
It's made with all-natural ingredients (from the earth, not scientists!) with no VOCs or chemicals.
It comes in a powder form, so you only mix up the amount you plan to use.
You can add a bonding agent to the paint that ensures it will adhere to furniture that has already been finished.
It penetrates the pores of unfinished wood. If you strip a piece of furniture or find an unfinished piece, milk paint won't just sit on the surface, it will actually penetrate the wood. It gives a beautiful look!
Cons of Milk Paint
It can be a tad bit unpredictable if you're applying it without the bonding agent on pre-finished wood.  It's difficult to know just how much it will chip until you actually apply it.
It may chip more over time if the bonding agent is not used.  Now, this creates a time-worn look that mimics the look of antique furniture, but this always makes me a little nervous.  If you apply a water-based topcoat, it will minimize the chipping, but it's still a bit unpredictable.
After it's mixed, you need to use it.  There's no storing the paint on the shelf to touch up the piece in a couple of months.  Remember, it's made of milk protein…  You'll have a smelly, sour milk mess if you try to keep it.
Tips for Using on Furniture
If the thought of chippy paint scares you, use the bonding agent. You can apply less than the suggested amount and you might get a little bit of chipping. But then again, you might not. (Remember, it's unpredictable!) If you apply the suggested amount of bonding agent and sand your piece, you won't have any chipping.
I always sand pieces before I paint, but especially if I plan to use milk paint without the bonding agent. I've found that if I don't sand and don't use the bonding agent, the paint does not adhere. The paint sticks to the places you sand more. If you miss a spot, you'll see chipping in that area (without the bonding agent).
Uses for Milk Paint
I love using milk paint to make washes for unfinished wood. By adding extra water when I mix the paint, it shows off the grain of the wood beautifully. Besides that, I like to use milk paint when I want a really natural look and maybe even some variation in the finish.
Pieces Painted with Milk Paint
Acrylic Paint
Overview
Most specialty furniture paint is a form of acrylic paint. General Finishes Milk Paint is one of my favorite brands, but the name is a tad bit misleading, because this paint is actually a water-based acrylic paint, not actually milk paint at all. Also, a lot of "wall" paint sold in hardware stores is now an acrylic formula. If your can of paint says "acrylic", you can expect it to have similar properties to the details explained below.
Pros to Acrylic Paint
It can be used for both interior and exterior applications.
It does not require top coat like chalk paint or milk paint.  Its finish is strong, but a top coat can be added for extra durability.
It levels beautifully. Simply put, you might see brush strokes as you're painting, but once this paint dries, those brush strokes are gone!
It has a little bit of a longer drying time than chalk or milk paint, which means that it gives you a little extra time and flexibility to catch a drip or fix a mark without it ever showing once it dries.
I've read some people say you don't need to sand prior to using this paint.  It does adhere well, so they might be right, but I've never tried it out.  I always lightly scuff up the surface with 220 sandpaper and it always has adhered perfectly.  Either way, it's less prep than most other paints require.
Cons to Acrylic Paint
Specialty furniture paint can be quite expensive. If you plan to buy acrylic wall paint from the hardware store it will be cheaper, but still one of the more expensive grades of paint.
It can be distressed, but it's not as easy as chalk or milk paint.  Plan to use a bit more elbow grease to take off the paint, or distress it right after it has finished drying.
Tips for Using on Furniture
This is the most straightforward of all of these types of paint. Lightly sand, and then start painting!
If you see a drip or puddle, there's usually time to go back with your brush to fix it.
I use a water-based topcoat if I need a strong finish on a piece (painted dresser tops, table tops, etc.)
Uses for Acrylic Paint
I've found a use for this paint practically everywhere. I think it's a fabulous paint to use if you're new to painting furniture, because it doesn't require much prep, and is very easy and forgiving to paint with. This is the only paint in the bunch that I have used to paint cabinets (both kitchen and bathroom) with beautiful results. It's durable and cleans up well.
Pieces Painted with Acrylic Paint
Alkyd Paint
Overview
Water-based alkyd paint is a fairly new type of paint that hardware stores have started to carry over the past couple of years. This is one of the best kinds of paint for kitchen cabinets (that's the full post on how I use that paint for cabinets) and I've also loved using it for furniture as well. Basically, it used to be an oil-based formula, but now paint manufacturers have engineered a way to give all the benefits of oil-based alkyd in a easy to clean water-based formula. It levels perfectly and gives a nice, durable finish without the need for a topcoat.
Pros to Alkyd Paint
It levels beautifully, which means it's almost impossible to see brush strokes and it gives you lots of work time when the paint is still "open" to fix mistakes (meaning you can brush over it again and it will still level in)
It cures to a durable finish which can be wiped down easily and resists marks and scratches. (Any paint that holds up well in a kitchen will also hold up well on furniture!)
There are different types of sheens – matte (in some brands) all the way to semi-gloss – but none of them need a topcoat for furniture because it cures to such a tough finish.
Every hardware store now carries a version of alkyd paint and it can be color-matched to most swatch colors. Check out this post for the different brands you can find at different stores.
Cons to Alkyd Paint
Based on my experience, I've found the original piece definitely needs a good sanding before applying alkyd paint.
For kitchen cabinets, I always prime before using alkyd paint, but on furniture, I've found sanding the piece is enough.
It's more expensive than normal wall paint.
It takes about a week to fully cure. (It dries to the touch in a few hours, but don't place anything on top of it or close any doors or drawers for at least a week.)
Tips for Using on Furniture
This is becoming a front runner for the type of paint I grab when painting furniture. It's super easy to use, and I love that I can pick it up at my local hardware store. Plus, I've been super pleased with the durability on pieces of furniture, and on three different sets of kitchen cabinets that I've used it on.
Pieces Painted with Alkyd
What's the Best Paint for Furniture?
Now, which is the best paint for painting furniture? Honestly, it's impossible to pick just one as it really depends on the look you'd like. Personally, the two kinds of paint I prefer are acrylic and alkyd. They are both super easy to paint with and give a really nice finish.
If you'd like a printable version of this information to keep as a reference for later, I put together two charts highlighting the main qualities of each of the types of paint. Plus, it includes a chart with specific brands for all of the types of paint mentioned in this post.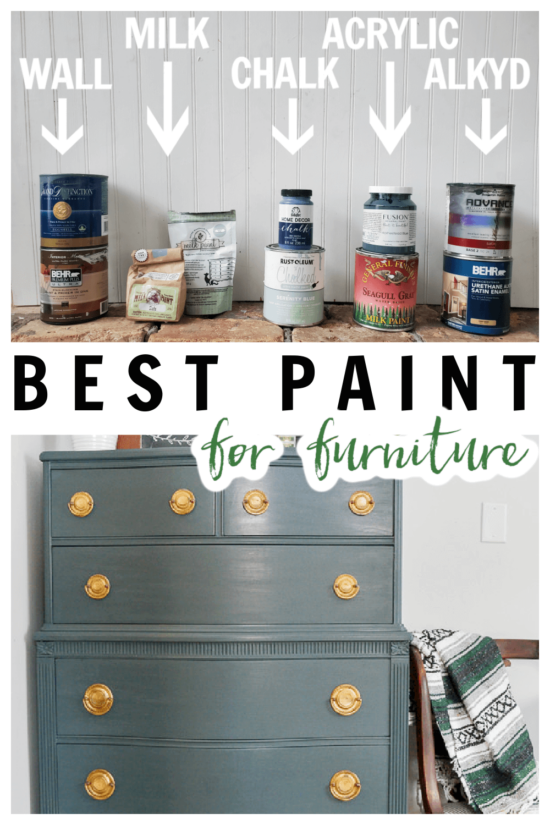 When to Prime Furniture Before Painting
Although it's not always necessary, there will definitely be times when you need to prime your furniture before painting. This post should answer everything you need to know about priming furniture or cabinets (and my personal favorite brands and types of primers.)
5 Tips For Painting Furniture
If you're ready to start painting, I have the five most important tips to remember when painting furniture. I learned almost all of these by trial and error, so if you read up before getting out that paint brush, you'll probably avoid a lot of the mistakes I made!
So much of furniture painting is trial and error. Once you use a certain type of paint, you'll figure out how best to use it and your own personal preferences. If you've never painted a piece of furniture but have been thinking about it, give it a try. You'll be impressed with yourself. Here are a few more posts that might help you on your furniture painting journey!
Choosing the Best Paint for Painting Walls
For years, I wondered if there was a difference between the different levels of paint available at the home improvement store. Being a budget decorator and remodeler, I usually just bought what was on sale, or one of the lower grades of paint. This past year, I was painting a very large, very red wall and knew I needed to put different types of paint to the test. Here's what I found to answer the question: Do I need to buy the most expensive paint for walls?
A few other posts you may enjoy:
Related Posts

Join the Refresh Living DIY & Upcycling Community
Join the subscriber list to receive one to two emails per month with updates from the blog. PLUS, you'll gain access to my printables and graphics library. Every new design I create will be added here, and you'll have free access - forever!