Kitchen remodels are expensive, especially if you choose to gut and replace the cabinets. To save a lot of money, you can simply replace your cabinet doors with solid wood doors and completely upgrade the entire look of your kitchen. This tutorial walks through the process on how to reface (replace the cabinet doors) and paint your kitchen cabinets for a modern new look.
This post is sponsored by cabinetnow.com, however all opinions and ideas expressed are entirely my own.
Let me start by introducing you to the kitchen in our small lake house cottage in Wisconsin. The kitchen is original to the house, which was built in the early 1970s. I've been visiting this house since I was eight years old, and about ten years ago my husband and I purchased it from my grandfather. We wanted to keep it in the family for our kids and nieces and nephews to enjoy as my sisters and I did growing up.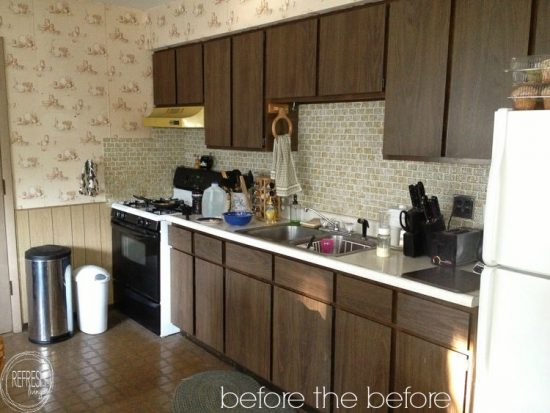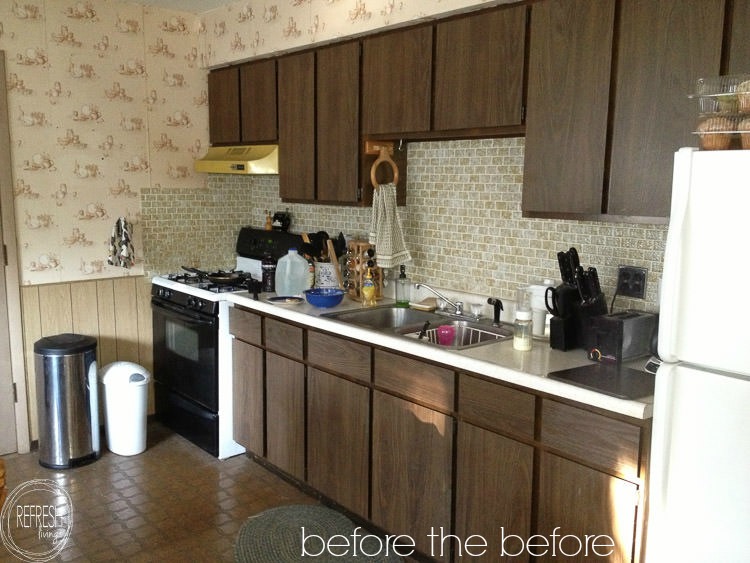 Although it's amazing to have this getaway in a beautiful location, the inside of the house showed its age. My budget was very tight when we first bought the house, so I updated the kitchen for $500. Basically, I simply painted over the faux wood laminate cabinet doors. (Why I chose to use a dark, streaky glaze, I do not know.) All along, I knew I ultimately wanted to reface the cabinets.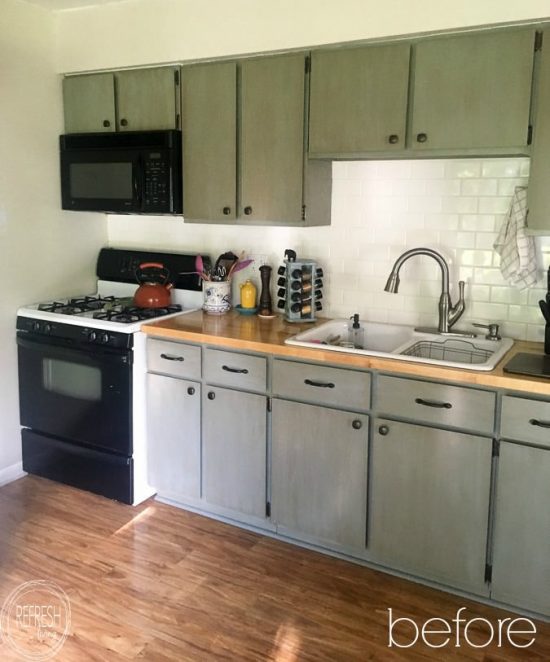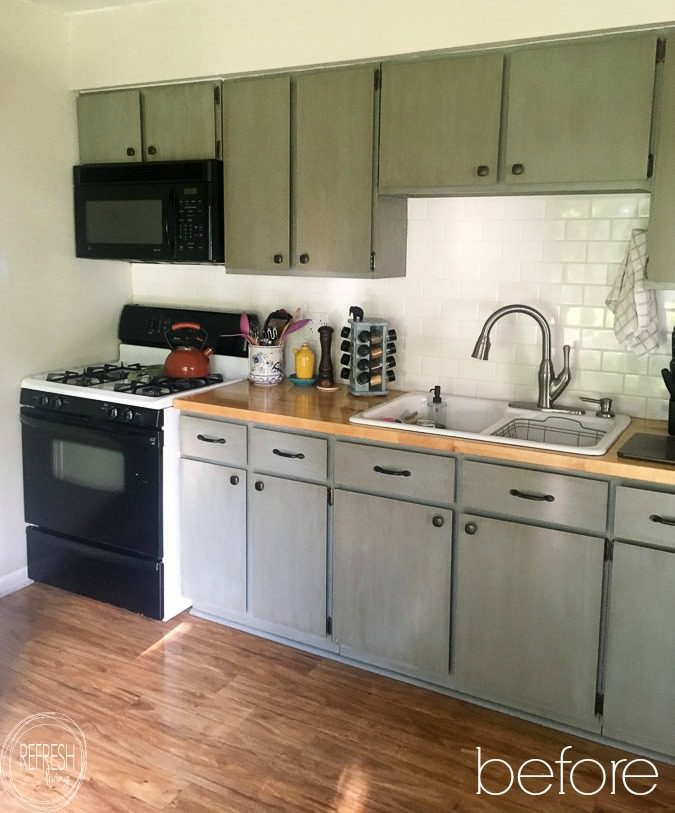 Should I Replace the Doors on My Kitchen Cabinets?
There are a few factors that you should consider if you're thinking about refacing your cabinets. If you agree with these statements, then refacing your cabinets might be the best option for you!
My cabinet boxes are in sturdy condition.
I am happy with the layout of my kitchen.
I'm unhappy with the look of my cabinet doors.
My cabinet doors are not solid wood.
All of these statements were true for me, so I teamed up with cabinetnow.com to replace my ugly cabinet doors with new, solid wood doors, and completely change the look of my kitchen!
Clearly, my cabinet doors were not solid wood. They were two laminate pieces with a woodgrain texture that were stuffed with corrugated cardboard. I kid you not. Yes, they were lightweight, but besides that, I can't think of another positive to these 1970s gems.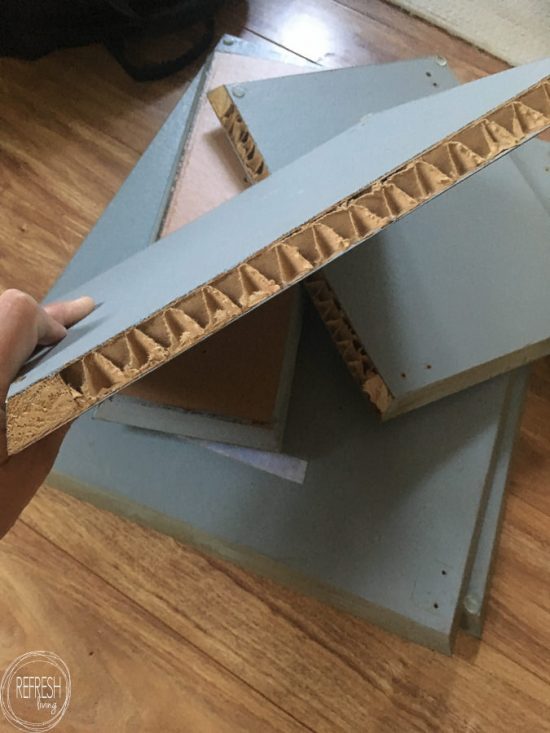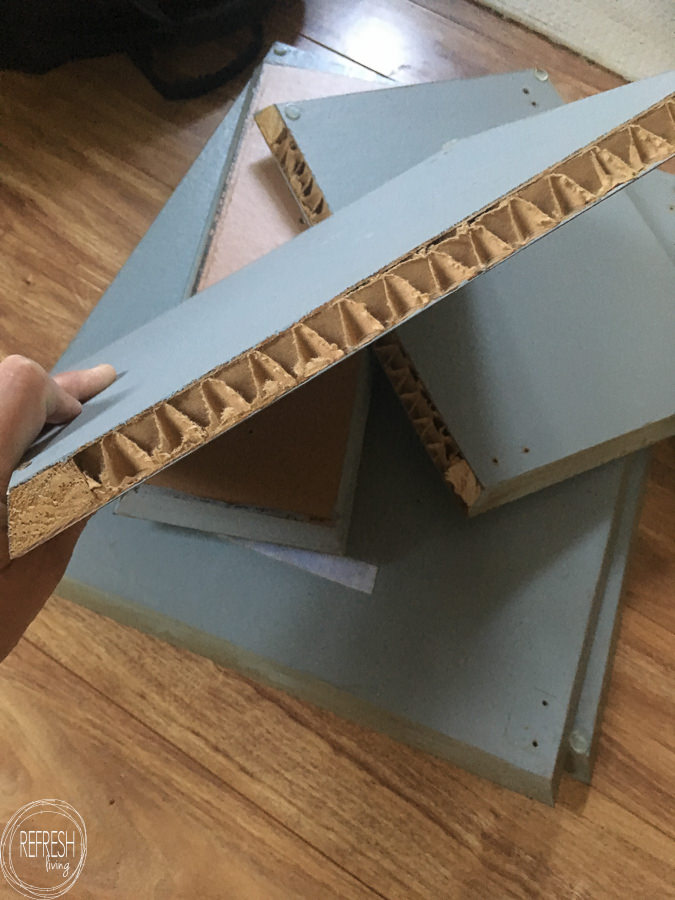 If you Google search "cabinet refacing", you'll see a lot of "all-in-one" facing services pop up. Basically, they come to your house, measure your doors, and replace them for you. If you're looking to refinish your kitchen without spending a lot of money, and you have some basic DIY skills, this option is not for you. Because all of these companies promote their products early in the Google search, I found myself wondering the best place to buy new cabinet doors that fit my cabinet boxes.
Cabinetnow.com offers unfinished, made to order, cabinet doors, drawer fronts, cabinet boxes, and replacement drawers – basically everything you need to update your kitchen, DIY style! Plus, it all can be ordered online without worrying about an upcharge from a contractor or installation company.
If you feel that installing new cabinet doors is a bit above your DIY level, I would still look into ordering the doors yourself, and then hiring a local contractor to install them. My hunch is that it will still save you money over hiring someone to order and install them. (Honestly though, you are probably totally able to tackle this one. I did it completely by myself, without ever needing to turn to my handyman dad even once.)
How to Order New Kitchen Cabinet Doors
The process for ordering your cabinet doors online is simple. First, you choose the door style and wood species for your doors. I ordered Shaker doors in maple. Just measure your pre-existing cabinet doors and enter the dimensions on the website. You can also change the edge option and/or get pre-bored holes on the back for hinges. Here's a post with my experience with how to change out your cabinet hinges and install new pulls and knobs.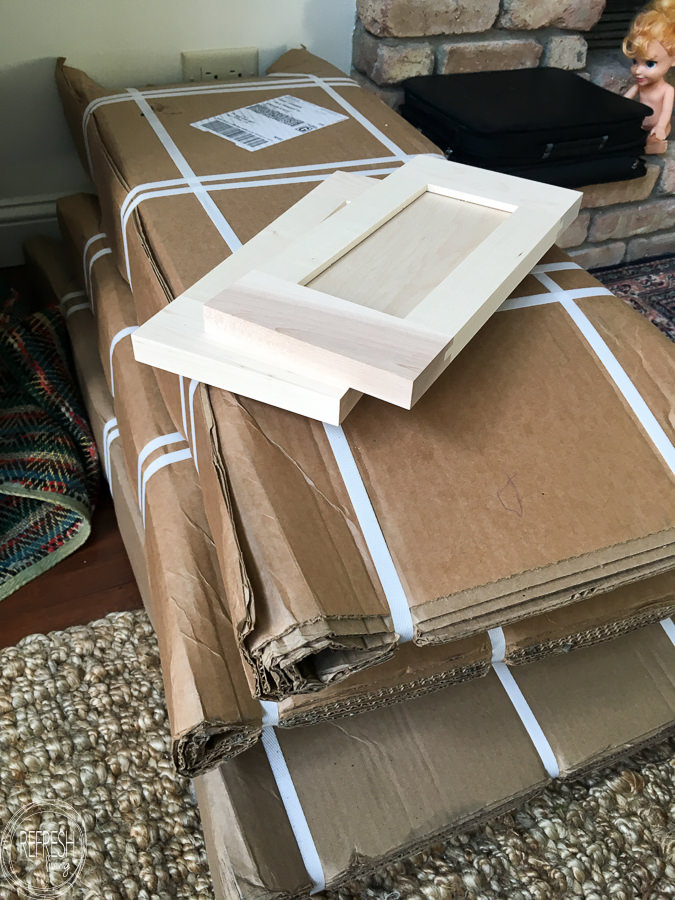 That's it! Once you submit your order, your doors are custom made and shipped right to your door. I was amazed (and very grateful) for the level of care that went into packaging the doors for shipment. They arrived in beautiful condition – so beautiful, in fact, I felt a little guilty that I was going to be painting them!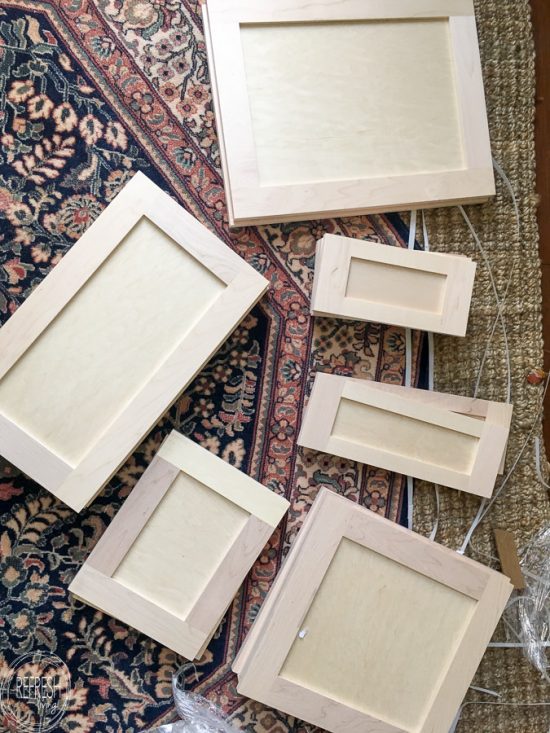 I primed and painted the cabinet doors with a paint sprayer, and brushed the frames with primer and paint as well.
If you're wondering – Do I need to prime cabinets before painting? or perhaps, What's the best primer for kitchen cabinets? or maybe, What should I do before painting my kitchen cabinets?  I've devoted an entire post to when and how to prime cabinet before painting.  I've also detailed the best type of paint for cabinets.
I also have a full post with my top 10 tips for getting the smoothest finish possible on cabinets without using a sprayer.
Kitchen Cabinet Refacing Reveal
For now, let me show you how this little kitchen turned out. Don't they look like entirely new cabinets? And, if I do say so myself, don't they look gorgeous?!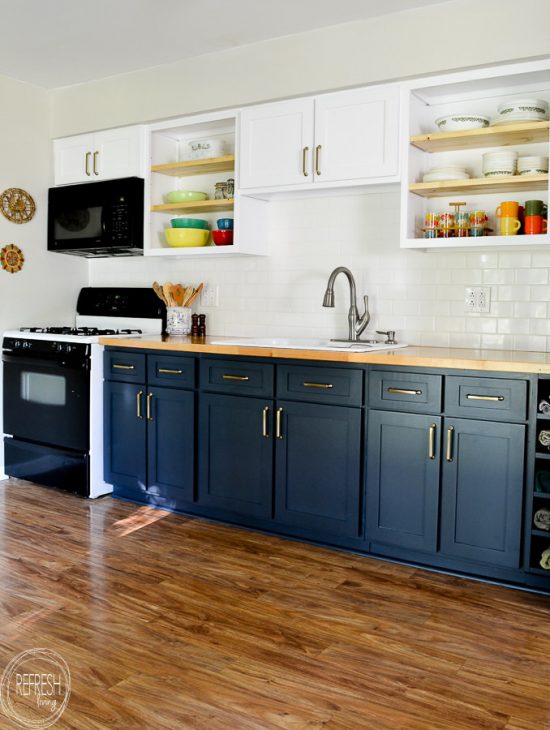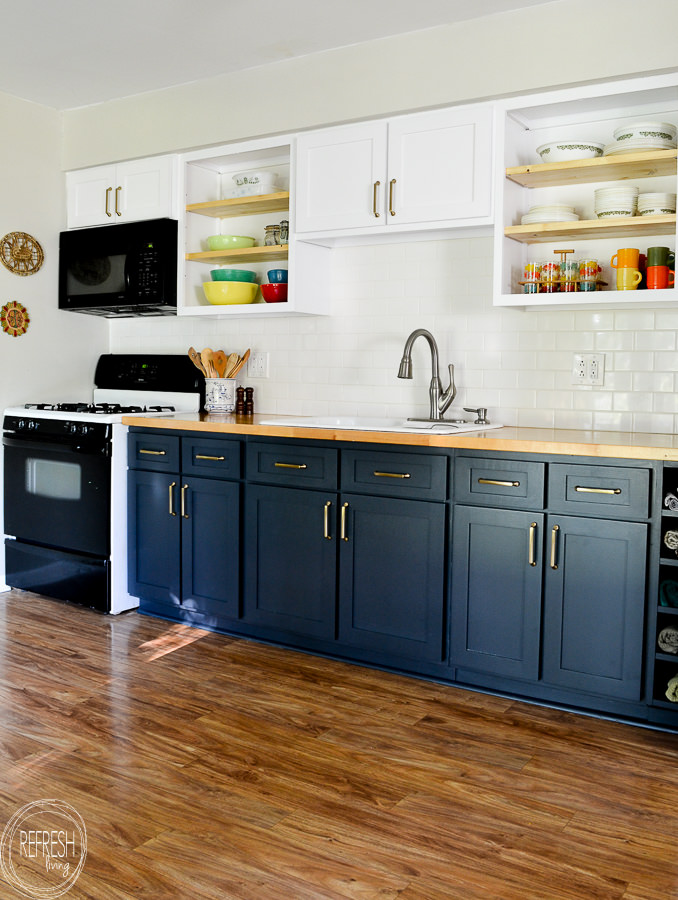 I chose to create a more open look to the cabinets by completely removing the doors from two of the upper cabinets. Then, I used a circular saw to cut out the middle stile of each one, and painted the interior frame to match the outside. 5/4″ pine boards became the new open shelves and I now have a place to display all the vintage kitchen goodies left from my grandparents.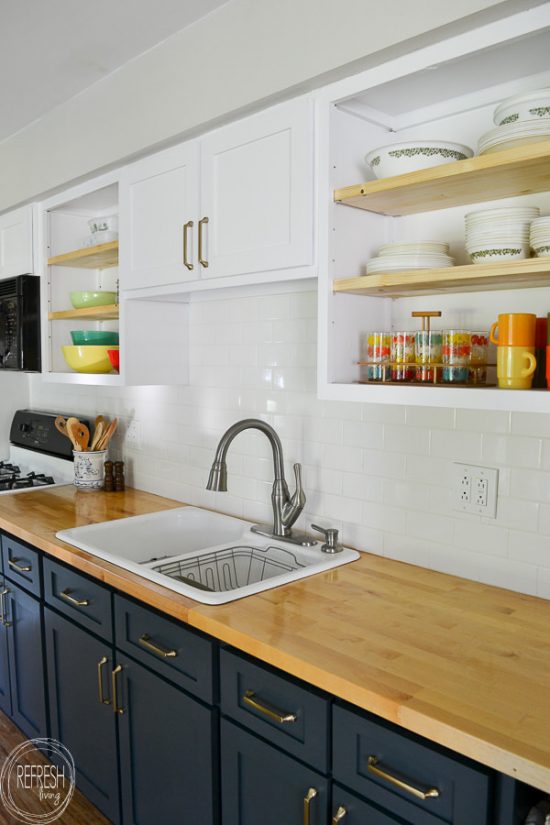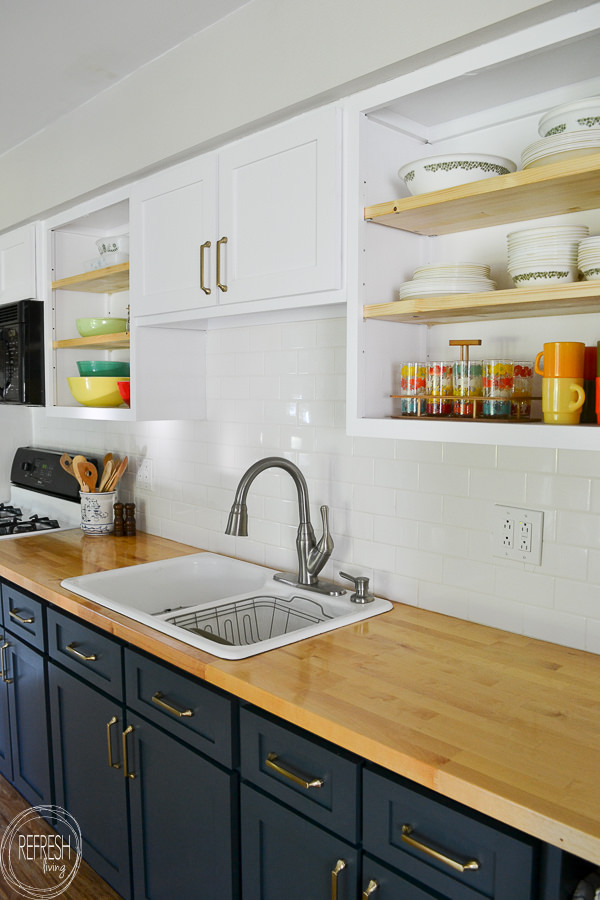 I painted the bottom cabinets in Advance Alkyd paint from Benjamin Moore in Polo Blue and I painted the upper cabinets with Behr Alkyd paint in white. Both paints were a satin finish. I purposely used two different brands of paint because I wanted to compare both products. You can read all about my comparison between these two types of alkyd paint and the best paint for kitchen cabinets here.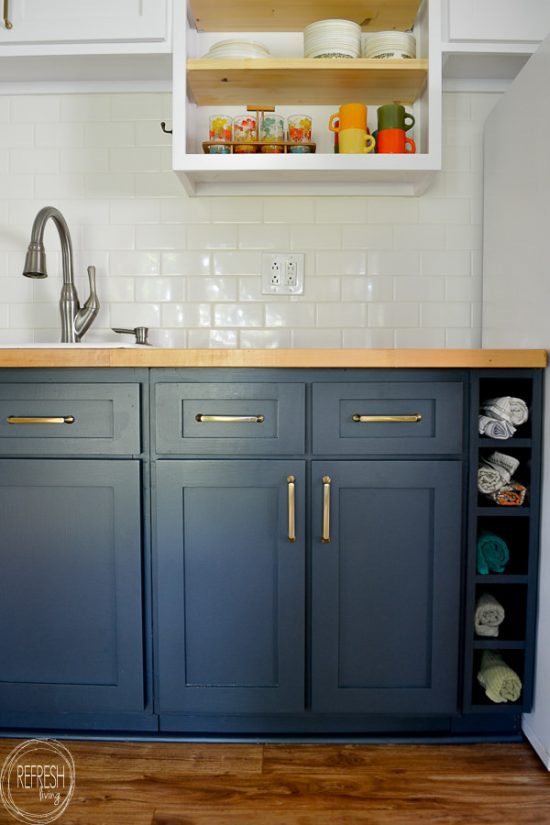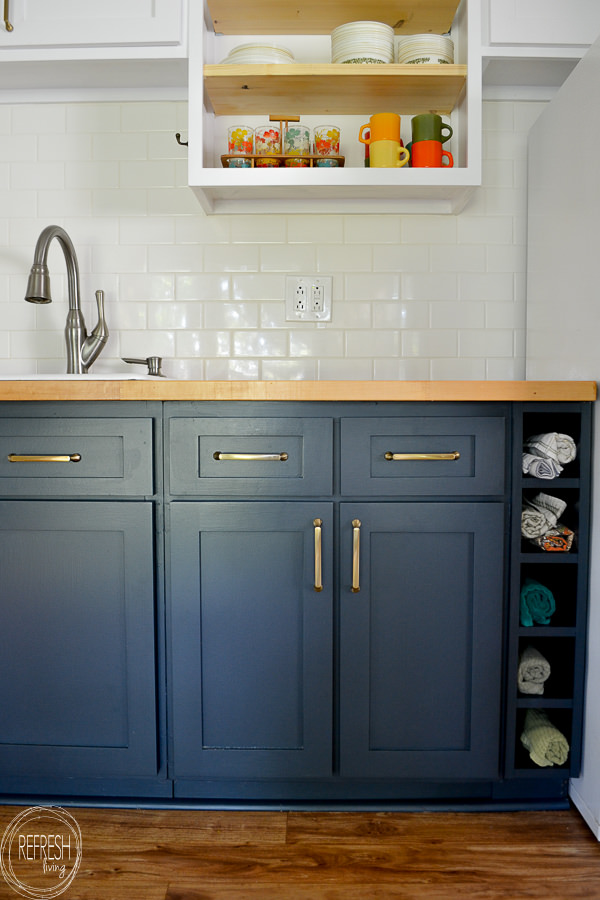 The hardware brought the whole space together, and I love the look on both the lowers and uppers. The pulls are all the 5″ Octo Pulls in soft brass from D. Lawless Hardware. They also carry a 3″ and a 3-3/4″ inch pull, if you're looking for something a tad bit smaller. This post describes how I ordered and installed the new slow-close hinges and tips for installing cabinet hardware.
Thinking about painting or refacing your kitchen cabinets? These posts might help!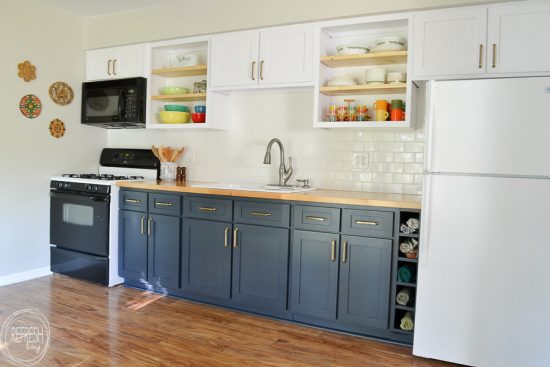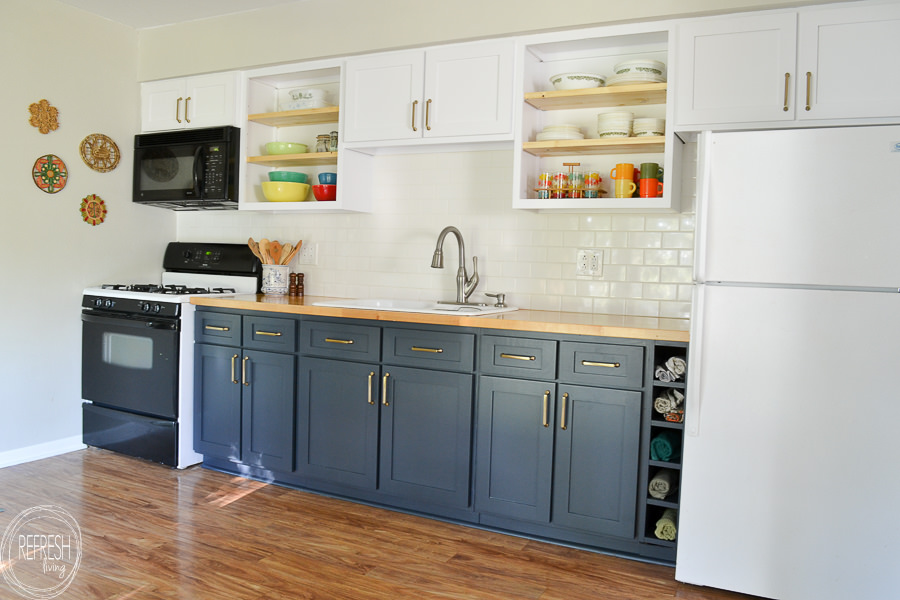 I'm still trying to figure out what I want to do with the fridge.
Update: Since writing this original post, that old white fridge started to develop rust spots, that literally spread over the entire fridge like chicken pox. Instead of just throwing in the towel and buying a new one, I tried to paint it. Guess what? It worked! Here's that post on how to paint a refrigerator.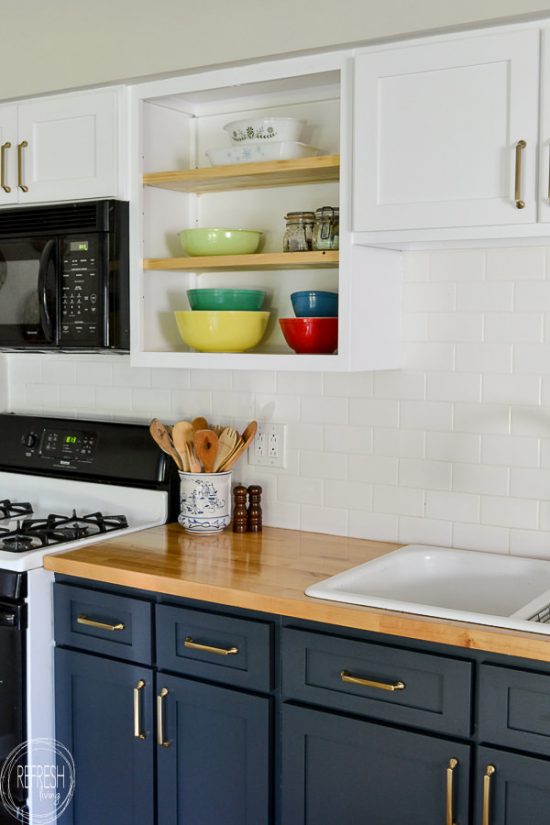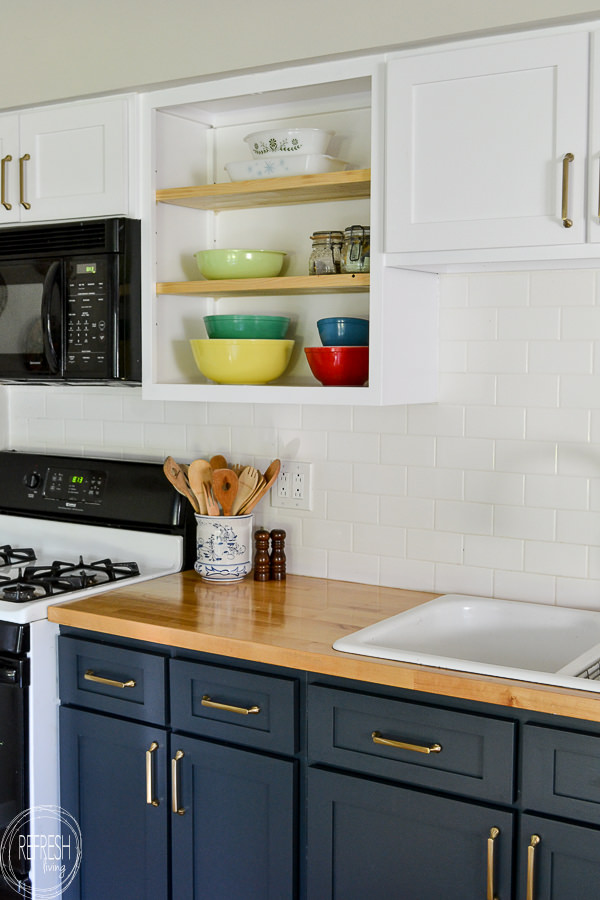 I'm super pleased with the results of my refaced cabinets. It looks like an entirely new kitchen, for a fraction of the cost!
Like it? Pin it. (Thank you!)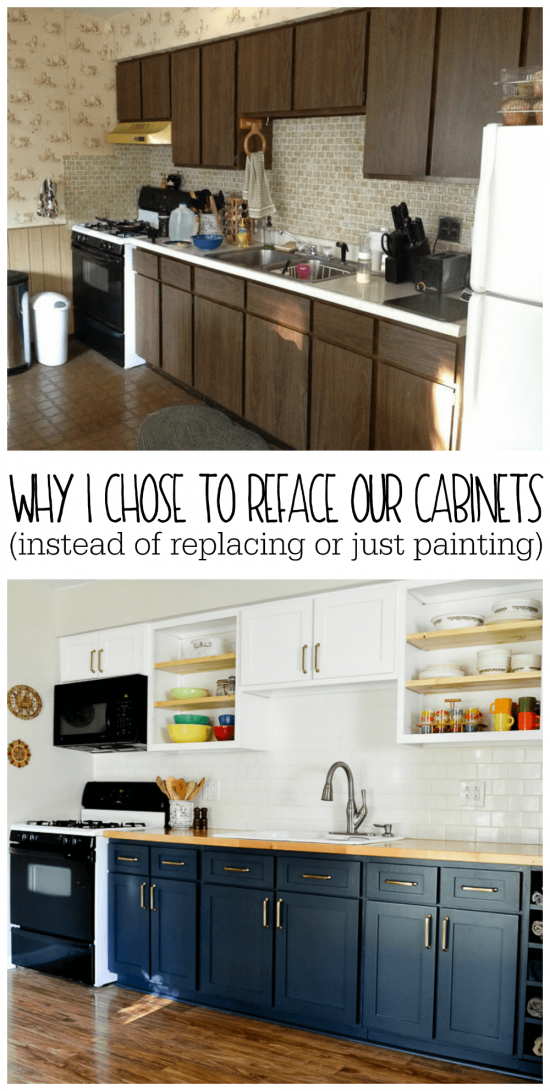 Other Posts You Might Enjoy:

Join the Refresh Living DIY & Upcycling Community
Join the subscriber list to receive one to two emails per month with updates from the blog. PLUS, you'll gain access to my printables and graphics library. Every new design I create will be added here, and you'll have free access - forever!