Thinking about painting your kitchen cabinets? Yes, you can totally paint your cabinets by yourself without hiring a professional AND get a flawless finish. But, you want to make sure to prep them correctly, use the best paint for kitchen cabinets, and keep in mind some tips to make the job easier and look amazing.
First things first, let's get introductions out of the way. I'm Jenny, and I'm not a professional painter. I've painted over 50 pieces of furniture, and 4 sets of kitchen cabinets, but I do not do this for a living. I am a self-proclaimed DIYer who knows how to paint kitchen cabinets. There, that feels good to get that off my chest.
Because I've worked on a fair share of painting projects, I've learned quite a bit along the way about paint adhesion, paint durability, and correct prep before painting, and get asked questions about painting furniture and kitchens all the time. So, I thought I would try to share that knowledge, and empower all you fellow DIYers out there with the knowledge and confidence to tackle your kitchen cabinet painting project on your own!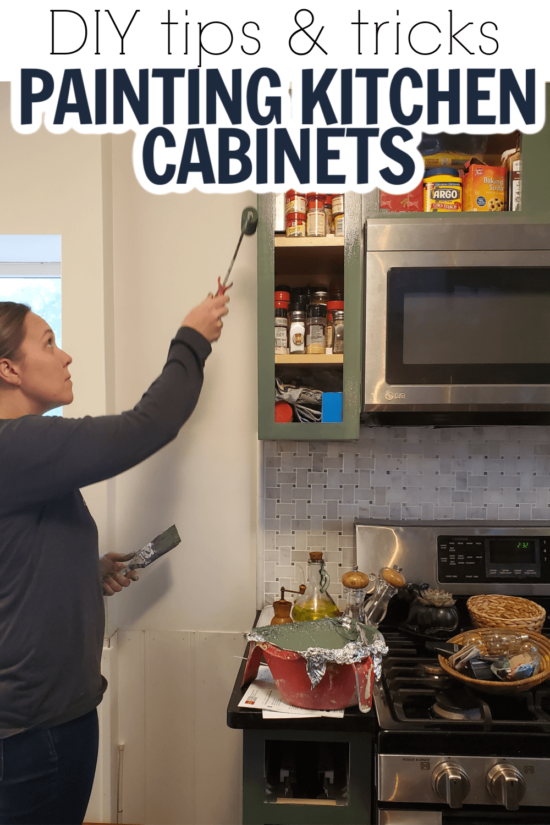 This post contains affiliate links. You can read my full disclosure policy here.
#1: Don't Skip the Prep
I know, this is the worst part of it all. All that elbow grease and little to show for it when you're done. But, let me tell you, it will give you proper adhesion and save you chipping paint in the future.
Do not believe the posts you see floating around Pinterest that you can use certain types of paint without sanding or priming. Here's the thing, of course you can paint your kitchen cabinets without sanding or priming, because you can do whatever you want, but I will stand up and say it's a bad idea. (And, I have actually used one of the paints mentioned in those other posts to paint an entire kitchen. I love the paint and the cabinets turned out beautiful. But, I most certainly prepped them before painting,.)
Here's what I do to properly prep cabinets before I paint them.
Clean them well with a degreasing cleaner. My favorite is a

TSP substitute cleaner

.
Lightly sand OR prime. Here's the thing, at the very (very least) you need to lightly sand your cabinets with 150-220 grit sandpaper to scuff up the finish. However, I personally always recommend priming kitchen cabinets first. I actually rarely prime furniture pieces, but in such a high-use area like the kitchen, it is so worth the extra step. Let's just say that I've primed some kitchens and not others, and the ones that were primed are holding up better.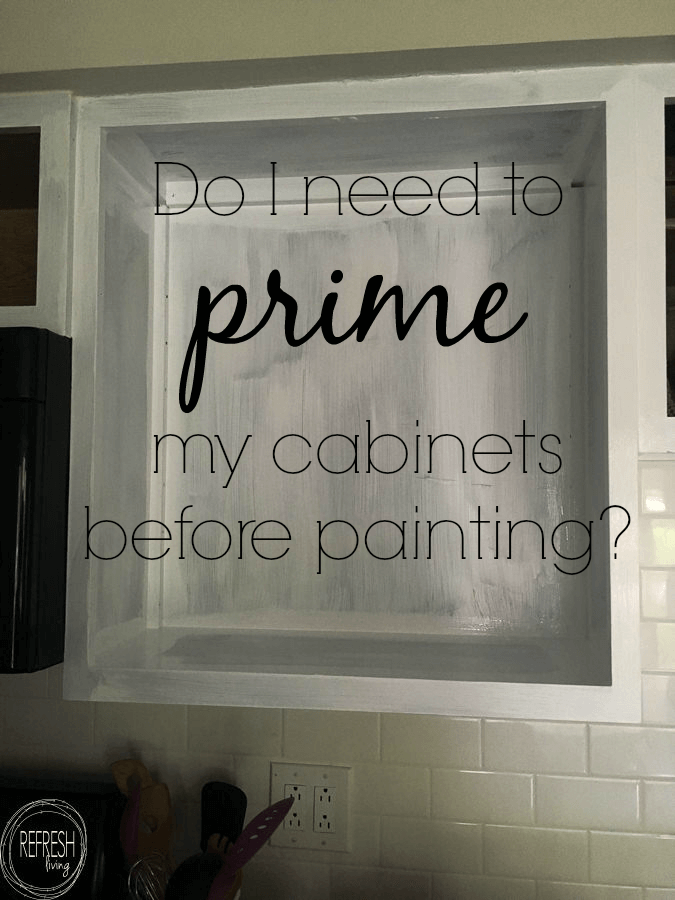 This post answers the age-old question: Do I need to prime my cabinets before painting? And although I would never tell you what to do, I'd recommend reading it for detailed information on all things primer.
#2: Choose the Right Paint
This tip might be the most important one. The type of paint you choose really does matter in how nice the finish looks and how durable the paint will be with lots of use.
This tip is so important, in fact, that I've devoted an entire post to it. I will tell you that I think the best paint for kitchen cabinets is alkyd enamel paint, and every time I paint a kitchen it's the type of paint I now choose. It levels beautifully leaving no brush strokes, dries to a super durable and cleanable finish, and cleans up with soap and water.
Thankfully, more and more companies are making this easy to use paint and you can find it in one form or another at all major home improvement stores. You can read everything you want to know and maybe more) about which paint to use to paint kitchen cabinets here.
#3: Spray the Doors
Although you can definitely achieve a nice finish with a paintbrush and roller, spraying the cabinet doors and drawer fronts will give your cabinets a professional finish and save you so. much. time!
If you don't have a paint sprayer, it is worth looking into renting one for the day. Or, if you're a DIYer, I would recommend just buying one; I promise you'll find ways to use it. (I basically spray everything I paint now – from furniture pieces to chairs to walls to fences and outdoor projects.) Here's the Wagner paint sprayer I have and love.
2-3 coats on the doors will give a nice, durable finish that stand up to lots of use in the kitchen.
If you prefer to use a brush and roller, be sure to first brush the edges and inside of the panels, and then use a roller to roll all the flat surfaces on the face of the cabinet door. If you use the right paint, like I mentioned above, you wont be able to see any brush or roller marks!
#4: Tape Off Walls and Ceiling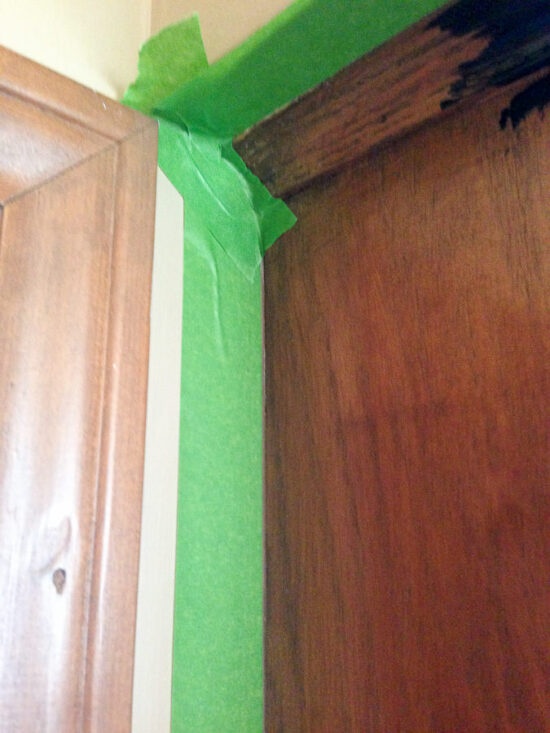 For perfectly clean lines between the cabinet and wall, it's best to use painter's tape to tape off the wall and/or ceiling that butts right up to the cabinet boxes. This is the only painter's tape I trust for not allowing bleed through.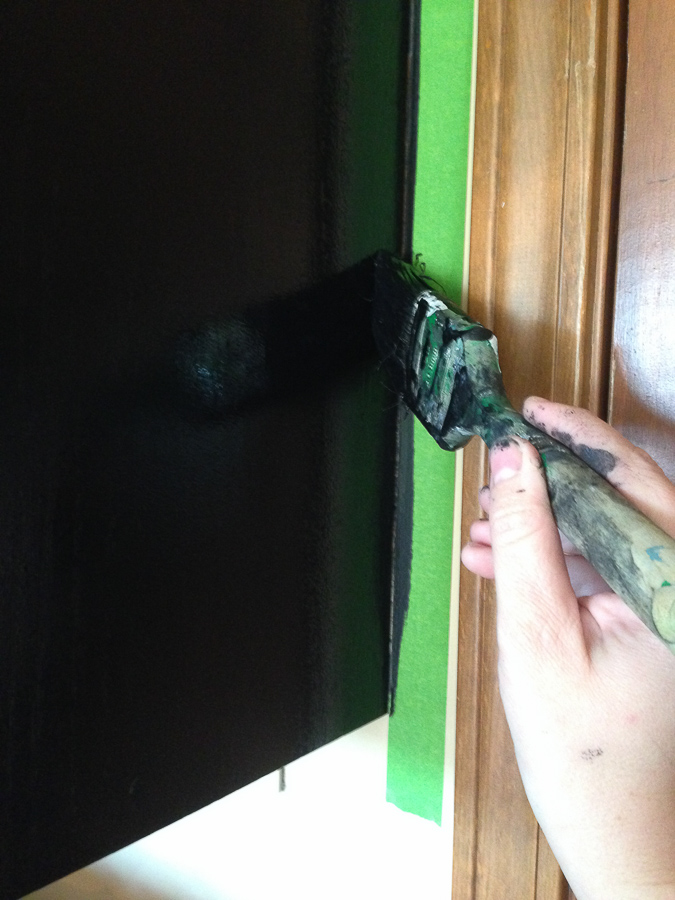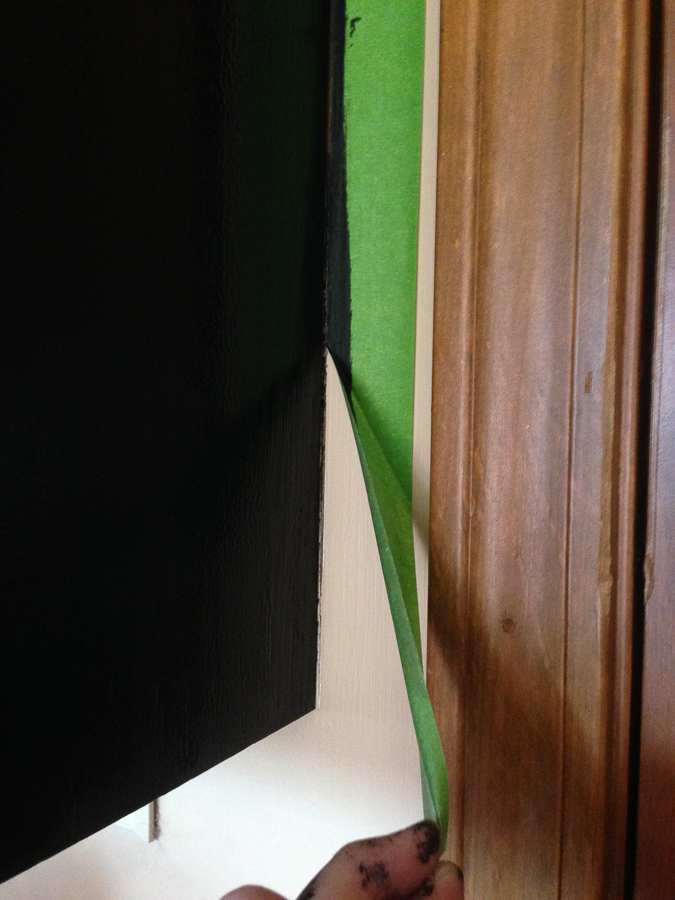 #5: Roll and Brush the Frames
One option for painting the frames of your kitchen cabinets is to spray them by taping off every other surface in your kitchen. Spraying gives a beautiful finish, but I've just never chosen to do it this way, so I can't really speak to tips for that.
I have found that using a combination of brushing and rolling the cabinet frames is an easy way to get a beautiful finish.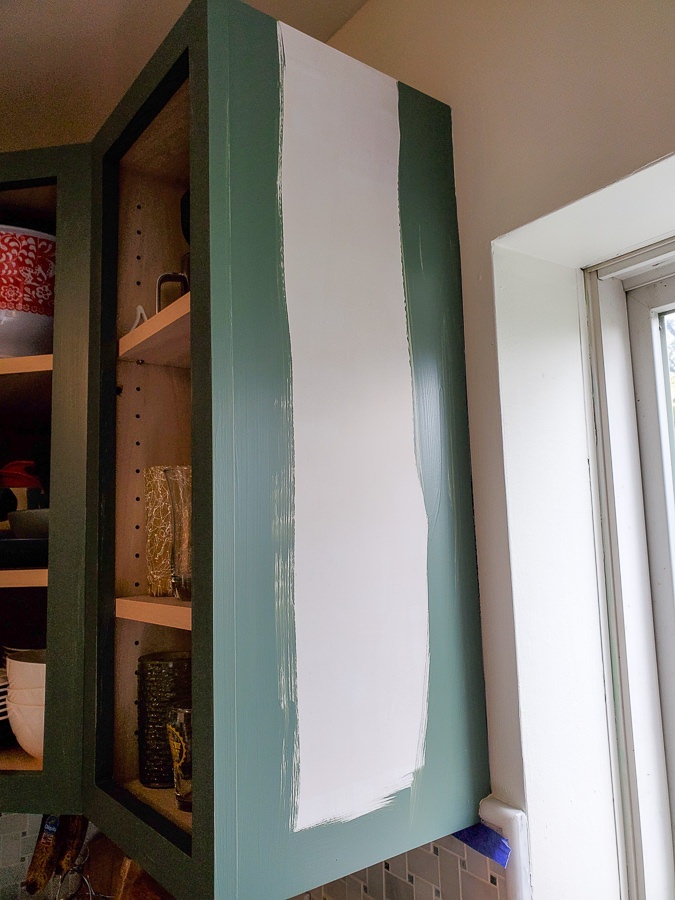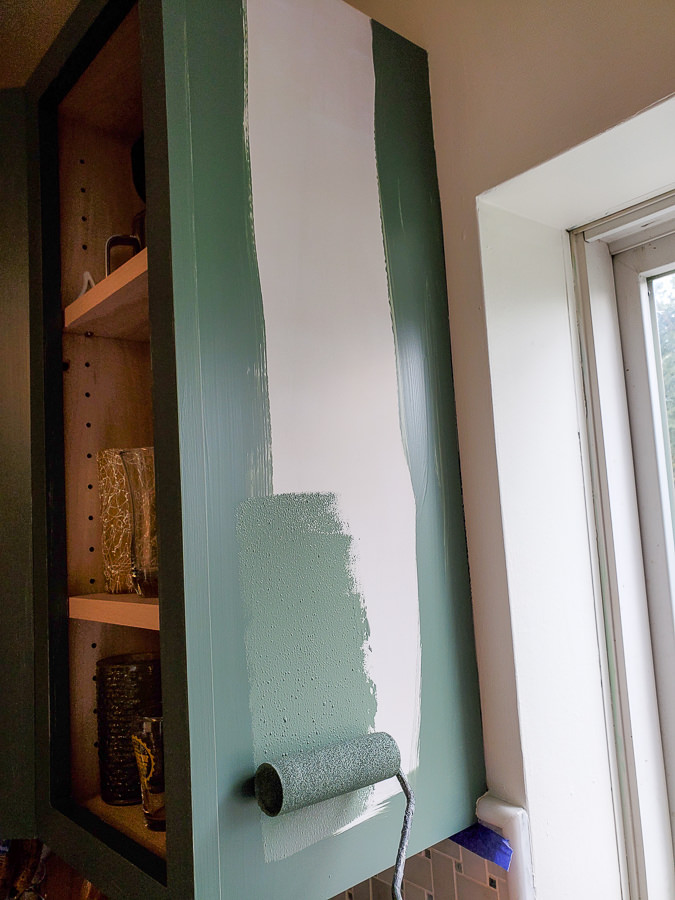 First, brush the sides of the cabinet with a paintbrush. Then, while the paint is still wet, roll the side of the cabinet as close to the edge as possible (without painting the wall!).
For the front of the cabinet frames, I first use a paintbrush to paint the inside lip of the cabinet (check out my tip below to make this a super quick job!). Then, I roll the front of the cabinet frames with a roller.
#6: Watch Out for Side Drips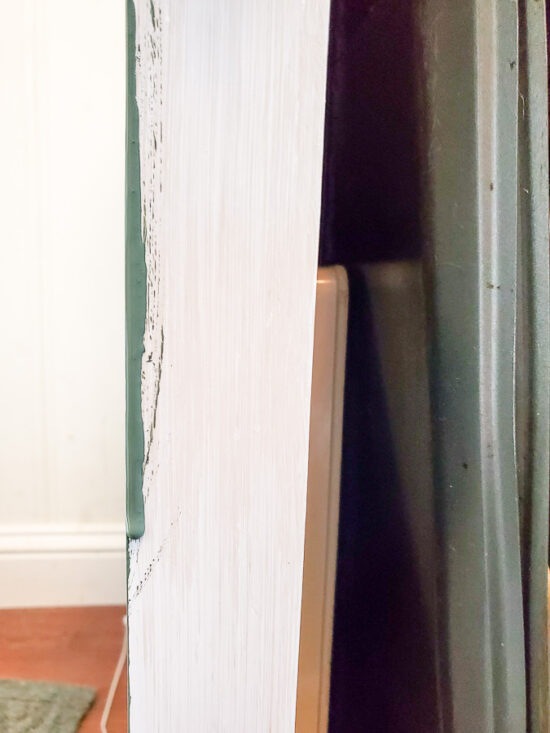 When you roll (or brush) the paint on the side of a cabinet, the paint can often drip around the other edge of the cabinet. After applying paint near an edge, always look to the other side to be sure the paint didn't drip. If it did, you can easily fix it by brushing or rolling it away while it's still wet. But if you wait too long, you won't be able to brush it away and you'll have to wait until it completely dries when you can sand it smooth and repaint.
#7: Use Post-It Notes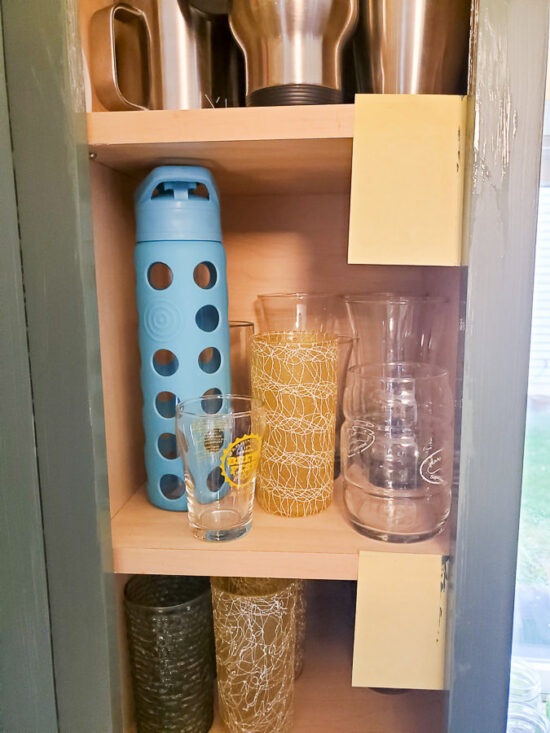 Weird, right? Here is one of my best kept secrets when painting cabinets. Stick post-it notes on the shelves so you can paint much faster without worrying about getting paint on the shelves. Easier (and cheaper) than painter's tape and will save you so much time.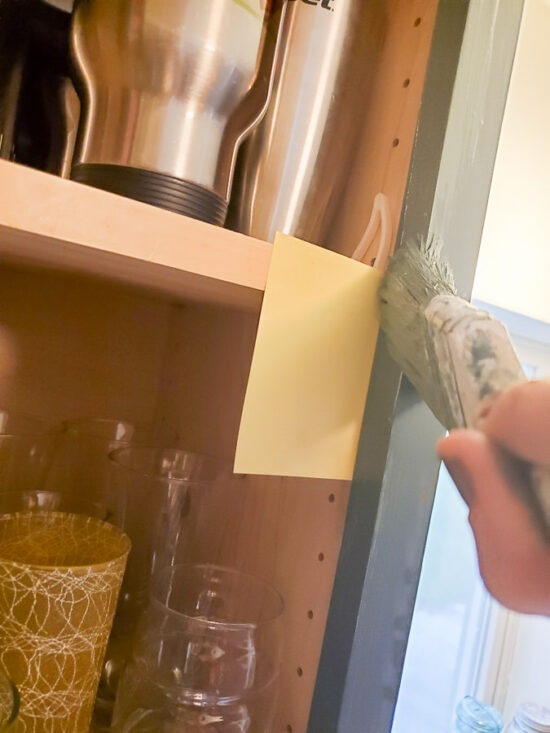 #8: Three Coats of Paint is the Best
I think three coats of paint is the perfect amount for cabinets. I don't have much more to say than that!
#9: Keep the Doors Open
After painting the frames and doors, you'll let them dry thoroughly before installing them. But even after installing, it's important to keep the doors open for way longer than you think you should. I'd recommend at least a week. Although paint will be dry to the touch, some types of paints can take up to 30 days to completely cure. If uncured paint sits on another uncured painted surface, it's likely that they'll stick and one of them will pull the paint off the other one.
To be honest, I've done this more times than I'd like to admit. If you watch the video at the bottom of my post where I share how my painted cabinets are holding up after a year, you'll see where I made this mistake.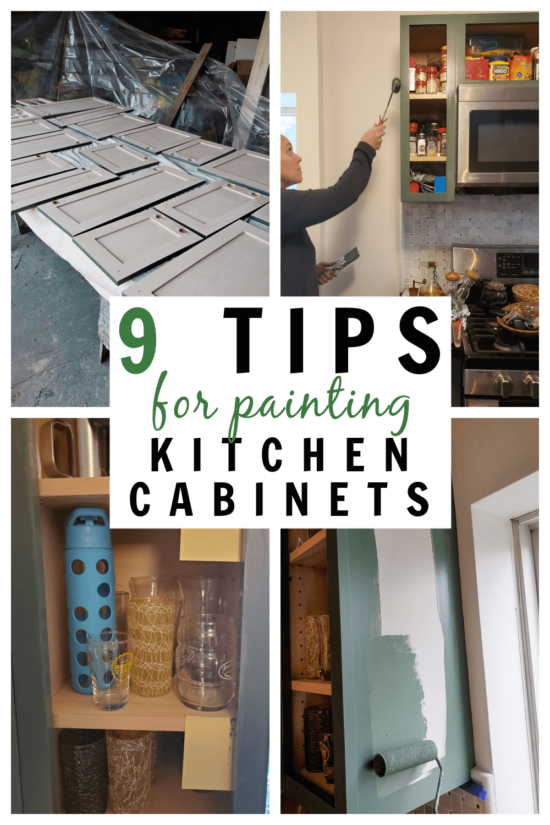 Is it weird that I only included nine tips instead of just adding one more to make it an even ten? I didn't even think about it until now, and it's slightly bothering me, but not enough to change up the graphic and post.
So, there are my nine tips for perfectly painted kitchen cabinets! It is entirely possible to paint your cabinets by yourself and get a professional finish.
Join the Refresh Living DIY & Upcycling Community
Join the subscriber list to receive one to two emails per month with updates from the blog. PLUS, you'll gain access to my printables and graphics library. Every new design I create will be added here, and you'll have free access - forever!