It's possible to completely change the look of your kitchen without spending a lot of money. By replacing the kitchen cabinet doors and drawers with new, solid wood doors, you can remodel your kitchen on a budget. Here are the tips you need for ordering new doors, painting them, and installing them with new hardware.
In this post, you'll find all the details on the steps for ordering new cabinet doors, the best paint for kitchen cabinets, how to paint unfinished wood doors and drawers, the benefits to pre-drilled cup and dowel holes for new hinges, and tips for installing new cabinet hardware.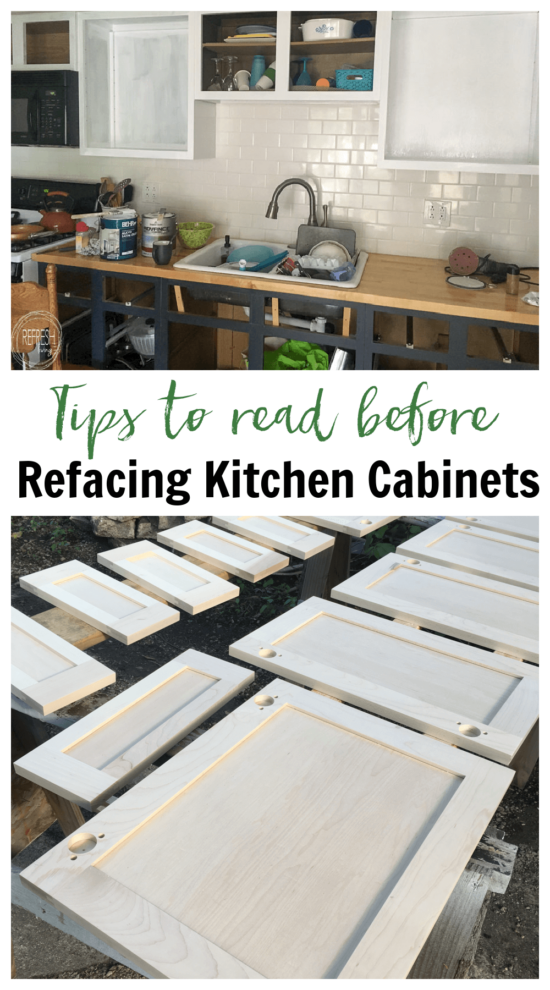 Last summer, I chose to reface our kitchen cabinets at our summer cottage, which simply means I replaced the old doors and drawer fronts with new wood doors. Refacing cabinets is much cheaper than replacing the entire cabinet box, and it's a project that a homeowner with a few DIY skills could totally do on their own.
If you're thinking about refacing your kitchen cabinets rather than replacing them, I'm sure you've done a Google search on "how to reface your kitchen cabinets" and found quite a few companies that advertise their service to complete the refacing process for you. In fact, one of the largest home improvement stores offers this service to their customers.  However, if you choose to have a company or contractor complete the refacing, just know that you won't save nearly as much money as if you choose to install them yourself.
A few months ago, I showed the before and after images of our kitchen cabinet refacing project, and described why I chose to reface these particular cabinets rather than replace them entirely. However, there were so many other components that went into refinishing that kitchen, that I had to make sure to write a follow up post. 
Here's what you'll find in this post:
Measure and Order Doors and Drawers
Decide on Type of Hinge
Paint the Cabinets
Install New Hardware
Measure Previous Doors and Drawer Fronts
I chose to order my cabinet doors from cabinetnow.com, an online manufacturer and retailer of custom made cabinet doors. The ordering process was super easy, they ship the doors with extreme care, and the doors themselves are sturdy and gorgeous. I would highly recommend ordering from this company if you are thinking of replacing your kitchen cabinet doors.
First, I measured our old cabinet doors (which were so in need of replacement because they were hollow and filled with cardboard!) in width and height. I just recorded the size of each one and whether it was a left or right hanging door.  Then, I also measured the width and height of our drawer fronts.
Note: You'll only need to mark whether it is a left or right hanging door if you plan to have the company pre-drill the cup and dowel holes for the hidden hinges. More on this in the next section.
Decide on the Type of Hinge You'd Like to Use
In my kitchen, we had old hinges that screwed into the face of the cabinet boxes. I wanted to upgrade to slow close concealed hinges, so after removing the old hinges, I filled in the holes with wood filler and sanded them down to a smooth finish.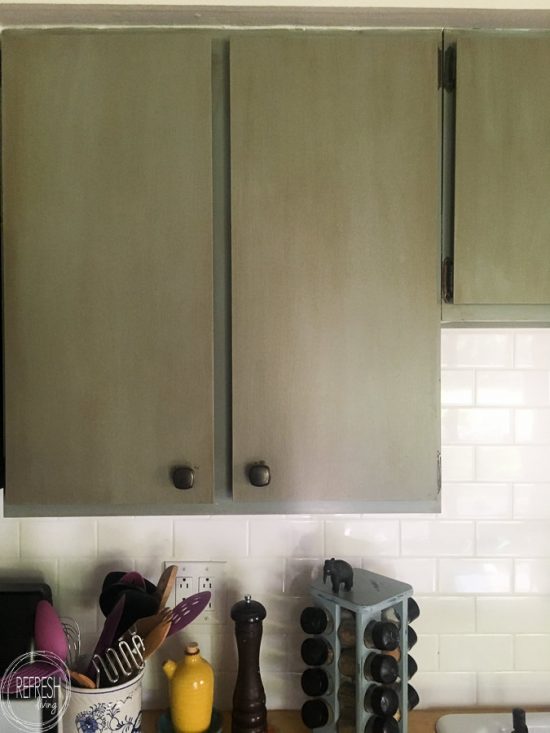 When upgrading to concealed hinges, you'll most likely need cup holes drilled into the back of the door. Cabinet door manufactures can pre-drill these holes for you for a small fee (about $10 per door). You can also choose to drill these holes yourself. If you go that route, I would highly recommend using this Kreg Concealed Hinge Jig as a way to ensure your holes are consistent and uniform. 
Or, if your cabinets already have these cup holes on them,you're lucky and you can just skip to the next step!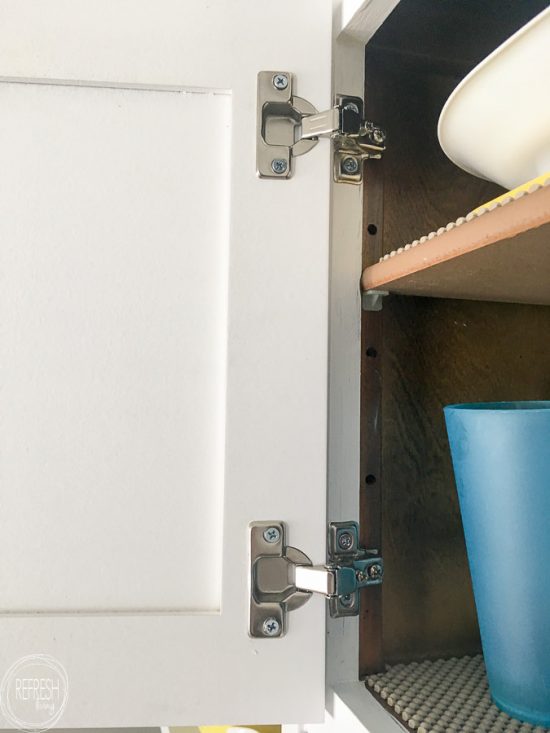 If you order new cabinet doors with pre-drilled holes, you'll need to select where those holes should be drilled (3 mm or 6 mm from the edge). I made a huge mistake and accidentally selected the 6 mm distance (even though I had written down 3 mm!)  This made finding the right size hinges very, very difficult. If I had selected the one I originally measured for, I would have been able to buy this 10-pack of concealed hinges from the hardware store and they would have worked perfectly. Instead, I had to scour the internet for this obscure size hinge to make up for that extra 3 mm. Thankfully, it all worked out in the end, but at the expense of hours of extra work and worry.
If you already had cabinets with cup holes, I'd recommend bringing your old hinge to the hardware store to match up the size of hinge you will need.  Even if you plan on purchasing the hinges online (which I've found it much cheaper than the hardware store), you can use the ones at the store to get the correct size name. I was actually quite amazed at how many different sized hinges there are during my search, so you just want to be sure you're buying/ordering the right size.
Paint the Cabinet Boxes, Doors, and Drawers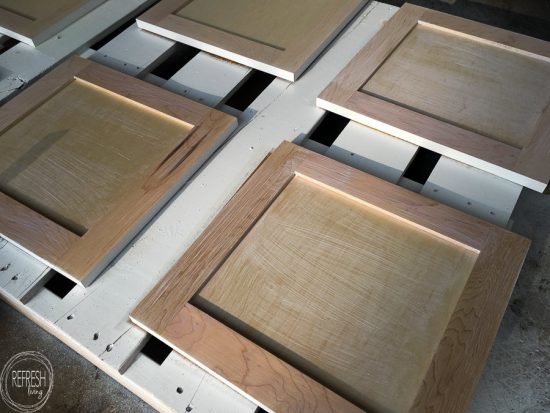 I'm working on a full post of all my tips for painting kitchen cabinets, but for now, I'll share a few other posts and the basic steps for painting cabinets.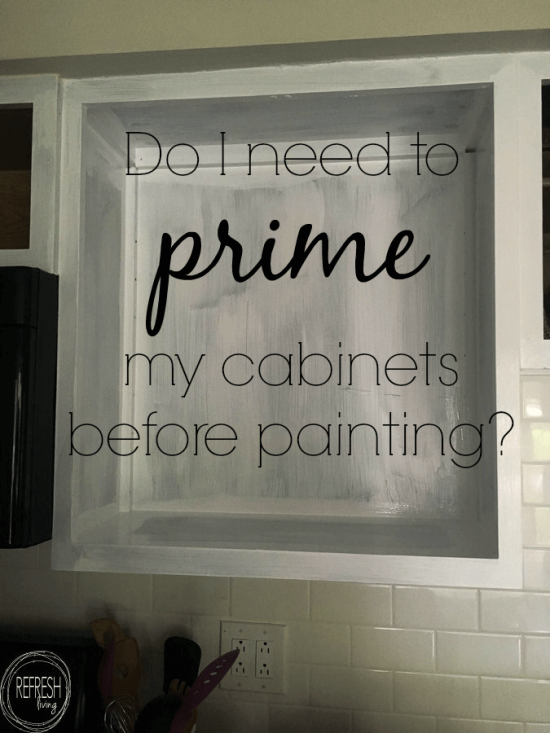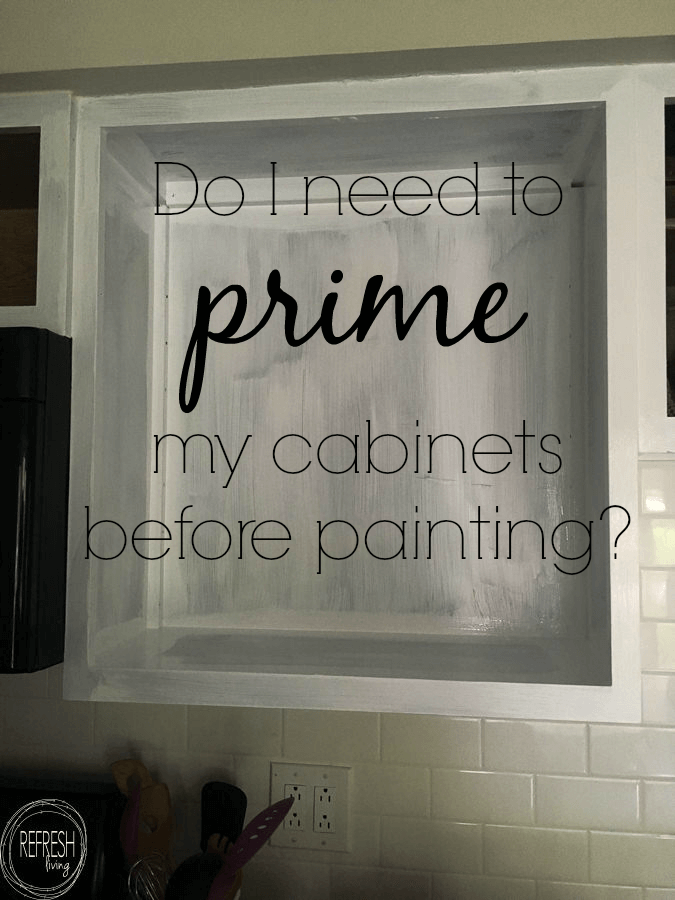 First, I almost always recommend priming cabinets before painting. You can read everything about how I prep cabinets before painting and when I prime cabinets before painting.
I've also written a post on the best paint for kitchen cabinets where I share my favorite types of paint for painting cabinets that levels really well and is extremely durable. 
When painting, I always spray the doors and drawer fronts, and brush/roll the cabinet boxes. If you don't own a paint sprayer, I'd highly recommend renting or buying one if you're planning on painting your cabinets yourself. The finish you'll get will make it look like a professional painted them!
The Best Way to Install New Cabinet Hardware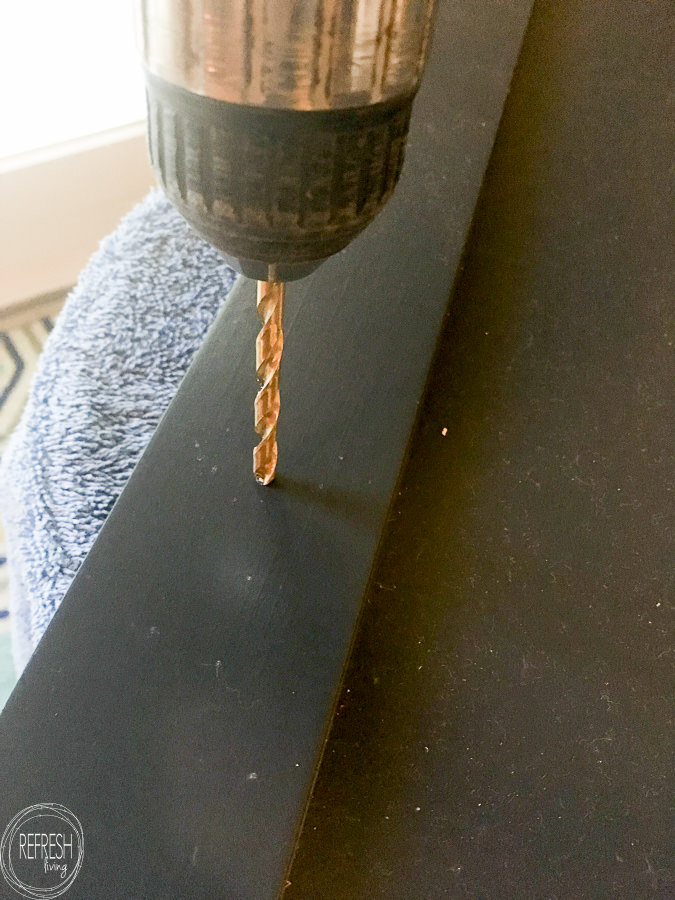 Drilling through cabinet doors is terrifying, am I right? Everytime I do it, I get scared that I'm going to make a mistake. You can buy cabinet door templates to guide where to drill holes for cabinet doors, and although I have one, I often find I don't like where the pulls would lay if I use that guide.
Instead, I make my own template for installing new cabinet hardware with a simple piece of cardboard! First, I make sure that it's cut with a perfect 90 degree angle in one corner. This is the corner that will align with the corner of the cabinet.
I use one of my handles to determine where I want it to sit on the door. Sometimes, I can put pressure on the handle and it makes an imprint in the cardboard with the indents with where the holes need to be drilled. If that doesn't work (depends on the type of cardboard), I measure from the edge of cardboard to be sure each hole is the same distance from the edge of the cardboard.
I use a pencil to mark the spot on the cardboard, and then drill through the cardboard at both of the spots to make holes in the cardboard. Now, it's a template ready to be used on the cabinet doors.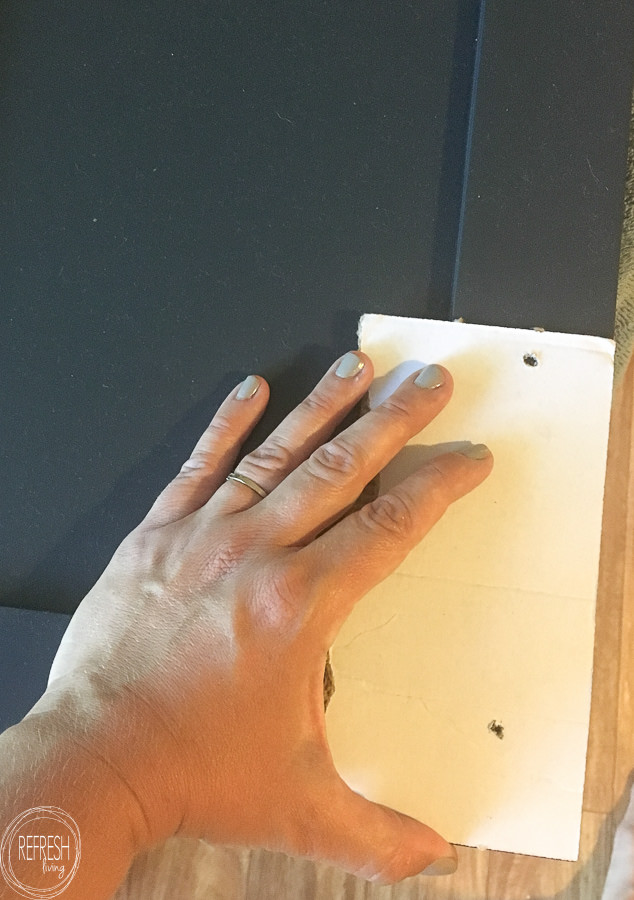 First, you'll want to make sure the template edge is lined up perfectly in the corner. Then, take a 3/16″ drill bit and drill slightly into the surface of the cabinet. (A lot of people use a pencil to mark where to drill, but when you do that, it's a lot harder to drill in the exact spot once you remove the template. Plus, it's easy for the drill to slip a bit and thus make the hole slightly off.)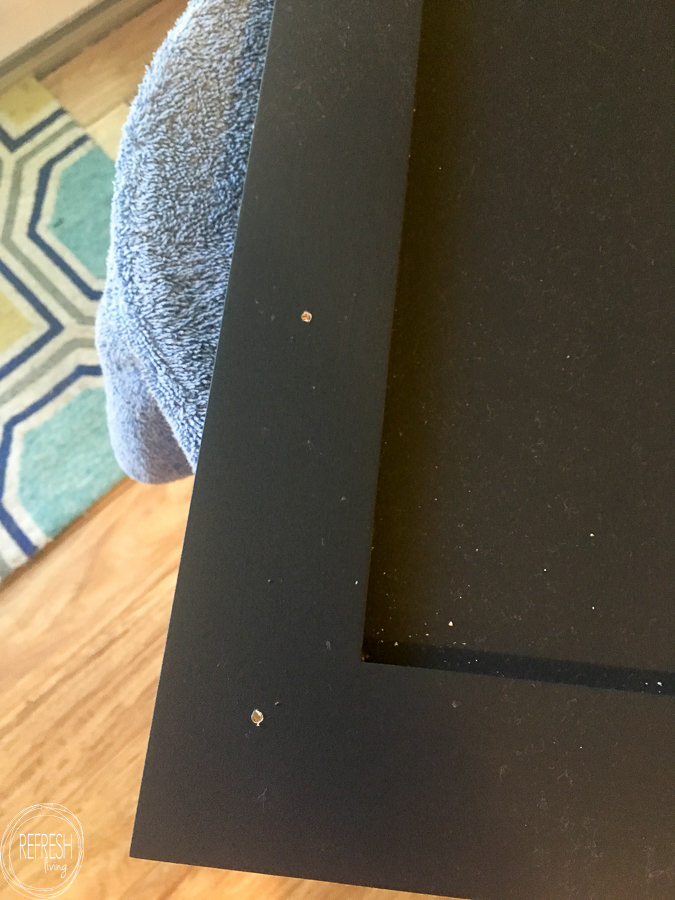 Instead, by drilling just a bit into the cabinet face, it gives your drill a guide when you're making the hole through the door. At this point, you can use your 3/16″ drill bit to drill a hole all the way through the door. Always be sure to drill from the front to the back of the cabinet, because sometimes the wood splinters on the way out. A way to avoid this splintering is to place your cabinet on an old piece of wood, and then drill through the cabinet and into that scrap piece of wood.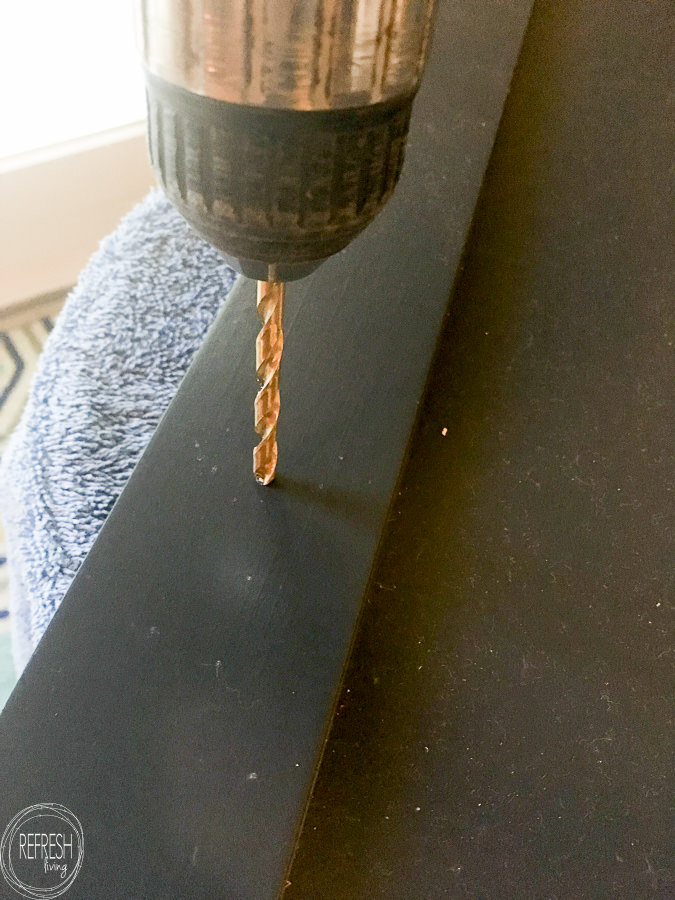 You can also use the same template for the doors that face the other way by just flipping it over!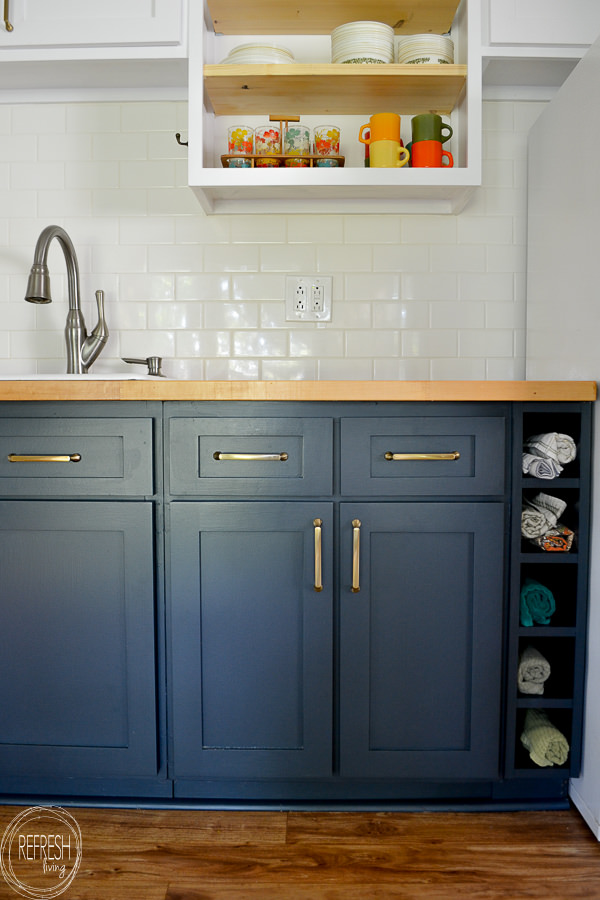 Everything Else Kitchen Cabinet Painting and Refacing Here:

Join the Refresh Living DIY & Upcycling Community
Join the subscriber list to receive one to two emails per month with updates from the blog. PLUS, you'll gain access to my printables and graphics library. Every new design I create will be added here, and you'll have free access - forever!