Wondering what's the best primer for painting furniture and cabinets? Do you need to prime cabinets before painting? Priming is a step that helps paint to adhere to surfaces, but it also can be used to cover stains, smells, and wood bleed through. Ask yourself a few questions to help determine if you should prime your cabinets or furniture before painting.
In this post, I'll use furniture and cabinets interchangeably. I've painted several kitchens and well over 50 pieces of furniture, and I've generally found that the same techniques and tips apply to painting both cabinets and furniture.


Do I need to prime before painting?
Honestly, you'll find differing opinions to this question all over the internet. Whenever someone asks me this question, I always ask about the piece they are painting, because that is what determines whether I personally choose to prime a piece of furniture or kitchen (or bathroom) cabinets before painting.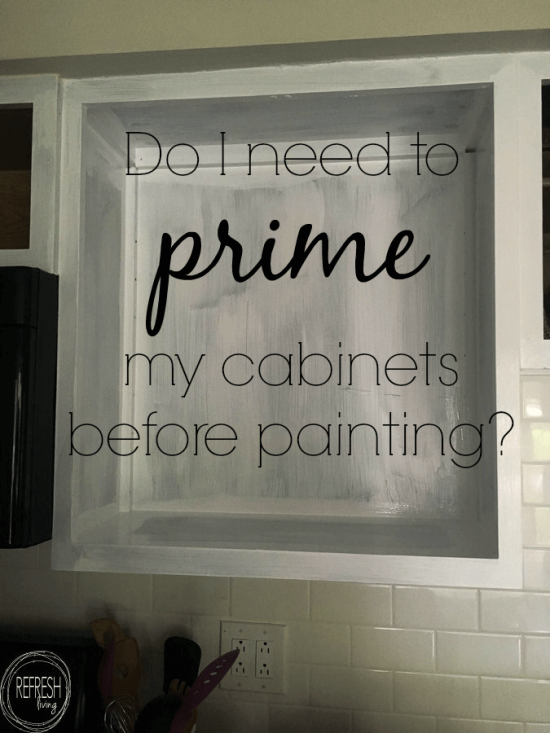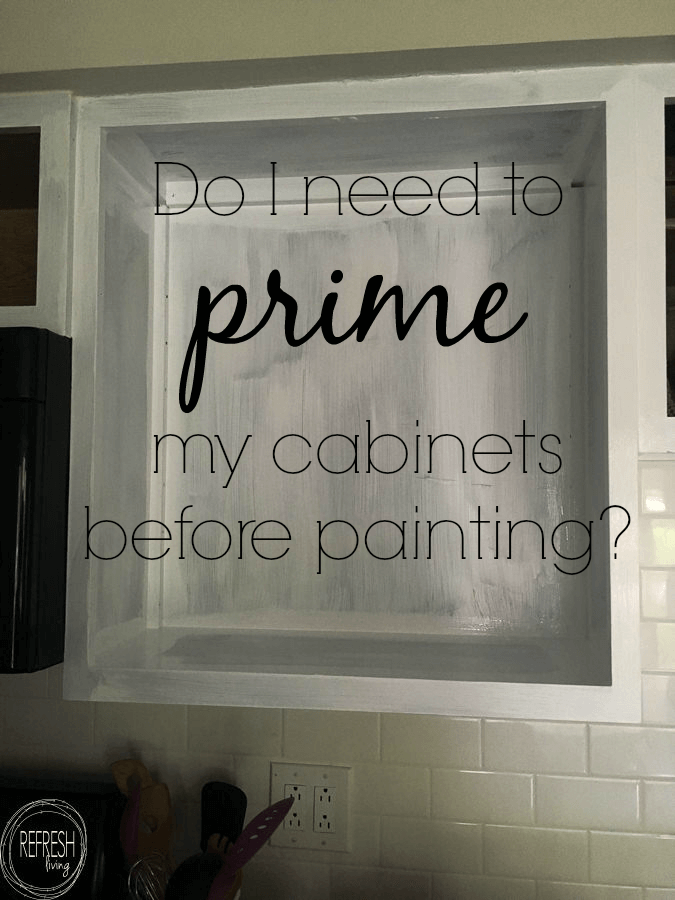 Here are some of the questions I ask myself to determine if I need to prime cabinets or furniture before painting:
Is the finish on the piece in-tact? In other words, is there any places where the finish is chipped, worn or sanded away, or is sticky or in bad condition?
Does the wood have any water, smoke, or other stains?
Is there smoke or pet odor that doesn't go away with washing?
Are there knots or coloring the wood that is not sealed?
Is the piece cherry or mahogany?
Am I painting over a previously painted surface?
Will I be painting the piece white or a very light color?
Each of these questions helps me to decide if I will prime before painting. Sometimes, there is not a right a wrong answer and if you choose to prime or no prime, your finished piece will look and hold up the same. Other times, it's necessary to prime before painting in order to achieve a uniform color and to make sure the paint adheres well.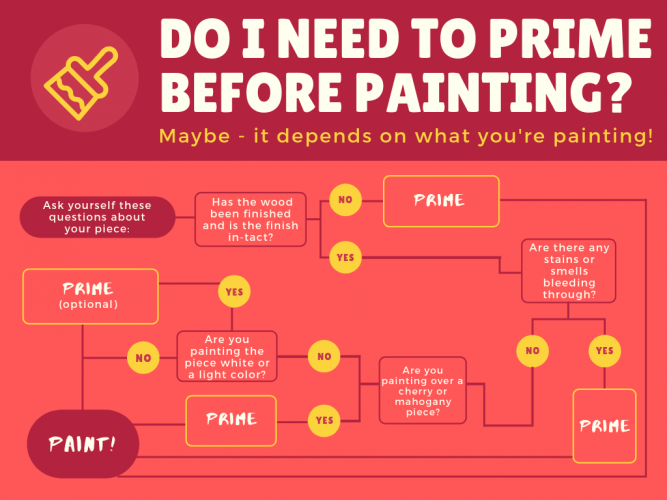 Please keep in mind, it's difficult to generalize too much because the decision to prime also depends on what paint you are using to paint your piece. For example, chalk paint sticks to anything (so I don't ever prime for adhesion purpose before chalk paint), but stains, tannins, and finishes will still bleed through chalk paint.
For all the details on which paints stick best to surfaces and the pros and cons to all of the different types of paint you can choose, check out this post on the best types of paint for kitchen cabinets.
Thinking about painting or refacing your kitchen cabinets?
General Use, Water-Based Primer
These types of primers are great for giving paint a little extra sticking power and helping to make sure your paint stays adhered to the surface for many years to come. Using a coat of primer also means that you will need to use less paint, especially if you are painting your cabinets or furniture white. In the end, this saves money because primer is definitely less expensive than paint! Zinsser 1-2-3 Primer is my go-to general-use primer. I also use it to prime dark colored walls that I am painting a light color like I did when I painted over this dark red wall in my living room. (1 coat of primer is cheaper than a coat of paint!)
These primers don't necessarily hide bleed through or stop smells, though, so if you have a heavy duty job, you'll need one of the primers described in the next section.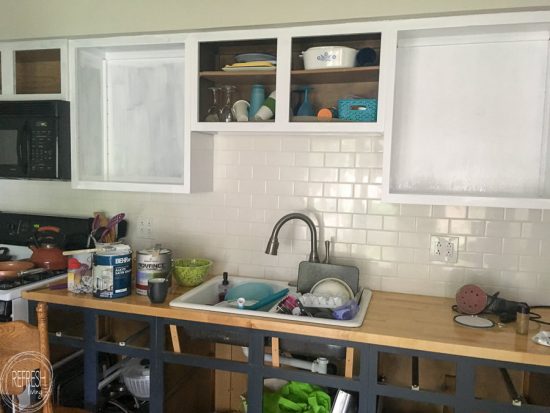 I've used this type on primer on cabinets and furniture with great success. In fact, it's what I used to prime the inside and outside of my upper cabinets in my kitchen before painting them white.
Stain-Blocking Primer
If you have stains that would otherwise bleed through paint, you'll need to opt for a stain-blocking primer for your cabinets or furniture. Typical situations where this would happen might be:
water rings or water stains on a piece of furniture (usually the tops of tables and dressers)
unfinished, bare wood (new cabinets doors, or a piece of furniture you've built yourself from wood with visible knots)
furniture or cabinets made from cherry, mahogany, cedar, or knotty pine (all of these wood species bleed through paint, and sometimes the pre-existing finish)
stinky odors from smoke, must, or pets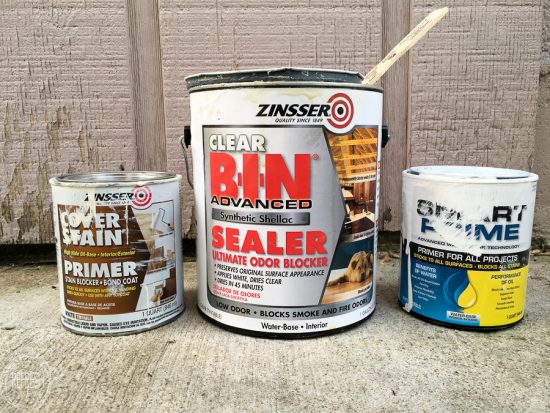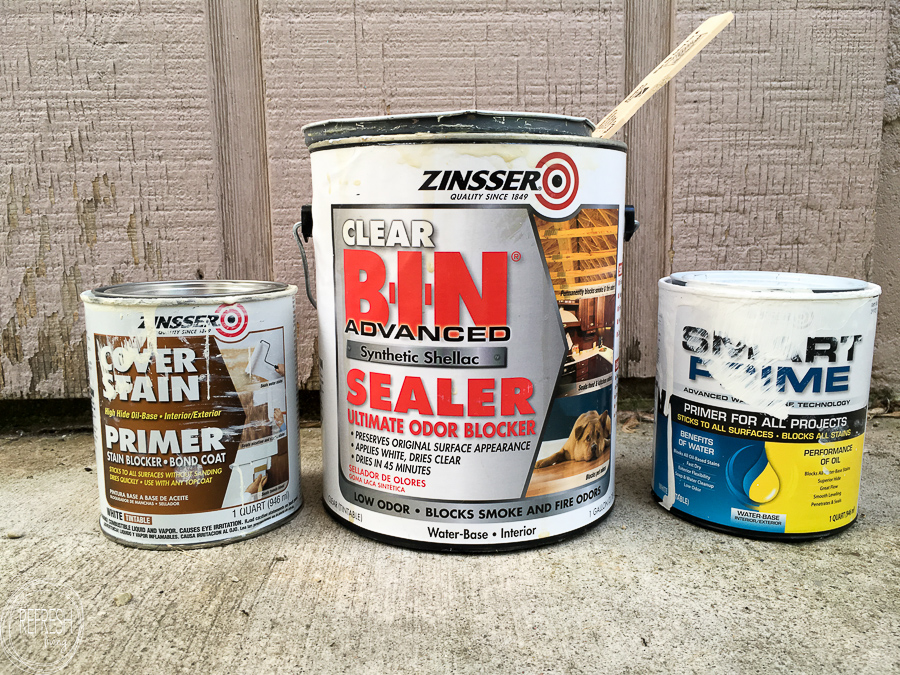 Oil-Based Primer
Any oil-based primers will usually do the trick at blocking any of these bleed through situations, but oil-based primers also have a much stronger odor (don't paint with these inside unless ALL windows are open!) and are more difficult to clean up (need to use mineral spirits or paint thinner). (Although they now make odorless oil-based primer as well!) My favorite type of oil-based primer for furniture is Zinsser Cover Stain. It definitely does just what it claims to do – covers any and all stains and odors!
Shellac-Based Primer
Shellac primer also covers stains and odors, and it comes in both white and clear. It's a little less stinky than oil-based and it a little easier to clean up as well (a mix of water and denatured alcohol does the trick). I keep a gallon of Zinsser Clear BIN Shellac Sealer on hand and have used it for years on a number of different projects.
If you need to prime a piece of furniture in a wood species that bleeds AND you plan to distress it, clear shellac primer is the way to go. It will stop bleed through of the wood, and when you sand to distress the paint at the end, you won't have a layer of white primer showing through, it will reveal only the wood.
Water-Based Stain Blocking Primer
I'm starting to see more and more heavy duty, stain-blocking primers available as a water-based primer. Basically, all the benefits of an oil-based primer with easy clean up using only water. Usually, these primers cost a little more since you're getting the best of both worlds at once, but I've found it worth the cost for some projects.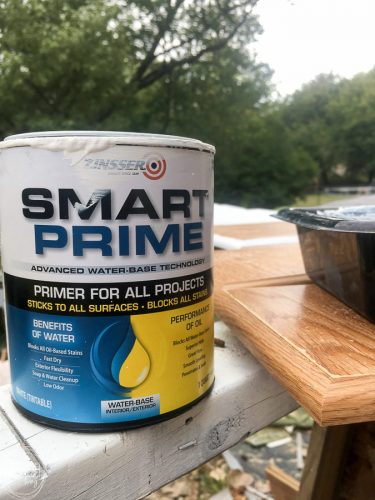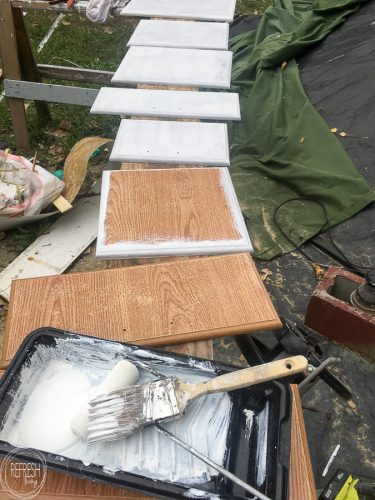 My favorite primer in this category is Zinsser Smart Prime. I used it to prime the old, water damaged cabinets in my pop-camper with great success. If I'm being honest, it's also my go-to primer that I recommend to people asking for what they should use to prime furniture or cabinets, basically because it's pretty fool-proof to use. It covers everything it needs to and is easy to clean up with water.
I hope this post helped to answer some of your questions about priming before painting. If you're ever in doubt, my recommendation would always be to take the little bit of extra time to prime first. Happy painting!
Like it? Pin It! (Thank you.)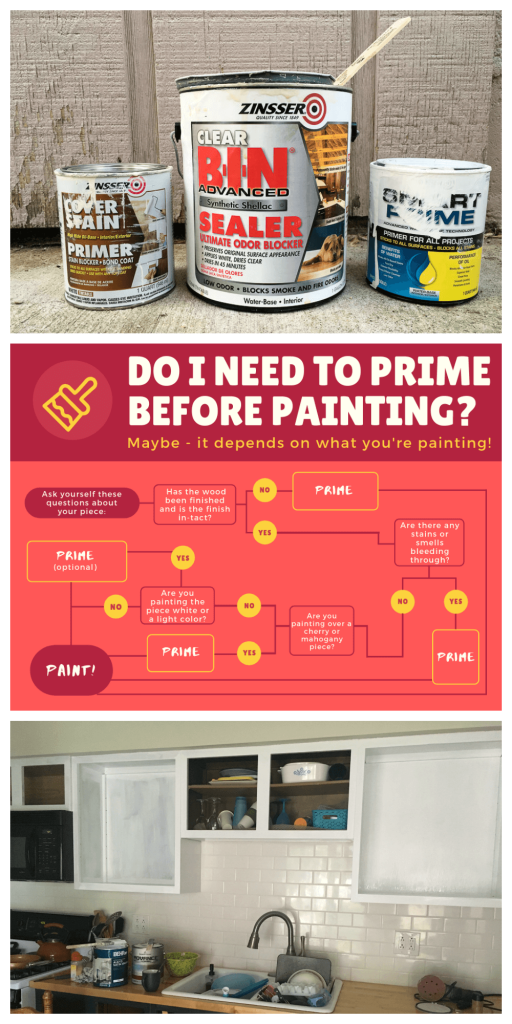 Other Posts You Might Like

Join the Refresh Living DIY & Upcycling Community
Join the subscriber list to receive one to two emails per month with updates from the blog. PLUS, you'll gain access to my printables and graphics library. Every new design I create will be added here, and you'll have free access - forever!