Wondering how to get rid of rust on a fridge? Wanting to know how to paint your fridge to give it an updated look? This tutorial and video show how to paint a rusty refrigerator to make it look new again! Step by step process with the best paint for painting fridges and other appliances.
Our fridge is rusty. There, I said it. We have a rusty refrigerator that runs perfectly well, but looks awful. What's worse, nothing seems to be working to get rid of the rust. In fact, it's spreading like crazy! After living with it for about a year, I finally decided to do something about it. I'm so glad I did, because it ended up being pretty easy, and now looks like new (if I do say so myself).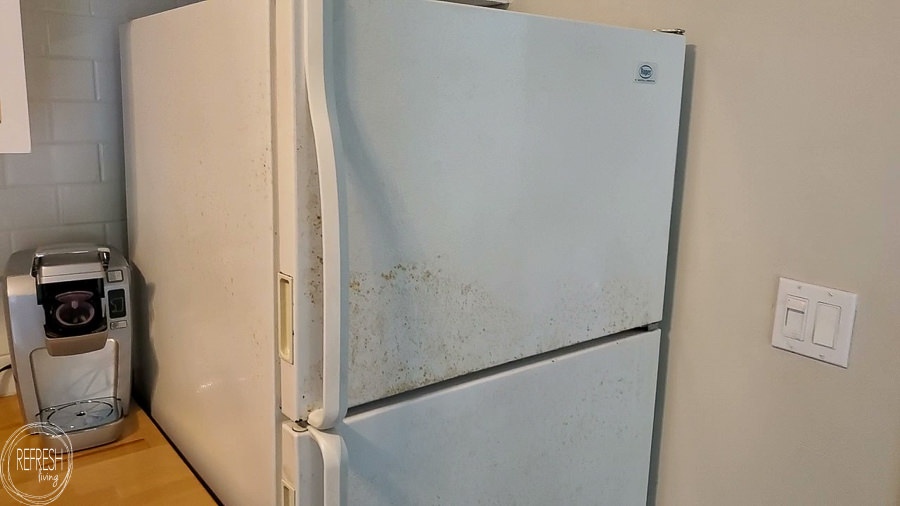 To watch the video tutorial of the process, scroll down to the bottom of this post.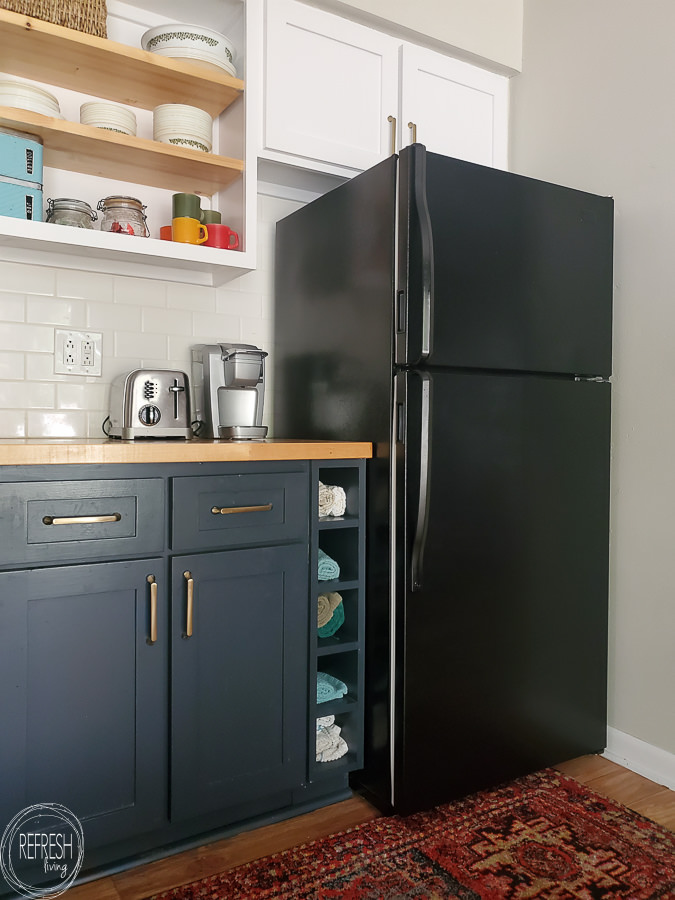 Supplies Needed:
How to Paint a Fridge (even if it is rusty)
The first step is to remove the handles and doors from the fridge. I would highly recommend moving your fridge and doors outside or into a ventilated garage to paint them.
To prep the surface, clean the fridge with a degreaser cleaner (I used dish soap, but any cleaner should work) to remove dust, grime, oils, and anything else that might be on the surface. Make sure to rinse off all of the cleaner before moving on. To scuff up the surface to allow for best paint adhesion, lightly sand with between 220 and 120 grit sandpaper. Then, wipe off any remaining dust with a tack cloth or a lint-free cloth. I like to wipe shiny surfaces like this with a bit of rubbing alcohol before painting to ensure everything is clean.
After everything is cleaned, tape off the gaskets with painter's tape, and cover the inside of the fridge with newspaper. Spray paint is quite the sneaky little bugger, so just be sure every surface you don't want to be spray is covered well.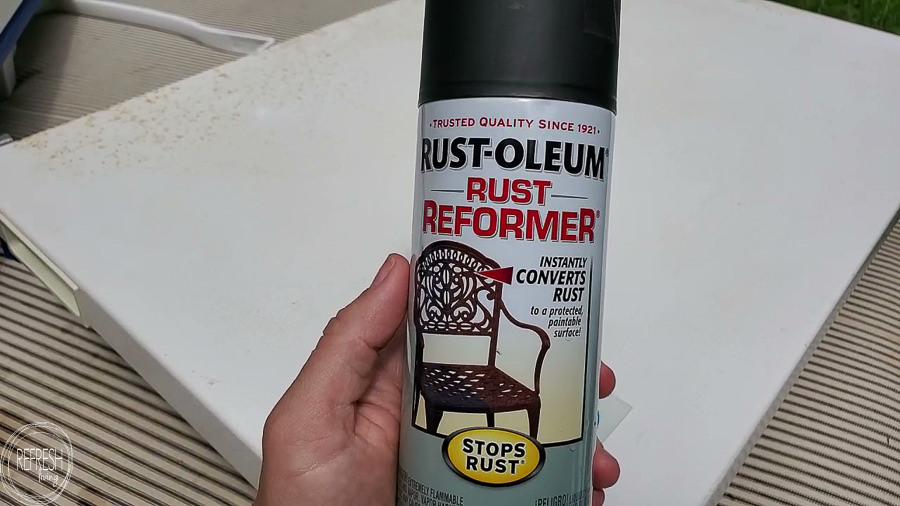 I started with a light coat of the Rustoleum Rust Reformer spray paint to make sure the rust does not come back through the new paint. I sprayed a light coat on both doors, but didn't end up using it on the fridge frame as the rust was pretty minimal there.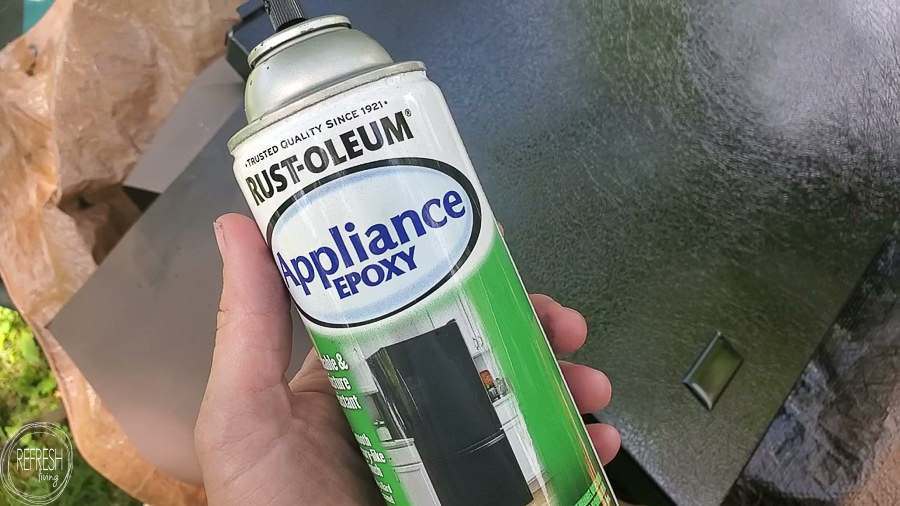 After following the dry time on the can, it was time to apply the Rustoleum Appliance Epoxy spray paint. At first, I was super nervous because the paint kept dripping out of the can onto the doors. I figured out a couple of tricks along the way to minimize the dripping, but in the end, the drips ended up leveling in perfectly with the paint and you couldn't even see any of them (at all!) once the paint dried.
Here's what I noticed minimized the dripping:
Hold the can as vertical as possible, so prop the doors up vertically, or at an angle, to paint them.
Shake the can A LOT, and often, during painting.
Don't worry about them! In the end, they ended up leveling out perfectly.
For the couple of massive drips that happened, I ended up lightly dabbing my finger in them a bit. (I know, sounds counterintuitive to everything you know about painting…) But, it ended up working out really well. In the end, this paint is really forgiving and gives a flawless finish, even if you mess it up a bit.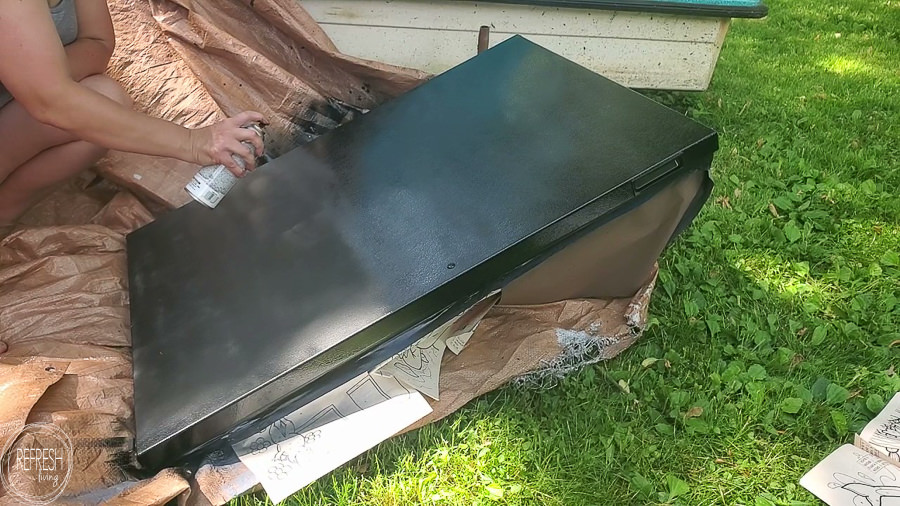 All the surfaces ended up needing two coats of the Appliance Epoxy, and I used three cans of the Appliance Epoxy and two cans of the Rust Reformer.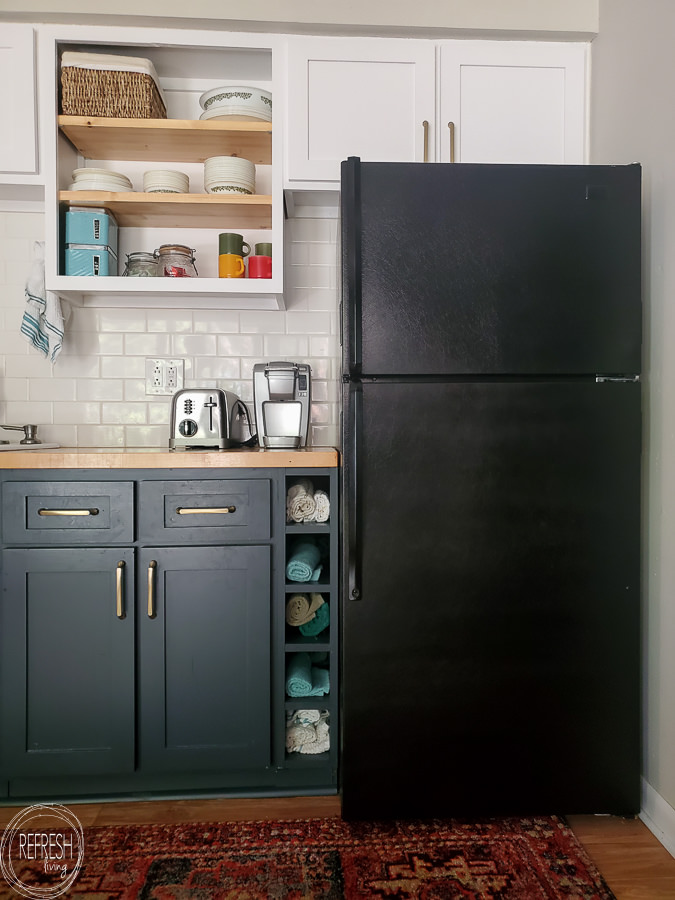 Less than $20 for a "new" fridge? Sounds good to me!
Watch the full video tutorial here:

Join the Refresh Living DIY & Upcycling Community
Join the subscriber list to receive one to two emails per month with updates from the blog. PLUS, you'll gain access to my printables and graphics library. Every new design I create will be added here, and you'll have free access - forever!