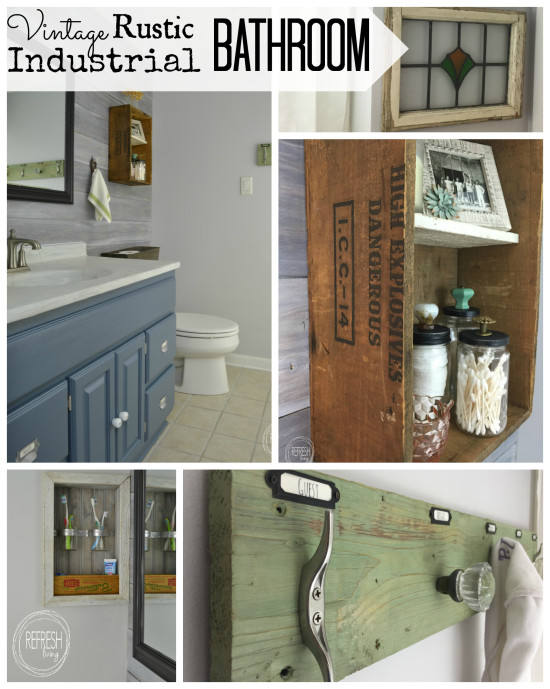 The final reveal is here!  I took our blah main bathroom – where all four of the family members shower, brush our teeth, do all that daily bathroom "stuff" – and turned it into a functional space that we actually enjoy.
Here's where we started a short six weeks ago.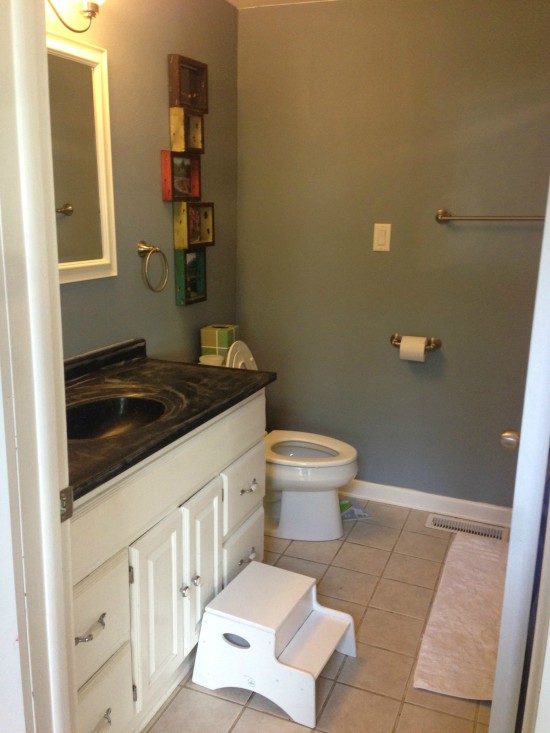 Then I did a little work here and a little work there over the past couple of weeks (and a whole lot of work this last week).
Which brings me to how our bathroom looks today.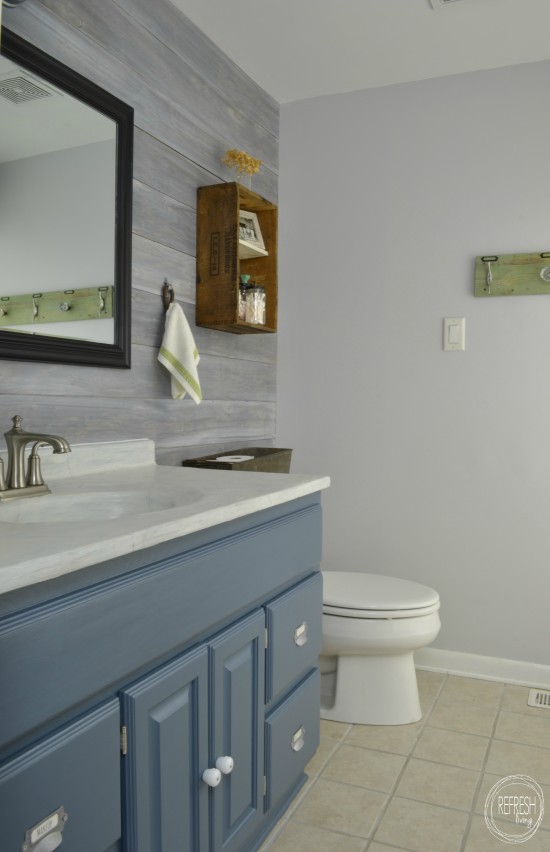 Besides the fact that the room is finished, I have quite a few things to celebrate!  The tile and grout look 38 times better.  We now have enough room to hang our towels without the bar falling off the wall.  Our four toothbrushes and three different kinds of toothpaste can finally stop cluttering up the counter.  Speaking of the counter, it's not an ugly plastic black any longer.  Our faucet doesn't leak from both the hot and cold water handles.  The room now has a little bit of charm and style, at least in my opinion.  I spent less than $200.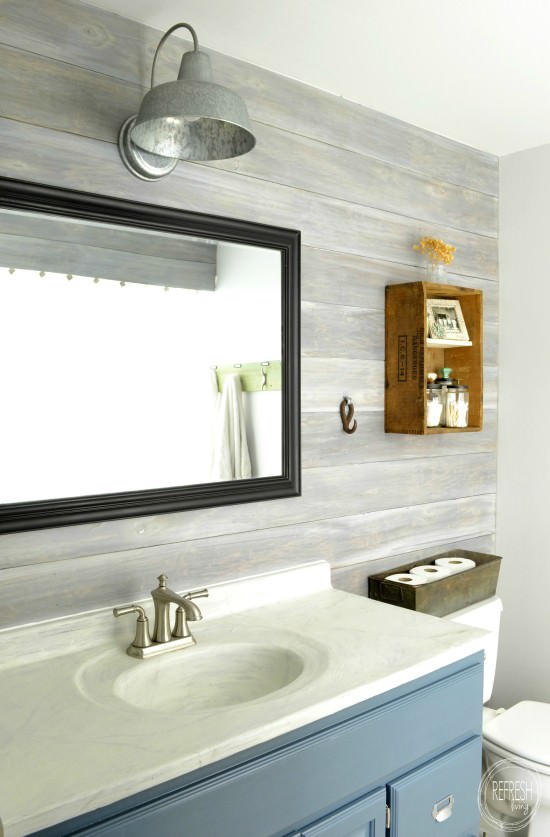 The whitewashed plank wall is still my favorite feature, and it was so easy and inexpensive to make and install!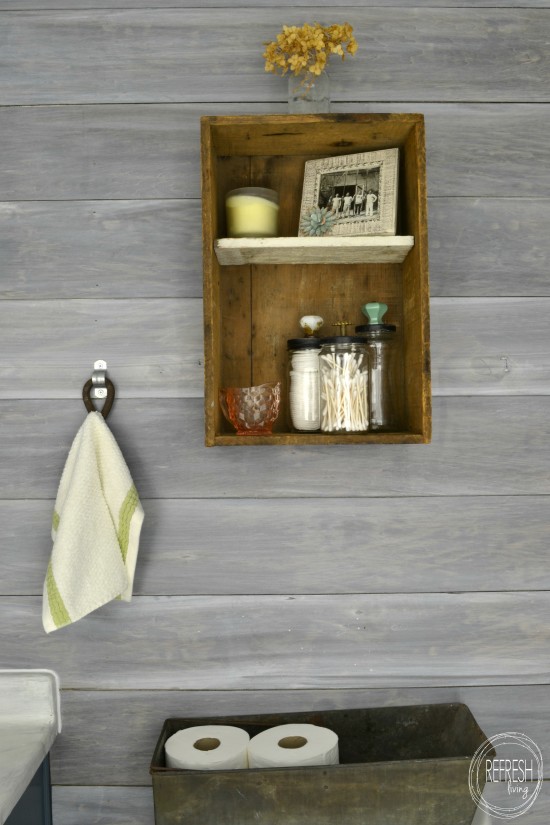 It was so fun to look through my stash of things that didn't sell at the last market I sold at and "shop" for items to use in my bathroom.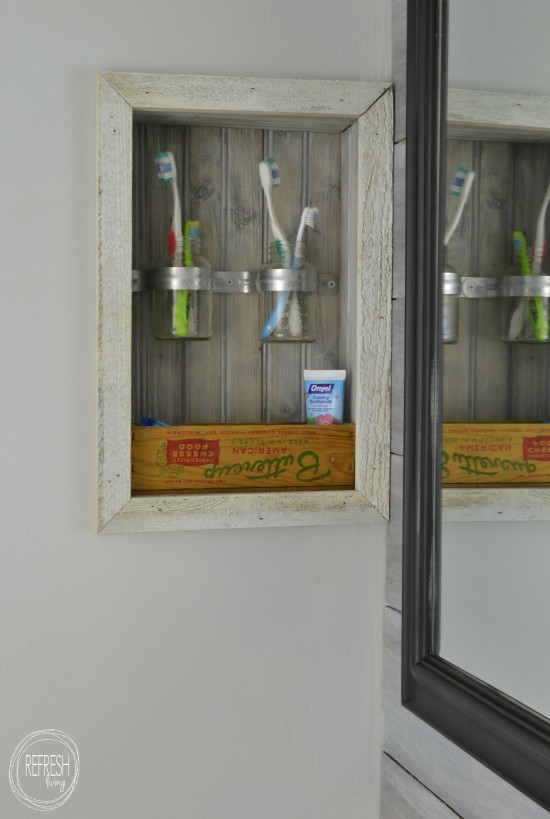 Goodbye counter top clutter!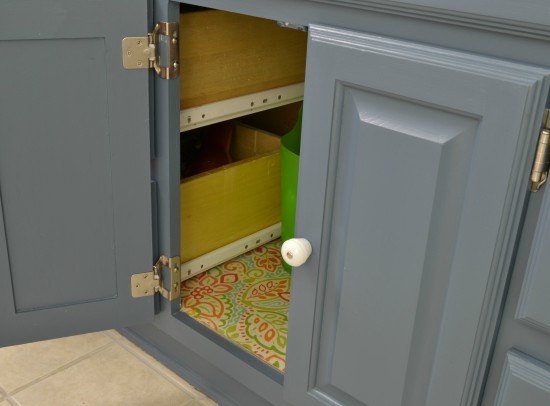 In order to make it feel like I had a new vanity, I painted it with General Finishes Milk Paint in equal parts Driftwood, Coastal Blue and Seagull Gray and lined the drawers and bottom of the cabinet with leftover fabric.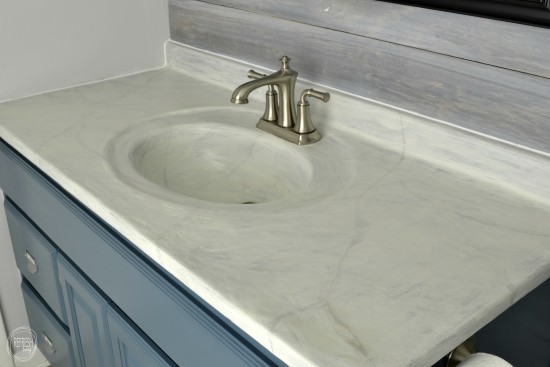 This concrete "faux marble" counter top is my favorite project in the room.  I took that ugly black counter top and created this look for less than $35.  I'll be sharing just how I did it soon.  All I'll tell you for now is that it's not painted…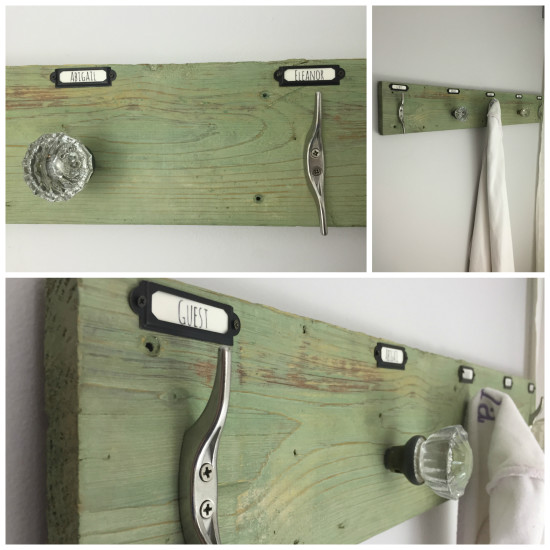 Now we have enough room for all of our towels, and even one for a guest.
I don't know what this hook was originally used for, but now it holds a hand towel.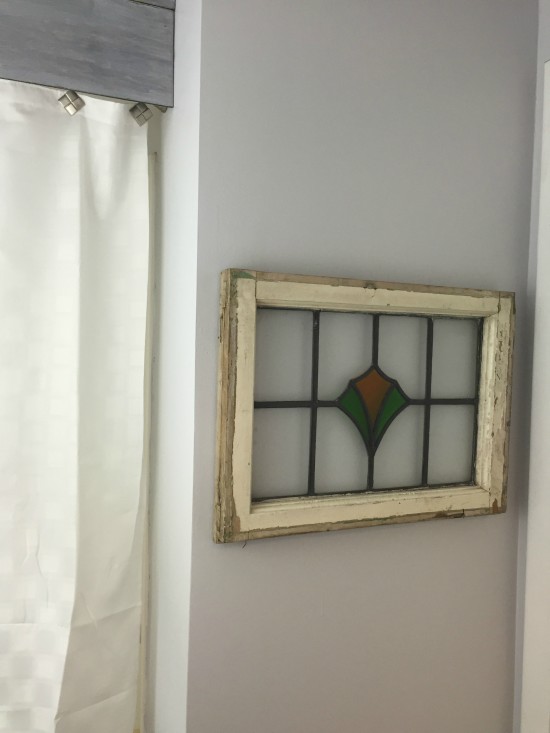 My dad found four of these windows in an attic he was clearing out.  I originally took one to hang above my sink in our kitchen window, but never got around to hanging it.  So for now, it's tucked in the wall space behind the door.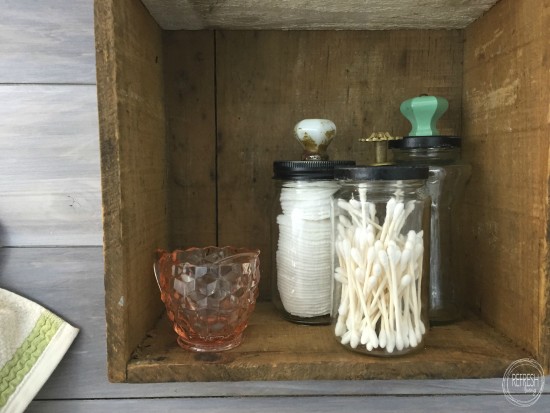 Those are old salsa, applesauce, and pasta sauce jars, topped off with vintage knobs I've found at flea markets along the way.   Here's how I transformed those jars. The little pink glass creamer jar will hold jewelry and hair bands before baths and showers.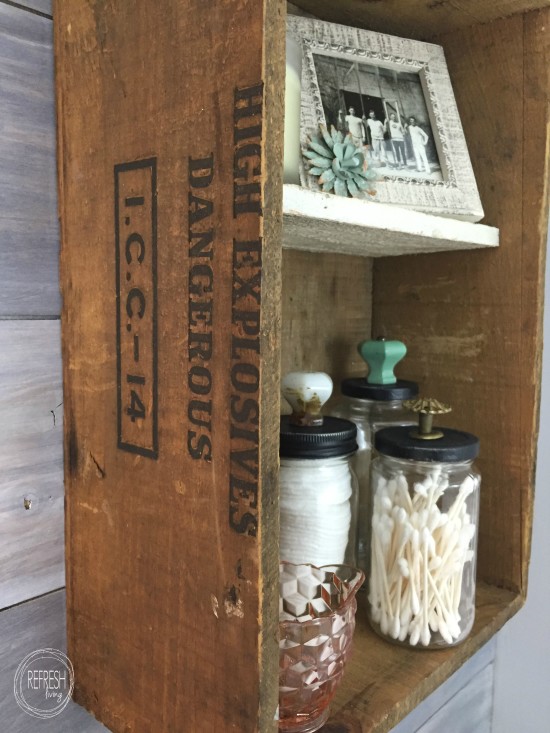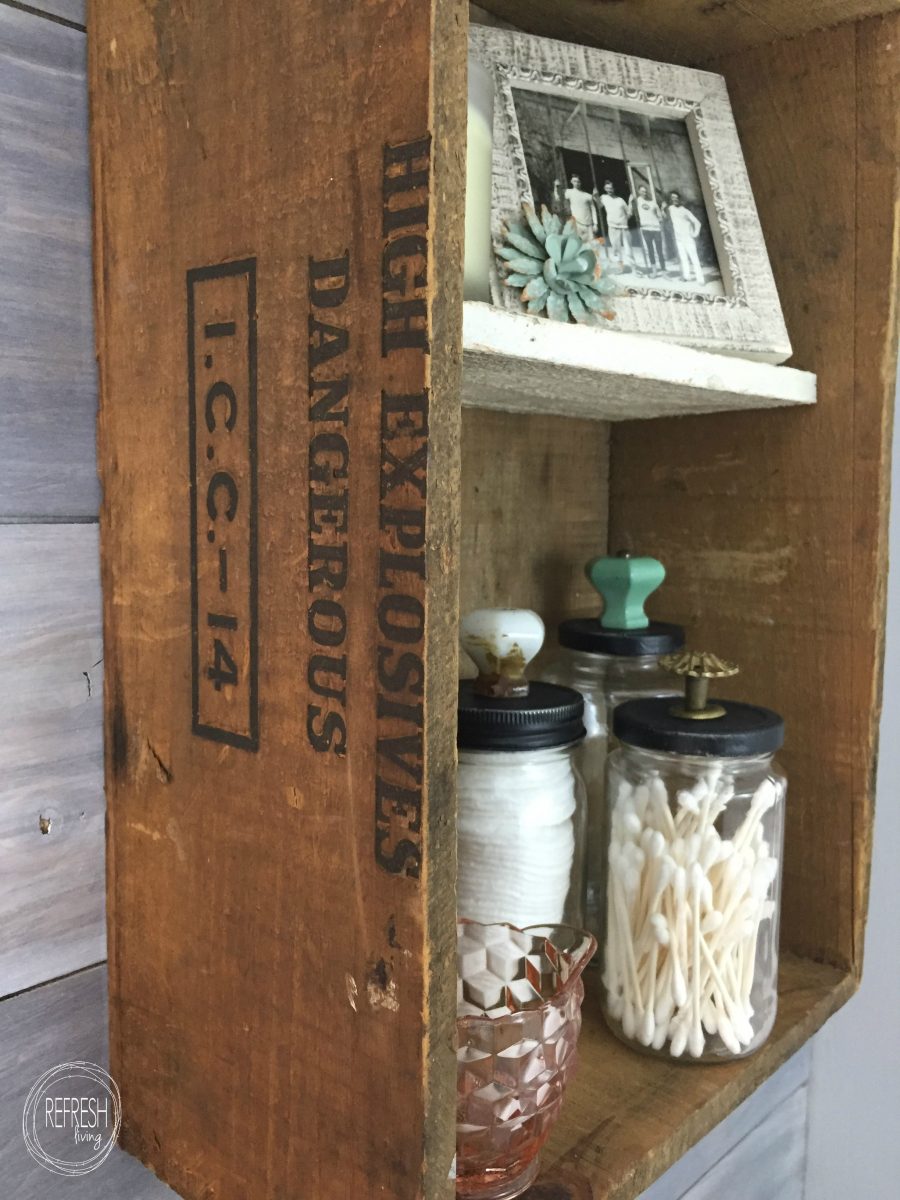 I found this crate at an estate sale last spring and had it out at all of my pop-up markets this summer (for $12, which I thought was a reasonable price), but it never sold.  I've always loved the lettering on the side, so I'm really glad no one else took it home because now it has a permanent home in my bathroom.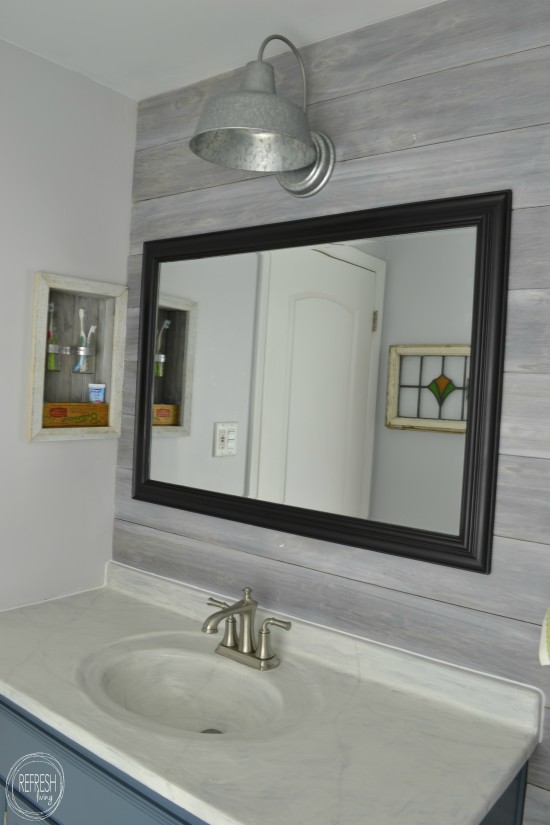 I just love how the wall turned out.  I originally planned to only put the plank wall on the small wall behind the door.  My husband, of all people, told me that was silly, and I needed to "go big or go home".  I use this phrase all the time, but my husband is never one to utter those words, especially on a home improvement project.  I'm sure glad he did, though!  We both love it, and that's all that really matters around here.
Here are all the DIY tutorials for the space:
In case you'd like to use an of these products on your own home, here is a rundown of what went into the space.
White Washed Plank Wall
Vanity and Counter Top
Floor and Walls
Accessories
Total Cost: $208
I sold my old bathroom set and the picture frame that used to hang over our toilet for $25, so you better believe I subtracted that from my total bathroom makeover cost!
Making the grand total $183.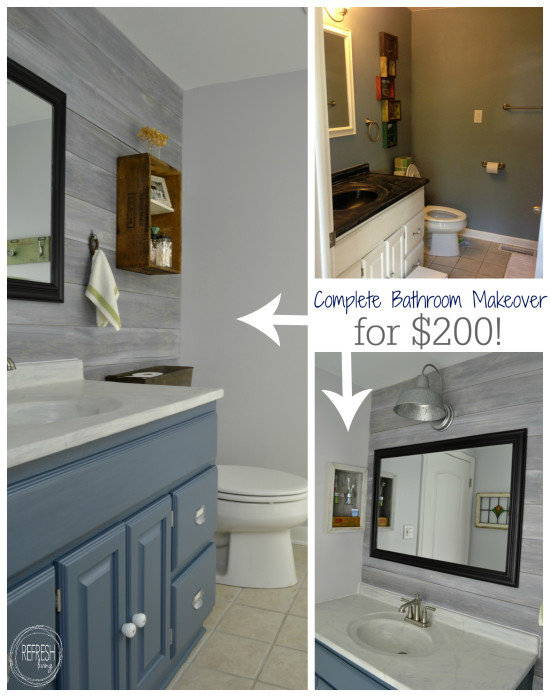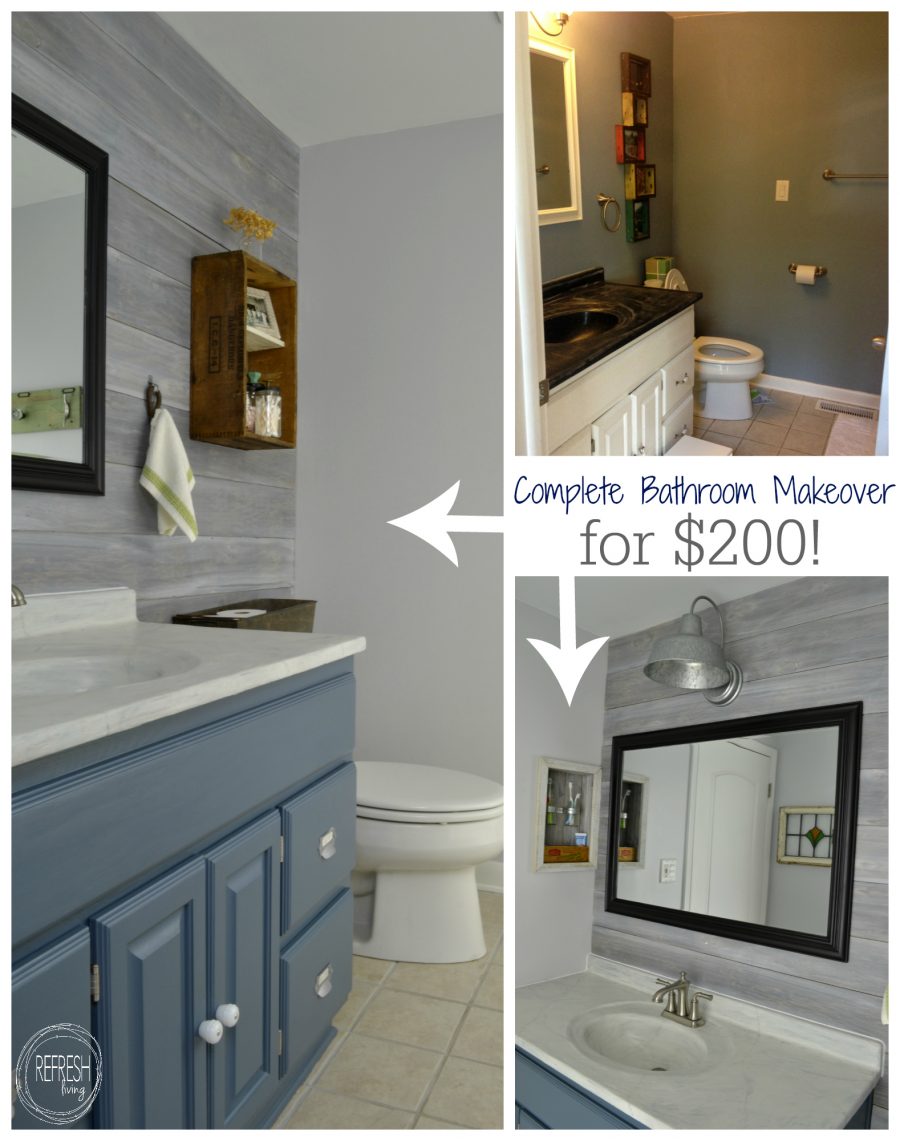 If you're new around here, you might not know I always decorate and remodel on a budget.  And when I say budget, I mean it.  Nothing like those posts you see that say it was a budget remodel, but they spent more on the bathtub than I can spend on a whole room.  Yes, maybe their space looks nicer in the end, but we just can't swing that much.  In fact, for the last One Room Challenge I completely gutted and remodeled a full bath at our cottage in Wisconsin, for $1,000.  You should check it out, especially if you like budget remodeling as much as I do!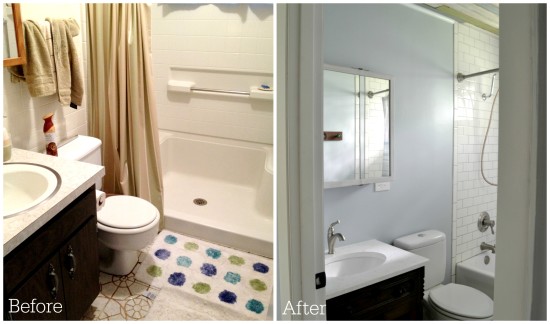 There are a ton of other AMAZING room reveals that were completed over this 6 week One Room Challenge.  Head on over to Calling it Home to see all of them!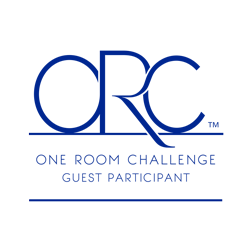 Like what you see? I'd love for you to follow along!
Facebook || Pinterest || Instagram || Google + || Bloglovin'
Join the Refresh Living DIY & Upcycling Community
Join the subscriber list to receive one to two emails per month with updates from the blog. PLUS, you'll gain access to my printables and graphics library. Every new design I create will be added here, and you'll have free access - forever!