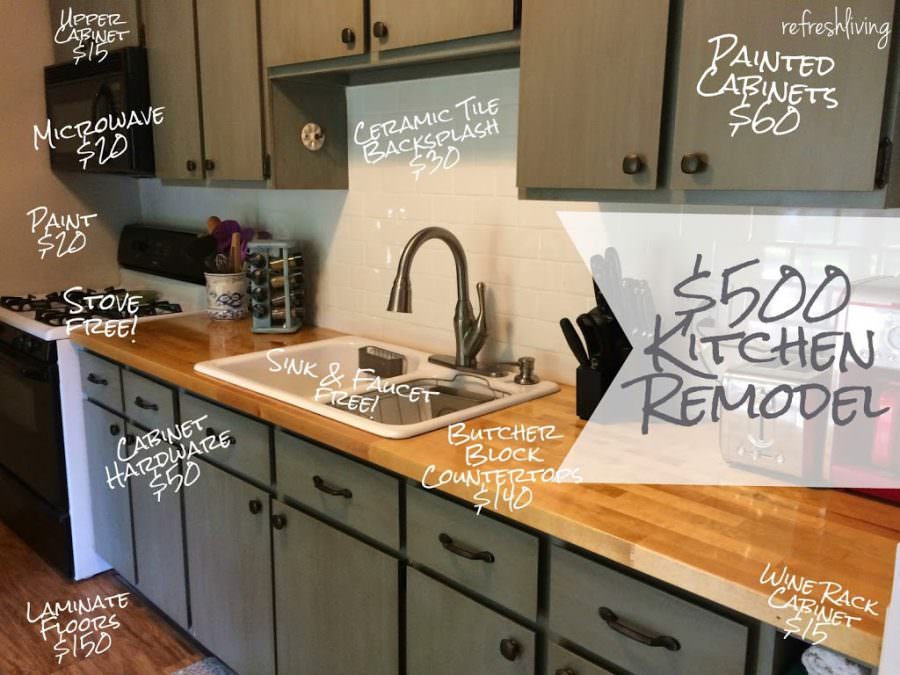 Faux wood cabinet doors, peeling yellow and brown kitchen-motif wallpaper, gold specked countertops, what color is that, gold? green? old? tile backsplash, faux wood paneling:  the design of this kitchen had not been touched since the day it was built in 1970.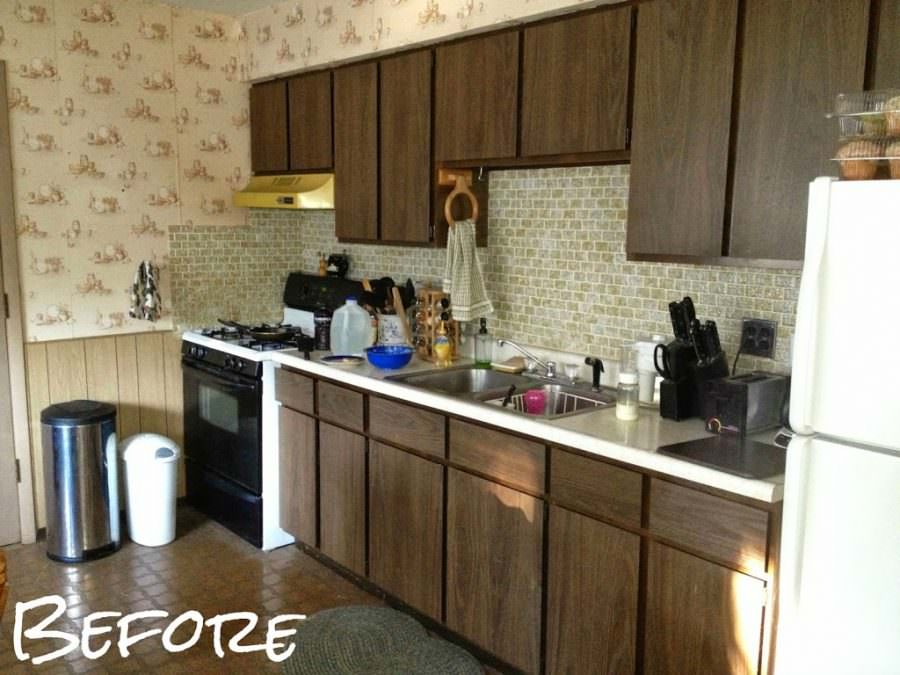 It was about time for it all to be touched with the magic of refinishing and repurposing, all on a tight budget.  We transformed this kitchen for less than $500.  Although it's not my dream kitchen, I am extremely pleased with how it turned out.  It's a place where I don't really mind needing to hand-wash the dishes…
We made the budget-friendly decision to paint the cabinets rather than replace the doors.  The cabinet frames, as well as the doors, are actually in excellent shape (minus the fact that the doors are hollow-core, laminate faced doors…).  Down the road, replacing the doors will be an easy fix.  I'm sure I'll want to change the color of the cabinets at that time as well.  I'm just crazy like that.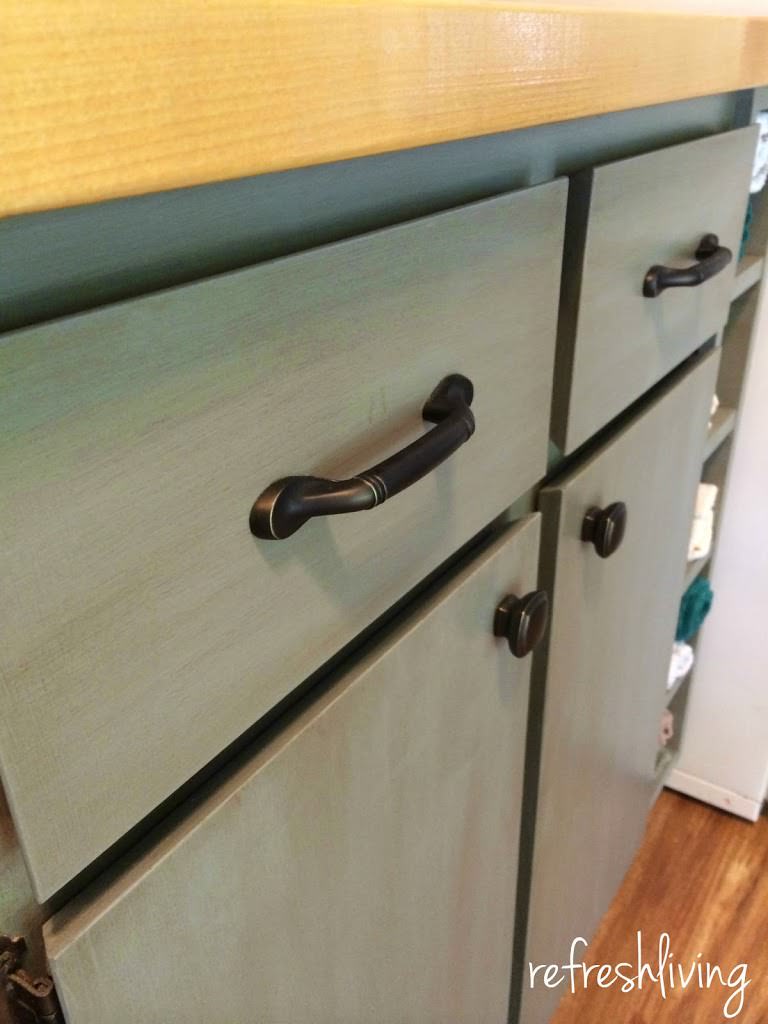 Because we refinished the cabinets over a year ago, I was still new to this repainting/glazing/finishing of wood and furniture, so I put my trust in the Rustoleum company and bought their cabinet refinishing kit.  (Of course, I waited until it went on sale!)  Looking back, I now have all the components that come in the kit on hand in my storage room (paint, glaze, sealer/finish) and know how and when to use them all, but at the time, I was still a rookie. Looking back, I actually would have wiped away much more of the glaze.  I found myself trying to mimic the picture that was included in the instructions, but I now know glaze is so forgiving and it gives you a great deal of flexibility in changing the look of the finish.  You live and you learn.
Besides reusing the cabinets, we also gave a second life to most of the appliances in this space.  The stove is the old stove from our house after we remodeled our kitchen.  Unfortunately, the before picture doesn't show the old stove that used to be in the space.  Just picture the vent hood wrapped all around the big stove.
The sink and faucet were also from our house and now work perfectly in this space.  The microwave (which replaced the hideous yellow vent hood) was purchased at our local ReStore for $20.  The fridge was bought a few years back (replacing a beautiful yellow one, as well) and is smaller than the space it sits in, so we were left with an awkward gap between the fridge and the base cabinets.  I found a wine bottle rack cabinet at the ReStore that fit perfectly in that space.  We literally had 1/16th of an inch of that countertop to spare!
(For those of you thinking about this one, the answer is yes, we remodeled our cottage kitchen and our kitchen at home virtually at the same time.  My husband is very patient, and I'm nuts.)
Here's a run-down of the total cost of the renovation:
Laminate wood floors:  $150
Butcher block countertop:  $140
Cabinet refinishing kit:  $60
Cabinet hardware:  $50
White ceramic subway tiles: $30
Microwave:  $20
Upper cabinet above microwave: $15
Wine rack lower cabinet:  $15
Paint: $20
Stove:  free!
Sink & Faucet:  free!
Oh yeah, how could I forget?  Here's what the wall opposite the cabinets looked like before…
and here's what she looks like now!
We now have a set of french doors that walk out to a small deck.  How could we have swung that one within a $500 budget?  Well, I learned my thrifty ways from my dad.  My dad had installed french doors for a friend a few years back, and these are the ones he tore out.  Naturally, the friend didn't want to keep them anymore, and of course, my dad did.  He's been saving them for 4 years in the garage.  We sanded, primed, and painted them in white to match the interior and exterior trim in the house, and they look good as new.
As you can see, the decorating is nonexistent right now.  I have big plans to paint the chairs and the base of the table, and refinish the top.  I bought a serving cart at an estate sale that I can't wait to start refinishing and it will find its home along that empty wall.  I'll add open shelves on that wall as well.  That ceiling fan has got to go as well.  (I normally just spray paint ceiling fans and add new light fixtures, but this one is a bit wobbly…)  I'll stop there so I don't overwhelm myself, but trust me, there's more!
If you'd like to take a peek at the cottage a year ago (or 30 years ago, since nothing has changed since then) check it out here or view all the progress here.
Join the Refresh Living DIY & Upcycling Community
Join the subscriber list to receive one to two emails per month with updates from the blog. PLUS, you'll gain access to my printables and graphics library. Every new design I create will be added here, and you'll have free access - forever!