I can't help but chuckle at the oxymoron I chose for the title of this post.  I don't really know if "vintage modern" is a decor style at all, but it's the best I've got to describe this room.
At the beginning of January, I set out to give this room (which is really just a large hallway) a more functional purpose as our home office.  The catch? I had only $100 to spend to update the space.
Let me tell you a bit about me.  I love shopping for items to decorate my home. I hate spending money. I have a soft spot for vintage goodies. You can see why the $100 Room Challenge just makes me happy.  Erin, from Lemons, Lavender, and Laundry, designed the challenge (which you can read about here) and hosts the challenge twice a year.  After checking out our new office, you'll see a ton of other rooms made over for $100 or less.
Before
Here's how this hallway looked before.  We had an obnoxious armoire/hidden desk, a fish tank, and a gallery wall above a buffet turned toy storage.  The wall with the gallery wall is exactly the same (except the wall is now white), but the other two areas in the room look much different, and much more functional.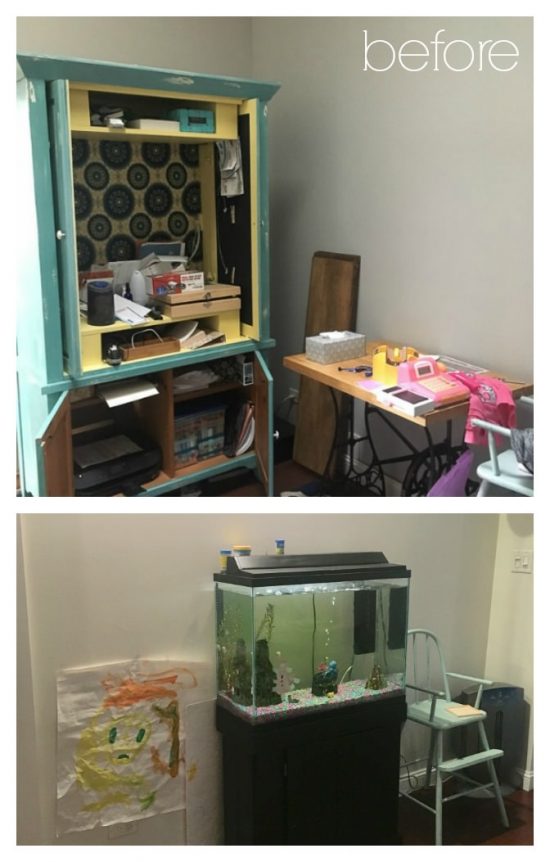 After
Welcome to our new "vintage modern" home office, with a place for both adults and kids to "work".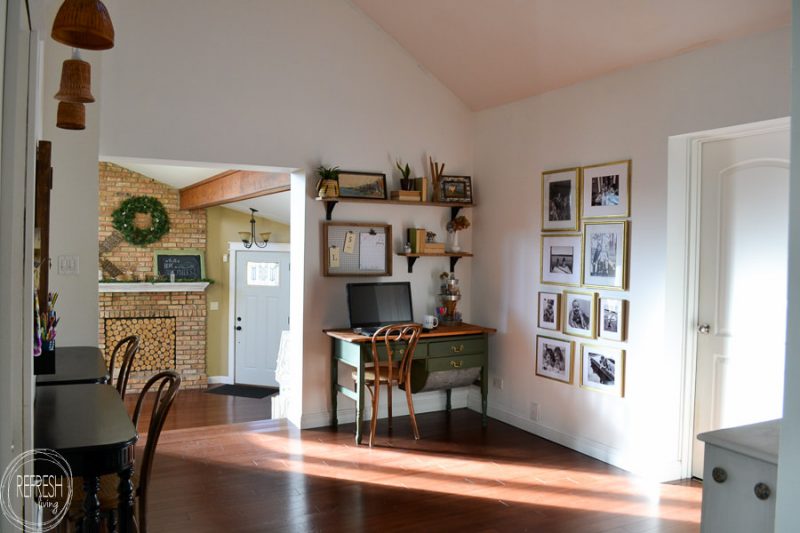 I'm still pretty amazed I was able to bring in three new desks and chairs within the $100 budget.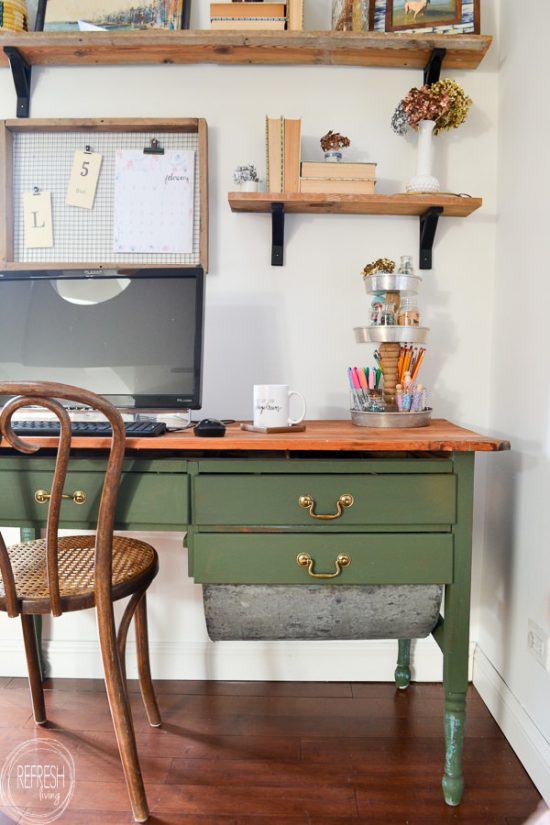 I spotted this antique possum bellied baker's table at an estate sale about one week after promising myself I wouldn't bring any more furniture home with me until other pieces had been cleared out of the garage.  But, at 75% off on the last day of the sale, I couldn't pass up this table, especially with its $40 price tag.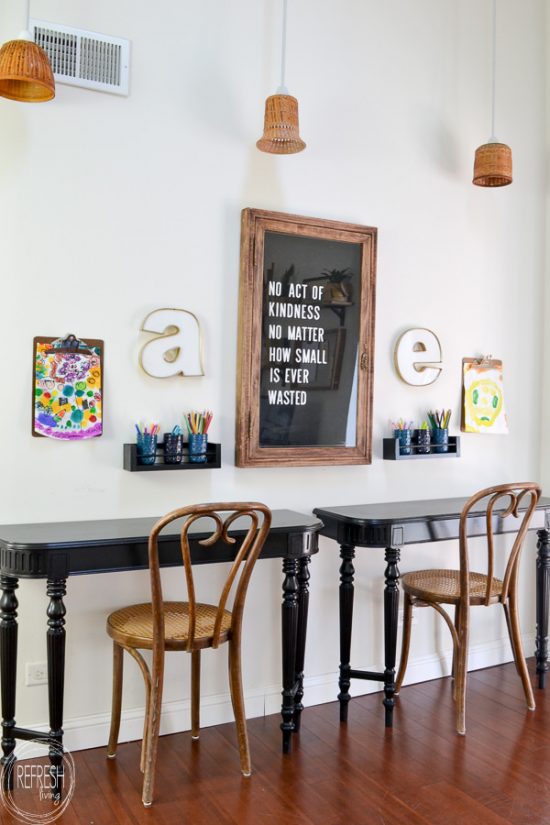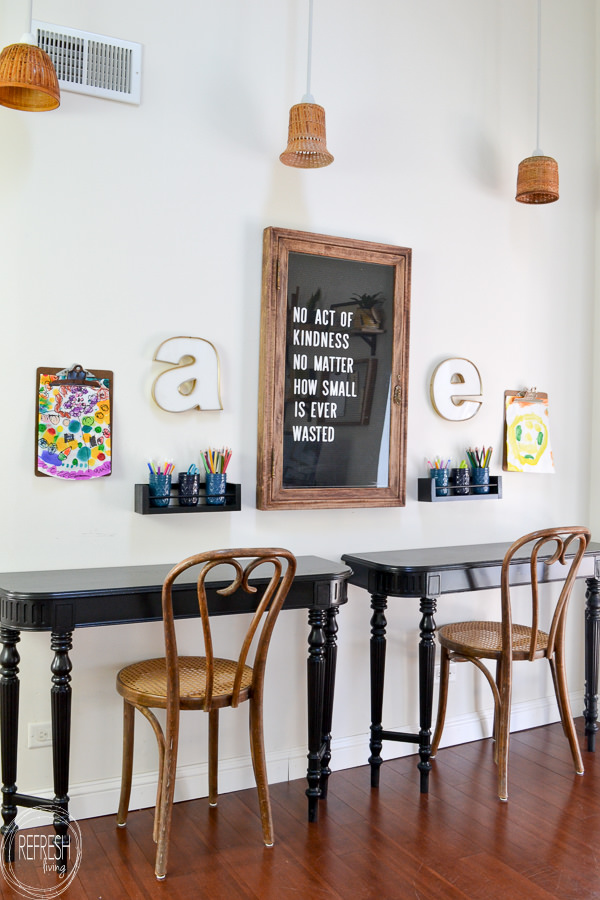 I made my kids' desks from an old vintage table I found at a furniture resale store.  They were having a sale on most of their dining sets, and I picked up this table, along with 4 beautiful chairs, for $25. I sold the 4 chairs for $15, and ended up with two desks for $10.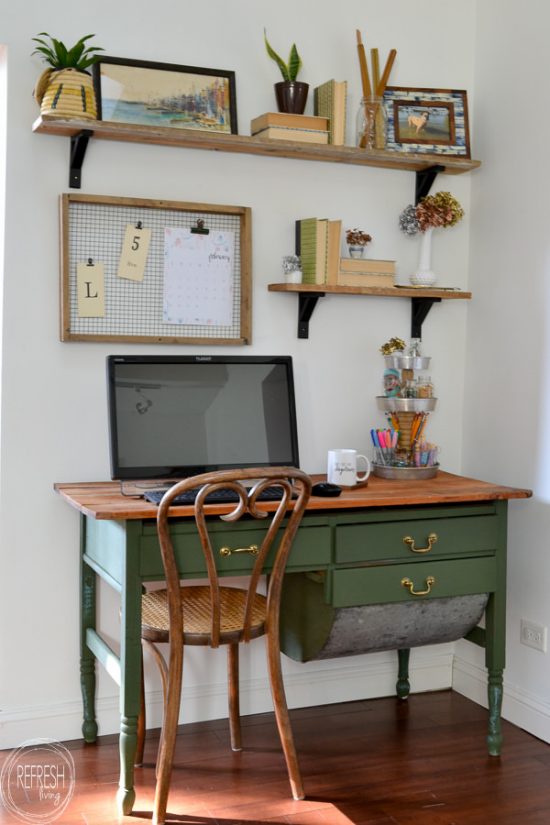 You probably also noticed the three matching cane chairs. I found these at an estate sale as well, and I basically just told the lady that I rarely pay more than $5 for chairs (even beautiful ones like these).  With it being the last day of the sale, she sold me the set of 4 chairs for $24.  $6 per chair isn't too far off from my normal $5 maximum!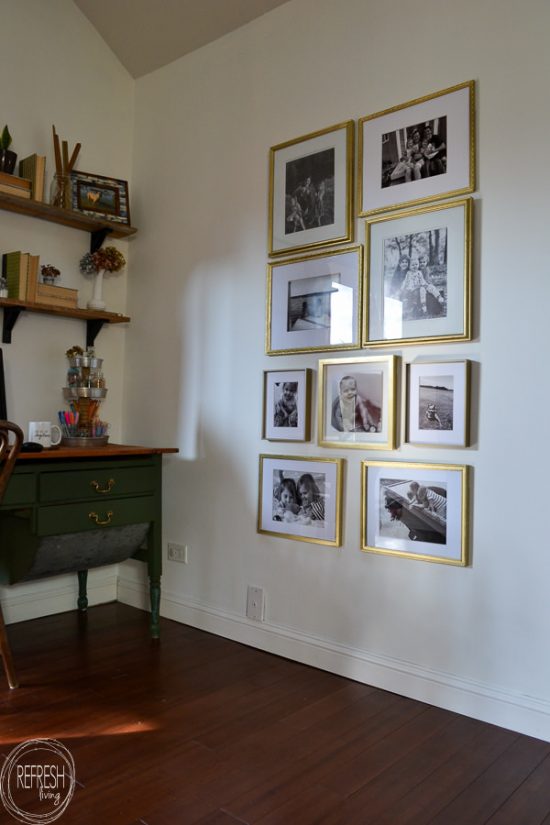 I used second-hand frames and spray painted them in gold to match and look cohesive.  The most expensive part of this gallery wall was actually not the frames, but the white mats. Because I was able to get the frames for so cheap at an estate sale ($0.50 per frame!), I was able to spend some extra money on the mats and getting the photos printed.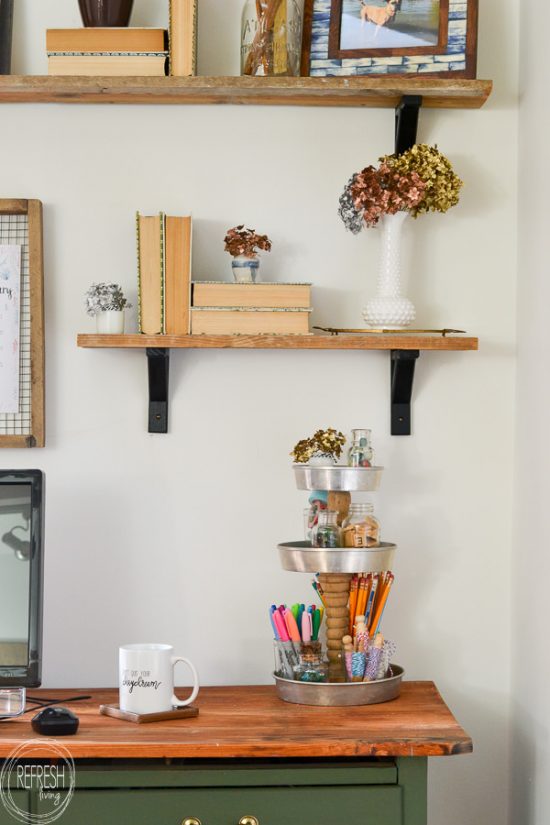 All the other accessories were items I already had around the house – glass jars, my tiered tray from old baking pans, and vintage books. I just spray painted some dried hydrangeas with metallic spray paint I had on hand to create flowers that will never die.
I could not believe it when I saw this vintage letterboard.  I'd been hoping to find one for awhile, and was about to consider just making my own, when I found this one, likely an old event board from a church or community center. I bought it about a year ago, but it has sat in my basement because we literally don't have any wall space in our house that would work to hang it. I thought I was going to need to sell it, that is, until I decided to move the fishtank and free up this entire wall.  I didn't include it in my $100 budget because after something's been sitting in my basement for almost a year, I basically consider that to be free. (I bought it for $15 at that estate sale, if you're wondering.)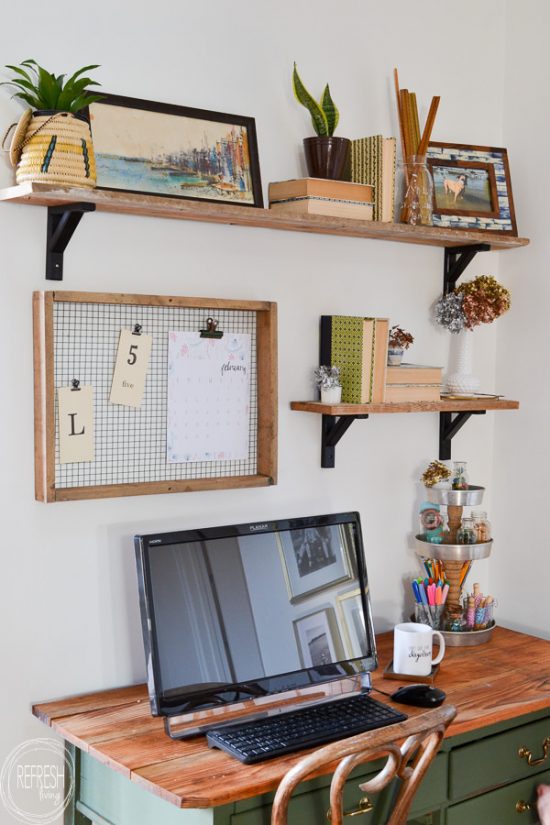 That Chicago skyline was painted by my grandpa. He was an amazing artist and I've been trying to bring more and more of his pieces into my home.
I can't decide if I like the room better, or the fact that I spent only $100.
$100 Budget Breakdown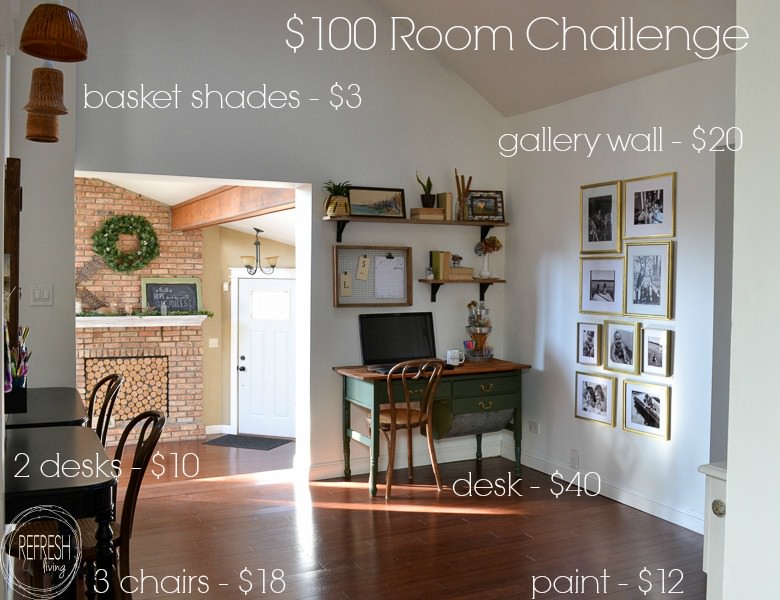 Did you add that up in your head? If you did, you'll notice I went a little over budget. $3.  Let's just subtract that $3 from the leftover paint I didn't use and will get to use on another project – okay?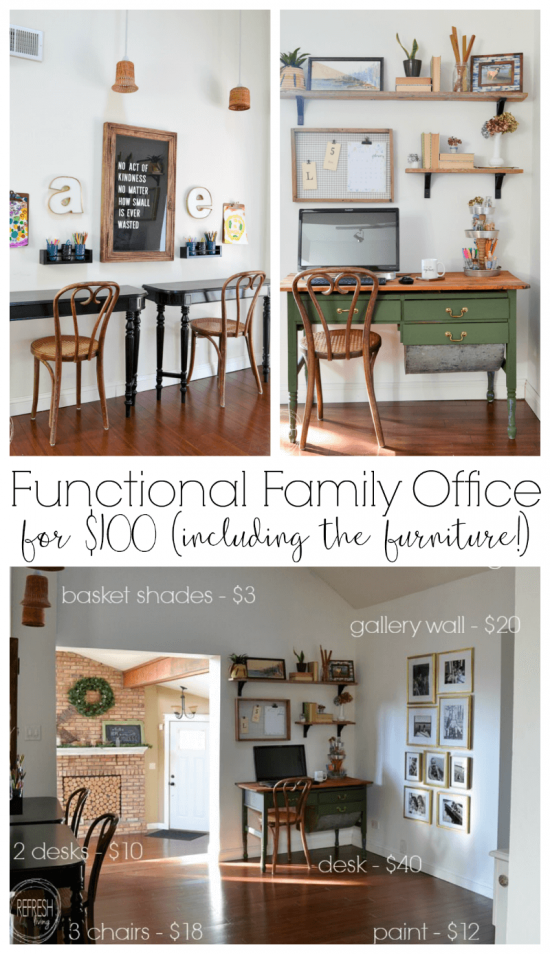 Ready for some budget-decorating inspiration?! Check out these other gorgeous rooms:
Like what you see? I'd love for you to follow along!

Join the Refresh Living DIY & Upcycling Community
Join the subscriber list to receive one to two emails per month with updates from the blog. PLUS, you'll gain access to my printables and graphics library. Every new design I create will be added here, and you'll have free access - forever!