I'm kicking off the new year with what I love to do most: update rooms in my home on the cheap, cheap, cheap. It gives me a deadline (because if I don't have one I never finish projects) and challenges me to be creative (because it's not easy to overhaul an entire room without spending a lot of money).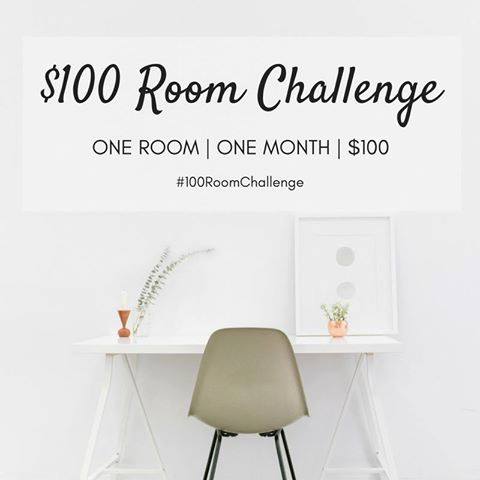 The creative mind behind this challenge is Erin from Lemons, Lavender, and Laundry.  You can read all about how she started the $100 Room Makeover and see some of the spaces she's made over here.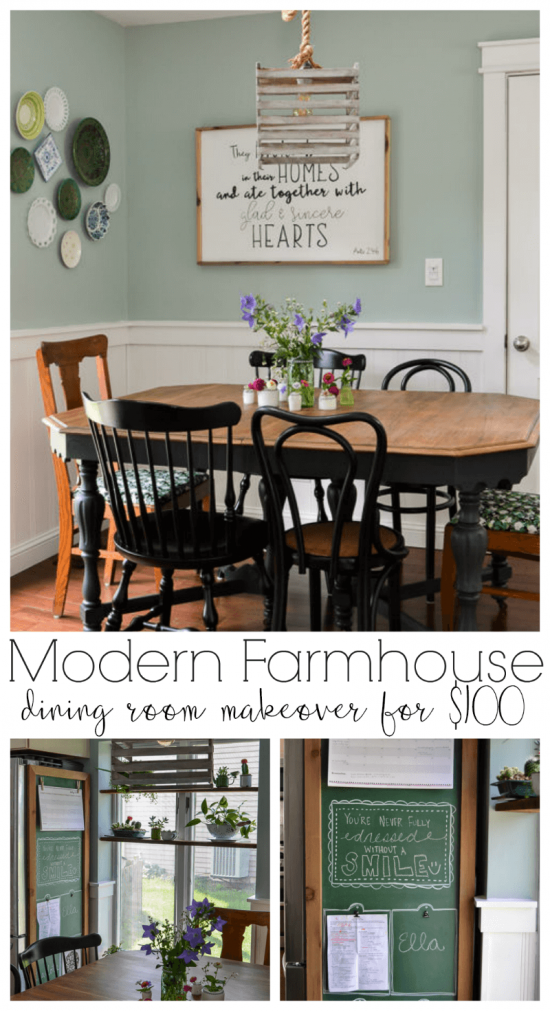 Last year, I updated our eat-in dining area for $100, and even brought in a new table and chairs within this budget.  It felt amazing to finally finish the space that had been partially finished for years, but I must say the most gratifying part was spending only $100 on the space.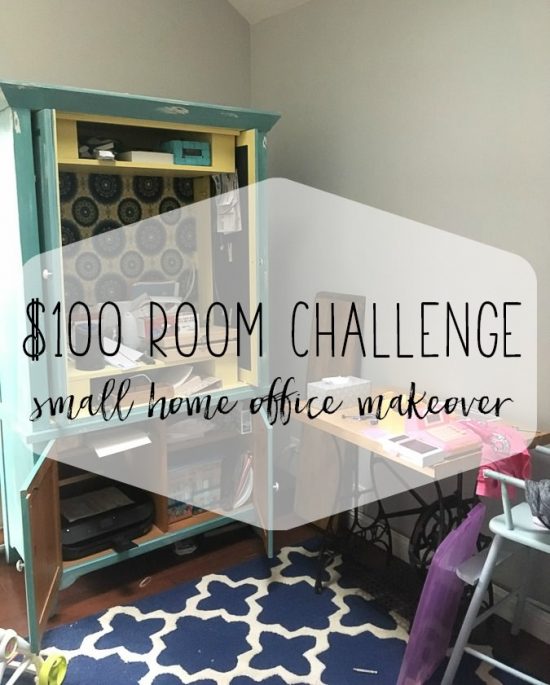 This time around, I'm giving our "middle room" a makeover.  Wait – you don't have a middle room nor know what it is?  Haha, it's okay; I don't think it's a traditional room in most homes. This room was creatively named because it basically sits in the middle of our house.  Most people would probably call it a large hallway, because it connects two bedrooms, the living room, and the kitchen. However, with only so much space in our home, you better believe I need to change this room into a functional one.
Every bedroom in our house is occupied (with two of our girls sharing a room), so this seems to be the best place to create a home office.  It's evolved a bit over the past 12 years,  but has never actually been very functional or finished.
Before
When we moved in, I kept the paint color on the wall and tried to match the chairs to the paint.  Bad idea.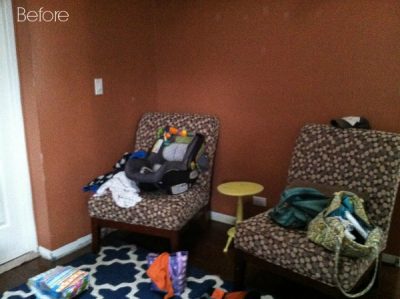 Then, I bought this massive armoire on Craigslist, the truck broke down at the person's house, and my husband and I were stranded for almost two hours.  Thankfully, the people who sold us the armoire let us sit in their dining room. It was definitely awkward.  I used this giant beast to store our office stuff, but never actually used it to sit at and work.  Plus, I painted it bright teal, and hated it almost right away.  Also a bad idea.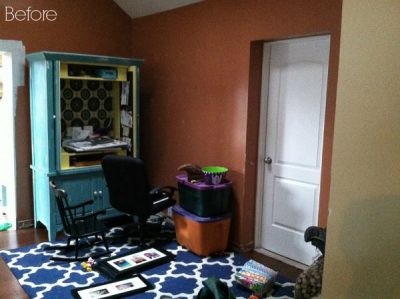 We eventually painted the walls of the room, and I actually enjoyed the outcome of this decision a bit more than the others.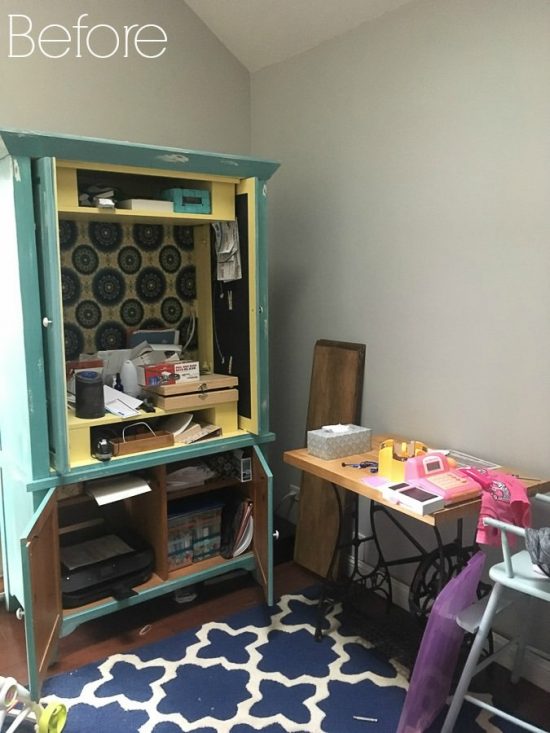 Can you tell from these pictures that this room is basically just our storage for everything that doesn't have a home?  I didn't really realize it until looking back at all the stuff that ends up in this room.
A few years ago, I removed the doors from an old buffet, painted it, and turned it into toy storage and that took the place of the brown dot chairs.  Then, last year, after we painted the walls, I created a gallery wall, so that right side of the room is basically finished.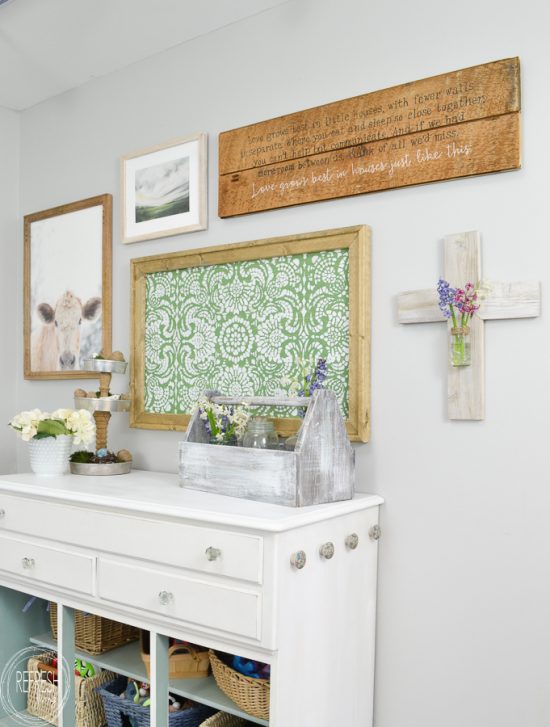 The Plan
My plans for the rest of this space?  Completely update the left half of the room with a functional desk, wall storage, and a photo gallery wall.  I also hope to add two more desks for my kids on the wall opposite the "room".
Next week, I'll share my vision for the room, but for now, here's a list of the projects I plan to complete this month.
Paint our new desk (I can't wait to share with you what I'm using, but you'll need to wait until next week.)
Create a photo gallery wall
Make shelves or some sort of storage system above desk
Create two desks along the wall for the kids.
Find a new rug for under $30 (A girl can dream, right?)
The Other $100 Challenge Rooms
A bunch of other awesome DIYers are participating in giving rooms in their homes an overhaul for less than $100 this month too.  You can see their rooms and plans by clicking on the images below.
Like what you see? I'd love for you to follow along!

Join the Refresh Living DIY & Upcycling Community
Join the subscriber list to receive one to two emails per month with updates from the blog. PLUS, you'll gain access to my printables and graphics library. Every new design I create will be added here, and you'll have free access - forever!