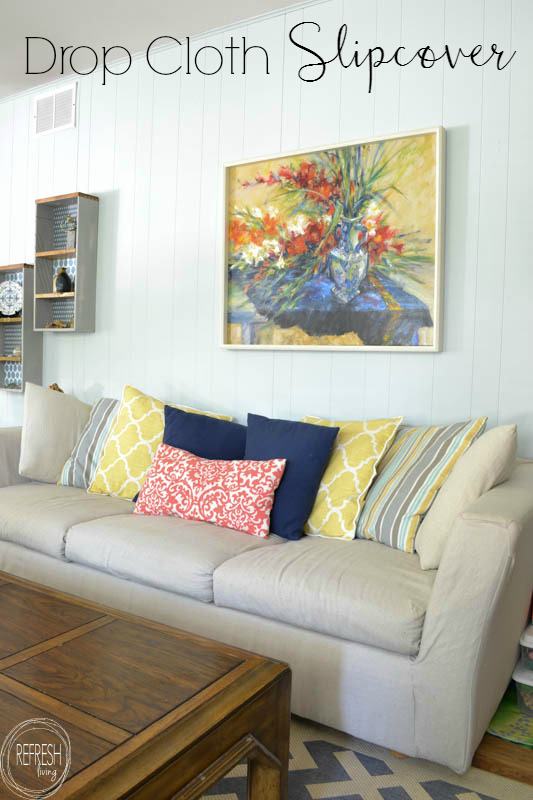 Okay, so I admit it.  This isn't a true slipcover.  It's more of a hybrid between a slipcover and a new upholstery job.  When I did this project, I had actually only sewn two other things in my life: a pillow in 7th grade Home Economics and Christmas stockings this past year (following a pattern, of course).  Needless to say, I am still new to this sewing thing, so if you're hesitant to complete a project like this, give yourself a little credit and try it out.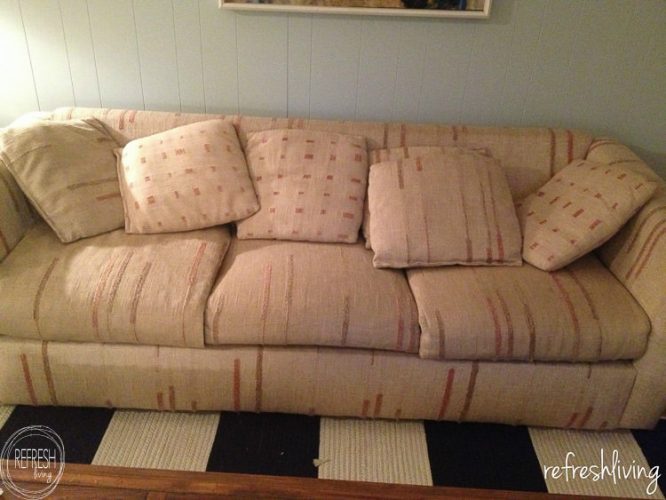 You can see that this couch had been well loved.  I've always remembered it to be this dirty beige color, but I'm assuming it was once a much lighter shade in its prime.  I actually was digging through old pictures and I found this couch in the background.  The picture was from 1980, so this beauty has been around for awhile.
 I decided to slipcover it for a couple of reasons.  First, I'm
cheap
thrifty
 and didn't have it anywhere near in the budget to buy a new couch, let alone a sleeper sofa.  Which brings me to my second reason.  Because this is a sleeper sofa, it's important to have up at a lake house where we often jam more people than there are beds.  Plus, it made it far easier to slipcover because it didn't have back pillows attached to it.  All it had were extremely flat throw pillows.
I have another confession.  I really had no idea what I was doing when I did this project.  For this reason, I'm not going to structure this post as a full tutorial, because you probably shouldn't be listening to me about how to do this.  I will, however, share with you a few tricks and tips I learned.  Take them or leave them.  Or silently think to yourself, "Duh, I knew that".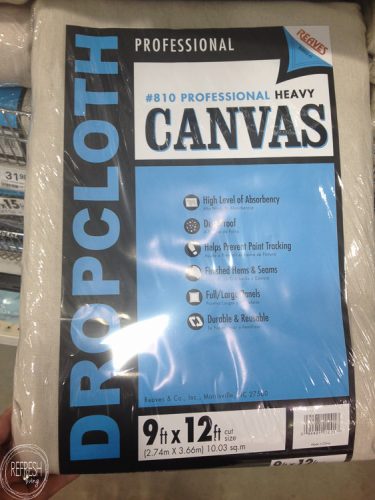 First, I washed and bleached the drop cloth using
Miss Mustard Seed's method
.  It seemed to work very well and lightened it up ever so slightly.
I draped the drop cloth over sections of the sofa, starting with the two arms, and trimmed away the excess.  I stuck pins through the fabric and into the couch to hold the fabric in place.  (They sell upholstery pins for this, but I just used my regular ball pins.)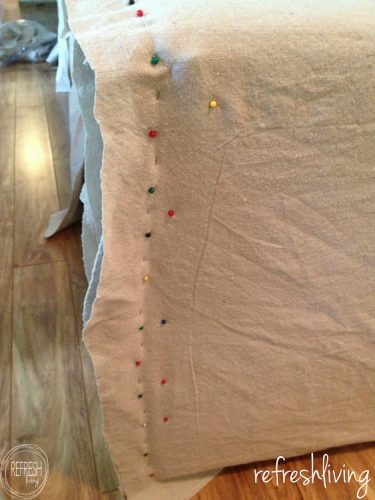 I gathered the fabric and pinned along the edge of the arm, trying to pin as close to the seam of the original couch as possible.  Use a piece of marking chalk (or a crayon, colored pencil, whatever you've got) to mark the seam line you will sew.  I didn't do this at first, and I found it difficult to know exactly where to sew, since the pins weren't always in a straight line.  I recommend marking your fabric, and remember, this will actually be on the inside of the slipcover, so you don't need to worry about marking it up.
I sewed my two arm pieces, and then worked to add the back panel piece and the front panel piece, stopping to check the fit after each piece I added.  You'll notice my arm pieces don't match perfectly with the lines of the couch, but for a first-timer, I'm pretty proud of myself!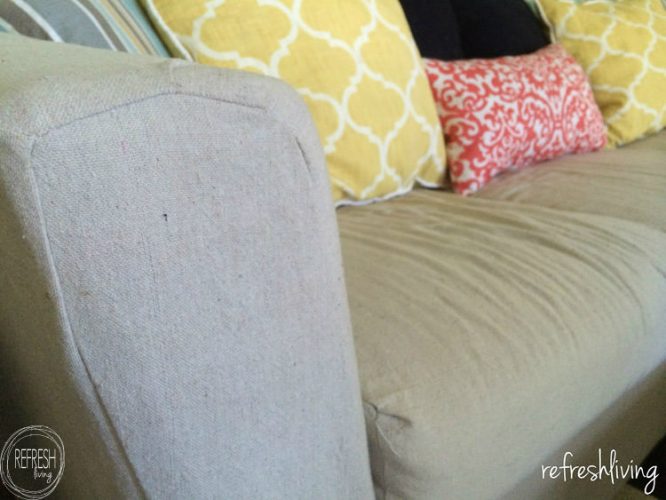 I sewed the pillow cushions next.
 Using a seam ripper, I took apart one of the pillows.  This piece served as my pattern to cut out pieces of the drop cloth.  I ended up having 4 different panels of fabric to cut out.  To save time, I lined up three layers of the drop cloth and pinned the old cushion cover piece to the top.  A pair of heavy duty scissors will easily cut through these layers, saving that precious commodity – time.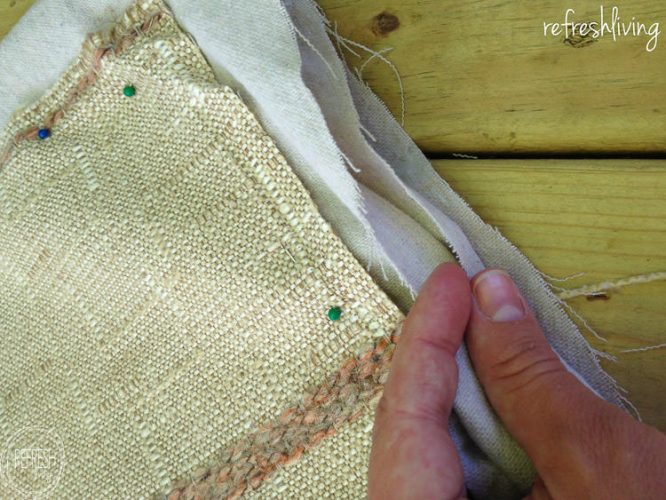 Although I saved time with my cutting, this didn't speed up the process:
I reused the zippers from the old cushions and sewed the pieces together.  The only way I had any idea what I was doing was by looking at how another cushion was sewed together.  So if you're a rookie like me, be sure you don't rip apart all the cushions at once, save one as your reference until you get two under your belt!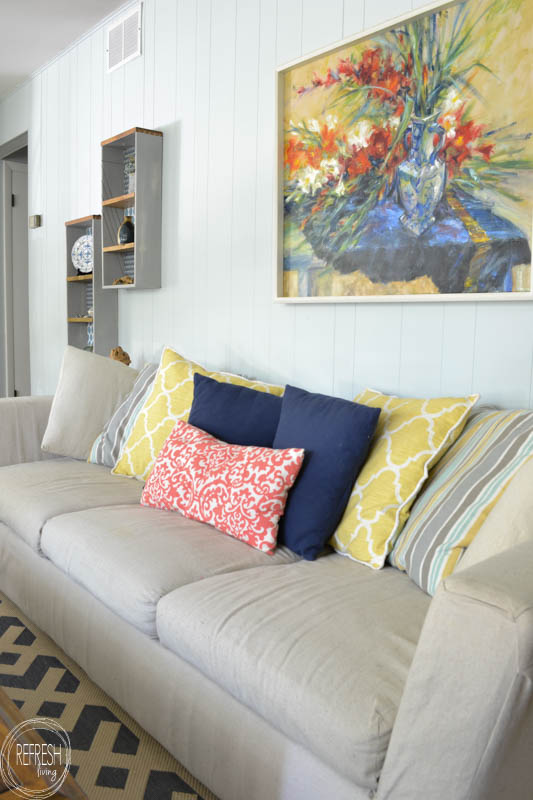 I sewed together a few throw pillows in some fun fabrics.  I love how much they brighten up the room.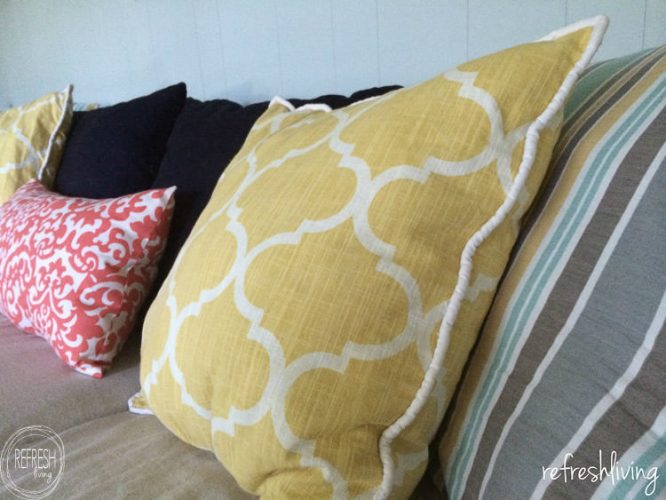 All in all, it cost $70 to refinish the whole couch.  The pillow supplies were actually the big ticket items at $30 for all the fabric and $20 for the fiber filling.  The drop cloths were a steal at Home Depot – $10 for a pack of two.  I needed a total of 4 drop cloths (6 ft. x 9 ft. each).  I'll take $70 over $700+ for a new couch any day!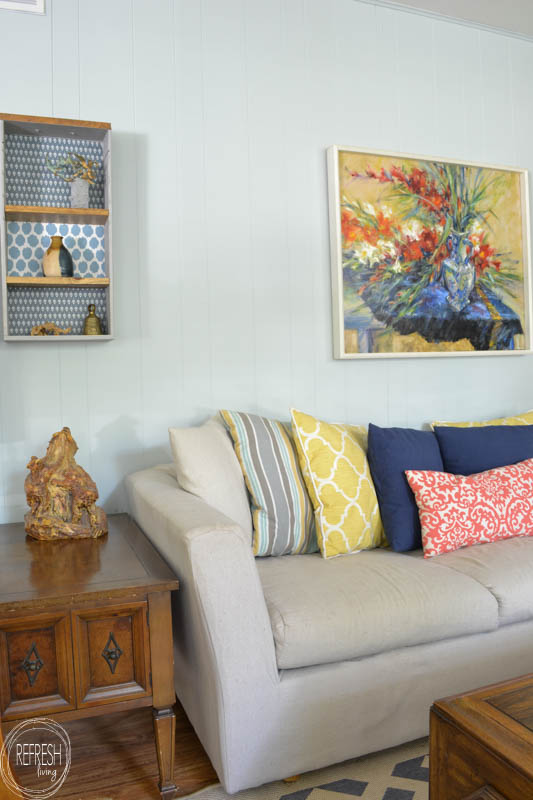 Update:  The slipcover is still holding up beautifully!  I've since figured out how to make much nicer
pillow covers
, ones that can be washed more easily.
I also used drop cloths to make curtains!
You may also like some of these other thrifty projects that I've done at our
little lake house cottage.
  Click on the image to view the post.
Like what you see? I'd love for you to follow along!
The graphics library is free to all of my email subscribers; you can sign up by clicking the image below.

Join the Refresh Living DIY & Upcycling Community
Join the subscriber list to receive one to two emails per month with updates from the blog. PLUS, you'll gain access to my printables and graphics library. Every new design I create will be added here, and you'll have free access - forever!