Plans to give this boring, off-white kitchen a new, modern twist with a ton of vintage touches, DIY projects, and color.
I'll admit it; I made a big mistake. When we updated our kitchen six years ago, I chose the wrong finish for our cabinets. I thought I was selecting a white, with a slight washed look to show some of the wood grain. Instead, I picked an off-white, slightly yellow, maybe even cream colored finish. And if that wasn't bad enough, the bonus was that any of the darker grain marks from the maple wood actually reads as a blue color under this finish.
Didn't you get to look at a sample??? one might ask. Yes, yes I did. Lesson learned – one 12″ x 12″ cabinet door sample does not show what your cabinets will look like when they fill your entire kitchen. Big oops.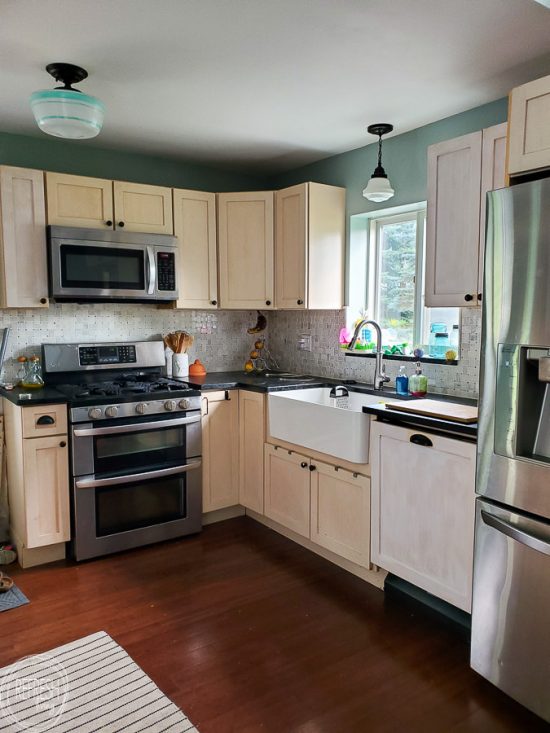 So, I had to practice restraint from the day we installed them not to paint them right away. I thought maybe they would grow on me. And, more importantly, I didn't want to look extra crazy to my friends and family to paint the cabinets I had just custom ordered.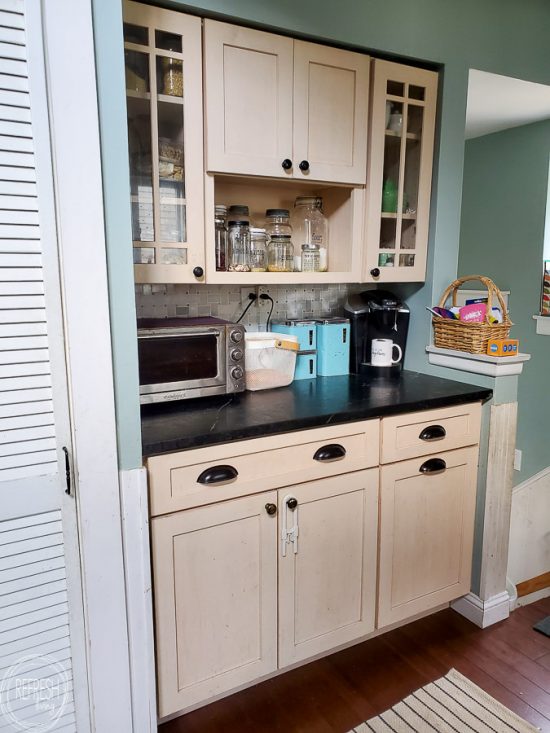 So, here we are, six years later. They certainly have not grown on me. My husband and dad called me crazy as soon as they heard I'm going to paint them. But friends, I am crazy, I love a good project, and I'm painting my "new" kitchen cabinets.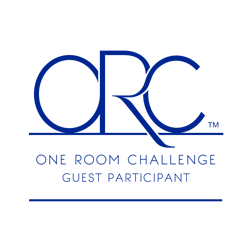 Enter the One Room Challenge hosted by Linda at Calling it Home; a six week challenge where designers, bloggers, and DIYers makeover a room in their homes. To me, it's the perfect excuse to finally make our kitchen a space that I love.
Thankfully, I made a couple of good decisions when I remodeled our kitchen. I still enjoy our soapstone counters. Although they're dark, I love the natural graining and the fact that this material has been used for centuries in kitchens. Our apron front sink is large enough for a small child to take a bath, and it's one of my favorite parts of the room. The marble mosaic backsplash helps to lighten up the room, and the little green squares are just perfection in my book.
Which brings me to my plan. You should know that whenever I update a room, I always do so on a budget. I don't replace things just to replace them. I don't buy new unless I have to. I do all the work myself and I rarely ever finish on time. But all of this is what makes it FUN!
General Plans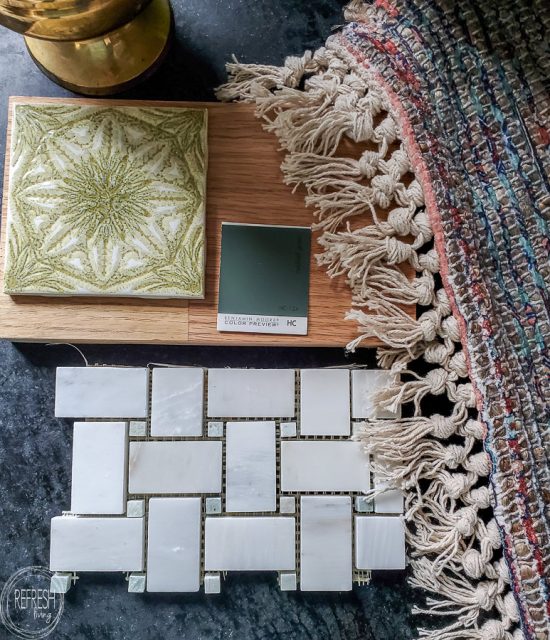 I pulled one of the darkest greens from the accents in the backsplash mosaic and used it as inspiration for our cabinet color.
I need to update all of our light fixtures. Some will be painted, and some will be replaced with vintage light fixtures I've found over the last couple of years with the plans that I would one day get my hands back on this space to make it right.
The appliances will remain, because they work and are still in great shape. I have new hardware for the cabinets, a new rug to add in more color, and lots of vintage accessories that will help to keep the space functional.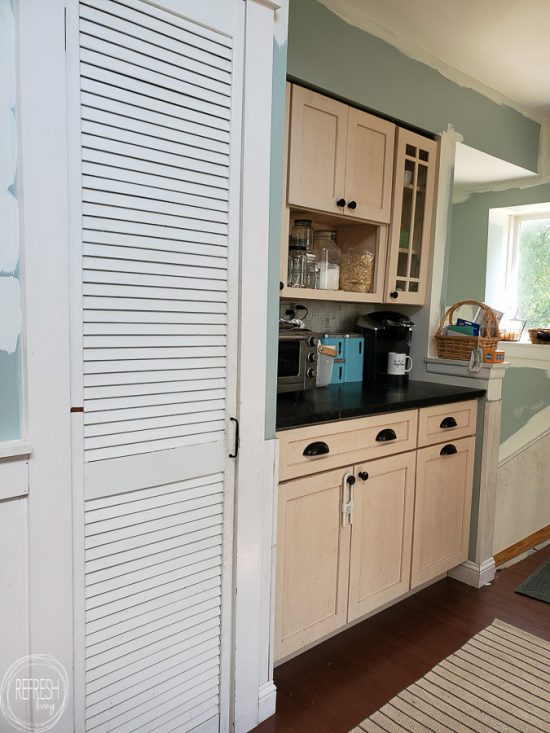 I've been searching for a vintage wood door that would fit our pantry door, but it's a really weird size, and needs to be extra thin, so I've given up the dream of a real vintage door and instead have plans to change up our current door.
Oh yeah, did I mention that our back stairway leads right into the kitchen? It's actually the worst layout you could imagine, especially when you have four kids entering that door every time they are outside and having a landing area that's approximately 3 feet by 3 feet.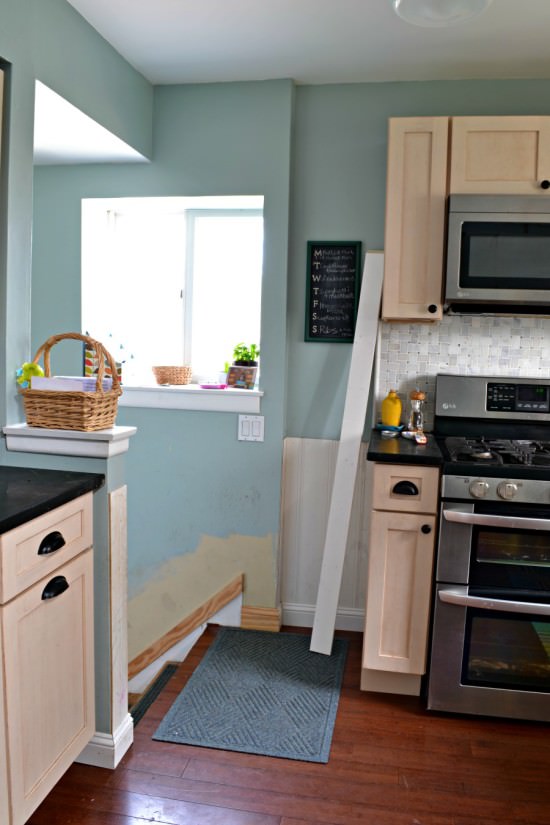 As a result, it's dirty (really dirty), crowded, and just plain ugly.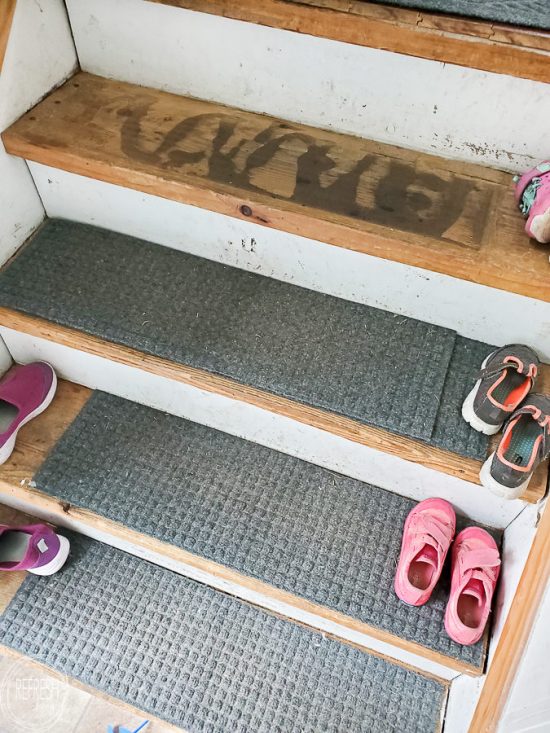 I've slowly been trying to update this area, but I need to actually just finish it up. Six years is long enough to work on a 4-stair stairway.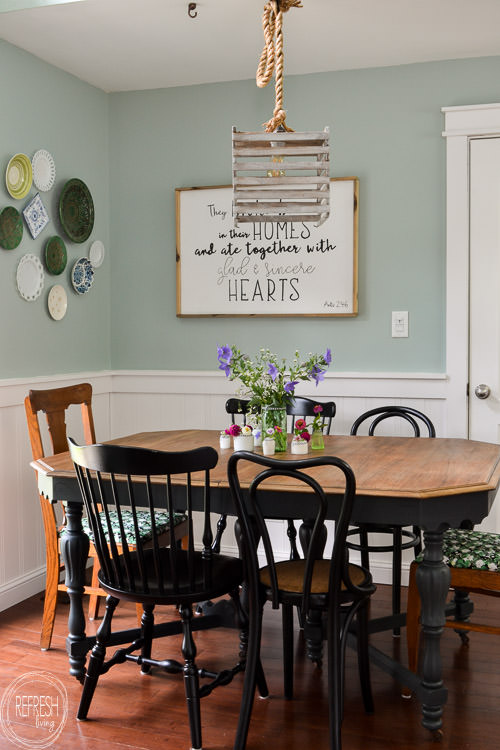 Our dining room is connected to the kitchen, and I updated it a year or two ago as part of the $100 Room Challenge. In general, I love this part of the room and it functions really well for our family. Of course, this paint color needs to go (not that I have a choice, as the walls in this room connect to the kitchen!) I do plan to make a couple more updates to this space, but it won't look too different than it does now.
I'll be posting updates on the space every week until the final reveal in November. I can't wait to get started on all of the different projects.
A few other rooms I've updated in our home:

Join the Refresh Living DIY & Upcycling Community
Join the subscriber list to receive one to two emails per month with updates from the blog. PLUS, you'll gain access to my printables and graphics library. Every new design I create will be added here, and you'll have free access - forever!