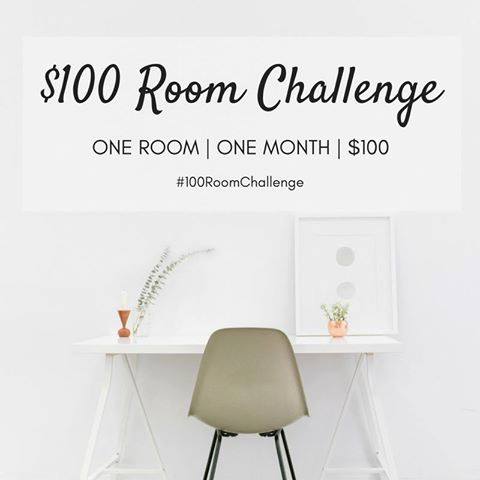 It's time for another room makeover, and this time I'm doing it in my very favorite way, on a major budget.  Erin from Lemons, Lavender, and Laundry developed this challenge as she started making over rooms in her home on a $100 budget.  Now, she has invited other bloggers to join in the fun every month or so to makeover a room in their homes.
I'll post once a week with updates on the space, and then at the end of July I'll have a made over space for less than $100.
The room I decided to give a much-needed face lift is our eat-in kitchen.  Although it's attached to our kitchen, it actually is our dining room as well.  (Small house = no formal dining room.)
When we moved in 12 years ago, I painted the room and decorated like this.  It functioned and looked like this for almost 10 years, until a couple of years ago we finally tackled our kitchen.
We gutted everything, (Being in the business of reusing, we definitely kept the cabinets and counter top in tact and donated everything.) laid new hardwood floors throughout the whole house, installed new trim and wainscoting, painted the room, ordered semi-custom cabinets, and installed them ourselves.
Here's how the room looked a year ago.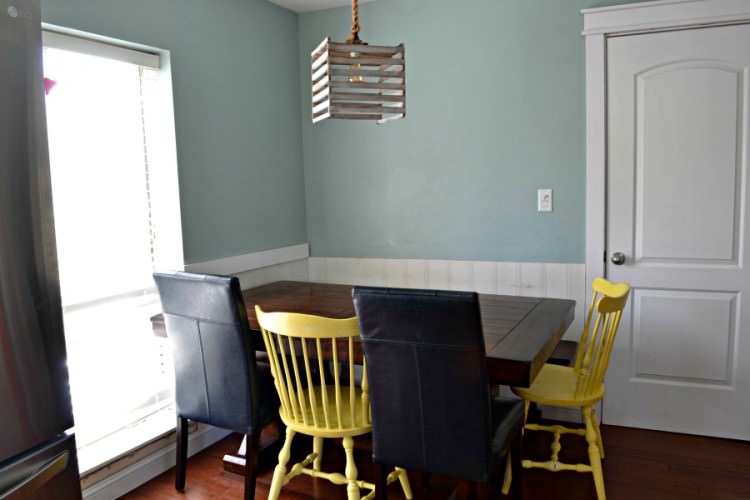 Since then, I've finished the chair rail and added a couple of pieces of DIY art on the wall.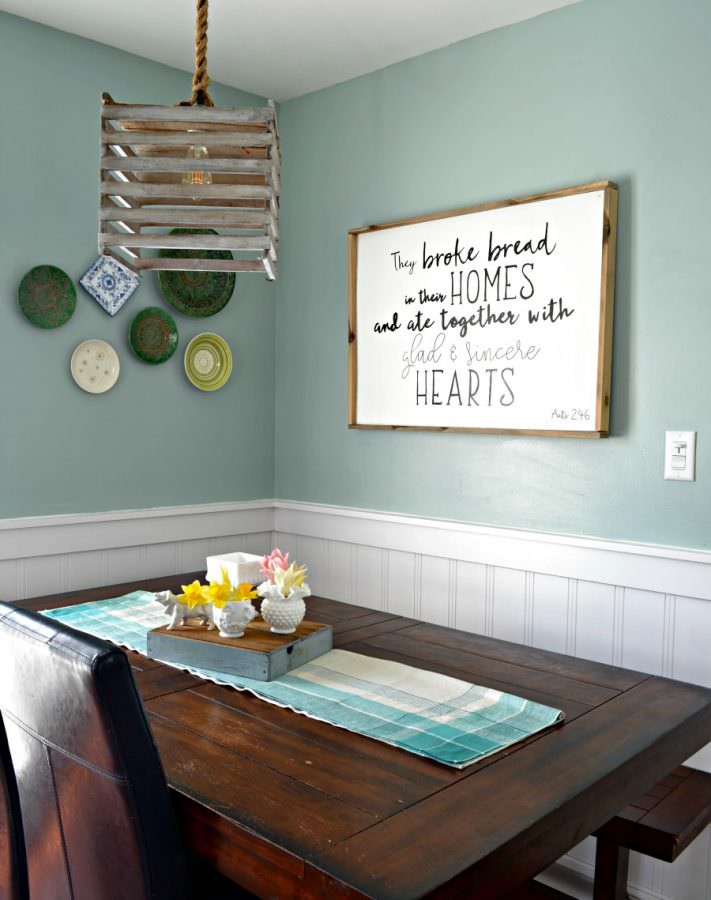 And then I stopped, even though this whole corner is anything but finished.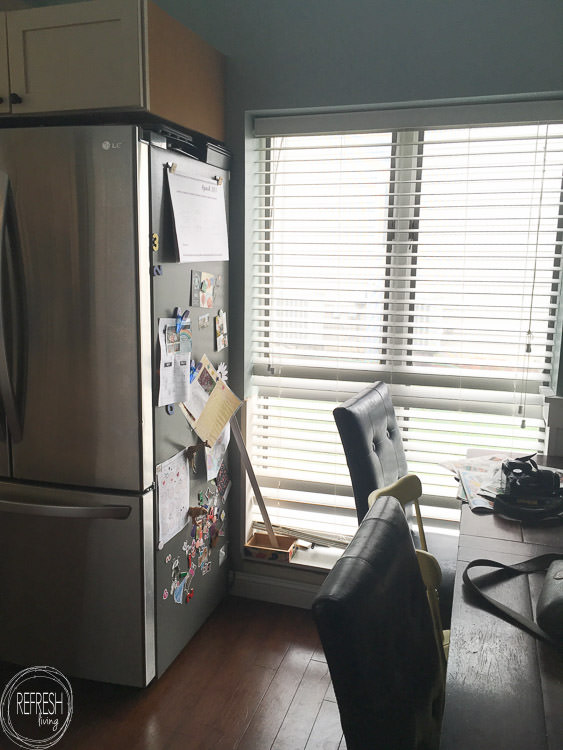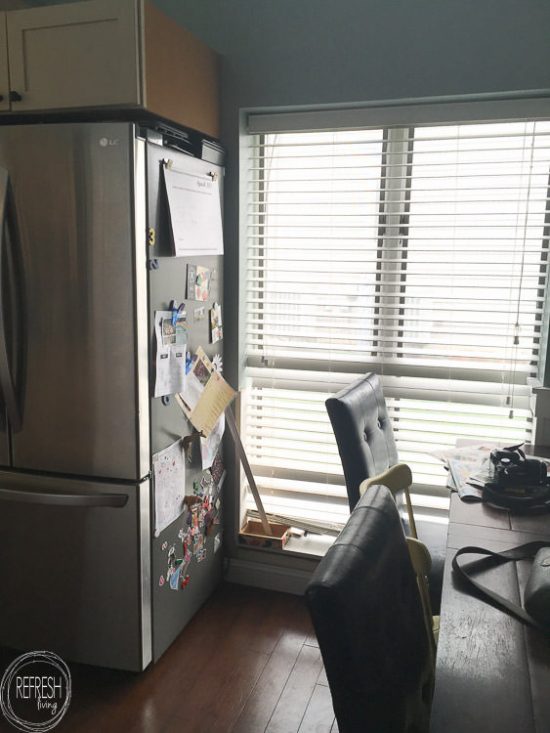 We originally ordered a side cabinet panel to cover the side of the fridge, but we have a slight issue with our floors being level, and that fridge being a tad bit too big.  Plus, I really like having a magnetic space in the kitchen.  So, I have plans for finishing off the top of that exposed cabinet, but then keeping the space above the fridge as storage and making the side of the fridge look pretty and functional.
I'm actually going to finish the trim around that window now too, 3.5 years later.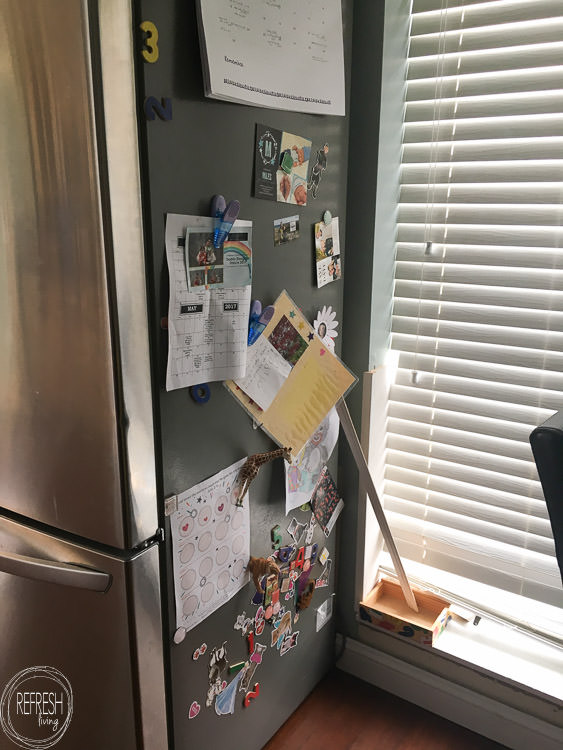 Goals for our "Dining Room":
1.  New table and chairs
Crazy, right?  I'm bringing in a new to me table and chairs within my $100 budget.  I'll share all the juicy secrets on how I got all the pieces for so cheap, as well as how I refinished them.  (Right now, they are sitting in my over-crowded garage, waiting to be refinished.)
2.  Update window bay
I plan to remove the blinds that no longer function properly after I installed our chair rail.  In that nook, I'll be installing some wood shelves to hold all my favorite plants.  I can't wait, because right now they are taking over my small kitchen window.
3.  Finish trim work
There is still some unfinished trim work under and to the left of the window.  I have all the wood for it, I just need to actually do it.  This will give me a great reason to get to it!
4.  Fridge command center
I'm turning the side of my fridge into a massive framed chalkboard command center.  We don't have a whole lot of extra space around, so I need to make every inch count.   I really hope the idea I have for this area works out.
5.  Wall color?
I really wish I could update the wall color in our kitchen, but I just don't think it's in the cards right now.   Above part of the kitchen are 25 foot high ceilings, with the craziest angles you've ever seen.  Every part of the kitchen and eat-in nook is connected to one another by at least one little strip of wall, so I don't think there is anyway I could get away with just painting this little area either.  So, my plan is to keep the wall color and make the elements in the room work better with it than they do now.
Take a look at all the other rooms that will be updated with only $100!
Join the Refresh Living DIY & Upcycling Community
Join the subscriber list to receive one to two emails per month with updates from the blog. PLUS, you'll gain access to my printables and graphics library. Every new design I create will be added here, and you'll have free access - forever!