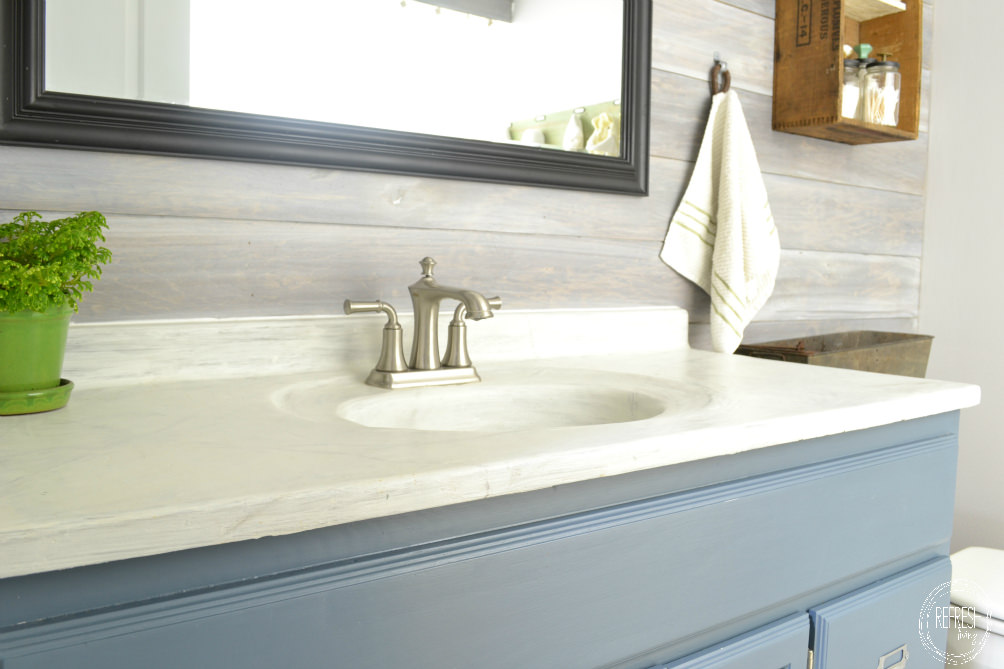 If you've been following along for any length of time, you know I recently updated our main bathroom on a major budget of $200. I love so many parts of our "new" space, but this vanity refresh is, by far, my favorite project from the room. Did you see that whitewashed plank wall? Yes, I love that wall, and it's near the top of my list, but this DIY marble counter top is still the winner in my book.
Why'd it'd make the tip-top of my list? Maybe it's because it cost less than $50. Maybe it's because the dried-up toothpaste doesn't show anymore. Maybe it's because I've never seen this done before and I schemed this DIY up all on my own. Maybe it's because it actually worked! Probably because it's a healthy combination of all of those statements, plus I'm a little proud of my ingenuity on this one.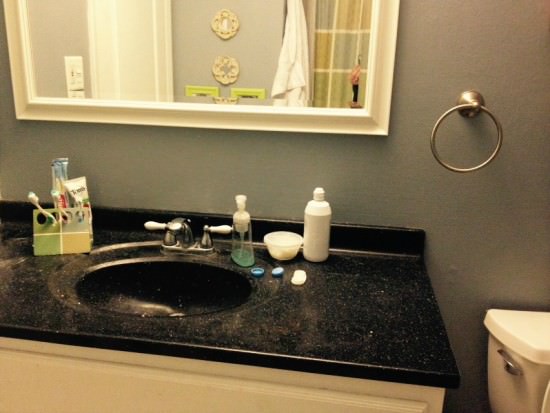 I started with some sort of plastic-y counter top. It's not laminate, it's not solid surface, it's not formica. All I know it that is was black, and black shows every toothpaste bit that doesn't make it down the sink, surprisingly well.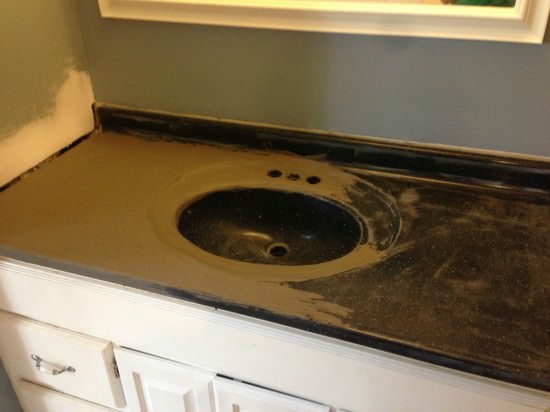 I decided to try out covering it with a concrete feather finish, which you can read all about in this post. You probably have seen this idea already; it's nothing new, however it is a very inexpensive way to completely transform the look of your bathroom or kitchen counters. I won't lie, it does take some sweat, but nothing that you can't handle.
I love the industrial look of concrete countertops once they are finished. I just wasn't sure how well the gray would look in my bathroom. I was trying to lighten up the room, and the whitewashed wall was already a gray color as well. I worried everything would look washed out and, well, gray.
You can buy concrete stain in two different forms. One is a dye you mix in as you're mixing up the concrete. The other is a dye that is put on after the concrete has set. I looked into these options, but hated the price and didn't love any of the colors. There are a lot of earth tones, and some pretty cool blues and turquoises, but I struggled to find anything that would lighten up the countertop.
Here's the part where I can say I am now giving myself a pat on the back. I wondered, why can't I use grout colorant? It's designed to penetrate grout and change the color of it. In my simplistic DIY mind, grout seems very similar to concrete. I've used both for various projects before, and the mixing, gritty texture, and application are kind of, sort of, the same. Maybe?
What did I have to lose? An ugly vanity top that I hated. It didn't seem like too big of a risk to give it a try.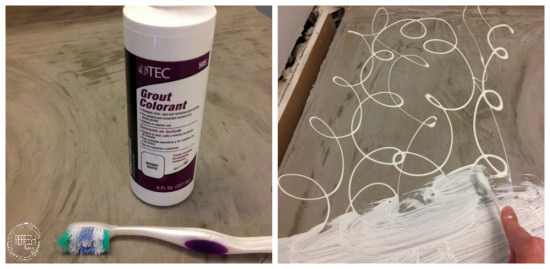 I used the grout colorant
shown in the image, but linked is a comparable brand that will do the exact same. You can find this product, in every color that they offer grout in (think whites, creams, bieges, grays, and blacks) at any home improvement store.
I worked in small sections and squeezed some of the product onto the cured counter top, and then worked it in with a toothbrush. It's important to work in small sections, because the stuff starts dying the concrete pretty quickly, and if you bite off more than you can chew (or spread in), you'll be able to see the pretty design you squirted on the surface.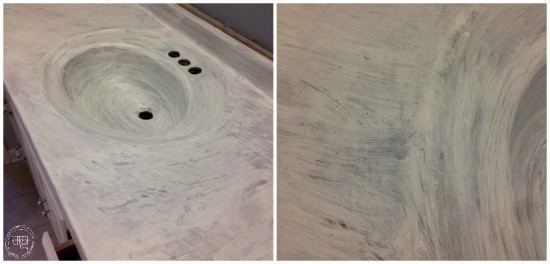 I ended up using two coats of the grout colorant. The images above show how it looked after just one coat. I almost left it as is because I loved all the imperfections of the surface and the variations in color. I'm sure I still would have loved it, but in the end I'm glad I ended up adding the second coat.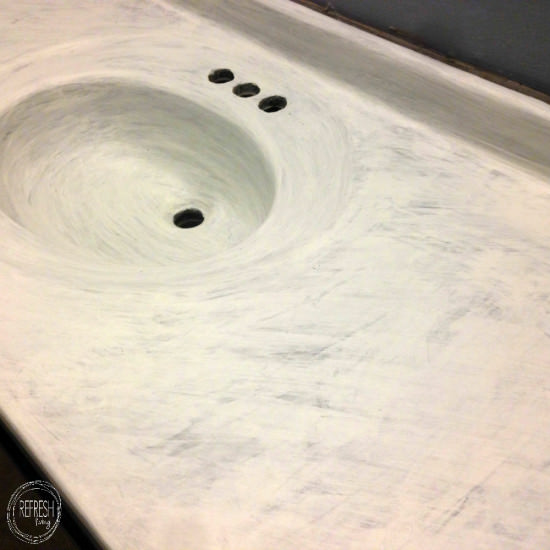 Here's how it covered after the second coat. There were a few places that I ended up adding a little more colorant too in a third application, but in the end, I still left some of the concrete color showing through. If you wanted a pure white counter top, you could probably keep applying coats and get to that place, but I can't make any guarantees because I haven't tried it myself.
Again, I almost ended my counter top project at this point because I loved how it looked, but I went forward to try to mimic a marbled look.

I used a bottle of dark gray grout colorant for the next step, and mixed it with some white grout colorant to get varying shades of gray. Using a feather, which I saw Ronda from Batchelor's Way use to paint a pattern on her countertop, I lightly pulled the feather across the surface. In some places, I flipped the feather over and in other places I pushed back just a bit so the line thickened out.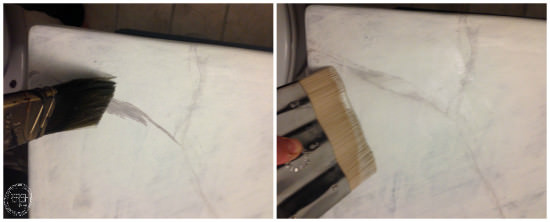 At this point, the lines were looking a little harsh to me, so I took a paint brush and lightly pulled it across the wet grout colorant. Then, I dipped a thicker brush in the white, dabbed off most of it, and ran it across the gray lines in the opposite direction. This smoothed and softened everything out perfectly.
I think I could have stopped here if I didn't have a recessed bowl in my vanity top. If it was just a slab with a drop in or under mount bowl, I really don't think I would have needed to seal it. This grout colorant product has a water resistant property to it, and just for little splashes and drops, I think it would have been just fine.
Since I had a bowl that would need to stand up to a lot more water, I decided to use this Concrete Sealer Spray
in a matte finish. I gave it two coats, which was super easy because my countertop wasn't actually attached to my vanity base and I literally just lifted it off, carried it outside, and sprayed the top. If yours is attached, as it should be, you could just tape off the area and spray it.
Quick note: a lot of other people have written posts about DIYing their concrete countertops and they all have their favorite ways to finish and seal the concrete. Based on what I've read, I don't think this spray finish will give you enough of a finish on a plain concrete countertop. However, because I used the grout colorant, that actually penetrates the pores of the concrete, I knew I didn't need to go crazy and buy an expensive concrete sealer.
I purposely waited a fourth of a year to publish this post. I wanted to give this invention of mine a text run; to be sure I'm not sharing something with you that someone pins later as an "epic failure".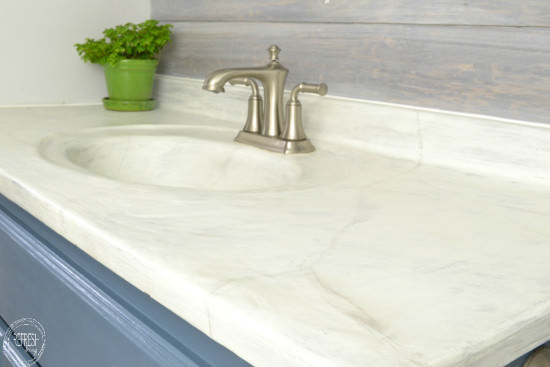 It seriously works. Water beads off the surface with no problem. It's super easy to clean. There are no scratches, dents, chips, or grout colorant fading away. I can wait a week (or two, let's be honest) between cleanings because you can't see the toothpaste marks in the sink. It's pretty awesome.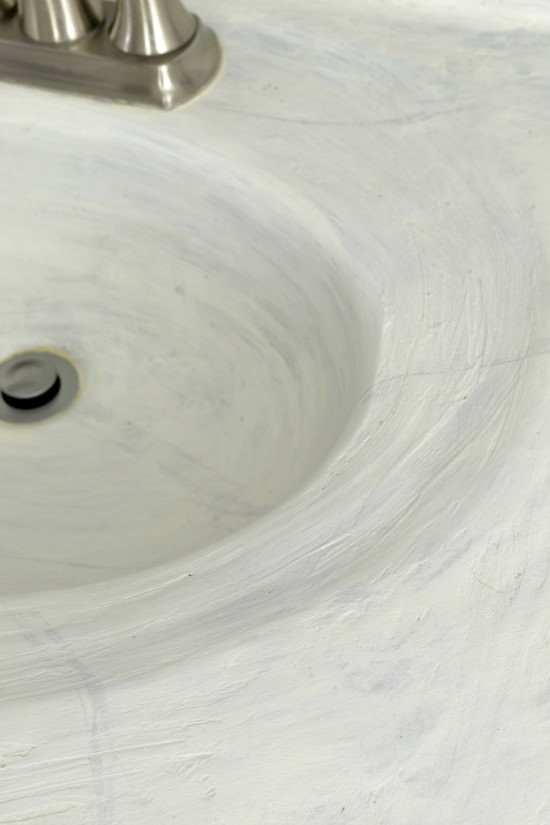 The concrete underneath gives it a rustic, imperfect look, which I absolutely love. You can see little grooves and notches when you look close.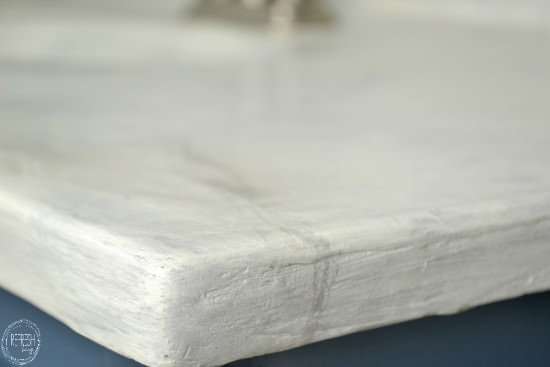 The texture is super soft. I know it's not natural to just touch your countertops, but the texture of it feels so neat, which I'm guessing it due to the concrete.
The total cost was less than $50! $17 for the feather finish, $12 each for the grout colorant, and $9 for the sealer. Now, I ended up only using half of those products, so I have enough left to do another countertop, too! One of my friends already said she wanted me to try this at her house, so maybe I already have a use for it.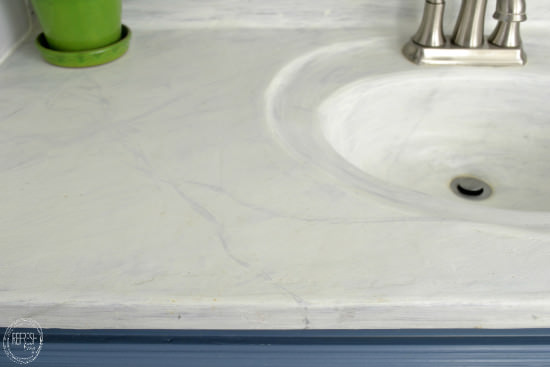 Need to update your counters? Give it a try, and then let me know how it goes for you!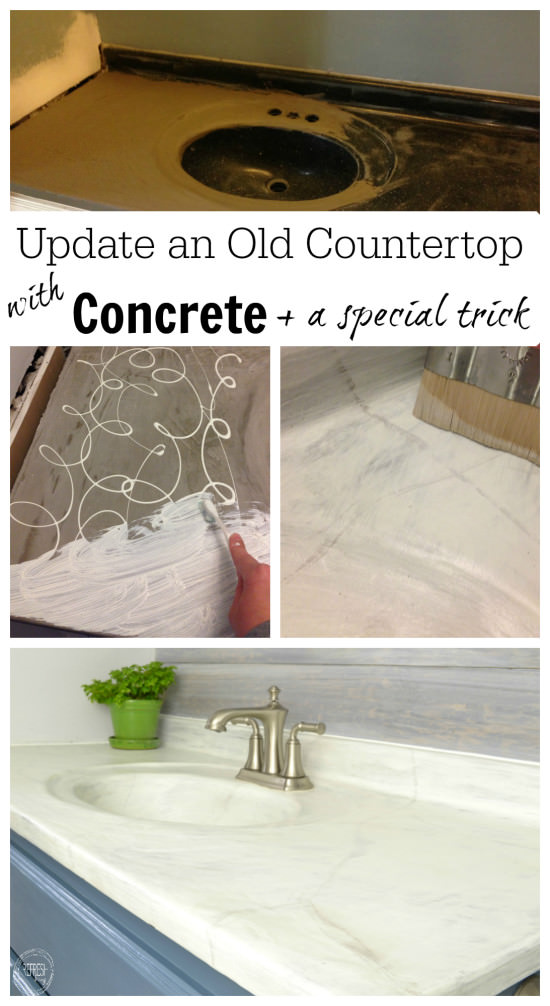 I'd call it a success! Click on the images to see how I put together the other elements in the room.
Like what you see? I'd love for you to follow along!
Facebook || Pinterest || Instagram || Google + || Bloglovin'
Linking up with these awesome parties!
Pink When | DIY Show Off | Making it in the Mountains | Refresh Restyle | Huckleberry Love | Finding Silver Pennies | Dwelling in Happiness | The Crowned Goat | 2 Bees in a Pod | Cedar Hill Farmhouse | My Uncommon Slice of Suburbia | Kammy's Korner | Home Stories A to Z | The DIY Dreamer | Saavy Southern Style | Dandelion Patina | Gingersnap Crafts | Knick of Time | Posed Perfection | Live Laugh Rowe | Canary Street Crafts | Addison Meadows Lane | Blue i Style | Craftberry Bush | The Girl Creative | Little Miss Celebration | Redoux Interiors | Sew a Fine Seam | Craftaholics Anonymous | Dagmar's Home | Tatertots & Jello | Funky Junk Interiors | House of Hipsters | Confessions of a Serial DIYer | Not Just a Housewife | Remodelaholic | Thrifty Decor Chick | C'mon Get Crafty | Oh My Creative | Our House Now a Home | Natasha in Oz
Join the Refresh Living DIY & Upcycling Community
Join the subscriber list to receive one to two emails per month with updates from the blog. PLUS, you'll gain access to my printables and graphics library. Every new design I create will be added here, and you'll have free access - forever!