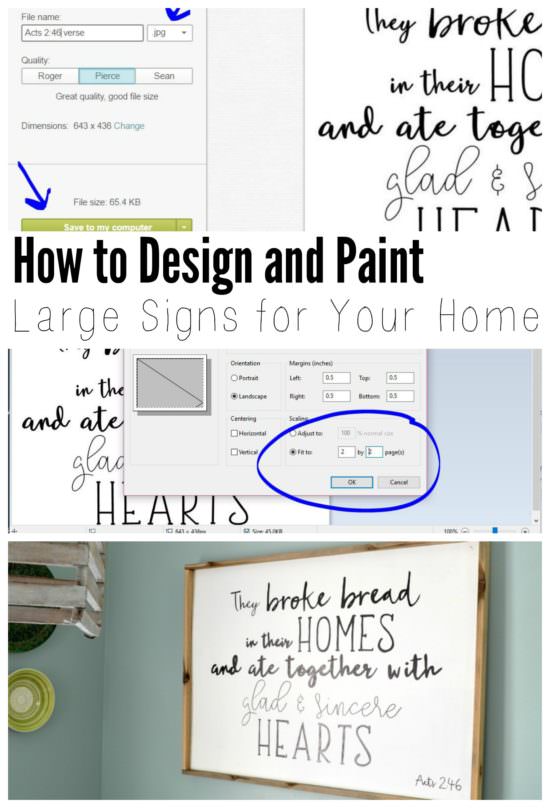 I recently made a custom sign for my dining room, and I realized as I was writing the tutorial that the steps on how to design the lettering for a hand painted sign was a complete tutorial all in itself.  If you're looking for an easy way to design signs, without the need for stencils, fancy machines, or expense software, then look no further!
PicMonkey is an online photo editing application that allows you to do a lot of the basic editing of a software program like Photoshop, but it's free!  I use it to edit some photos for the blog, make collages, and help to make my family photos look like a professional took them.  They do offer a paid subscription called Royale that unlocks all of the fonts and features. I use this subscription and love it. It's $7.99 a month or $71.88 for the year. Or, try it out with this free trial and then decide for yourself how much you love it!
For this tutorial, I'll just explain how to use it to design custom signs for your home.  From quotes, to Bible verses, to customized baby birth stats artwork – the possibilities are endless!
Using PicMonkey to Design the Lettering

First, visit the website and click Edit.  Select any photo from your computer and click Open.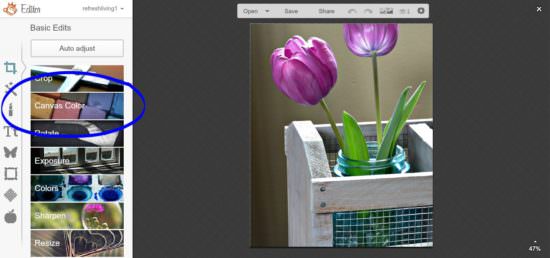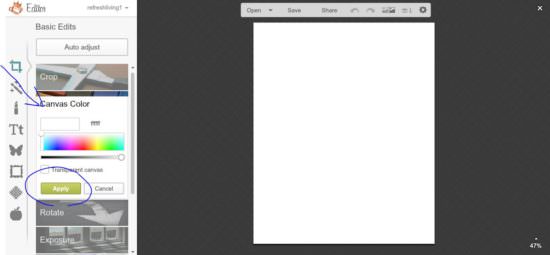 Click Canvas Color and click the blue dot on the white area of the color map.  Click Apply.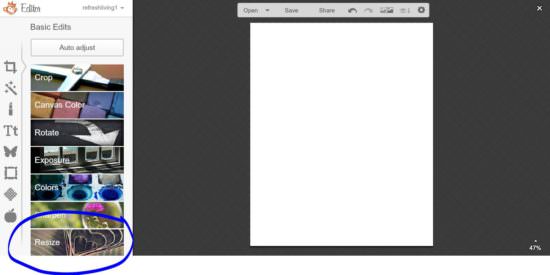 It's best to change the dimensions of your canvas to mimic the dimensions of your plywood panel.  Click Resize.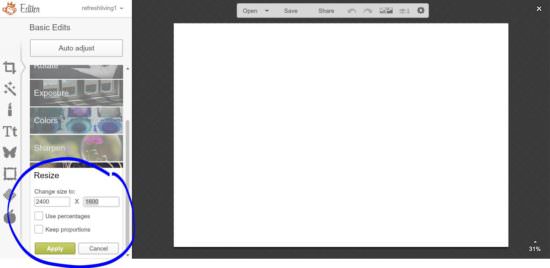 Just unclick the box that says Keep Proportions and then enter the measurements of your sign, add two zeros, and click Apply.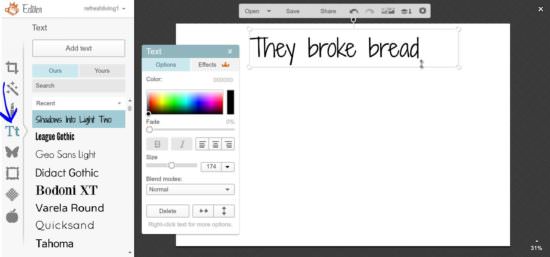 Now that your canvas is set up, it's time to have some fun designing your text area.  If you are using the sign for your own personal use and hanging it in your home, you can use the fonts on PicMonkey.  If you plan to sell the signs, or the designs you create, you'll need to purchase fonts with a commercial license.  If you have your own fonts installed on your computer, just click the Yours tab at the top of the font list.
Once you type in the text, you can change the size, direction, and placement very easily.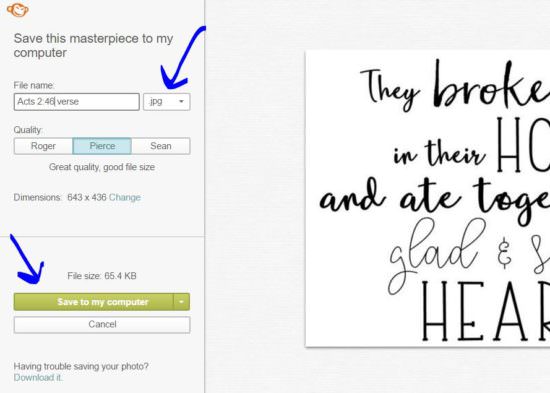 After designing your sign lettering, just click Save at the top of the screen.  Save it as a JPEG file (.jpg).
Enlarging the Graphic
Now, if the object you are transferring to is smaller than a sheet of paper, you can just print your jpeg image onto a standard 8.5″ x 11″ piece of paper.  However, if you are making a large sign, you will need to know to enlarge the image and print it on multiple pages.
All Windows computers have a program called Paint.  If you are a Mac user, I can't help you at this point, but I would search "how to print a large image across multiple pages on a Mac" and I bet you'll find something.  (Sorry.)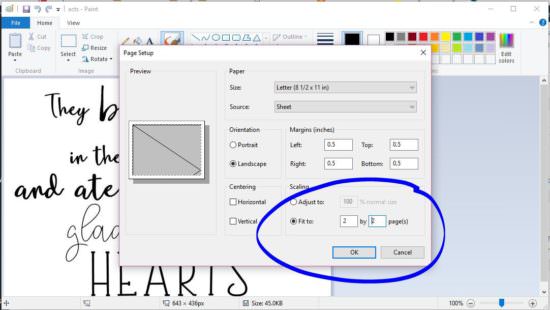 Open your image in Paint by clicking File -> Open.  Then, click File -> Print -> Page Setup.  At this screen, you'll have the option to make your image stretch across multiple pages when printed.
First, select portrait or landscape, depending on the orientation of your sign.  Then, just measure the size of your plywood panel and figure out how many pages you'll need across the top and how many pages you'll need down the side.
If this method becomes a bit frustrating because it's not stretching out to be the perfect size, you can also use the "Adjust to:" button (right above the "Fit to:" button.  In the "Adjust to:" area, you can type in a percentage to expand your image.  If you need it bigger than 8.5″ x 11″, you'll bump the percentage up until the size is spanning across the right amount of pages.  The image on the left helps you to see how big it will print, but after clicking OK, I also go into File -> Print -> Print Preview to get a visual image of my words as they will print across the pages.
I created a video showing this process, so if you prefer to watch rather than read, take a look!
(If you wouldn't mind subscribing to my You Tube channel, I sure would appreciate it. I'm trying to reach 1,000 followers, and I need all the help I can get.  Thank you!)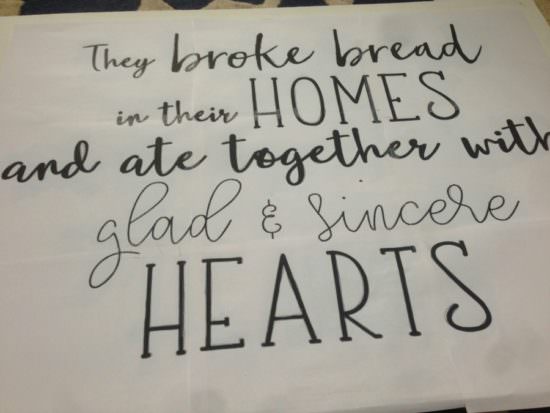 When you click Print, the lettering will print across those pages.  After printing, you'll need to trim the edges on half of the sides so the letters match up across the pages.  A little bit of tape between the pages holds it together to start transferring the graphic to your sign.
Transferring a Printed Graphic
I've devoted a whole post on different ways to transfer graphics and words onto surfaces to give you an outline to paint perfect letters and images.
My favorite of these methods is the chalk method.  Click on the post to read more about it, but basically you color chalk on the back of the paper and use a pencil to transfer the chalk onto the wood.  For a white surface, you'll need to use colored chalk.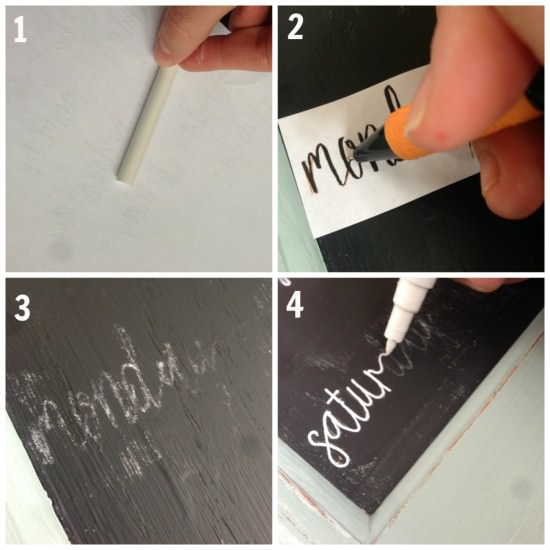 After the image is transferred, the trick is to use a paint pen to perfectly paint in the letters.  I've used thin brushes and acrylic paint, and it works, but it takes so much longer than a paint pen.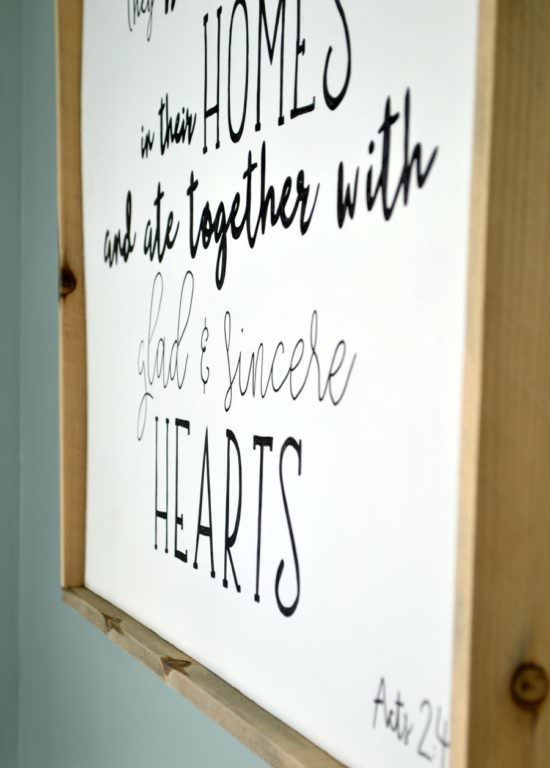 I used this same process when I made my good morning sign last year.
For details on how to make the base and wood frame of this sign, check out this post!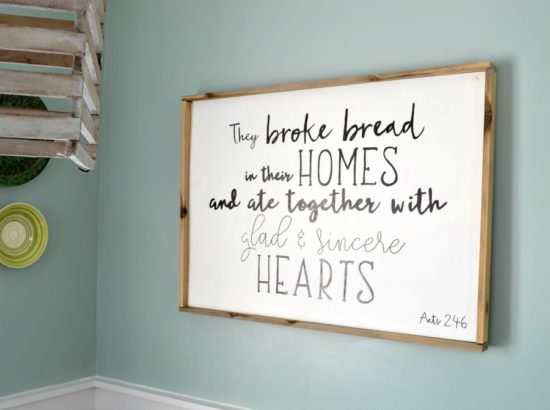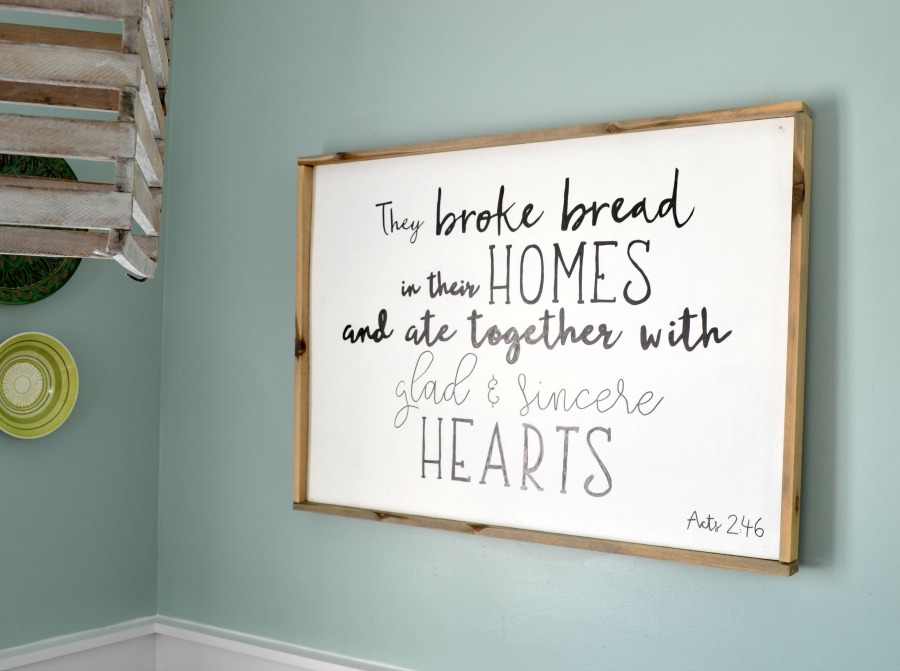 Here are some other projects that I've used graphic transfer on.  If you're new around here, I should let you know that I love to DIY every project in my home and decorate on the cheap!
Like what you see? I'd love for you to follow along!

Join the Refresh Living DIY & Upcycling Community
Join the subscriber list to receive one to two emails per month with updates from the blog. PLUS, you'll gain access to my printables and graphics library. Every new design I create will be added here, and you'll have free access - forever!