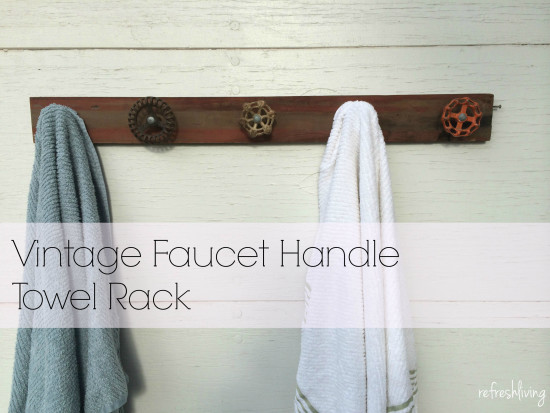 We have a slight problem in our one bathroom at our cottage.  Well actually, that's the problem, there is only one full bath in the house.  This means that when we have a group of people staying with us, which is quite often in the summer, there are a lot of bath towels floating around.  I've created a solution to this problem.  Check out my vintage faucet handle towel rack!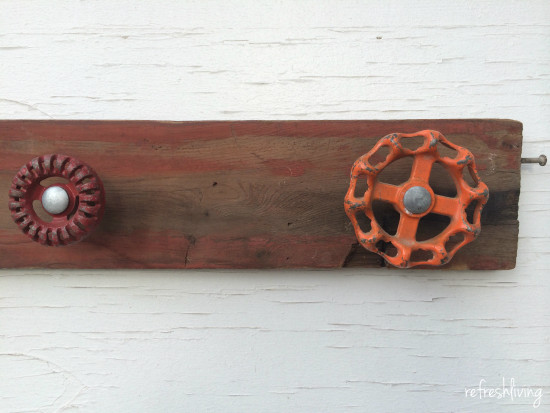 I picked up these faucet handles at a flea market this past summer, but I know a lot of people also sell them on Etsy.  I probably spent way too much time picking out a variety of different shapes, sizes, and colors, but I absolutely love how each handle is perfectly unique.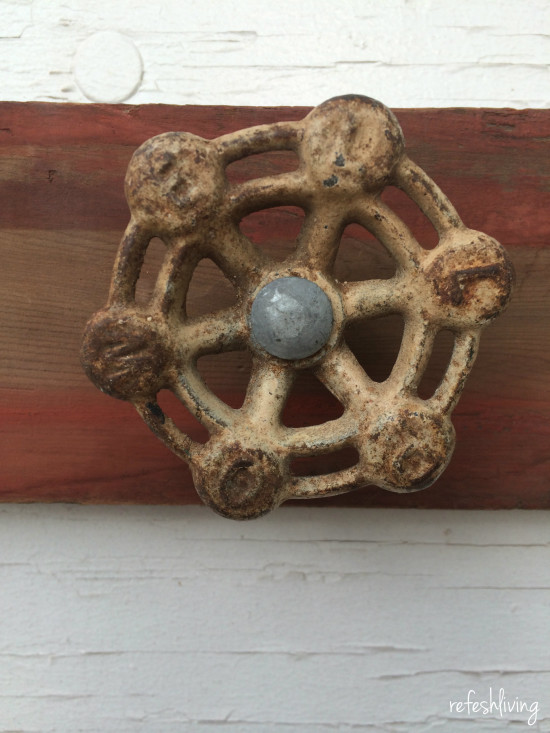 I had planned to use another piece of wood for this project, but then I was driving up to Wisconsin over the weekend and saw a sign for a barn sale.  It was just my 3-year daughter and me in the car, so I quickly turned (I don't think my husband would have let me turn if he was in that car) and headed down the road.  Boy, am I glad I did.  Not only did I pick up some cool wood, I also found an antique piece of butcher block counter top – the perfect size for the side counter area we are creating in the kitchen.  The stars were aligned with that find, and my daughter got to feed their goats.  I think I need to live on a farm…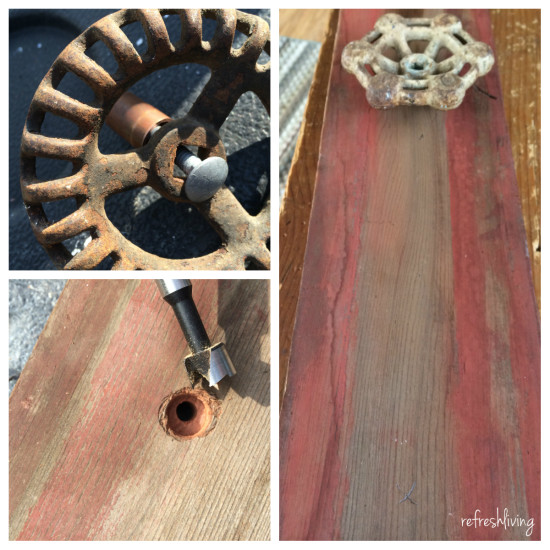 Okay, back to business.  I measured out where the handles would go, marked them with an X, and drilled pilot holes through the wood.  I used my forstner bit to create a hole in the back so the nut would be recessed into the wood.
2.5″ galvanized bolts created the perfect depth, but rather than showing the bolt behind each handle, I cut down a piece of copper pipe and threaded it over the bolt.  This also created a perfect gap between the handles and the wood.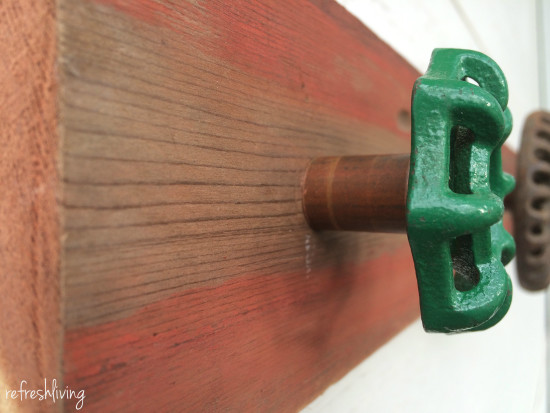 This faucet handle rack will hold five towels, which is a huge improvement from the two towels we had space for previously.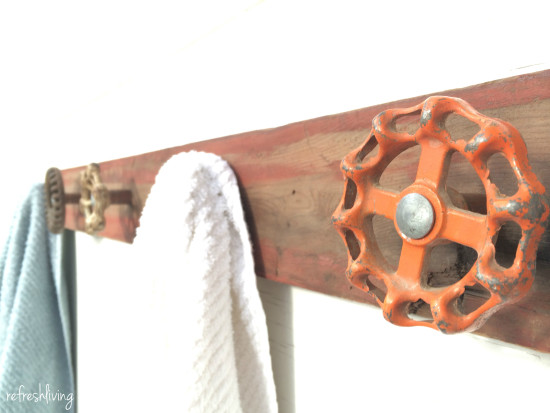 Oh, I forgot to mention the other problem in our bathroom right now.  It's gutted.  There actually is not bathroom.  Logistics.  We're working on putting it back together, though, and posting our progress with Calling it Home's One Room Challenge.  Check out our cottage and all the projects we're working on here.

Like what you see?  I'd love for you to follow along!
Send us some love with a like on Facebook, check out inspiring projects on Pinterest, follow along on Bloglovin', or have posts delivered to your inbox once a week. [mc4wp_form]
Join the Refresh Living DIY & Upcycling Community
Join the subscriber list to receive one to two emails per month with updates from the blog. PLUS, you'll gain access to my printables and graphics library. Every new design I create will be added here, and you'll have free access - forever!