By reusing old glass jars, using these free printable pantry labels, and making clear labels for the glass jars, this is an easy DIY project that will help to create an organized, pretty, and functional pantry, all in one! This pantry organization project was virtually free and now allows me to store a ton of dried food and homemade mixes.
This post was originally published in March 2017 and was updated in December 2020.
I have this thing for glass jars and struggle with throwing them in the recycling bin. Vintage glass jars, canning jars, old food jars – I'm not picky. I have a large stash of jars in my basement and always end up finding a use for them. This pantry organization project is a great way to reuse a lot of old glass jars, but I've also used them as DIY bathroom storage and for holiday decorating as well.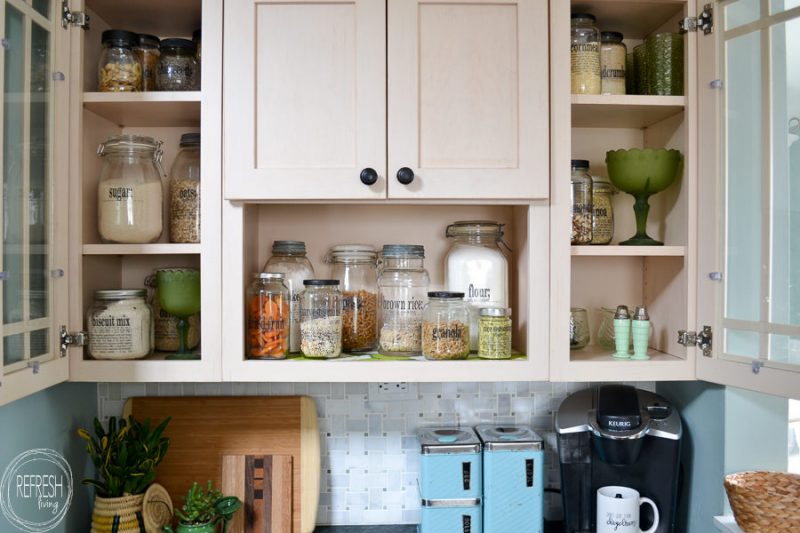 Let me be honest with you. My pantry was a disaster. I stuffed all of my dried goods on the top shelf, and stuff was falling onto my head (or the kids' heads) every time the door was opened. (Take a look at my video later in the post to see what I'm talking about.) I've been saving up large glass food jars from applesauce, pasta sauce, and pickles, as well as snagging up large glass jars when I stumbled on them at thrift stores and flea markets.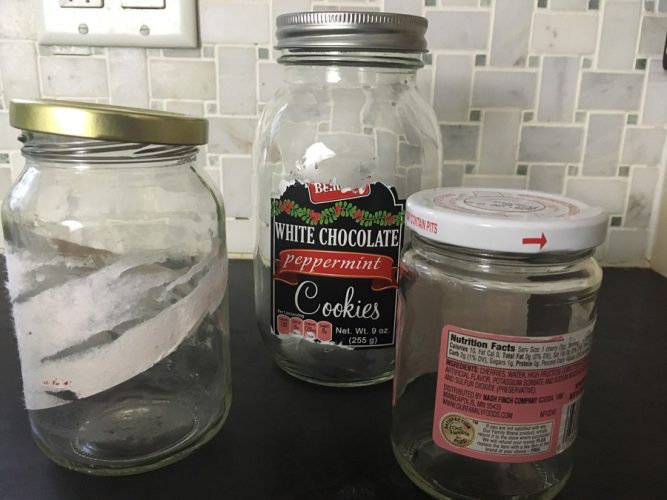 First, you'll need to clean your glass jars, and remove any labels.  I have a problem with hoarding and reusing glass jars, so I finally wrote a post about how to easily remove labels from glass jars.
After all the glass jars are cleaned, I chose to spray paint some of the lids so the images and printing weren't visible.  Any that needed to be covered I painted black, and then I kept the mason jar lids as is. (There's no way I'm going to spray paint over that beautiful patina!)  In the end, all of the jar lids are some color of metal, white, or black.
If you don't want to wait to collect up old glass jars, I think these glass jars would be perfect for organizing your pantry!
I've seen quite a few versions of free pantry label printables out there, and while they are pretty, I couldn't find any that also included directions on how to make the dried food.  You see, I have an awful memory, especially when it comes to numbers. After dumping the product into the jar, I'd throw away the packaging, with the directions.  Every time I'd go to make the item, or replenish the mix, I'd have to look up the recipe. Again, and again and again. Now, I have labels with directions for how to make four types of oats, quinoa, rice, beans, and many more dried good staples!
I also love making homemade mixes – like pancake mix, bisquick mix, and rice seasoning. The free pantry labels I made include the instructions for how to make it or use it in recipes AND the ingredients needed to make the mix. Now that I have these labels on all of my jars, I feel as if I just shaved hours off the rest of my life trying to relook up these recipes and directions!
If you'd like your own copy of these labels, please just sign up for my mailing list. I'll send you an email about once every other week and share my latest upcycled or DIY projects, refinished pieces of furniture, or budget decorating tips. As an email subscriber, you'll gain access to my free graphics library and hear about giveaways that I only offer to my email followers.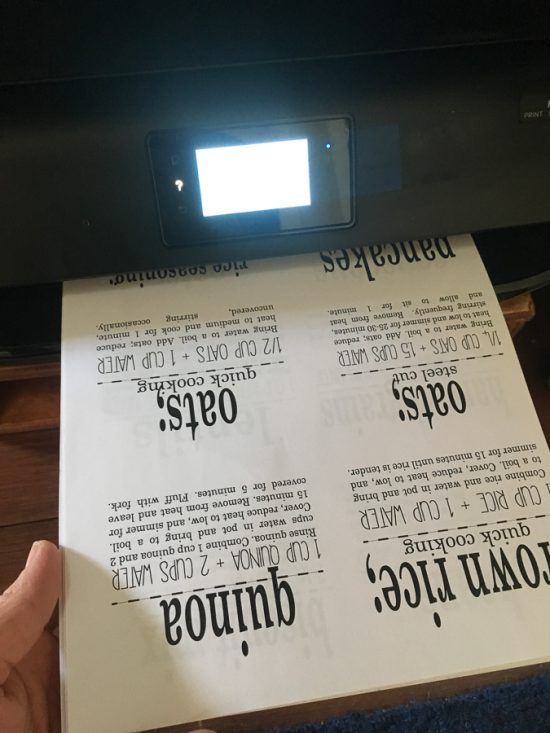 Once you have your labels downloaded, you'll need to print them with a laser printer. That part is definitely important. An inkjet printer won't work for this label-making method, only laser printing will cut it. I personally don't have a laser printer, so I found someone that does and had them print them for me. Or, most copy and office supply stores print with laser printers for about a dime per page.
I've walked through all the steps to make these labels in this video.  It's about 5 minutes long, so feel free to watch, or scroll down to read through the process.  You can find many other video tutorials on my You Tube channel!
How to Make Clear Pantry Labels for Glass Jars

Supplies to Make Clear Labels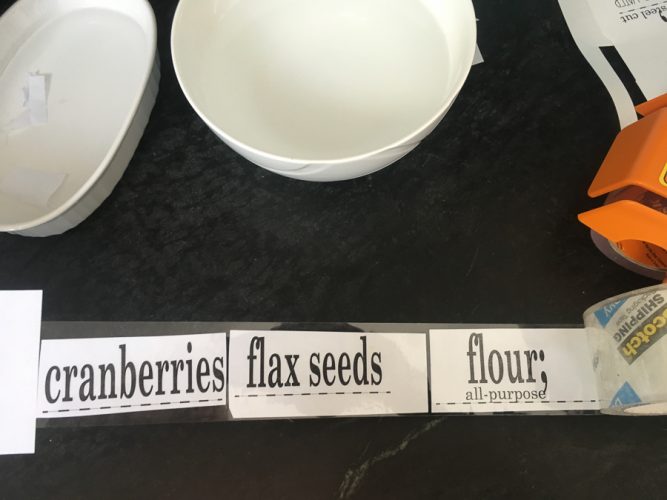 Transfer the Image to the Tape
I would recommend using heavy duty packing tape for this project. It seems to have the best sticking power after the image has been transferred. Most standard packing tape is 2 inches wide (here's the brand I used with great success), but some of the labels require wider tape in order to fit all the directions onto the label.  Thankfully, 3 inch packing tape is also available and worked perfectly for all of the labels I designed.
Basically, you'll just place the tape over the image and use a credit card to rub on top of the surface, transferring the letters to the tape.
Remove the Paper
Then, you'll put the piece of tape (attached to the paper), into a bowl of water water and let it sit for about 3 minutes. It will curl up right away (that's okay), and the paper will start to become soft. After at least 3 minutes, gently rub the paper off the back of the tape.
At first, it will feel as if there is no "stick" left to the tape and any amount you rub will take away any of the stickiness.  Trust me on this one, you can rub quite a bit, and once it dries, it will still be plenty sticky! Be sure to rub a little extra on the places where there is ink, because this is where I find little bits of paper tend to get stuck.
Attach to the Jar
After all the paper pieces have been rubbed away, let the pieces of tape air dry, sticky side up.  While waiting for the labels to dry, you'll want to give your glass jars one final cleaning with rubbing alcohol.
Once the labels are dry, just stick them onto your glass jar and fill them up!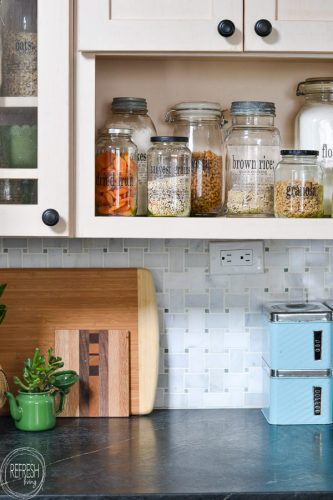 If you want your jars to be washable and dishwasher safe, I would recommend applying 2-3 coats of Modge Podge Dishwasher Safe Sealer on top of the labels.  Otherwise, these packing tape labels will stay adhered to the jar well, but can be removed if you want to change out the contents of the jar, or even f you decide to use the jar for another purpose.  I have a small fear of commitment when it comes to decorating my home, so this flexibility is perfect for me!
Not only do I love having all my dried foods neatly organized with all the information I need to know right on the label, but I love how the food is now part of the decor.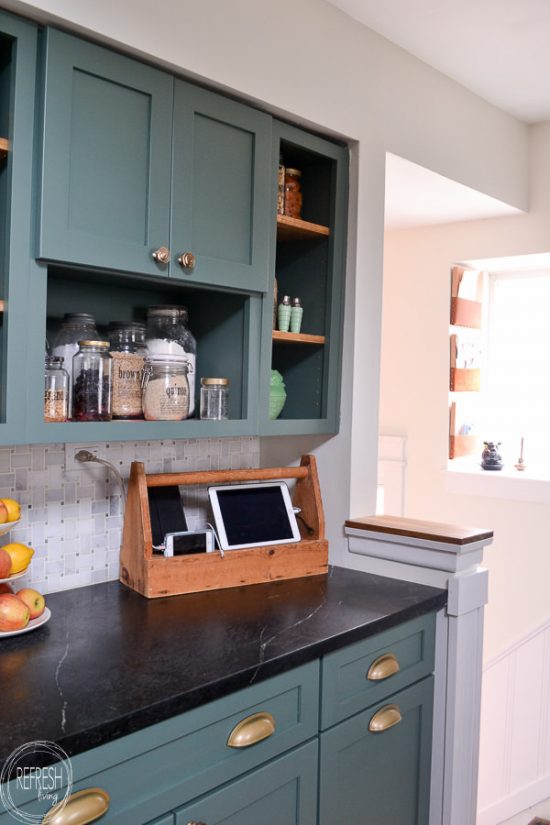 Please feel free to share these FREE pantry printables!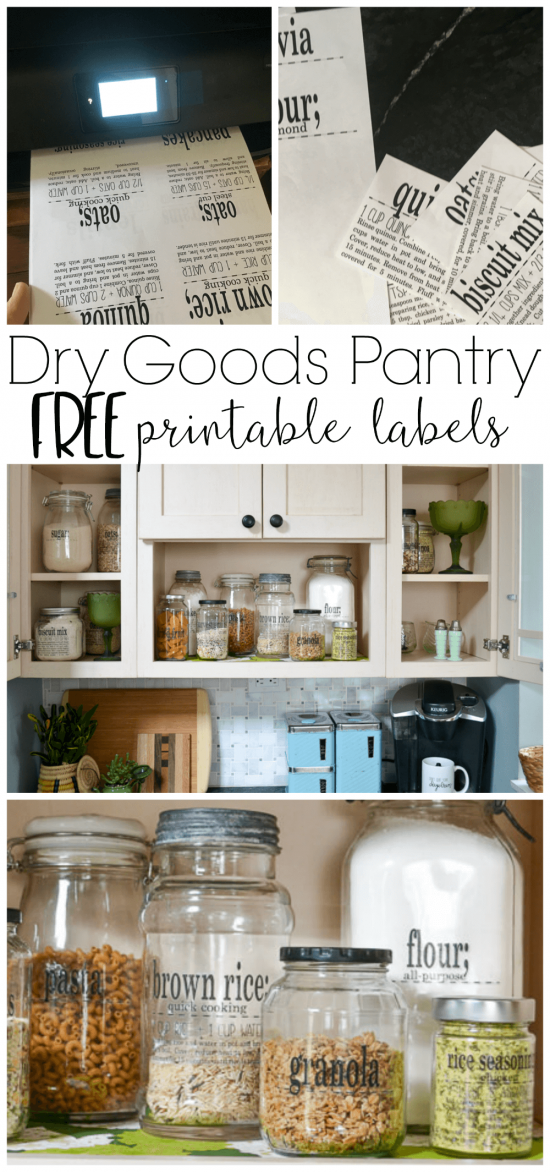 I REALLY love to reuse glass jars – can you tell?

Join the Refresh Living DIY & Upcycling Community
Join the subscriber list to receive one to two emails per month with updates from the blog. PLUS, you'll gain access to my printables and graphics library. Every new design I create will be added here, and you'll have free access - forever!