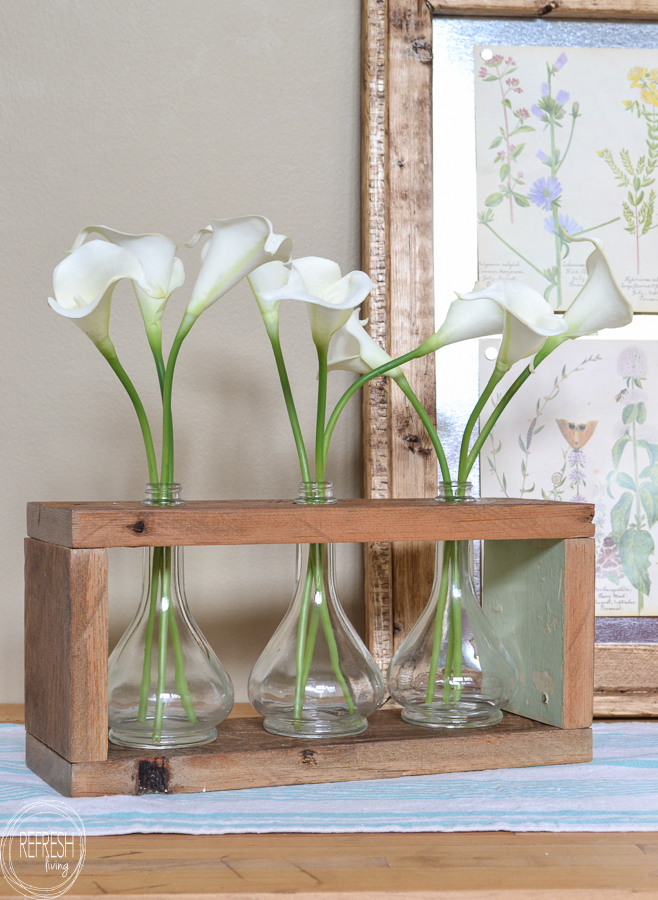 I have a special place in my heart for vintage glass jars.  In fact, there's something about any type of glass jar that makes my wheels start turning. I have a hard time passing up interestingly shaped jars and am always thinking of ways I can use them in a functional or decorative way.
These glass jars were used in an old barber shop.  There were at least 100 of them at an estate sale I went to, but I practiced restraint and only bought three.  Of course, now I'm kicking myself and wish I had picked up just a few more.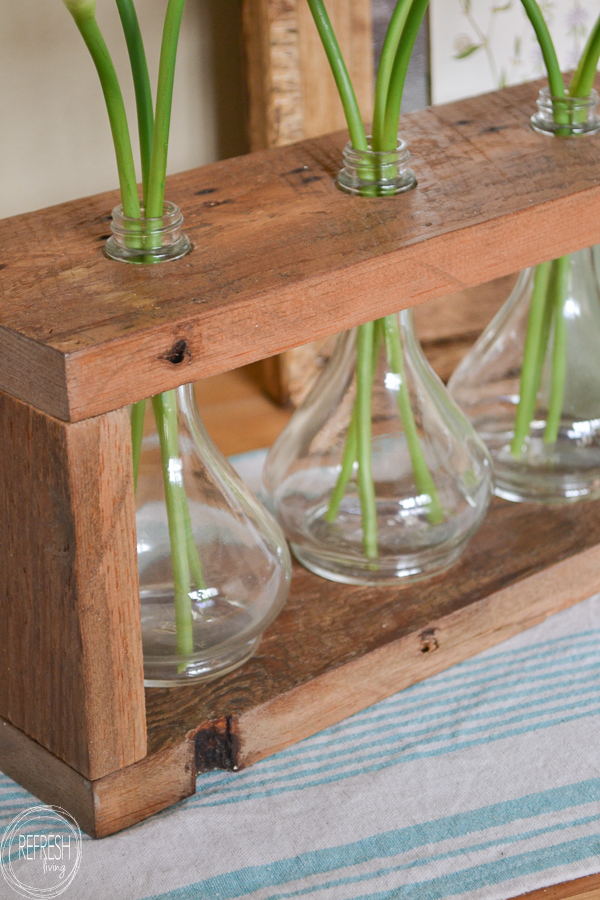 Of course, I had to use some reclaimed wood with plenty of character.  I love how the glass pairs with the wood.  I think this could be used as a centerpiece, or also just a unique flower vase, too.
Supplies Needed:
spade bit that is slightly larger than the lip of the jar
miter saw, jigsaw, or circular saw
wood glue
wood stain
clear sealer
air nailer or trim nails and hammer
glass bottles
wood (new or reclaimed)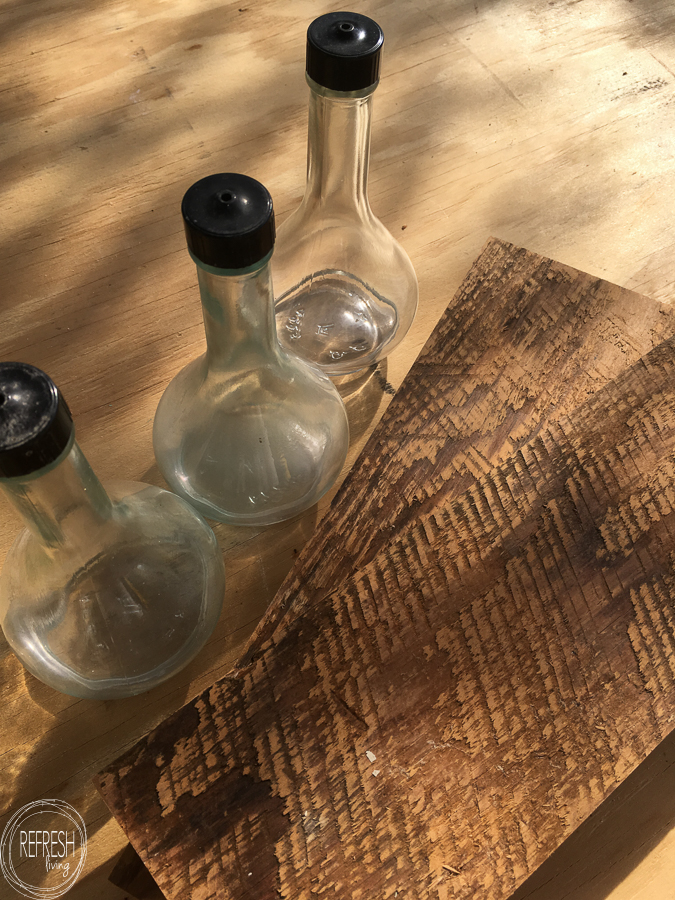 I started by cutting two pieces of wood to the length that I wanted for the piece.  I just placed the glass jars next to each other, spaced them apart, and then measured the distance needed.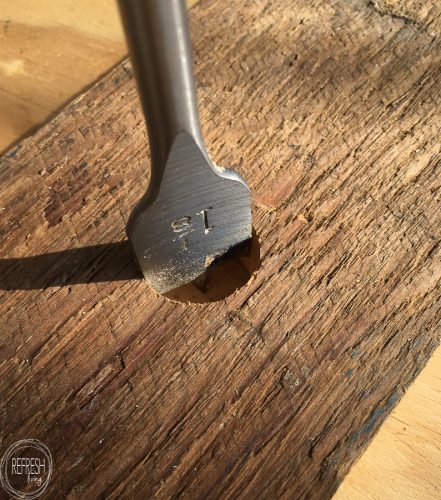 Then, using a spade bit slightly larger than the lip of the glass jar, I marked three spots equidistant apart and used a spade bit to drill completely through the wood.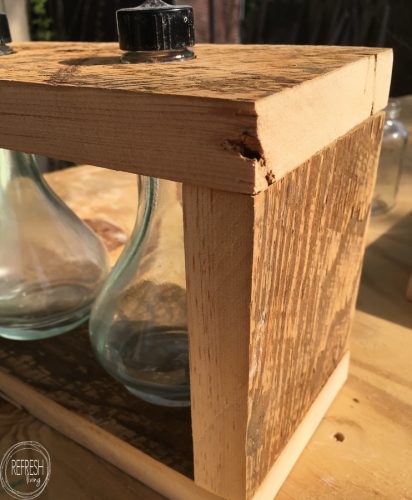 It was at this point that I cut the two side pieces to length.  I just placed the jars on the wood, added the top piece, and then measured how tall the sides needed to be.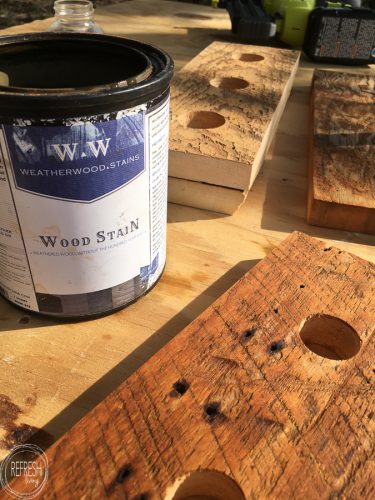 I decided to stain and seal the wood before putting it all together, because with the glass jars in place inside the wood pieces, it would have been much more difficult to do so later on.  I used Weatherwood stain to highlight the nail stains and natural marks on the old wood.  I did use a wood stain to match the color of my wood on the sides of the wood that were fresh cuts.
I sealed each piece with a clear acrylic topcoat in a flat finish.  I wanted to seal the wood in case water gets dripped on it, but I wanted to retain the flat, rustic look of the wood.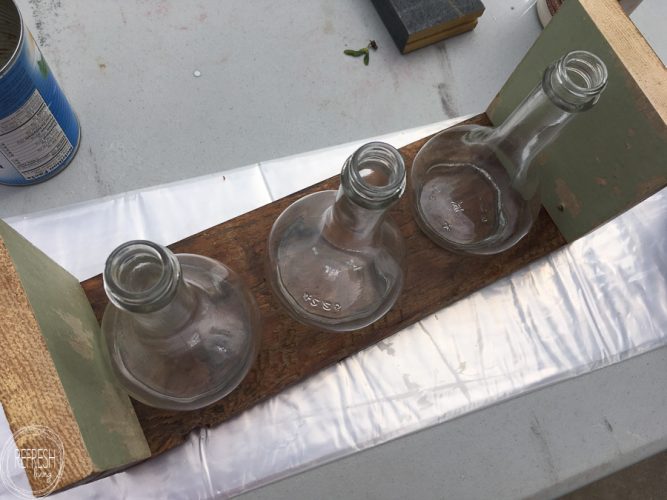 To put it together, I glued the side to the base, and then nailed the pieces in place.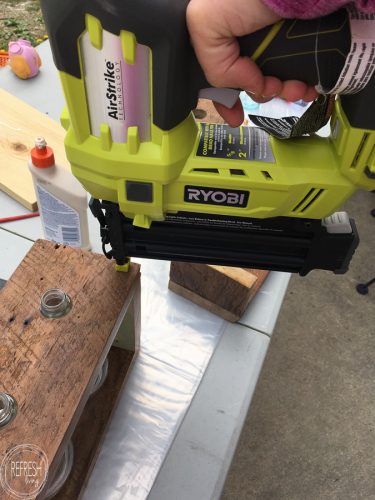 I placed the top piece on, added wood glue, and nailed the piece to the sides.  If you do any amount of building, wood work, or even projects around your home, you should look into this airless nail gun.  That's right, there's no need to hook up a noisy air compressor or worry about hoses or cords of any kind.  It's powered by a battery pack, the same one that can be used on any Ryobi One tool.
An easy project with a whole lot of character!
Like what you see? I'd love for you to follow along!
The graphics library is free to all of my email subscribers; you can sign up by clicking the image below.

Join the Refresh Living DIY & Upcycling Community
Join the subscriber list to receive one to two emails per month with updates from the blog. PLUS, you'll gain access to my printables and graphics library. Every new design I create will be added here, and you'll have free access - forever!