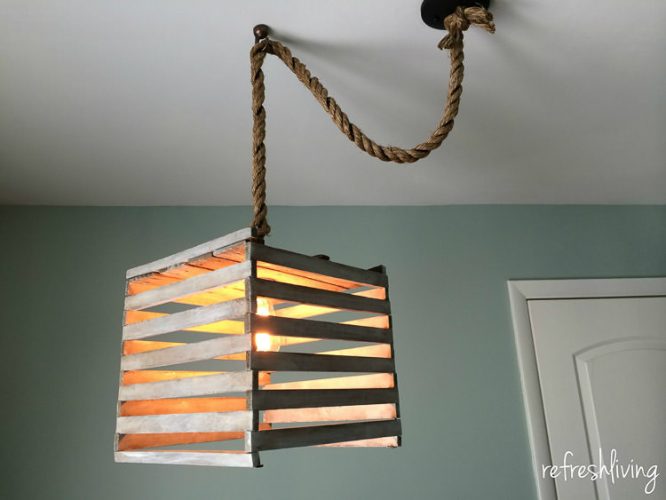 I'm pulling this project out from deep down in my archives.  It was one of the first upcycled home decor projects I posted here, and now that I just finally finished my eat-in kitchen dining space, I thought it was the perfect time to showcase this DIY farmhouse light that is still one of my favorite projects in my home.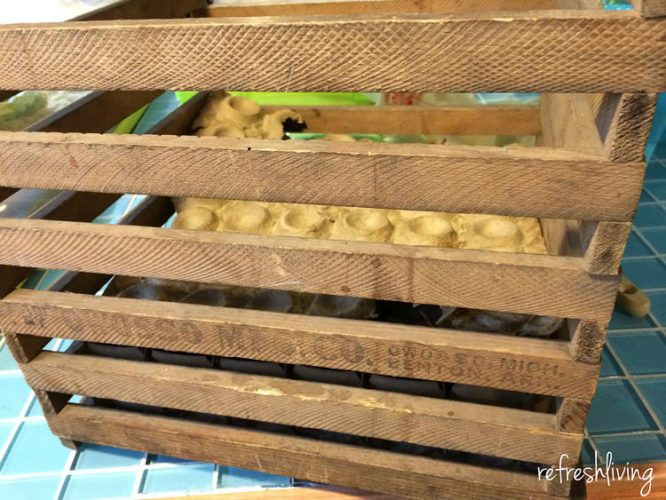 I'm always drawn to these antique egg crates when I pass by them at flea markets.  There is something about the thin slats of old, rustic wood and the printing on the side that just calls out to my vintage farmhouse loving heart.
The problem?  They are expensive! Here in Chicagoland, I see them ranging in price from $40 to $60, which is precisely why I pass them up every time I see one.  However, on a summer day four years ago at the Kane County Flea Market I found this beauty.  She was missing a top, and had what I'm guessing to be a farmer's name, WRIGHT, scribbled on one side.  I actually loved all the imperfections, as well as the price tag.  $8.  I'll take it, no negotiations needed on this one.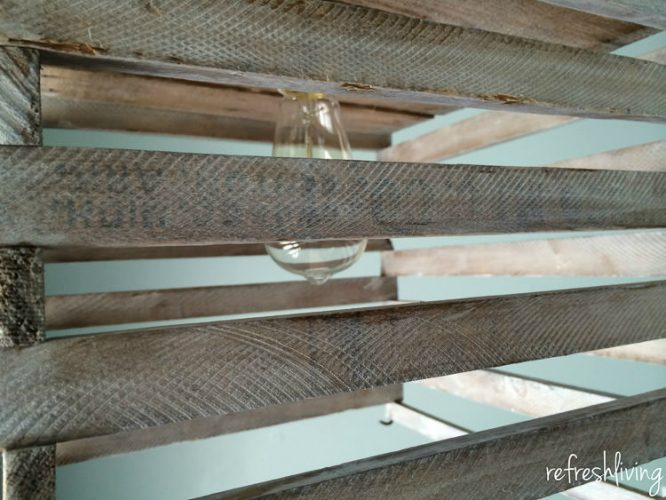 I gave her a white-washed coat of paint (1 part DIY chalk paint in antique white to 3 parts water) and brushed it over the outside, inside, top and bottom.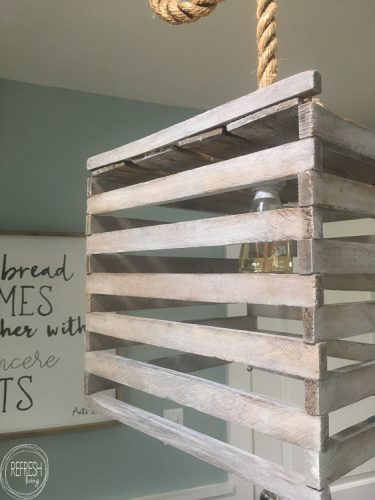 I wanted to maintain all the unique quirks about this piece and allow some of the worn beauty of the wood to shine.  By only whitewashing it, the printed lettering still shows through, along with the grooves and wood grain.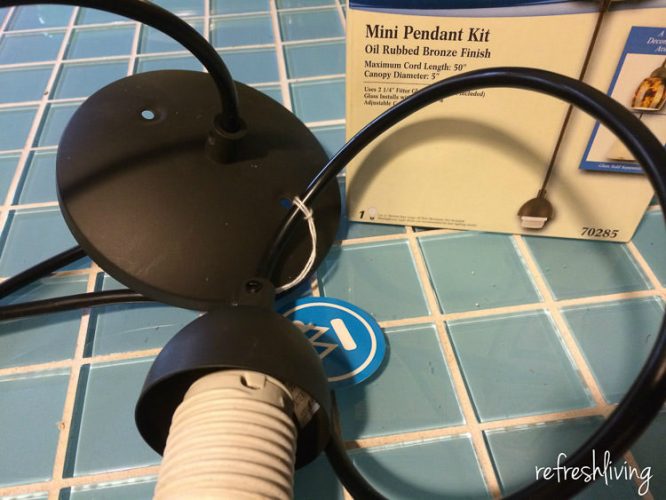 I used a Westinghouse pendant light kit for the hard wired fixture.  These are made to allow homeowners to install their own choice of glass pendant shades.  I just went a different route and attached a crate to mine.  Works for me!  I liked this kit the best because the cord was wrapped, not with a chain or the dual split wire.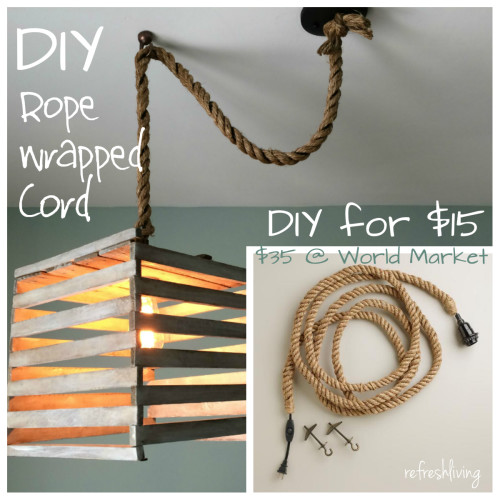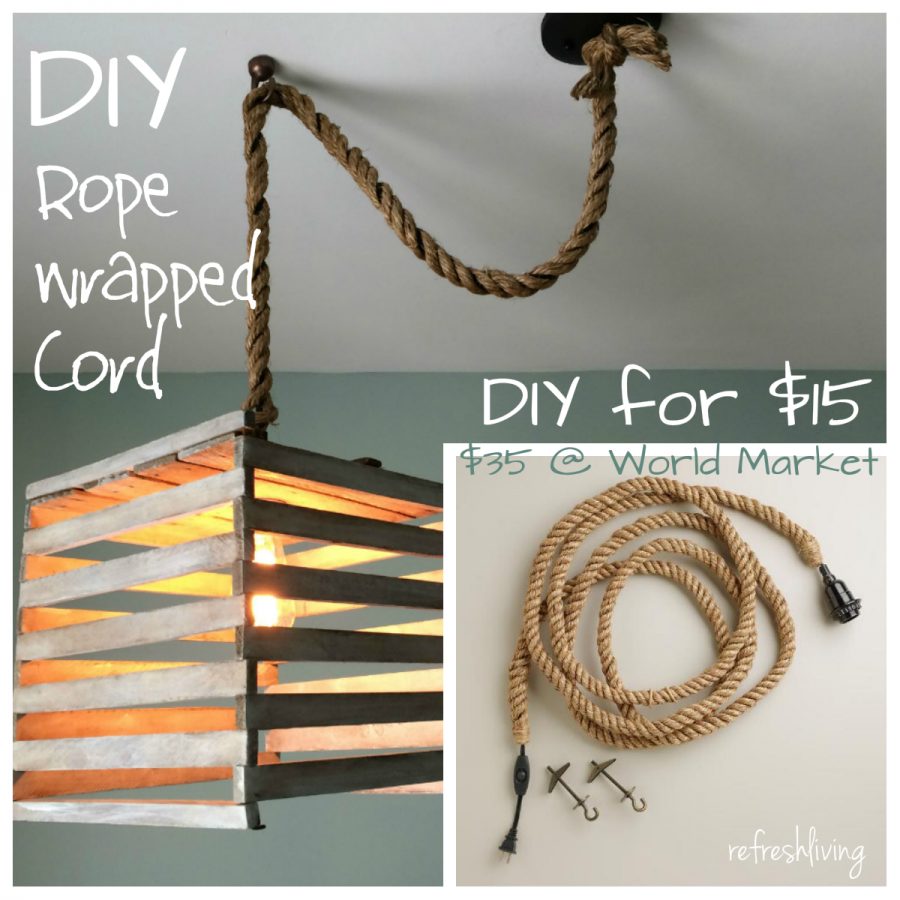 As you can see from the pictures, I wrapped my cord in rope.  I had seen lamp cords wrapped in rope on Pinterest, and an awesome rope pendant from World Market.  I put the two ideas together to create my DIY rope pendant cord.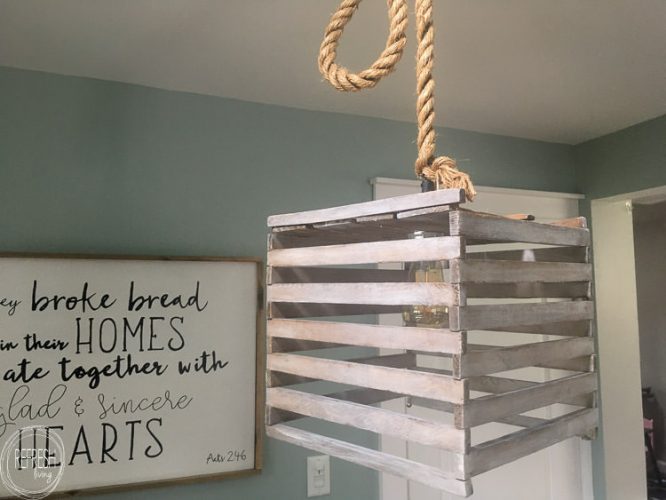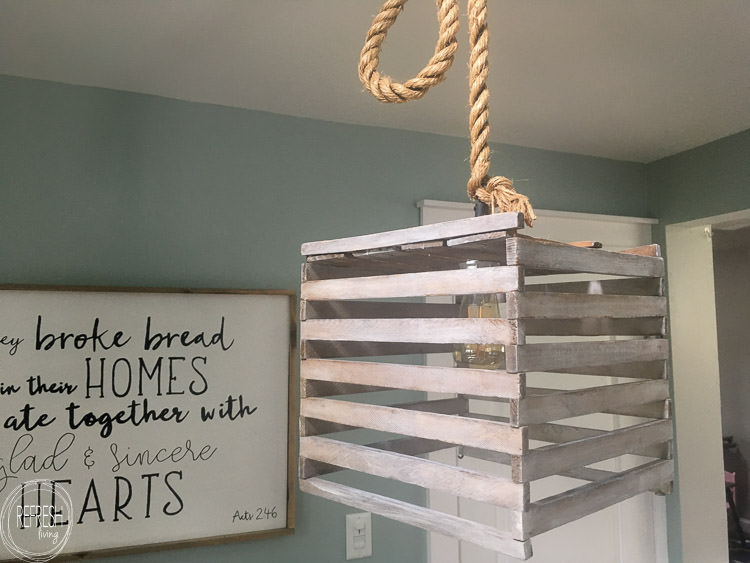 I drilled a hole in the top, just wide enough to fit the light socket, using a spade bit.  After pushing the light fixture through the hole, I threaded the bracket back on and added a fun energy efficient LED Edison style bulb.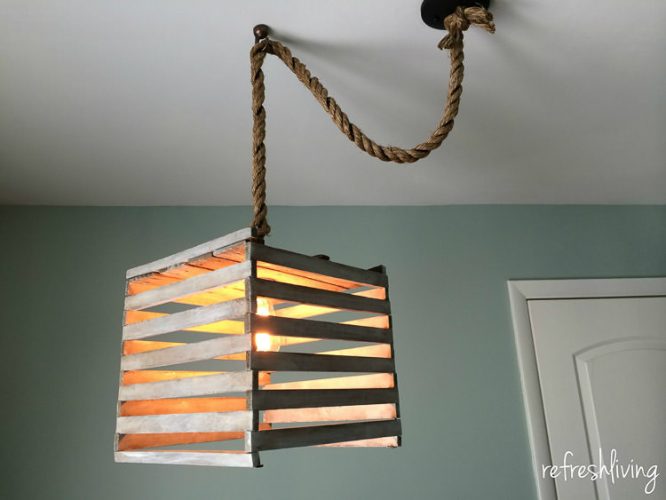 Originally, our dining room table was pushed in the corner because it didn't fit anywhere else in the space.  I installed a ceiling hook to swag the light to the side so it was centered over the table.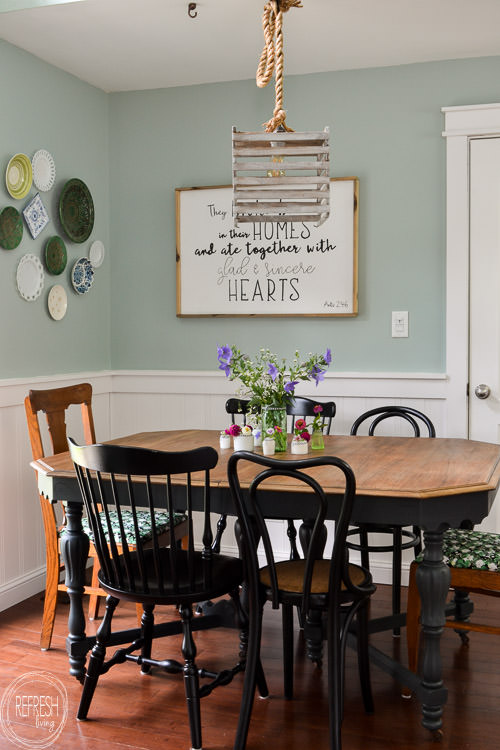 Fours years later, I finally finished this room!  I joined in on the $100 Room Challenge and created a new space on a tiny budget.  You can see the
entire room here
, including a "new" dining set, floating window shelves, and a DIY command center on the side of the fridge.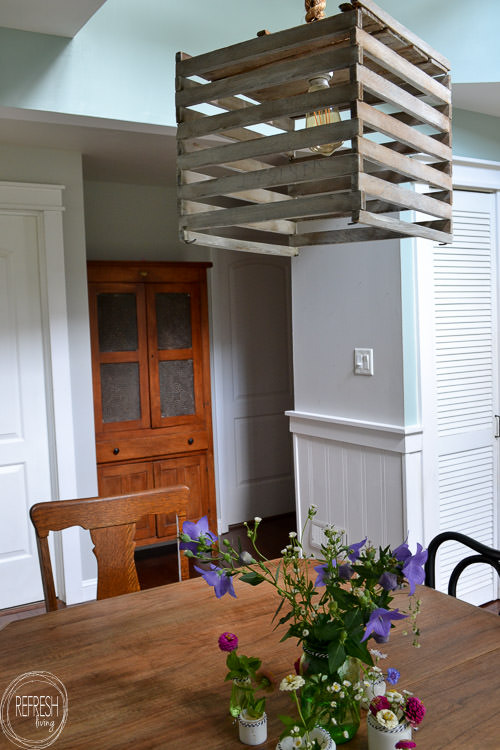 I also had to move the light back to it's original spot.  Rather than uninstalling it and shortening the cord, I just looped it and secured it with a cable tie.  That's a lazy-girl DIY fix for you right there.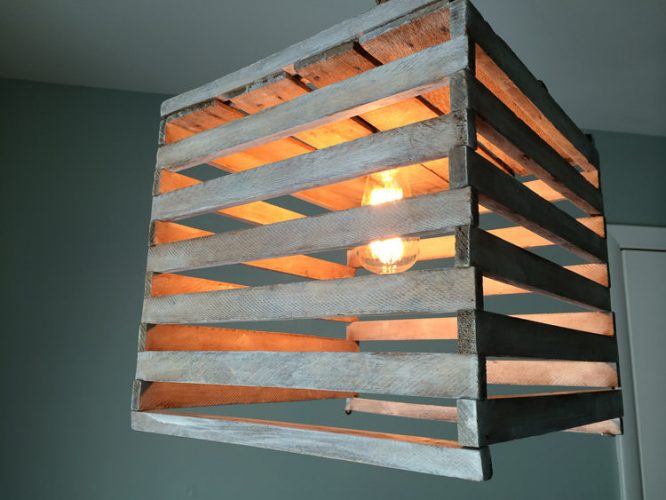 I love, love, love it.  I think it's one of my favorite projects that I've done in the last couple of months.  Even my husband, who was quite skeptical throughout the whole process, ("You're going to hang a what from the ceiling?!") loves it.  I call it a success.
Love it? Pin it! (Thank you.)

Like what you see? I'd love for you to follow along!

Join the Refresh Living DIY & Upcycling Community
Join the subscriber list to receive one to two emails per month with updates from the blog. PLUS, you'll gain access to my printables and graphics library. Every new design I create will be added here, and you'll have free access - forever!