Tips on how to shop at flea markets and how to negotiate at flea markets to get the best deals. Flea markets are one of my favorite places to find the unique vintage items to use in my home on a major budget. But, there are definitely tricks to snagging the best deal and finding the best items.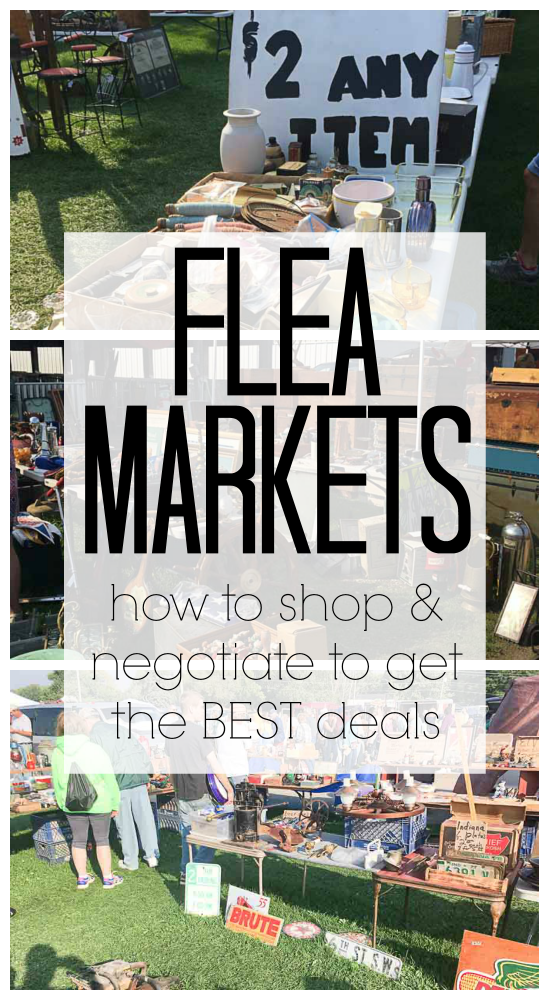 I'm all about finding unique ways to decorate our home on a major budget. Just because I'm not rolling in the dough doesn't mean I can't have a beautiful home that I love. Thrift stores, garage sales, estate sales, and flea markets are my favorite places to shop to decorate our home because they can offer amazing deals on cool finds.
I have a slight phobia of buying something that's not the best deal possible.  I remember feeling a sense of uneasiness the first couple of times I wandered around a flea market.  In fact, I didn't even buy anything the first two times I went to a flea market because I was so overwhelmed.  Plus, I really didn't know what I was doing, nor did I have any confidence in my negotiating powers.
Now that I've shopped my fair share of different flea markets, and even sold at a few, I think I've figured out the best way to score unique home decor items for the best possible price.
I've narrowed it down to five key tips that, if followed, will save you time, money, and a whole lot of anxiety when shopping at flea markets.
Best Tips for Shopping at Flea Markets
1. Time of day matters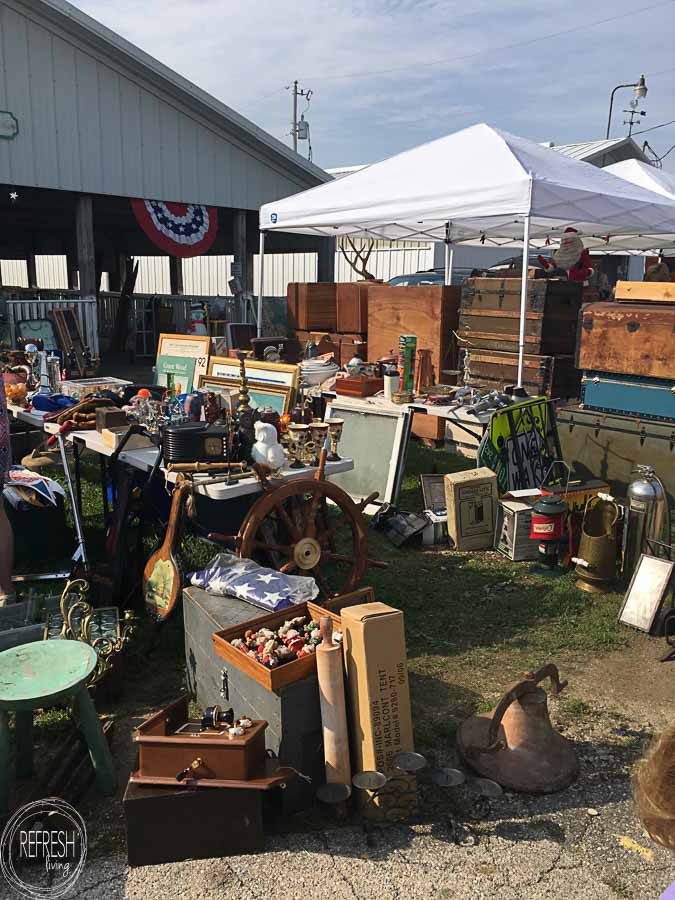 Of course, it goes without saying that the time when you shop affects the amount and types of goodies you'll find at a flea market. The earlier you arrive, the more variety and amount of items available. Often, some dealers will have items priced to sell, and the sooner you arrive, the better chance you have to find those deals. However, the earlier in the day, the less likely dealers will want to negotiate with you.
As a flea market draws to a close, some dealers will be much more likely to come down on prices so they don't have to pack up that item and bring it home with them, especially if it's the second day of a two-day flea.
2. Go in with a game plan
The first time I shopped at a flea market, I was completely overwhelmed. There is so. much. stuff. And, if you have a soft spot in your heart for vintage and antique finds, you will fall in love with everything.
I've found that if I go in with an idea of some of the items I hope to find, or with an idea of some of the projects I want to complete, I'm a much more effective shopper and less overwhelmed by all the goodness that flea markets offer. Update: I now have so many different projects I'm working on and rooms I'm looking for pieces for, I definitely need to make a list before shopping. I make a lit of any specific items I'm looking for, and also the rooms I'm needing some items for. With this trick, I have all of these in my mind and can shop more efficiently. I find myself pulling out the list every once and awhile just to be sure I didn't forget about a project or item. I've actually gone back to booths after reviewing my list and realizing there was something at a previous booth that I "needed".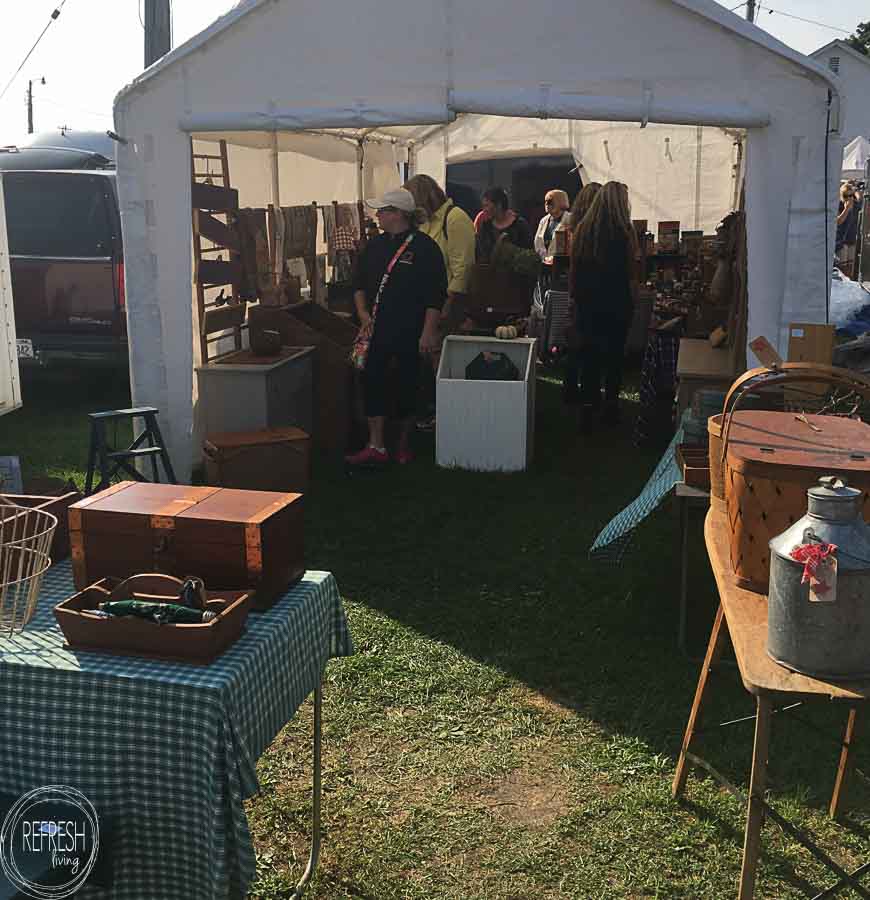 Sometimes, though, it's just fun to stroll around and gawk. That's okay too. I've gained a lot of clarity on prices and variety of items just by walking around. It's helped me to recognize items priced at a great deal, or to find a unique item that I've never seen before.
3. Some booths are better to shop at than others
It's taken me awhile to figure out this tip; maybe some of you savvy flea shoppers caught on earlier than I did. Basically, some booths are almost always going to offer lower prices on the items that you want than others.
I've found that when walking around a flea market, there are certain booths that I am just drawn to; I can't help but walk through. Usually, these booths are curated with items that I love. In my case, it's vintage home decor suitable for use or display in my home. For someone else, it might be industrial metals, or army gear, or can collections, or vintage fabrics and clothes, or the list goes on and on, because you can basically find anything at a flea market.
When I see these booths that draw me in, I go in, have a look around, and often leave empty-handed. Why? Often, I find the prices at these curated booths tend to be a little higher than other places because the dealer specializes in this area. They know the cost of these items, they know the markup, and they know the price online that many of these items can sell for. Because they specialize in this niche, they probably are selling the items at a higher price than if you were to find them at a garage sale, estate sale (sometimes), or at another flea market booth.
Now, this is definitely a generalization, and is not always the case, which is why it's still worth your while to look around those booths that just call you in. You'll find a lot more of the types of items you like and may just find what you're looking for at a price you're willing to pay.
Okay, so what types of booths do offer the best deals? I've found that the booths that look like a hoarder's garage are the best. There will be stuff piled on tables, lined up against tables, stacked on top and inside of crates. It's totally worth it to go digging through these booths! You never know what you might find, and often these dealers aren't experts in one specific niche and therefore may offer lower prices. These booths, more often than not, are where I find my best flea market deals.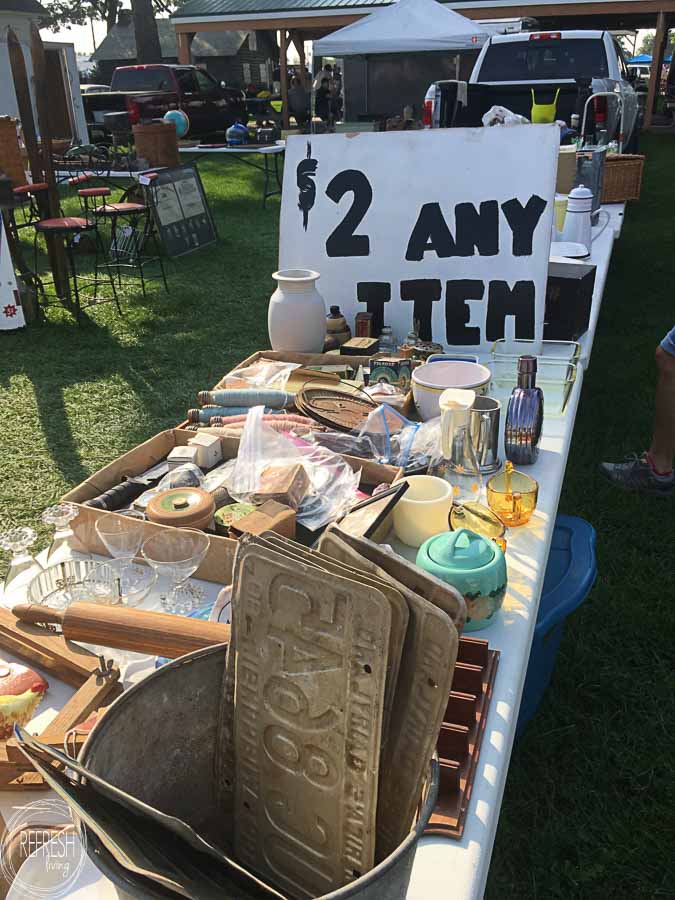 You should also always take a peek at booths with bargain or clearance tables. I've found some awesome items on these tables. Usually there is nothing wrong with any of the items, the dealer has just had them for awhile and most likely just wants to part ways.
For those of you that sell at flea markets with curated booths, please don't get upset with me. In fact, when I sell at flea markets, my booth is exactly the type of booth I am telling readers to not buy from.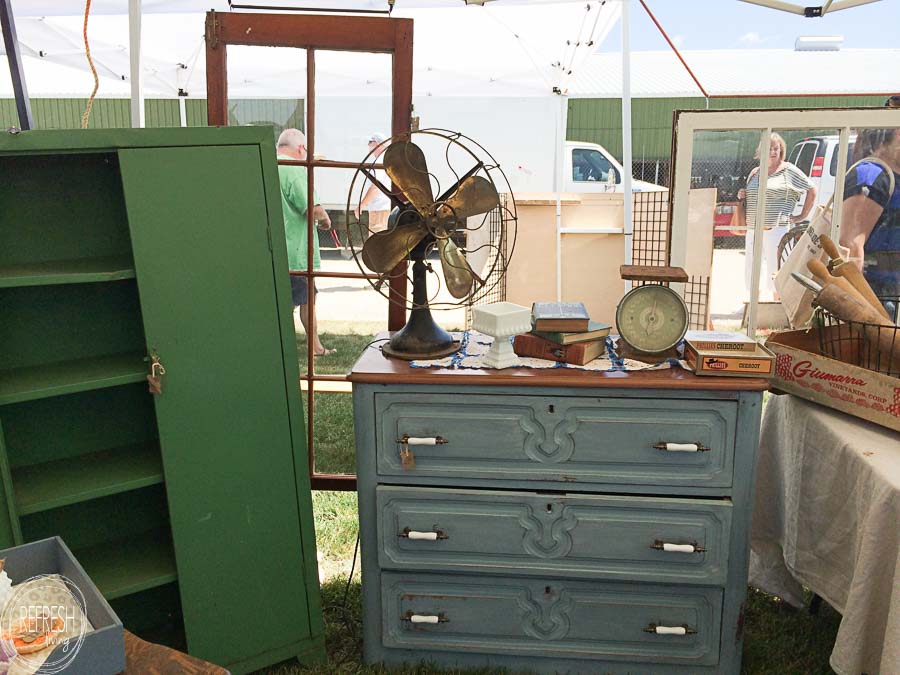 I'm going to be completely honest with you. There are two items in the above image that I actually bought at a flea market for a steal of a deal. I thought I was going to use them in my home, didn't end up keeping them, and sold them for a profit in my booth at another flea market. And my curated booth is a bit atypical in that many people have commented how reasonable my prices are. I'm assuming they are comparing it to other curated booths, but even then, I bet you'd eventually be able to find better deals than the prices I have on my items.
With that being said, finding that perfect item is a lot of work! Sometimes, when you find something you love, it's worth spending a few extra bucks rather than waiting to find it cheaper. You definitely don't want to go home and have dreams, or nightmares, about that chippy antique scale you passed up!
4. Yes, you can negotiate
I once read in a magazine article that dealers expect you to negotiate on price. I don't know if I've found this to always be the case, but I often try to remember this little tip when I feel nervous about asking for a lower price. I've read that offering 20-25% less is a fair place to start. More often than not, I find dealers to be receptive when you start with an offer at this point. However, I have received a couple of flat- out "NOs" when I offered a price 20% lower. Don't let this discourage you. Move along to another booth. (More on this tip later!)
I don't try to negotiate a deal on everything I buy.  Often, I use negotiation when I've seen an item for a little less at another booth or at another market, or if I'm buying more than one item from the same booth.  Dealers are almost always willing to negotiate a better price if you are buying a few items from them.
If I'm buying a few items from a booth, I often go in with an offer for the whole bunch. More than often, dealers will take the deal, or go up just a bit but still offer the items for less than tagged.
Another trick I've found works well (especially if negotiating makes you feel sick to your stomach!) is to ask the dealer for their best price on an item. Phrase it as, "What's your best price for this?" instead of "Is this your best price?" It's easy for them to simply say "no" to the second question, but sometimes when you ask for their best price, they might throw a number at you that's even lower than you had in mind!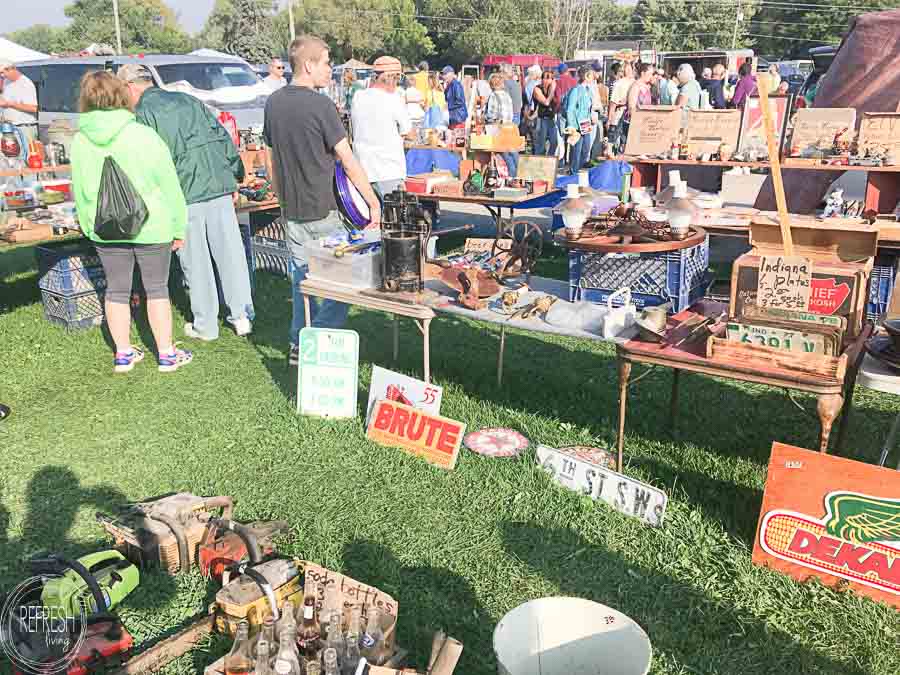 Having sold a few flea markets myself, I can shed some light on the opposite side of the negotiation partnership. I would recommend not going in with a really low-ball offer. Often, it actually offends dealers, or they will simply say "no" and not even try to give a counter offer. Plus, if you've irked them a little and then try to come in with a higher price, they may negotiate with a grudge, which might cost you some money in the end.
I know negotiation can feel super uncomfortable for some, but I would say that flea markets are the best place to try it out. Dealers at fleas are expecting negotiation (more so than those running estate sales and garage sales). And, after you've done it a bit, negotiation can actually be fun!
5. Don't be afraid to walk away
Sometimes, a dealer might not be willing to come down on price.  Or maybe you find an item that you like, but it wasn't quite what you were envisioning.  It's okay to walk away empty handed from a booth.
You can also walk away from something and come back to it later in the day after seeing other booths, items, and prices. Of course, you do run the risk of it being gone (which has definitely happened to me before!). Honestly though, almost every item that I've passed on once and regretted it, I end up finding again in a similar or even better version. In the end, it's all just stuff anyway, and shopping for it is more than half of the fun!
There you have it – my five best pieces of advice to shop flea markets to get great deals!  Do you have any other suggestions for shopping fleas?  If so, I'd love for you to share them in the comments.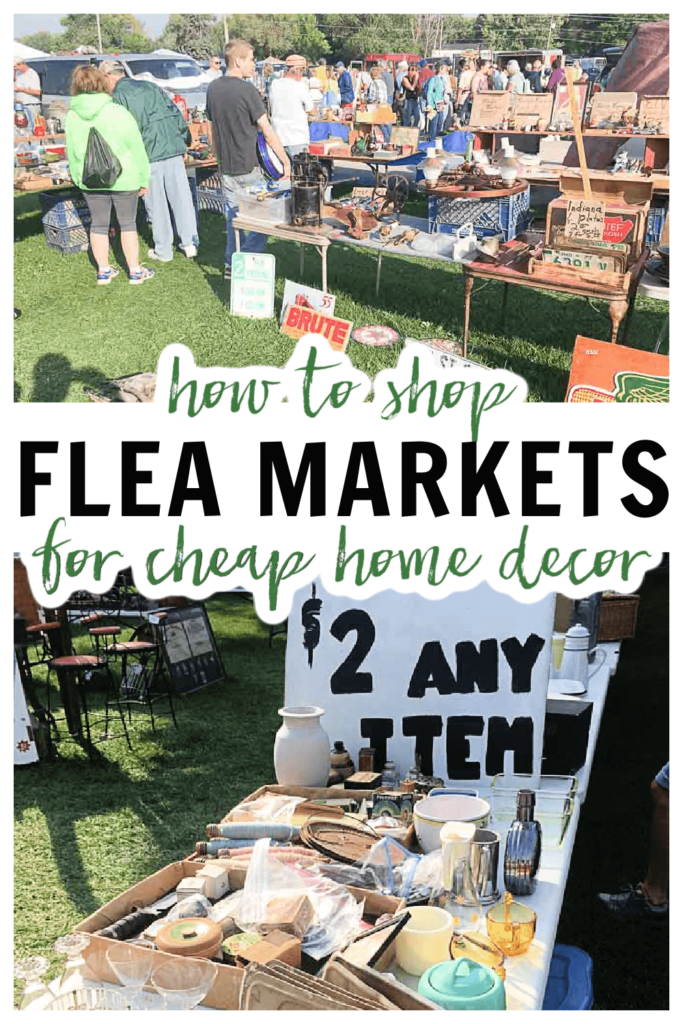 Here are a few of the rooms and projects that were made possible because of flea markets!

Join the Refresh Living DIY & Upcycling Community
Join the subscriber list to receive one to two emails per month with updates from the blog. PLUS, you'll gain access to my printables and graphics library. Every new design I create will be added here, and you'll have free access - forever!