Easily turn any piece of wood into a magnetic knife rack with only a drill, special drill bit, and magnets. This tutorial walks through the steps to make a DIY magnetic knife holder.
Let's be real. Knives aren't generally a beautiful piece of decoration on your kitchen counter. I had an (ugly) knife block on my counter for years, but it took up quite a bit of space on my small counter space area. I then tried to keep my knives out of sight in a drawer, and it was just a hassle. So, I took the convenience of having knives out in easy reach, and combined it with something that would not take up counter space AND still look decently pretty in my kitchen.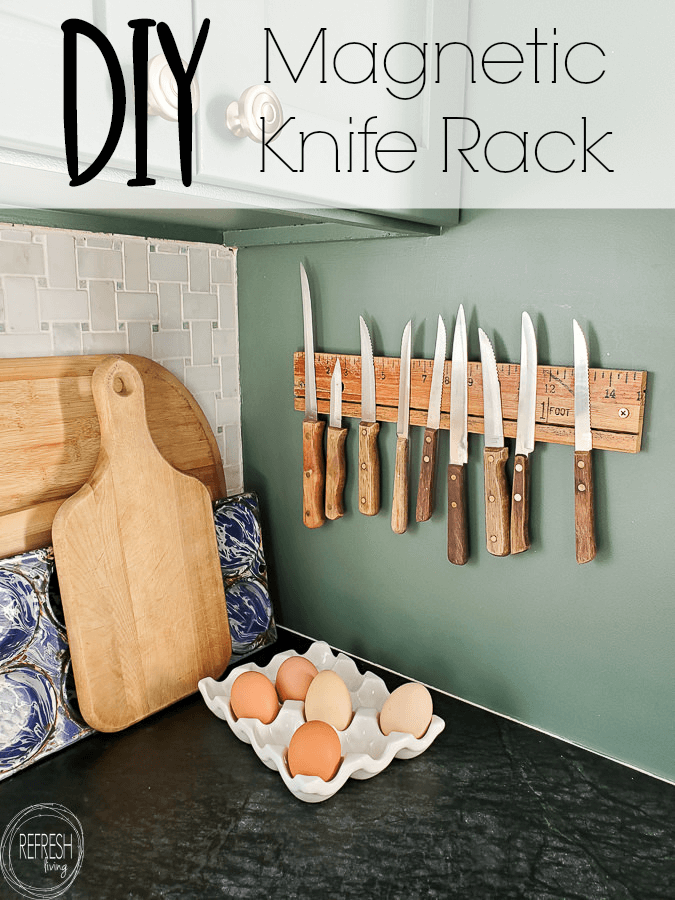 I had a 5 foot vintage ruler that I found at an estate sale in the back corner of the garage, for $1! I'm wondering if this ruler was maybe once attached to a large drafting table. Or maybe it was a large wallpaper ruler. Either way, it's beautifully imperfect and I wanted to find a new use for it.
This post contains affiliate links. Please read my disclosure policy for more information.
Supplies Needed to Make a Magnetic Knife Rack
decorative piece of wood
hand drill
I used a 1/2″ forstner bit to drill holes into the back about a finger width apart. It's important to drill the hole almost to the other side of the wood, without penetrating the front. That way, the magnet sits as close as possible to the front and will be as powerful as possible.
I put a piece of tape on my drill bit at the depth that I needed to drill. This is an easy way to be sure you drill to the same depth every time, without going through the front surface of the wood.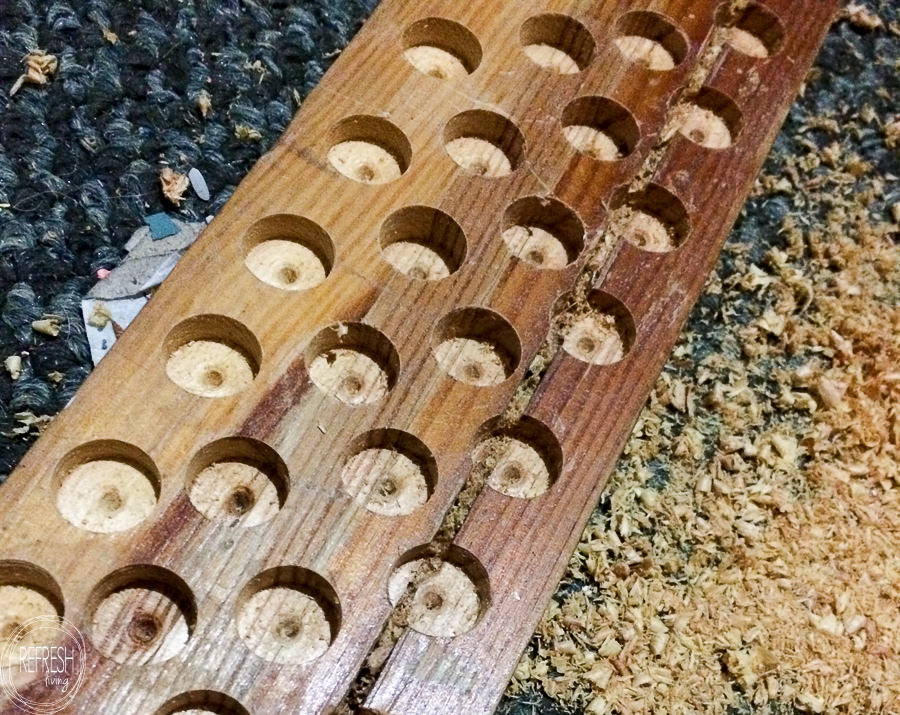 Each magnet was about 1/8″ thick, so I put two magnets in each hole. Because the drill bit was 1/2″ in diameter and so were the magnets, they fit in fairly tight and I didn't need any glue. Boy, these magnets sure are powerful! Don't walk near any saws, screwdrivers or knives, because they'll go flying.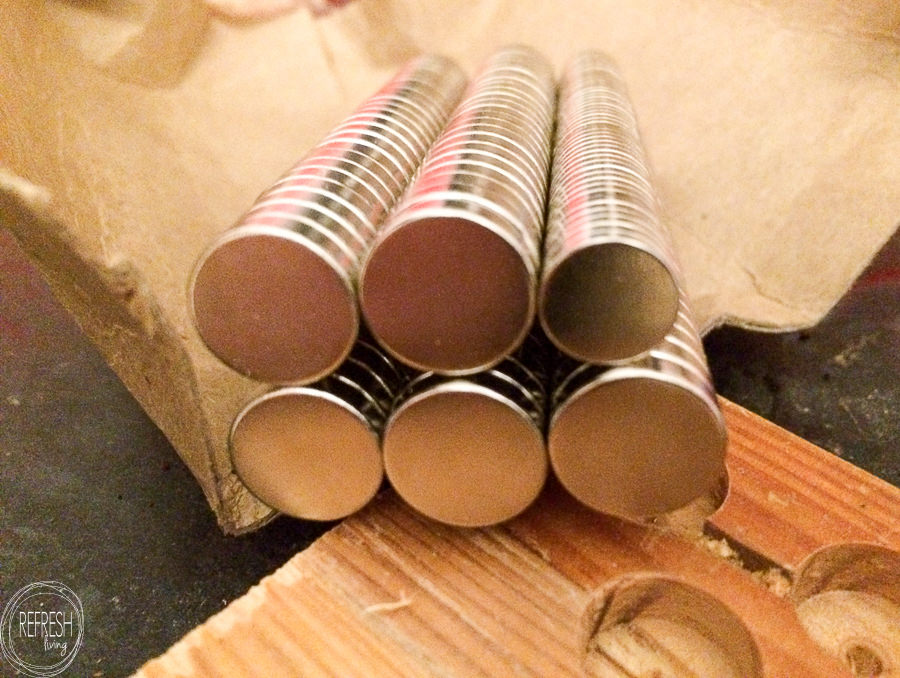 These magnets sure were stubborn, but I am stubborner! They are super strong, and I can't tell you how many times all of the magnets would start jumping out of their holes and attaching to one another. After quite a bit of fighting, flipping, and a little bit of freaking out, I learned a couple of tricks that made my life a lot easier.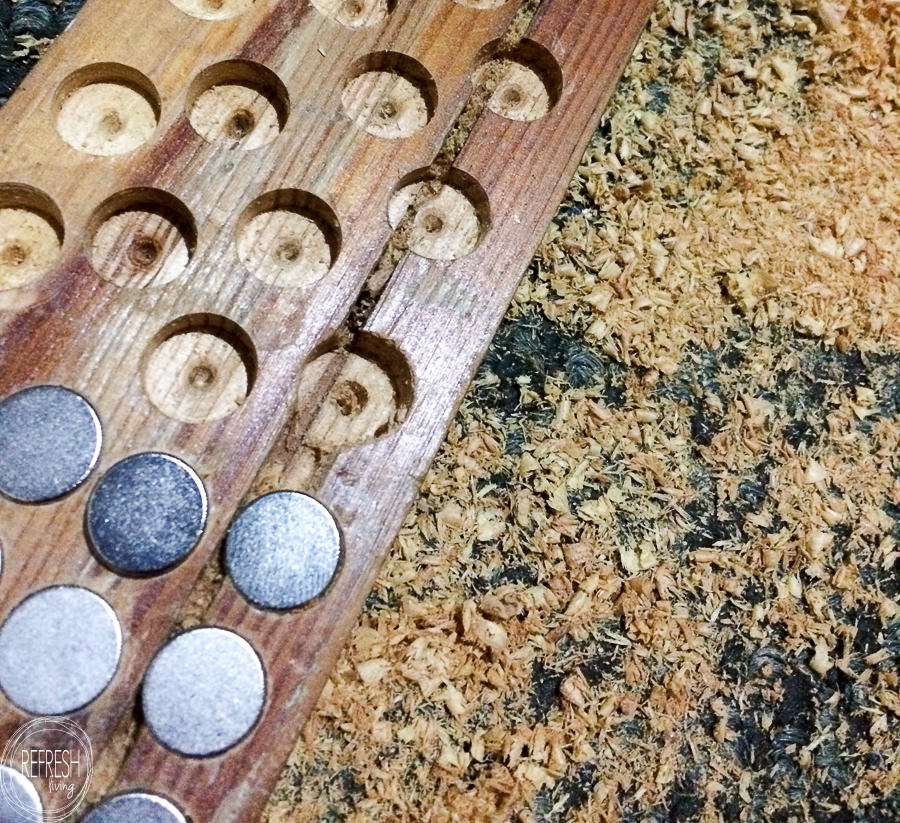 I figured out that the best way to put them in was the way that they seemed to want to fall. If you flip them over, you'll feel the resistance as you try to smash it into the hole, and this creates a mess as you try to put more in.
I also made sure to cover up all the magnets with my hand that were already in place before I brought the next magnet to the open hole. Finally, I kept my tube of magnets far from the board, because if it gets anywhere near to it, it pulls them all out faster than you can make it stop – it's out of control!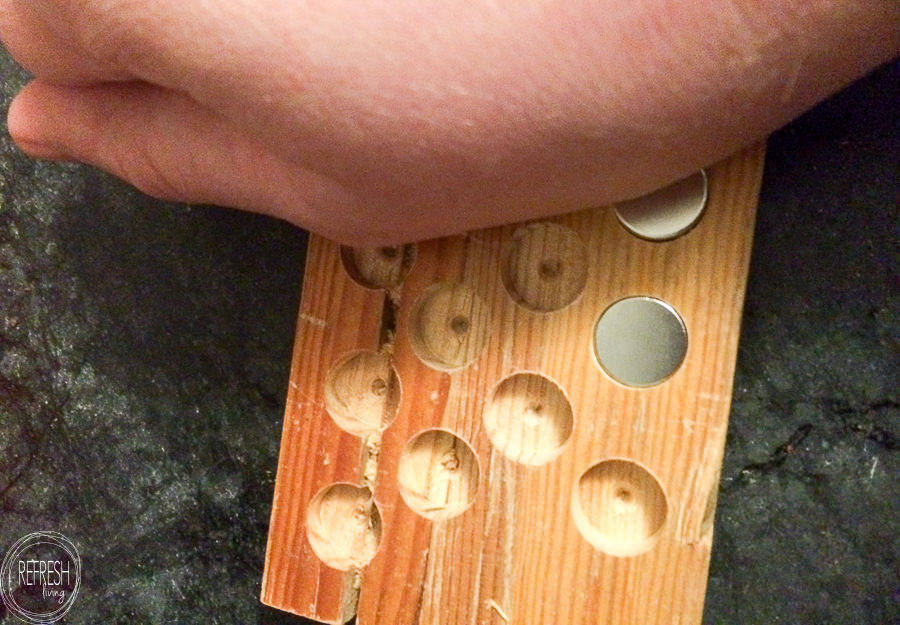 After all the magnets were in place, I drilled two pilot holes and then attached it with screws. I considered adding hanging brackets on the back, but I liked the look of the brass colored screws on the front.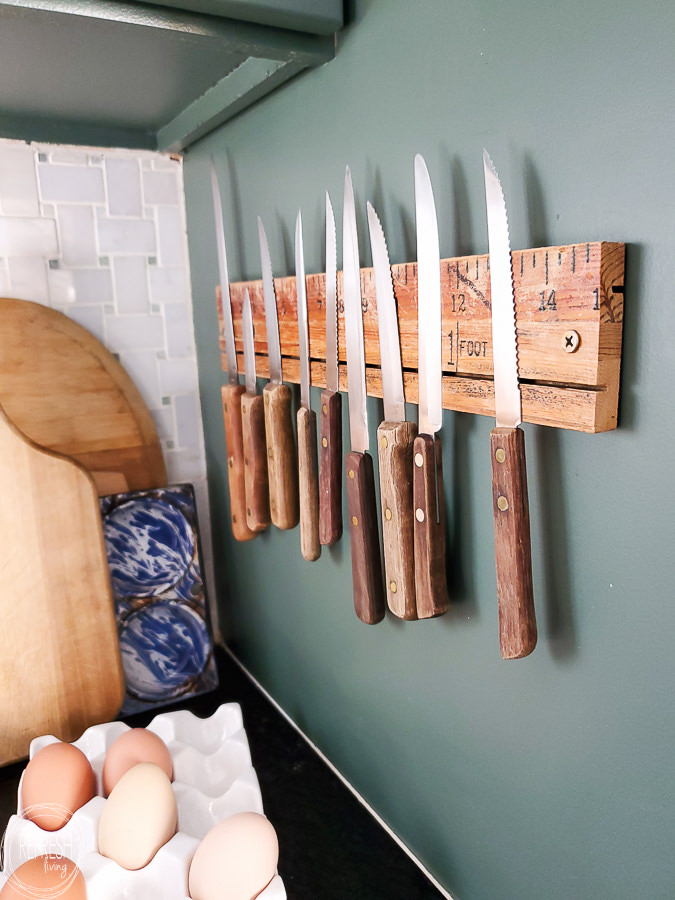 I've been using this knife rack for six years, and it's holding up beautifully. The wood has been scratched a bit, but what else can be expected when knives are being placed on it everyday.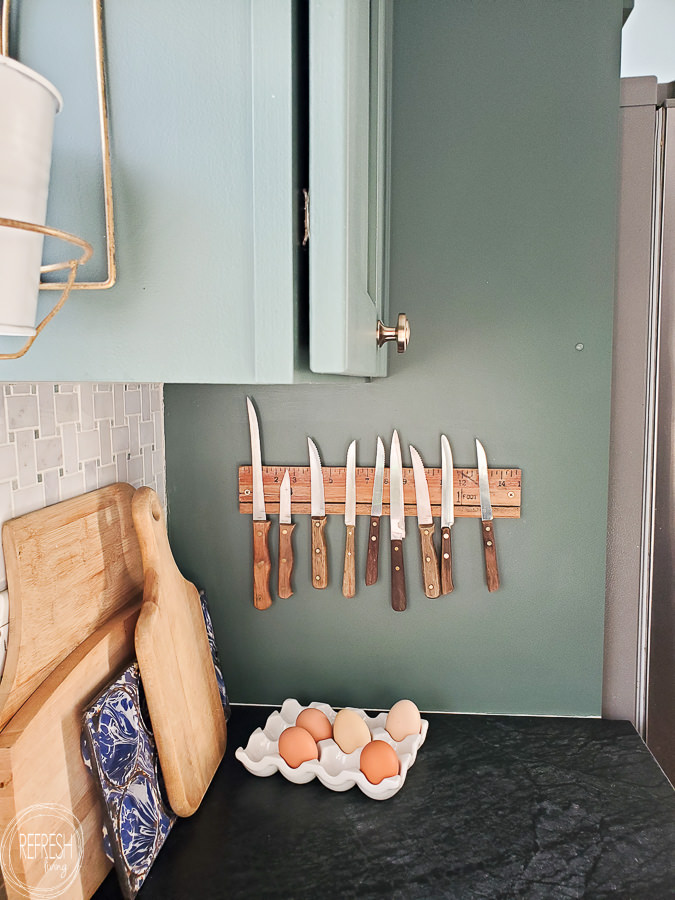 Mine is strong enough to hold some larger knives, but if I try to put multiple large knives on there at once, some of them end up falling.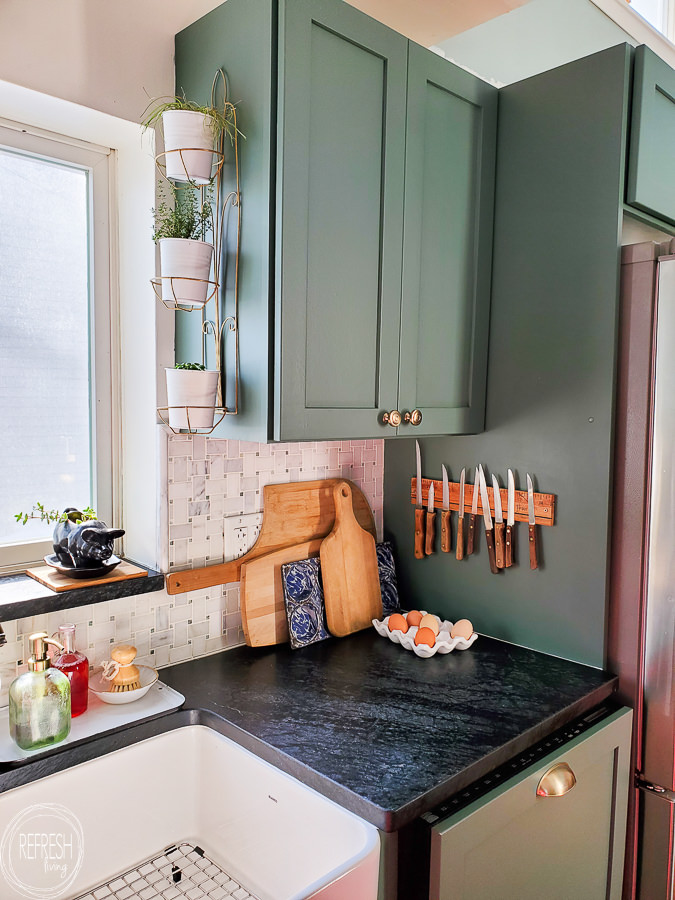 I recently painted my kitchen cabinets this perfect shade of green. If you want more details on the cabinet color, hardware, or other materials in this room, you can find all of that information in this post: Green Kitchen with Vintage Touches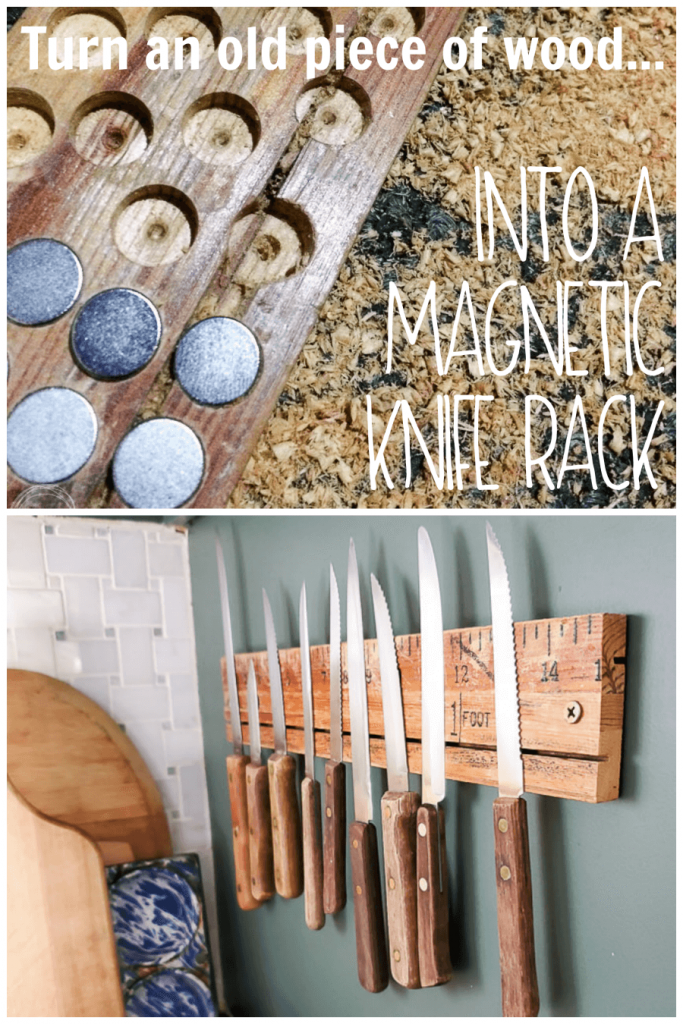 Other Upcycled Projects You Might Enjoy

Join the Refresh Living DIY & Upcycling Community
Join the subscriber list to receive one to two emails per month with updates from the blog. PLUS, you'll gain access to my printables and graphics library. Every new design I create will be added here, and you'll have free access - forever!