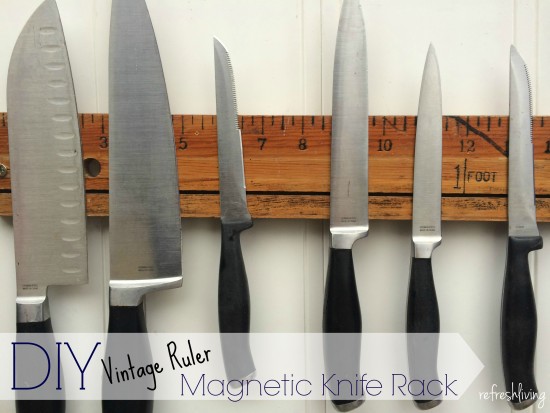 I am so excited to join the wonderful group of bloggers in the Pinterest Inspired Monthly Challenge.  On the last Saturday of every month, we'll each feature a project we created, inspired by one of our pins.  By the way, I'd sure love for you to follow me on Pinterest and check out some of my other pinned projects as well!
My inspiration came from a post from ehow.com.  I took into consideration what it said, but then used some trial and error to make this work for me.
First, I had to start with something a little different than a piece of wood.  I love the rustic look, but I also like the unique look.  I had a 5 foot vintage ruler that I found at an estate sale in the back corner of  the garage, for $1!  I'm wondering if this ruler was maybe once attached to a large drafting table?  Or maybe someone who knows what they're talking about knows what it was used for?
I cut it down (which was quite painful, but I have a couple of other projects planned for the other pieces, so I think I'm okay with my decision).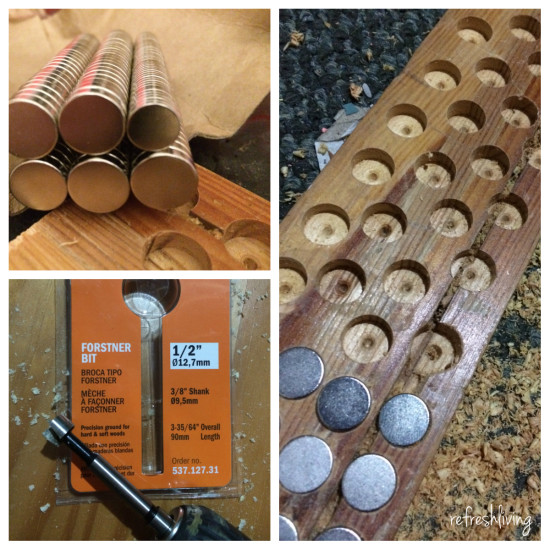 I used a 1/2″ forstner bit to drill holes into the back, because I was using 1/2″ diameter neodymium magnets (1/8″ inch thick).  Boy, these magnets sure are powerful!  Don't walk near any saws, screwdrivers, knives, you get the picture.  I fit two magnets into each hole, and since the drill bit was 1/2″, they fit just tight enough – no need for glue.
These magnets are stubborn, but I am stubborner!  After quite a bit of fighting, flipping, and a little bit of freaking out, I learned a couple of tricks that made my life a lot easier.  I figured out that the best way to put them in was the way that they seemed to want to fall.  If you flip them over, you'll feel the resistance as you try to smash it into the hole, and this creates a mess as you try to put more in.  I also made sure to cover up all the magnets with my hand that were already in place before I brought the next magnet to the open hole.  Finally, I kept my tube of magnets far from the board, because if it gets anywhere near to it, it pulls them all out – it's out of control!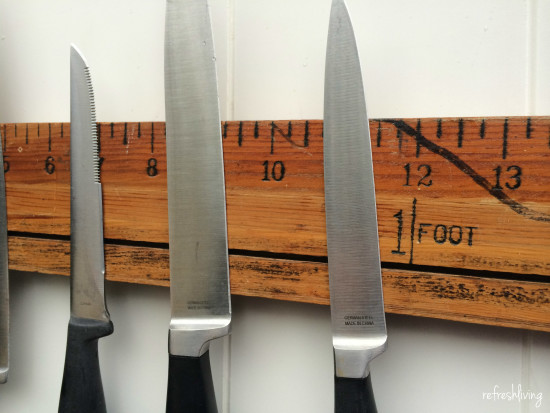 I drilled two pilot holes and then attached it with screws.  I considered adding hanging brackets on the back, but I liked the look of the gold colored screws.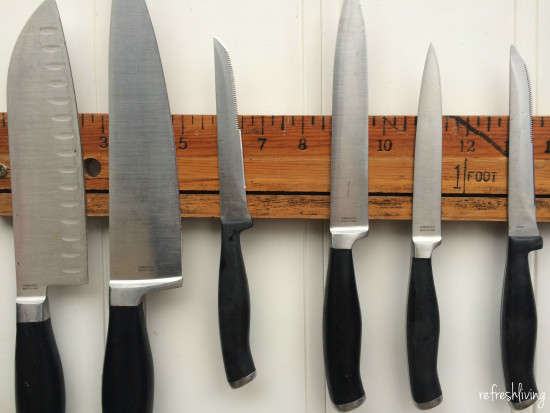 Of course, I made sure to hang it far out of reach of little, grabby hands, but still right in my reach near my cutting board!

Like what you see?   I'd love for you to follow along!
Send us some love with a like on Facebook, check out inspiring projects on Pinterest, follow along on Bloglovin', or have posts delivered to your inbox once a week. [mc4wp_form]
Okay, now you must go check out all the other projects created from inspiring Pinterest pins!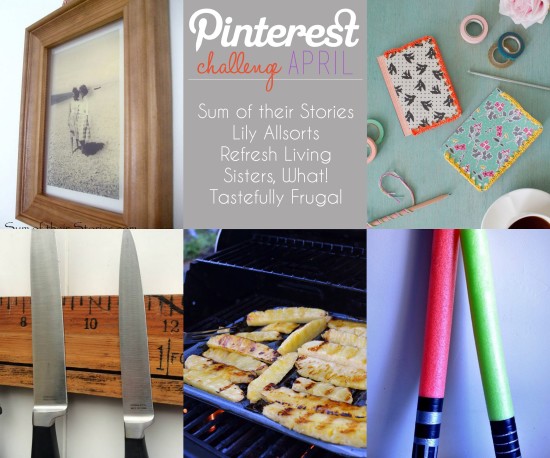 Join the Refresh Living DIY & Upcycling Community
Join the subscriber list to receive one to two emails per month with updates from the blog. PLUS, you'll gain access to my printables and graphics library. Every new design I create will be added here, and you'll have free access - forever!