Giving your kitchen a completely new look does not require a lot of money or demolition. With a little bit of hard work, some thrifting, and a whole lot of paint, you can give your kitchen a budget friendly makeover.
This kitchen makeover aligns perfectly with my decorating mantra: you can create a home you love without spending a lot of money. I took my boring, mistake of a kitchen and completely changed its look, all on a tight budget.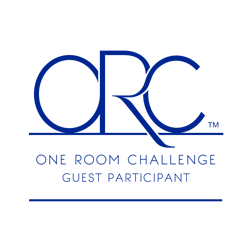 Hundreds of others also took the challenge of updating a room in their home in the 6-week One Room Challenge. You can see all of the beautifully creative room makeovers by visiting the One Room Challenge blog.
Before:
Here's the brief history of our little kitchen. When we moved into our house it was extra small. There were soffits, and a little peninsula that separated the kitchen from the dining area. After about 7 years, we remodeled the entire room. We removed the cabinets (and of course repurposed them in our garage), laid new floors, and ordered semi-custom cabinets that we installed ourselves. You can read the full before post here.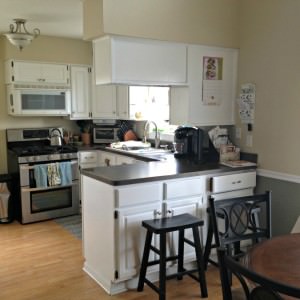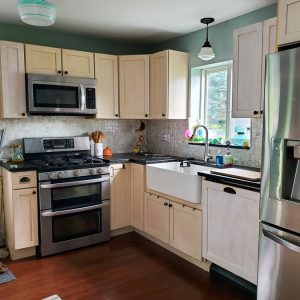 Here's the problem, though. The finish on the cabinets that I selected was awful. What I hoped would be a white that showed some of the wood grain actually was a creamy, off white blah with streaks of blue where the wood tannin did something weird with the finish. Ooops. Big time.
That was 5 years ago, and I finally allowed myself to paint my "new cabinets". And let me tell you, I'm SO glad I did!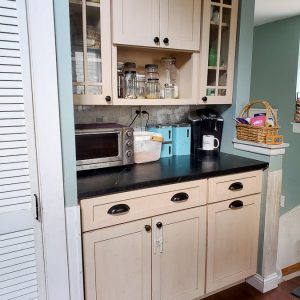 Here's a quick view of our "dining room" before the update as well.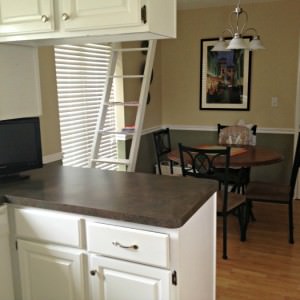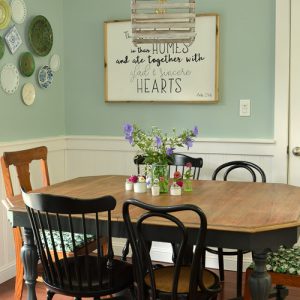 I updated the dining room half of the room as part of the $100 Room Challenge a couple of years ago. Can you believe I brought in that dining room table, and all of the chairs, within my $100 budget? I still very much love this part of the room, so you won't see much of a difference over here when you see what the space looks like now.
The Reveal
Are you ready to see our new kitchen? I'm calling it a modern kitchen with vintage touches, but I think it could also be called a budget friendly small kitchen makeover. Either way, whatever you want to call it, the room just screams me. A ton of little DIY projects, lots of old, natural wood tones, vintage light fixtures and unique finds, and green.
Yep, my cabinets are now my happy color – the one color that can finally tie all of the rooms in my home together.
It's functional (I have four kids ages 7 and under), but also pretty. It's easy to cook in (thanks to the small footprint), but also has little touches that just make me smile.
I loved my soapstone counters when they were installed, but now I think they can really shine next to the green cabinets and marble tile backsplash.
Our pantry is teeny-tiny, so a year or two ago I decided to use these cabinets as dried food storage as well. Of course since it was all going to be exposed, I had to make all the old glass jars look pretty and cohesive, so I made these DIY glass pantry jar labels.
Here's what I did as part of the current makeover to update the space.
Paint, Paint, and More Paint
Obviously, all of the cabinets and all of the walls got a couple of coats of paint. Honestly, it was the biggest change I made in the room and actually took the most amount of time as well.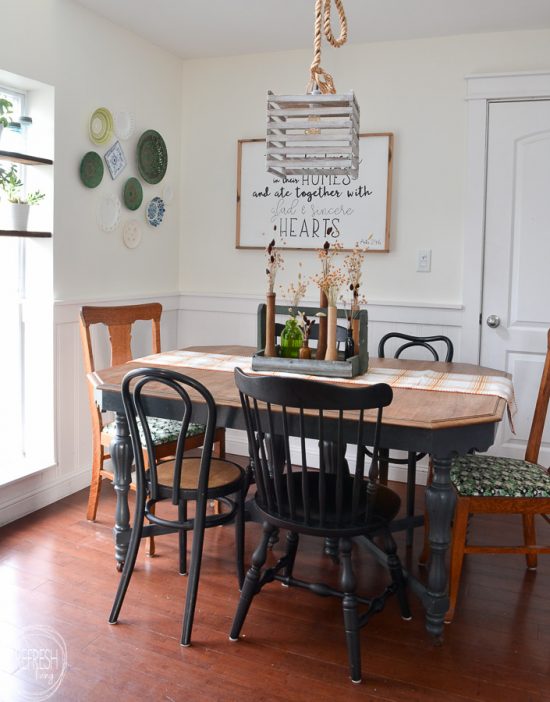 I painted the walls in Benjamin Moore White Cloud and the cabinets in Benjamin Moore Caldwell Green in an Alkyd Enamel paint. This wasn't my first rodeo with painting kitchen cabinets. In this post I share the best paints to use for kitchen cabinets, and I have a post in the works with all of my tricks for painting kitchen cabinets.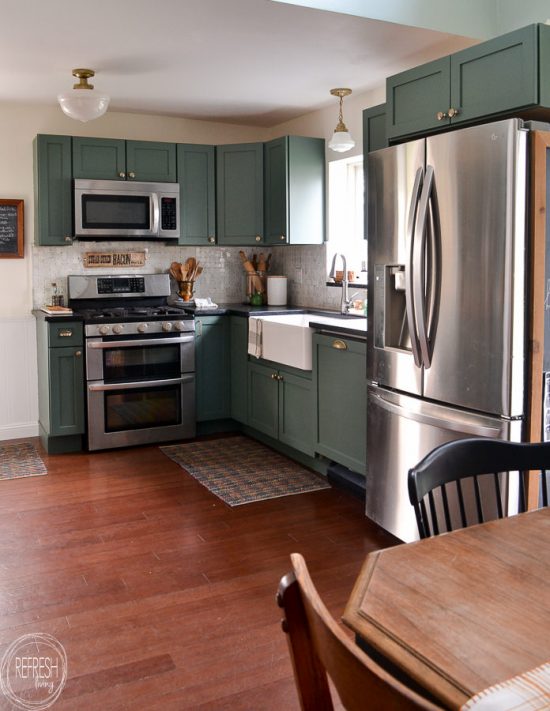 Aren't these champagne bronze drawer pulls and Geary knobs just perfection? My go-to place for all the hardware I use on furniture and home projects is D.Lawless Hardware. They have such a huge variety at an affordable price (lower than I ever find at home improvement stores).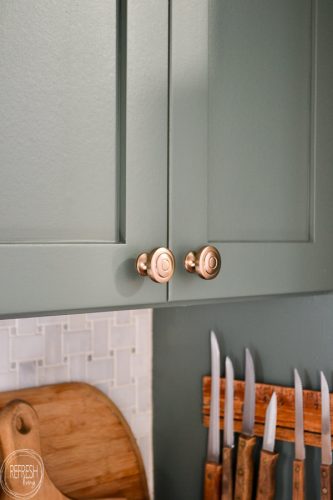 Thinking about painting your kitchen cabinets?  You might enjoy these posts:
"New" Light Fixtures
I'm pretty proud to say that all of the light fixtures in the room were updated, costing a grand total of $15. The main ceiling light was one I found at a garage sale a few years back and I never got around to installing. I spray painted the pendant light above the sink and stumbled upon another vintage light a couple of weeks ago that works perfectly in the stairwell.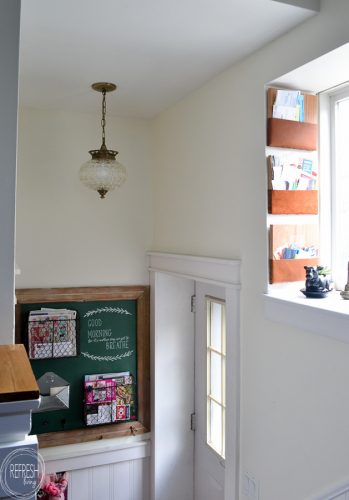 *UPDATE* My upcycled beaded chandelier is finished! I took second-hand light fixture, an old lampshade, and lots and lots of beads to make this unique chandelier.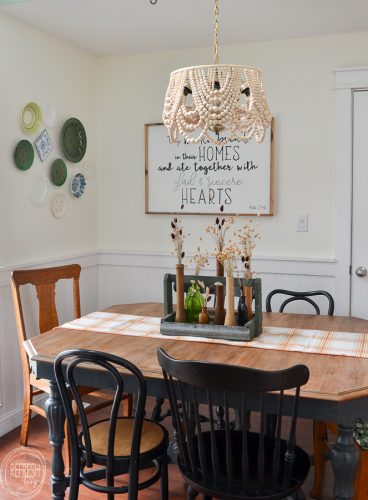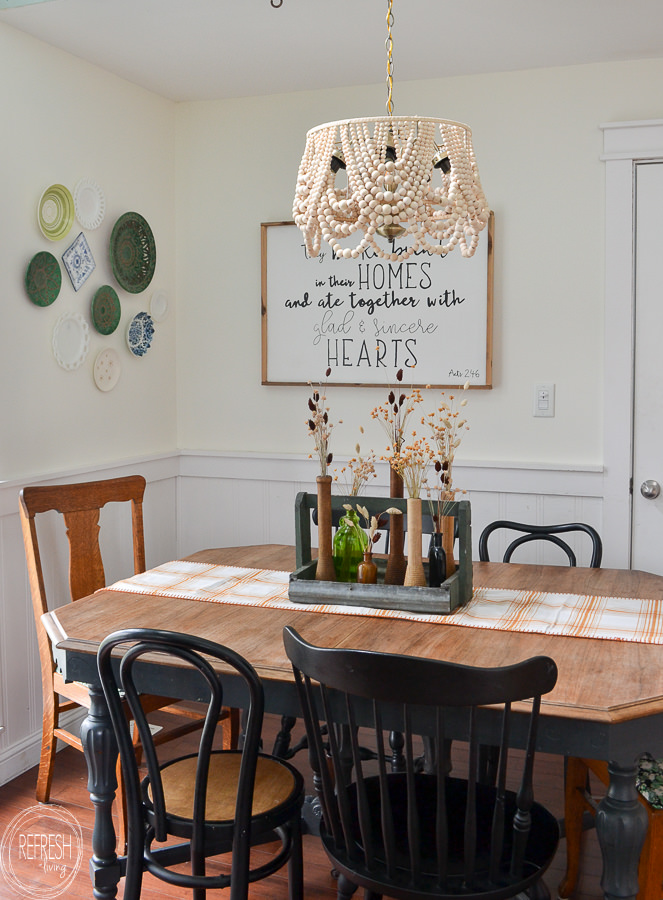 Functional DIY Projects
Because this back stairwell leads out the back door, it's sort of a collection zone for keys, mail, and coupons. I made these oak and leather wall pockets to store all of this stuff up and off the window sill.
My husband has been starting to get in the habit of using the kitchen outlets to charge some of the extra devices, so I took an old tool crate I found in the basement of an estate sale and turned it into a DIY charging station.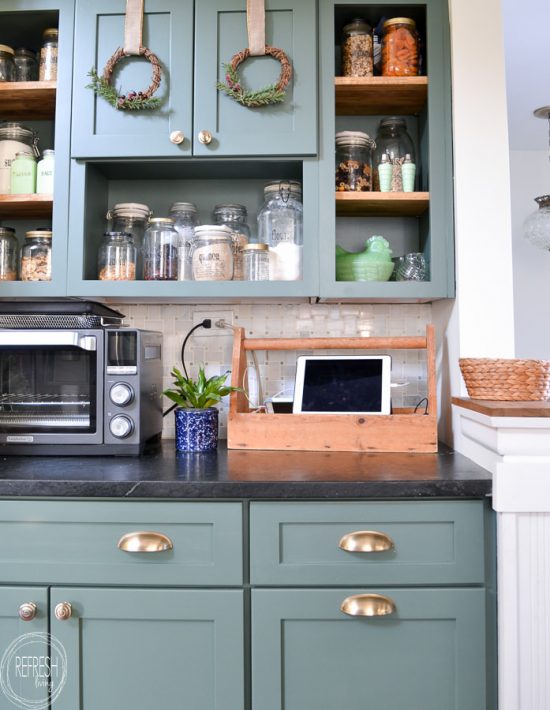 When we first updated our kitchen I made this knife rack from an old drafting table ruler. I love it, it works, and I wanted to keep it in the new space. I think it looks so much better against the green now! It's definitely one of my favorite pieces in the kitchen.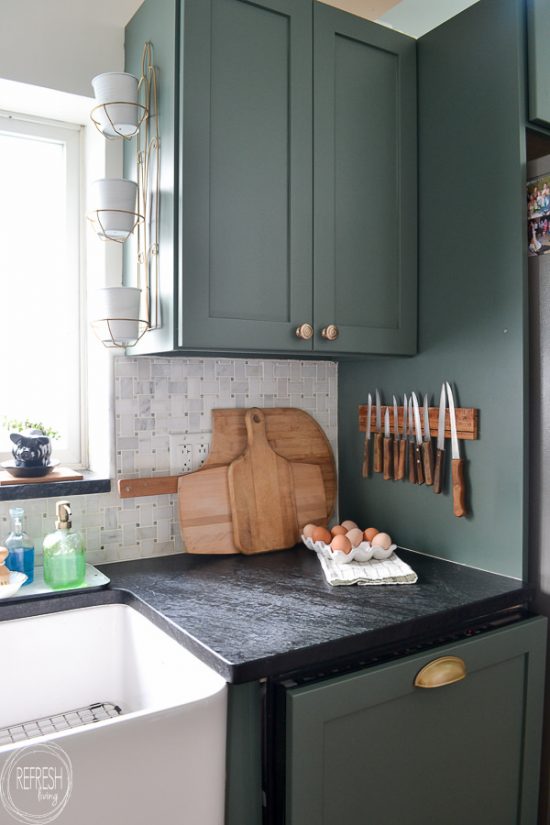 I also repainted our side of the fridge with a black chalkboard paint instead of the green that it was before. Our family calendar hangs at the top, and each kid has a drawn on clipboard with a magnetic clip for papers that need to completed or turned in to school. Here's the complete tutorial on how I created our side of the fridge command center.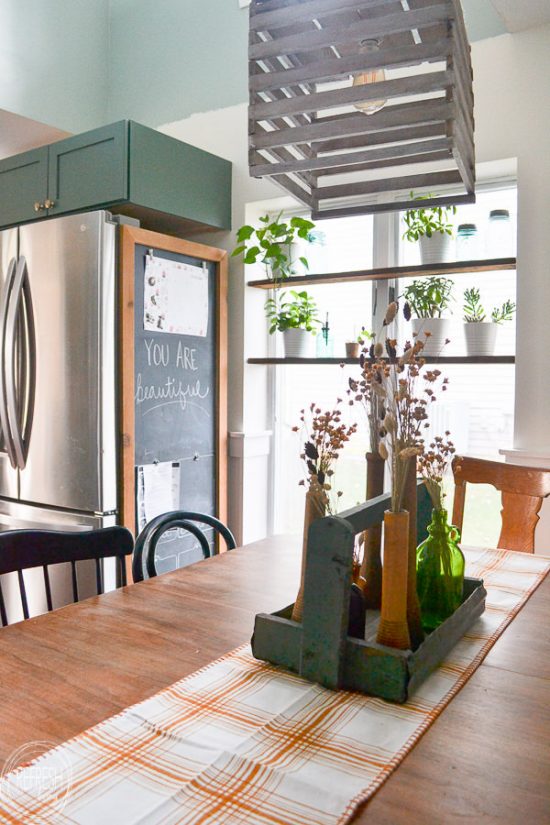 Besides these bigger projects, I also used my DIY magic to spray paint some vintage animal planters, create an acrylic frame, and convert a ceramic storage container into a countertop compost bin.
Vintage Goodness
None of the rooms in my home would be complete with unique find vintages that I've accumulated over the years.
I'm so glad I was finally able to display this old signage I found at an estate sale. I have a few more for eggs, lard, and pork, but bacon is just the best.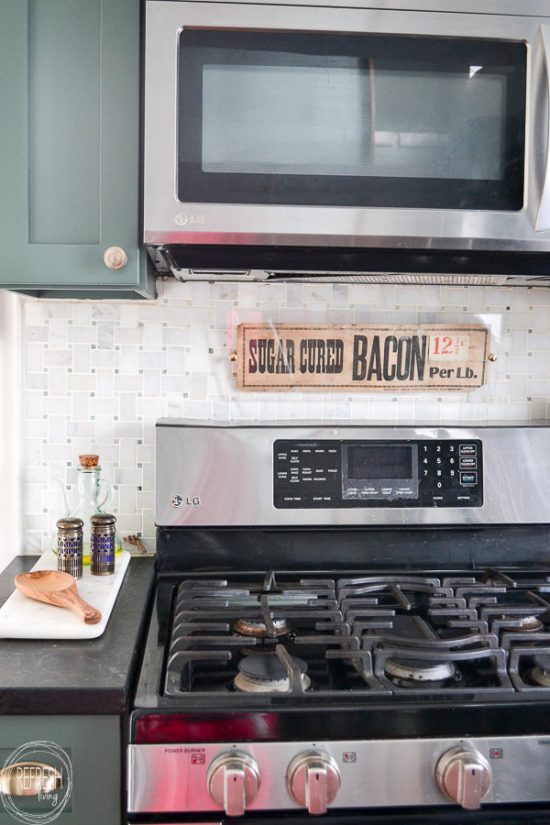 This brass utensil holder was a garage sale find of my grandpa's many years ago. He used it to store paintbrushes, so I'm glad to be able to continue to put it to good use.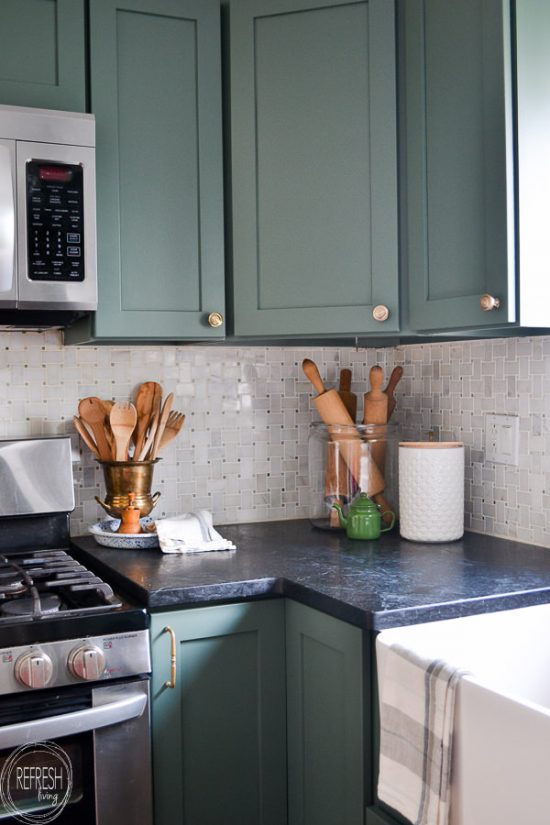 It was such a fun space to put together, and although everything I hoped to do isn't quite done, it's pretty darn close (and really darn close for me)! I still plan to finish building the pantry door, finish making our new chandelier, and tile our back stairway with these amazing green vintage tiles I found.
It feels so good to have this kitchen finally look like it belongs in my home!
To check out all the other room makeovers I've done (every single one of them on a major budget, of course), you can click on this link: Budget Friendly Room Makeovers.
Here are the tutorials for the other DIY projects you saw in my kitchen.

Join the Refresh Living DIY & Upcycling Community
Join the subscriber list to receive one to two emails per month with updates from the blog. PLUS, you'll gain access to my printables and graphics library. Every new design I create will be added here, and you'll have free access - forever!