This modern wreath made from a thrift store plate charger is the perfect base for an easy to make DIY spring wreath. (For all practical purposes, I'm calling this a wreath, even though in reality I suppose it would be just called a door decoration.  Wreath just has a better ring to it, don't you think?)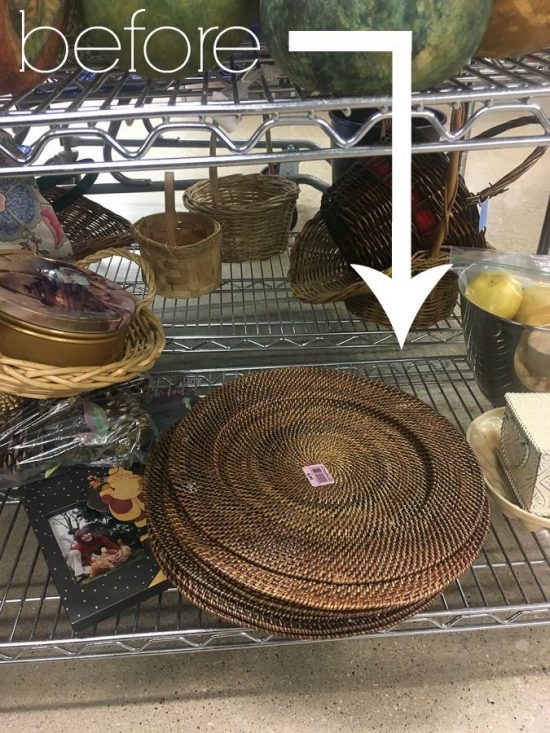 I found this stack of woven plate chargers at a thrift store a couple of weeks ago and, unlike most items I find while second-hand shopping, I knew exactly what I planned to do with one of them. It was the perfect size for a small scale door wreath. I've been trying to find creative ways to reuse old objects as bases for wreaths, but I still hadn't made one for spring, so my plate charger find proved to be the perfect opportunity to put one together.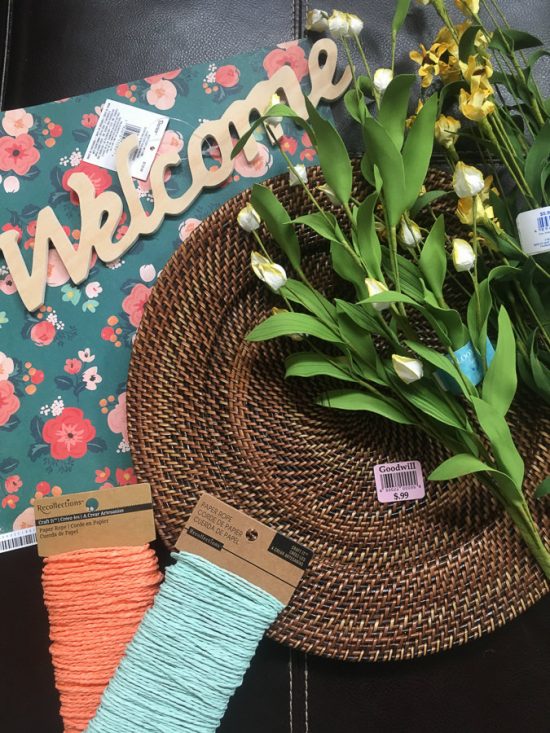 Supplies Needed to Make a DIY Spring Wreath
patterned scrapbook paper
wooden saying cut out
ModPodge
hot glue
twine
Steps to Make the Wreath
I used some yellow and white faux flowers I bought on clearance at the end of last season to decorate my wreath, but the possibilities are endless on the types of flowers and greenery you could use to design your own. I used floral tape to combine all the small stems, and then wrapped the place where they were joined with colored twine.  A little bit of hot glue on the back of the twine wrap holds all of the flowers in place.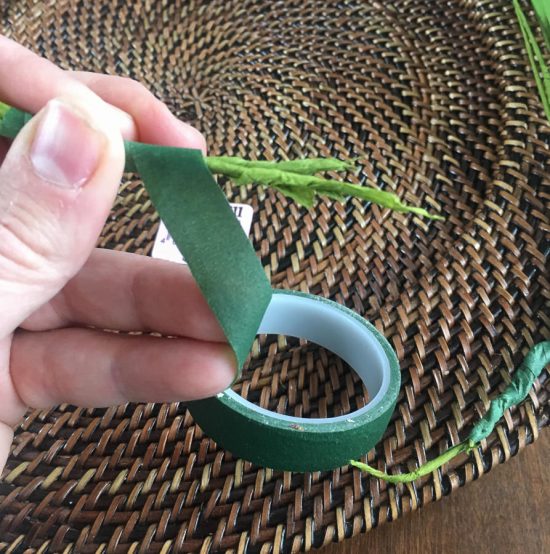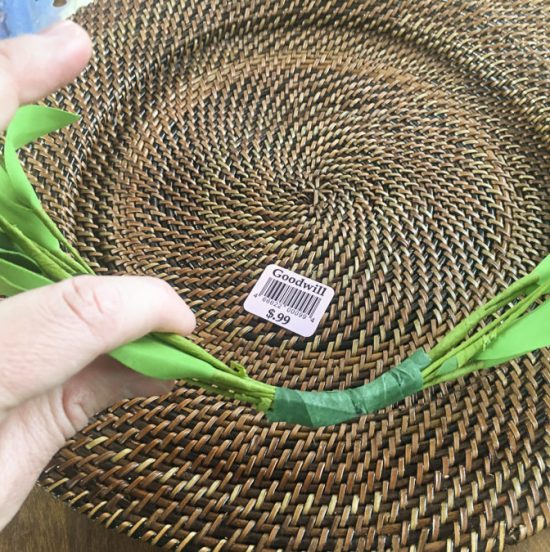 To make the little twine florets, I just spiraled them in a circle, adding a dab of hot glue around the outside edge as I continued wrapping to hold everything in place.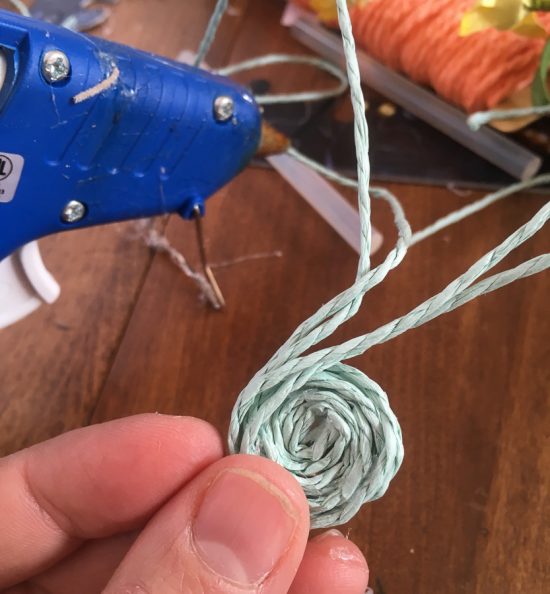 For the phrase, I just bought a wooden "welcome" cut out from Jo Ann fabrics for $2. I also saw metal sayings that would be the perfect size for a wreath as well. To update the wood cut out, I brushed ModPodge on the front of it and attached the patterned paper.  After letting it dry completely (an important step or your paper might rip), I used an Exacto knife to cut around the wooden cut out.  I found it to be easiest to lay the wood paper side down on a piece of thick cardboard or foam board, and to cut around the shape from the back.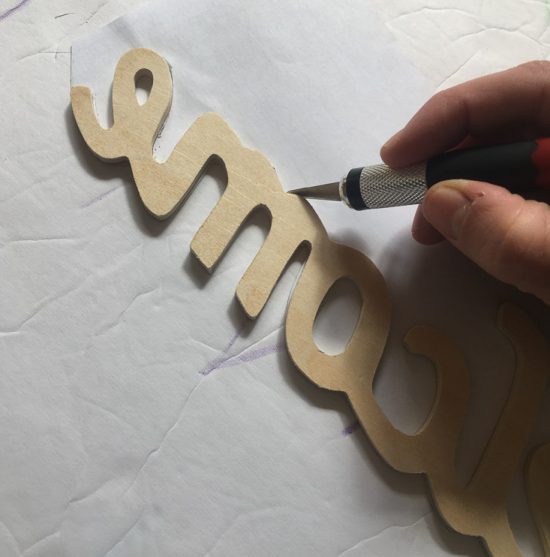 Some hot glue held the welcome piece in place, as well as a piece of twine that I knotted on both ends at the top for the hanger.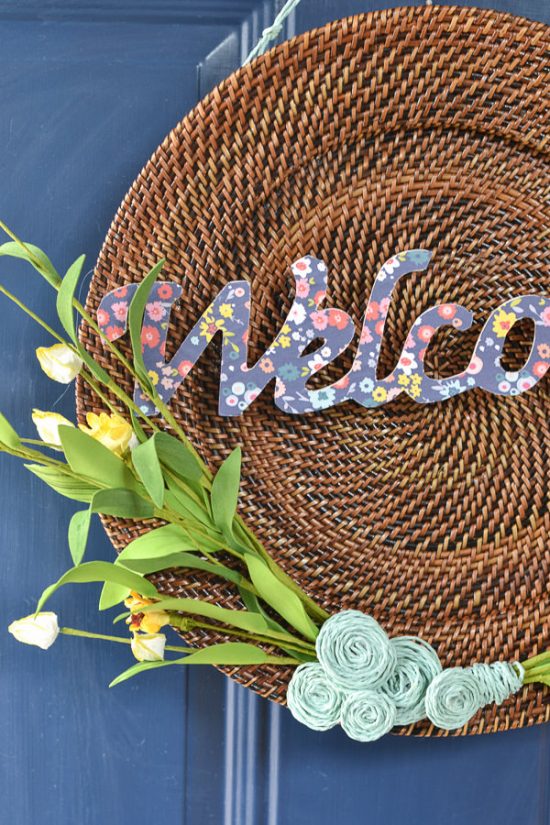 The entire DIY spring wreath took me less than 20 minutes (excluding the drying time of the glue).  It was an easy and inexpensive project that adds a touch of spring cheer to my front door!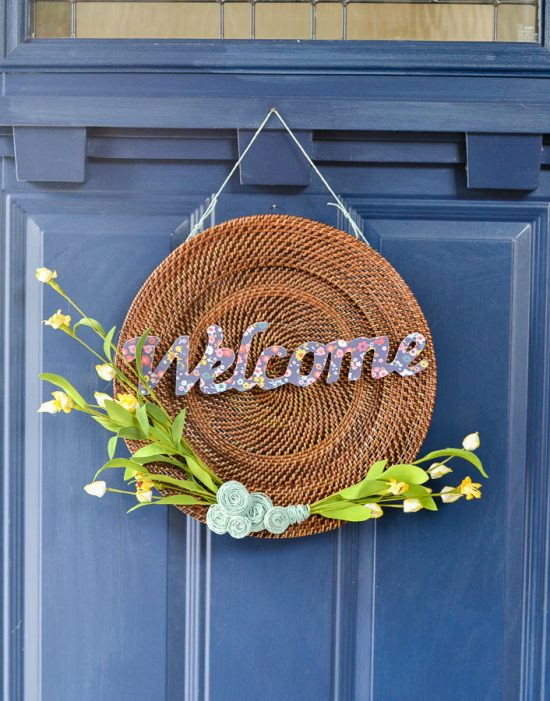 Let's be honest. This isn't just a spring wreath – it's a spring AND summer wreath, because I know I'm probably going to get lazy and leave it up well past the summer months.  It works though, right?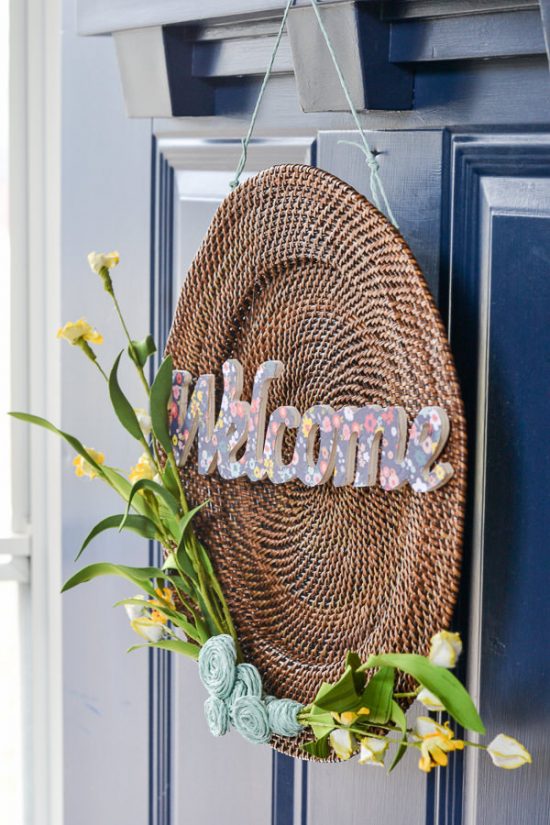 Like it? Pin it. (Thank you!)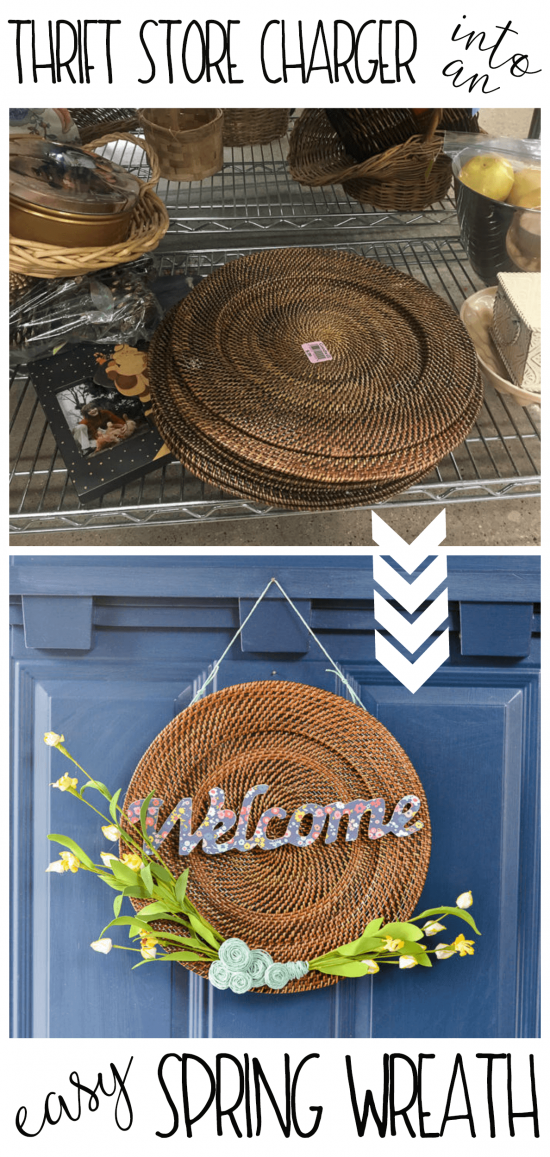 A few other upcycled spring decorations you might enjoy:
Like what you see? I'd love for you to follow along!

Join the Refresh Living DIY & Upcycling Community
Join the subscriber list to receive one to two emails per month with updates from the blog. PLUS, you'll gain access to my printables and graphics library. Every new design I create will be added here, and you'll have free access - forever!