This easy upcycled project will help bring pollinators to your backyard by providing mason bees with a place to lay their eggs.  This DIY bee hotel is made from paper straws and old glasses from the thrift store.
Last spring, I took my girls to a class about mason bees at our local forest preserve. I'll be honest with you, I didn't know much about mason bees beyond the fact that they help pollinate flowers, plants, and fruit trees. We've spent the last six years slowly clearing out the back part of our yard and planting native plants, apple and pear trees, and berry bushes, so I knew I needed to become a least a little more knowledgeable about the creatures I'm going to rely on to keep these plants producing and flowering.
First, let's learn about mason bees!
Here's a few pieces of information I learned about mason bees. I am certainly not an expert, but I do know a whole lot more than I did a year ago!
What are mason bees?
small, docile bees that rarely sting
extremely efficient pollinators, even more so than honeybees
solitary bees
live for a short time, only about 6-8 weeks
lay their eggs in holes (they do not make the holes themselves, they just find them and use them)
lay female eggs in the back half of the nest and male eggs in the front (isn't that fascinating!?)
Information about Mason Bee Nests
I don't know about you, but I've seen mason bee motels popping up everywhere I look the last couple of years.  I love that people are trying to do more to bring these important pollinators into our yards and communities, but there is really not a lot of information on these products about the correct way to use these fancy (and expensive) little structures.
For example, it's actually recommended that the tubes that are in these nests should be replaced every year or two. This provides a clean place for each year's mason bees to nest. In those bee hotels, the wooden tubes should be replaced, or lined with paper straws that can be replaced, every year (or every other year).
I've seen many great tutorials on using a cedar post to make a mason bee nest simply by drilling holes in the wood. I plan to create a couple of these nests as well, and then I will roll paper tubes and place them inside the holes, so then I can reuse the wood structure every year, and simply replace the paper liners after the bees emerge.
Basic Requirements to Build and Hang a Mason Bee Hotel
optimal hole diameter is 5/16″
optimal hole depth is 6″
hang the nest in a south or southeast facing direction
hang under an awning, or create a roof over nest to shelter from the elements
hang at least 3 feet off of the ground to minimize water splashing up from the ground
be sure there is easily accessible dirt nearby (the bees will use this to seal off each egg)
hang the nest after the last frost in the early spring
at the end of the summer, bring the entire nest into a garage or basement (the eggs will remain dormant over the winter)
at the start of spring, hang the nest back outside and the bees will emerge
after the bees emerge, replace the paper straws with new ones to prevent disease and mold
With all of that background information about mason bees and their homes, let me show you how I used all of this information to create a upcycled version.
If you prefer to watch rather than read, here's a quick video tutorial.  (You can follow along with my YouTube channel here. Thanks!)
How to Make a Mason Bee Nest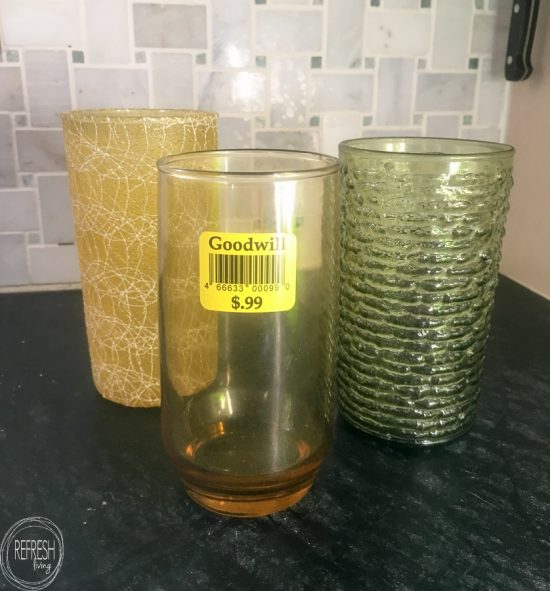 I started with some tall glass cups from the thrift store. The recommended length of holes for mason bees is 6 inches, so taller cups are better, because you'll also want the straws to sit in the glass a bit so they are protected.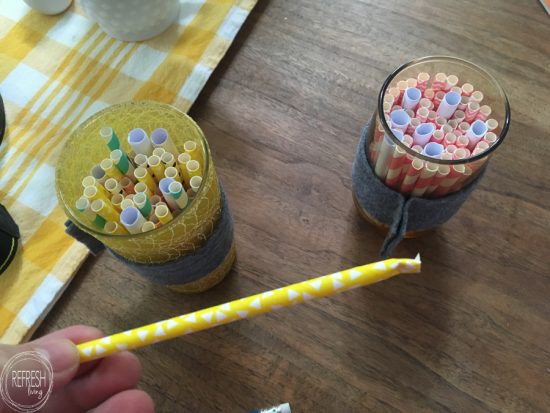 Mason bees like to lay their eggs in holes that are 5/16″ in diameter.  One option is to use paper straws. They are slightly under this diameter, but still within the optimal size range for nesting.  It's important to fold the end of each straw because mason bees will travel to the end of a closed hole to lay their first egg.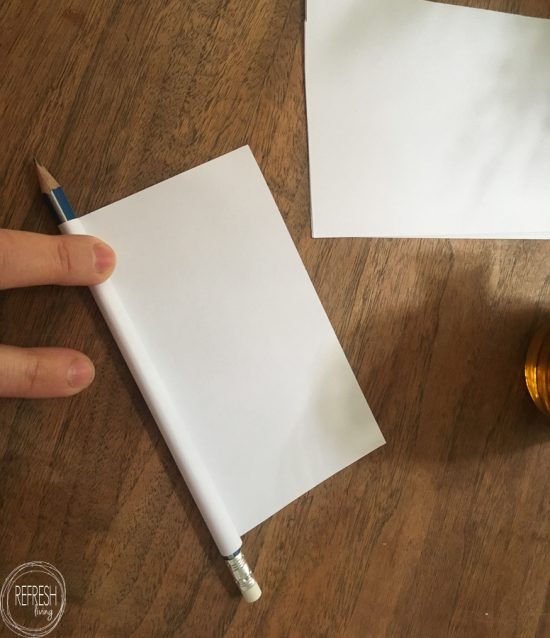 Another option is to make your own paper straws by rolling paper, parchment paper, or wax paper around a pencil to create a tube.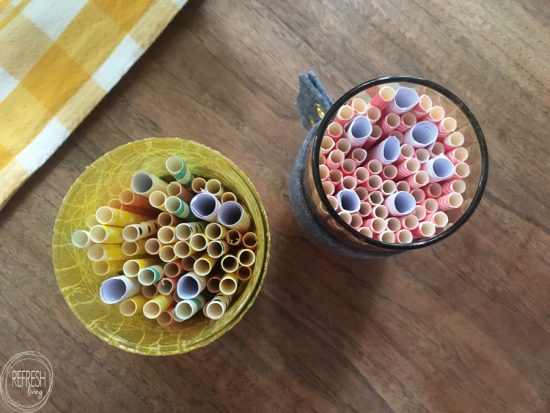 I used both paper straws and homemade straws to fill my glasses.  Mason bees remember where they lay their eggs, so the difference in tube diameter will help the mason bee's visual memory to find their correct nest.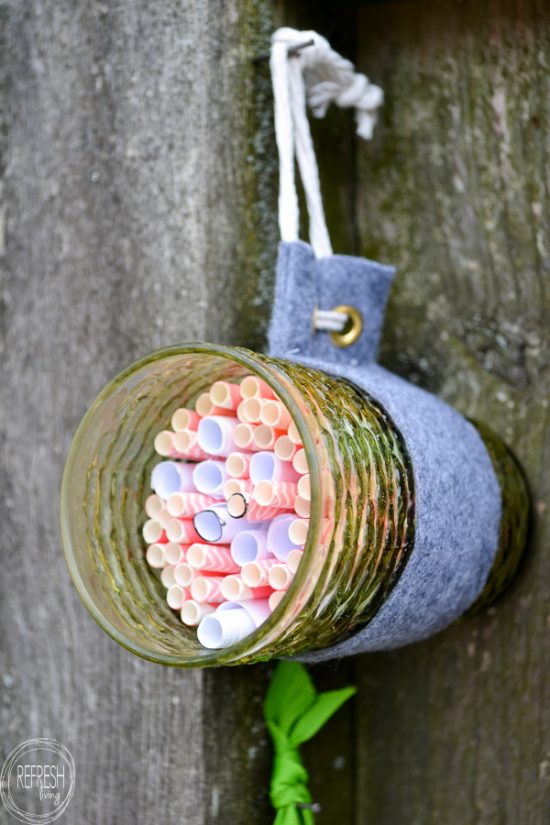 I used a grommet kit to make the hanging piece out of felt. Simply follow the directions on the packet (or watch the video) to see how easy it is to add grommets to a piece of fabric.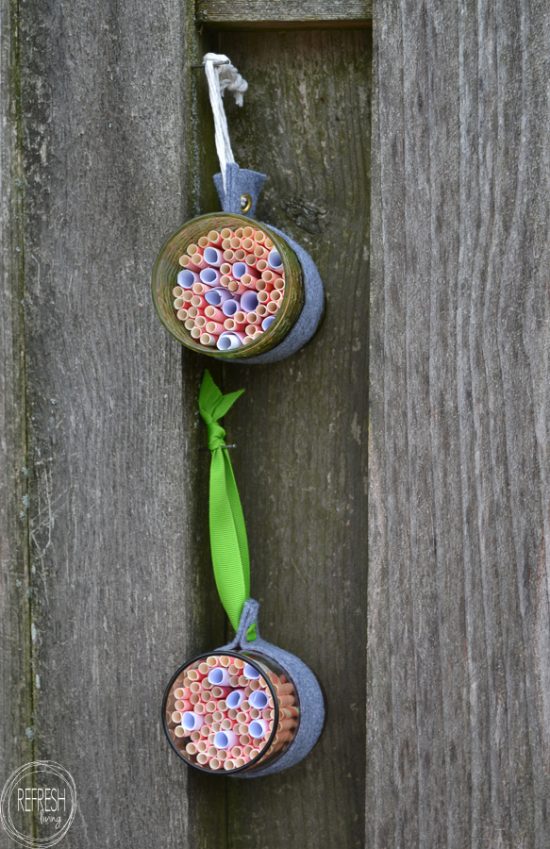 You'll want to hang your mason bee nest in a south or southeast facing location, at least 3 feet above the ground. If you are able to place it under a overhang, that is the best, but because the straws sit within the cup, they will still be shielded from rain.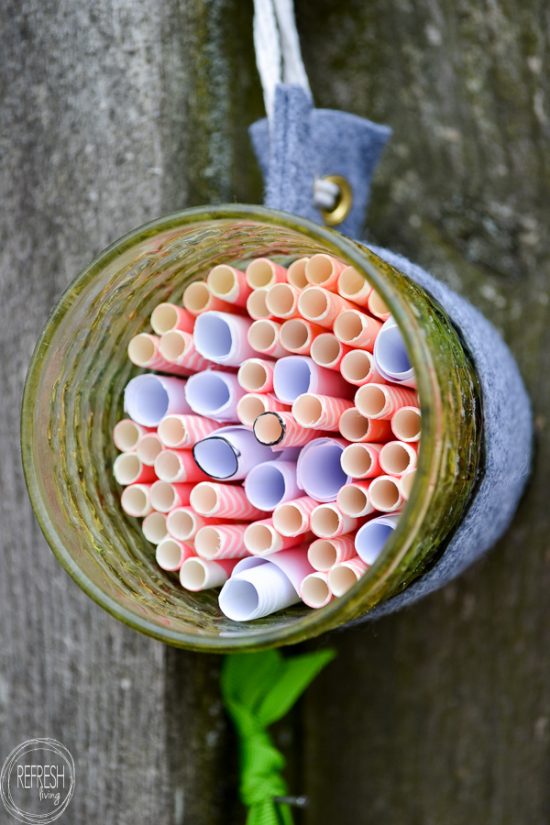 A mason bee will continue to lay eggs throughout the tube, and seal up the end with a bit of mud. I'm hopeful some mason bees find my nests this year. I'll be sure to update this post with an update later this summer!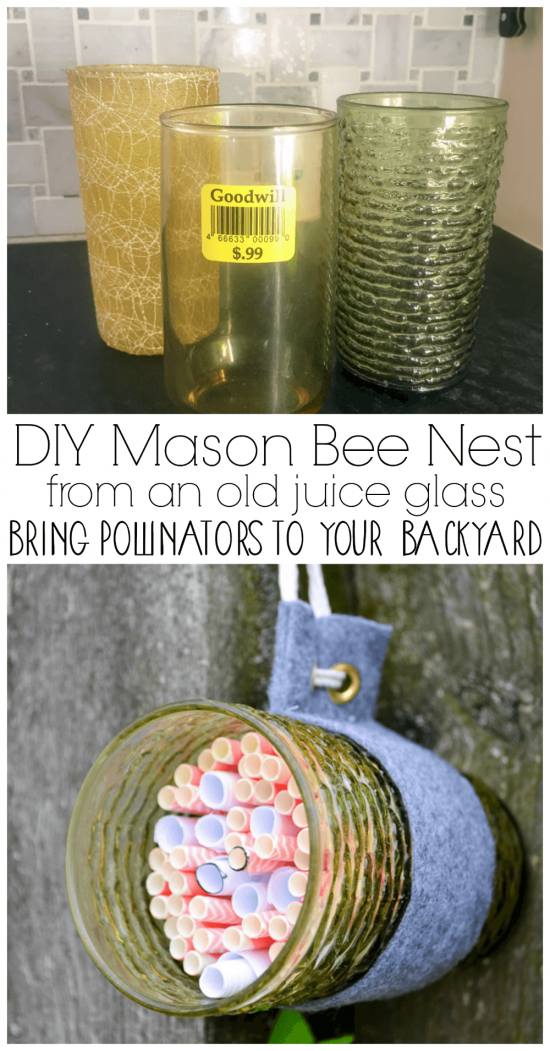 A few other outdoor upcycled projects:
Like what you see? I'd love for you to follow along!

Join the Refresh Living DIY & Upcycling Community
Join the subscriber list to receive one to two emails per month with updates from the blog. PLUS, you'll gain access to my printables and graphics library. Every new design I create will be added here, and you'll have free access - forever!