Transform an old, ugly piece of canvas art from the thrift store, or a cheap new canvas from the craft store, into large scale modern art with this easy DIY tutorial using drywall mud and fun textures.
I'm always looking for inexpensive ways to change up the look of a room. Adding artwork can oftentimes give a room a completely new look and feel, but it's generally not always the most budget-friendly option. Thrift stores are great places to find cheap wall decor, but I find them to be hit or miss when looking for a particular type of piece.
Of course, there's also the option of painting your own piece, which all of you artistic people would have no problem doing and creating a masterpiece. Me, on the other hand, would probably whip up something that looks like it was painted by a 5-year-old, so I know my options are far more limited when it comes to DIY wall art.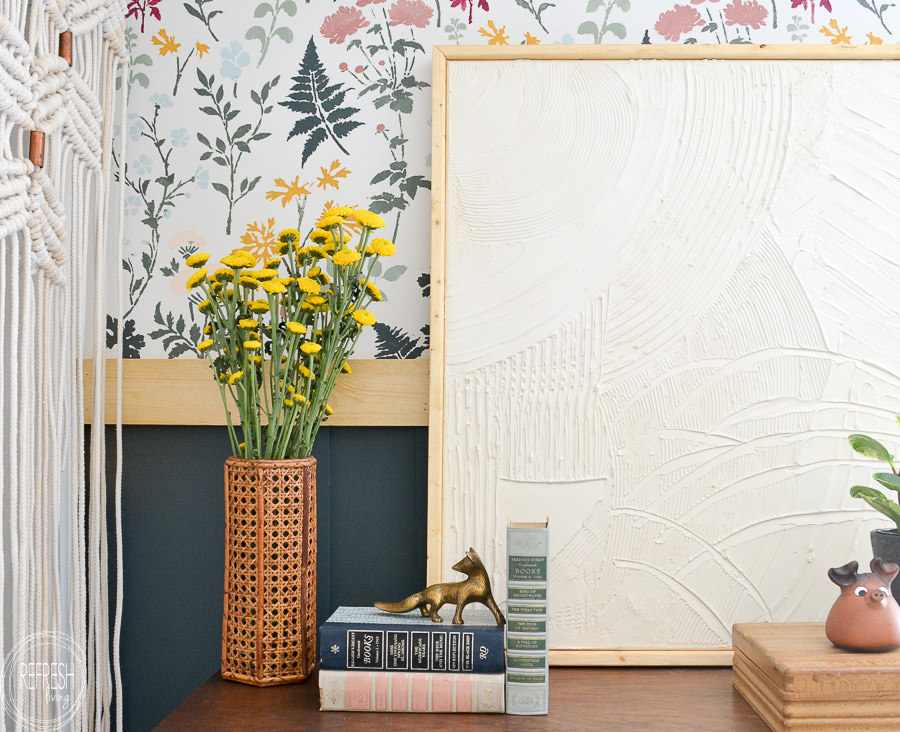 This DIY canvas artwork, however, is totally something even an artistically-challenge person (like muah) can do! Plus, it's super fun, and a little messy, and really hard to mess up!
Supplies Needed for your DIY Modern Canvas Art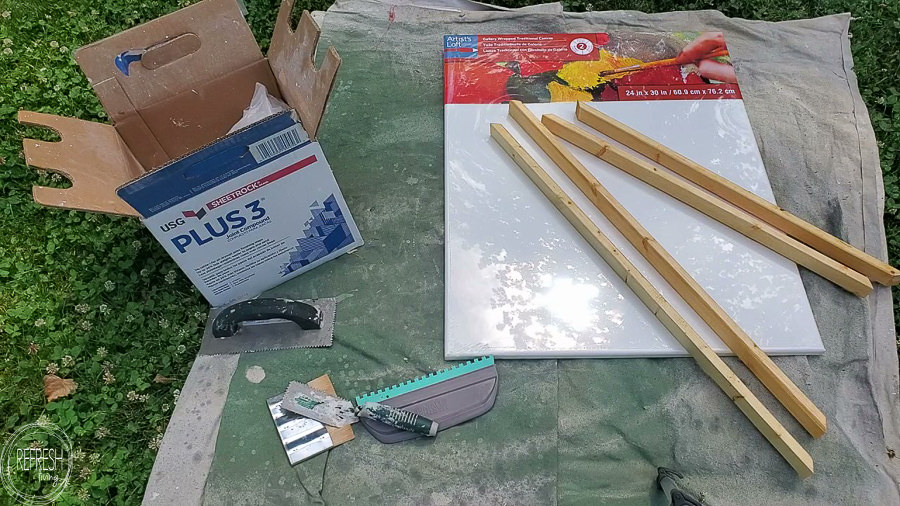 Gallery-Wrapped Canvas (you can buy new, blank canvas in many sizes, or find a piece of canvas art at the thrift store that matches the size of art you'd like to make)
Joint Compound (I've always called it drywall mud or spackle, but I guess it's technically called joint compound)
Trowels (or anything to create different textures – I used two trowels, paintbrush, and my hands)
Spray Paint
1″ x 2″ wood (if you want to make an easy DIY frame for canvas)
How to Make DIY Textured Canvas Art
I made a video tutorial of this process in the hopes of showing you how I spread and texturized the drywall mud. Feel free to watch the You Tube video below (and I'd love if you subscribed to my channel as well!), or scroll down to read the tutorial with images.
To start, you'll need to find a piece of canvas that matches the size of artwork you'd like to create. Preferably, I would have bought mine from a thrift store, but none of the canvas art pieces they had were close to the size that I needed. If you find a second hand piece, you shouldn't need to do anything to it to prep it. You'll just put the joint compound over the top of the old art and it will be spray painted later so any "art" remaining will be painted over in the end.
Michaels sells inexpensive canvas as well. I found mine on sale for 70% off, which is a promo I know they run a couple of times throughout the year. I purchase a "level 2 canvas", which refers to the thickness of the canvas and strength of the stretcher frame, but they also have a lower level and a higher level. I found level 2 to work well for the 24″ x 36″ size that I purchased, but it you were doing a smaller piece, I think a level 1 canvas would work fine as well.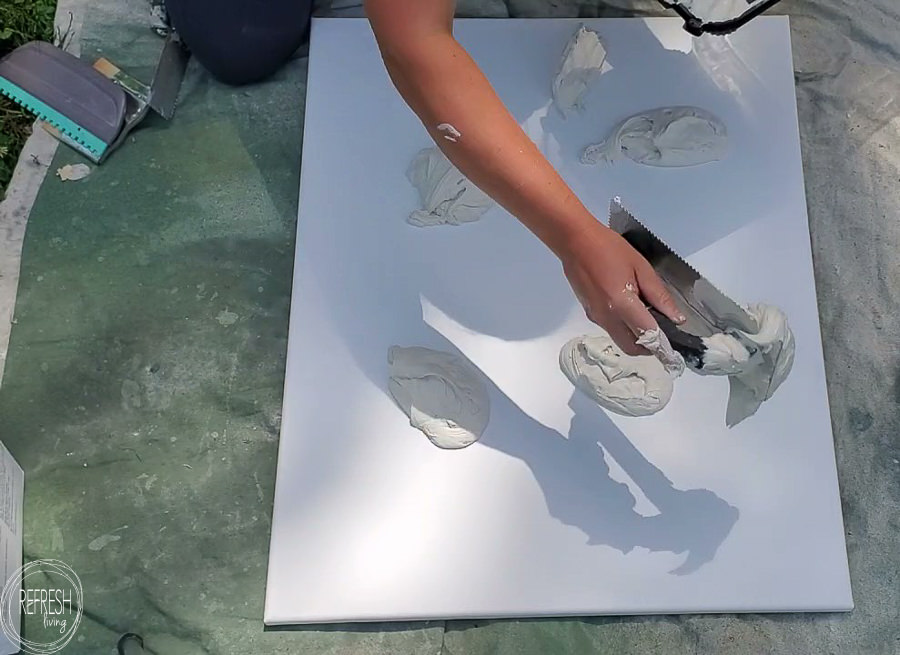 The next step is to throw on some wads of joint compound and start to spread it out as evenly as possible. No need to be perfect here – it ends up looking great to have slight variations in the thickness.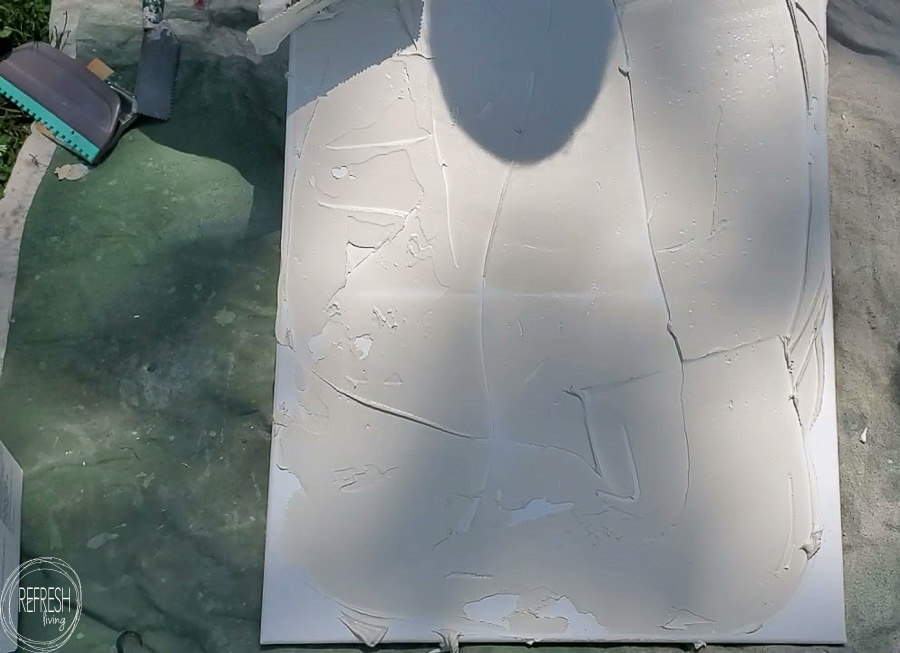 A note of caution when spreading out the joint compound. I found that I added too much compound to start, so as I was spreading, I just scooped some of the excess off. Also, be sure none of the areas have a super thick layer of joint compound. This lightweight type of drywall mud isn't made to be put on super thick on walls, and if it's too thick, it'll crack.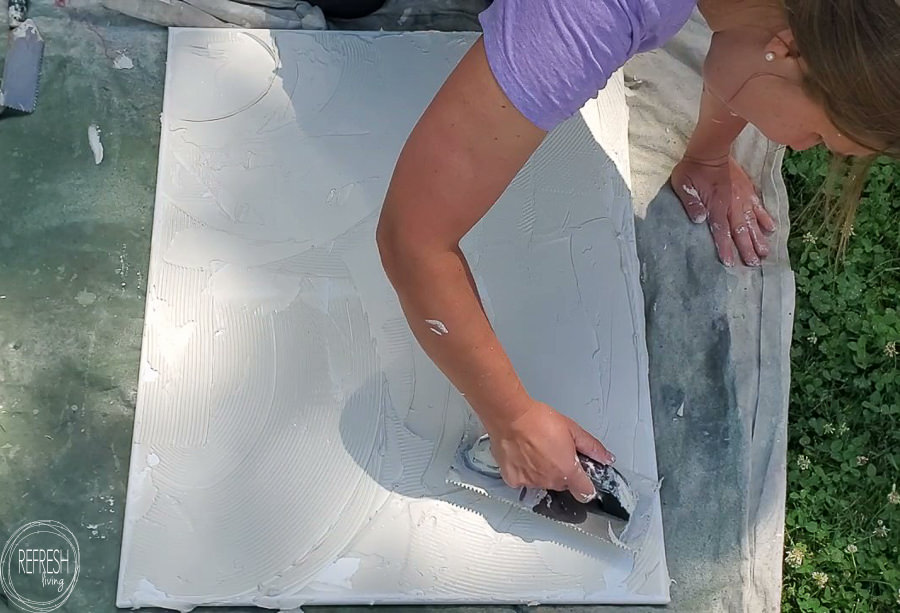 To add various textures, I used two different trowels with different widths of teeth, a paintbrush, and my hands. I found sweeping motions across the entire length I was trying to create worked the best. And, if there was something I did that I ended up not liking, I just smoothed it out and started over.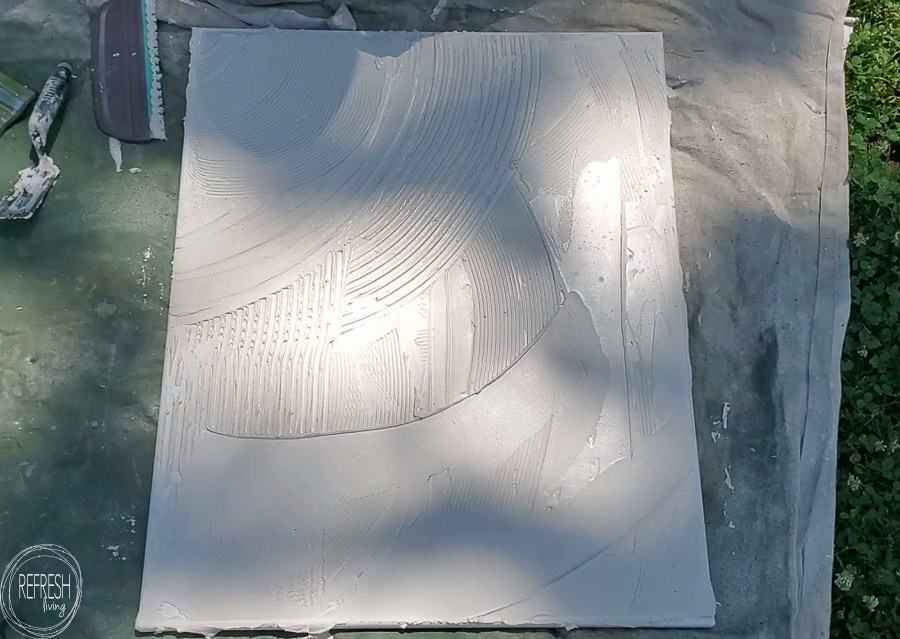 I honestly don't have a ton of advice for this part, as I found it to be definitely a trial and error process. I probably had about 10 minutes of work time with the drywall mud before it started to harden up a bit and became difficult to work with.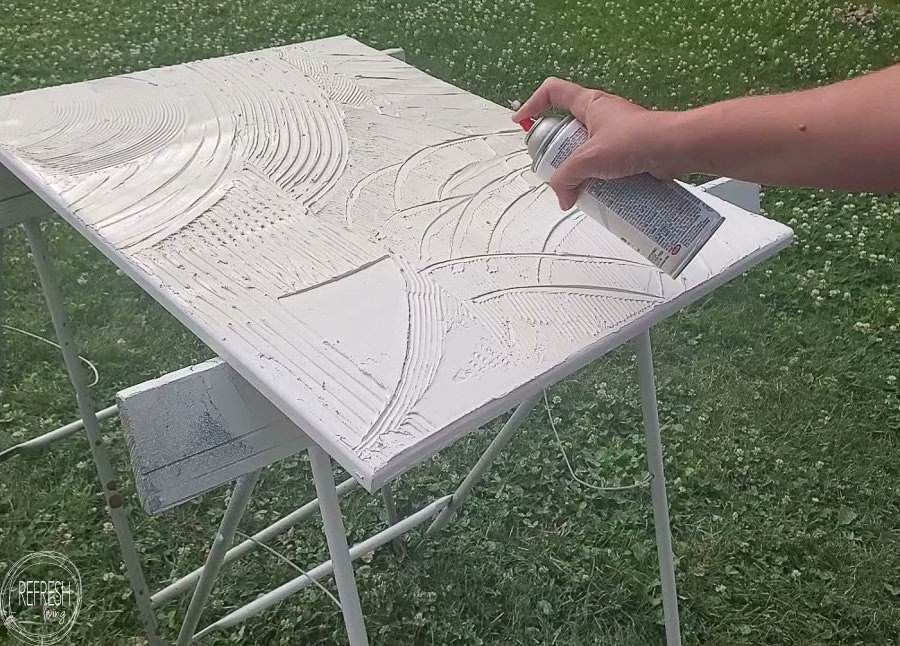 After the joint compound has dried completely, apply a coat of spray paint to the entire canvas, including the sides.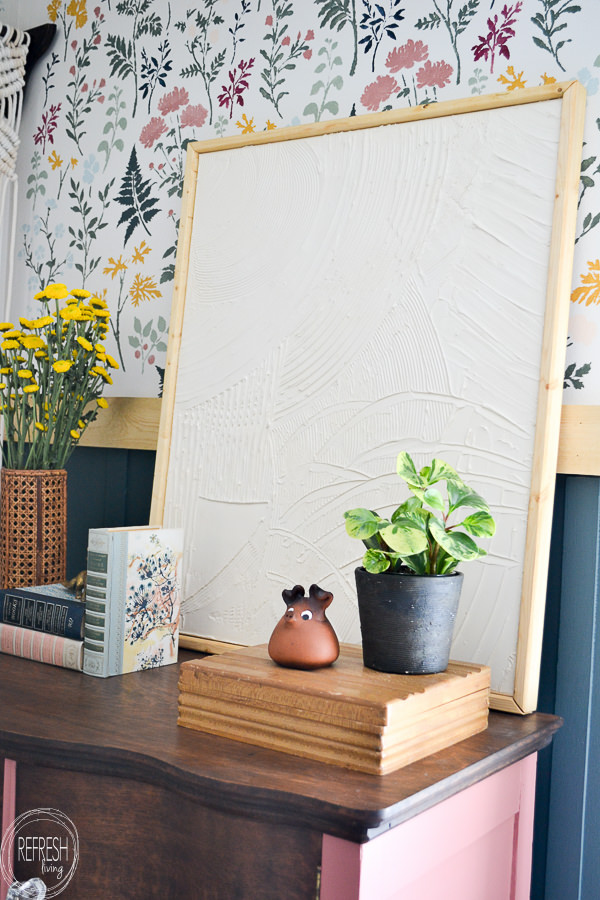 I have a quick video on how to make easy wood frames for canvas, which is a nice touch to finish off the canvas art. All in all, I only purchased the piece of canvas for about $13, and all of the other supplies I already had. I never could have purchased a piece of art that large for $13!!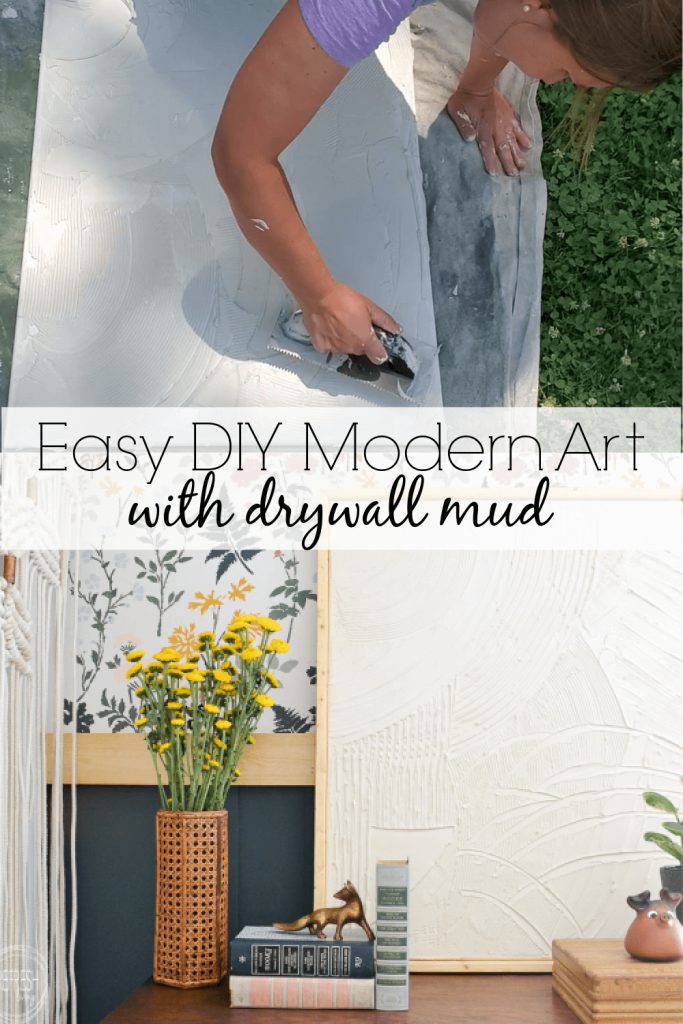 A few other DIY projects you might enjoy:
You can find all the other projects in this room here:

Join the Refresh Living DIY & Upcycling Community
Join the subscriber list to receive one to two emails per month with updates from the blog. PLUS, you'll gain access to my printables and graphics library. Every new design I create will be added here, and you'll have free access - forever!