A complete bedroom makeover for a young girl with a ton of DIY projects. Modern wainscotting with plywood, a DIY loft bed, refinished vintage furniture, and a multi-colored floral wall stencil to look just like wallpaper all give the room a vintage modern feel with budget friendly projects.
My girls have been sharing this room for over 6 years, first the older two shared this room, and then the third moved in about a year ago once our fourth girl was born. Needless to say, the room is not very big, and things were feeling very, very cozy. Especially the closet and dresser – they were literally overflowing with 3 sets of clothes.
This post contains affiliate links. Please read my full disclosure policy here.
Here's how the room has looked over the past 8 years: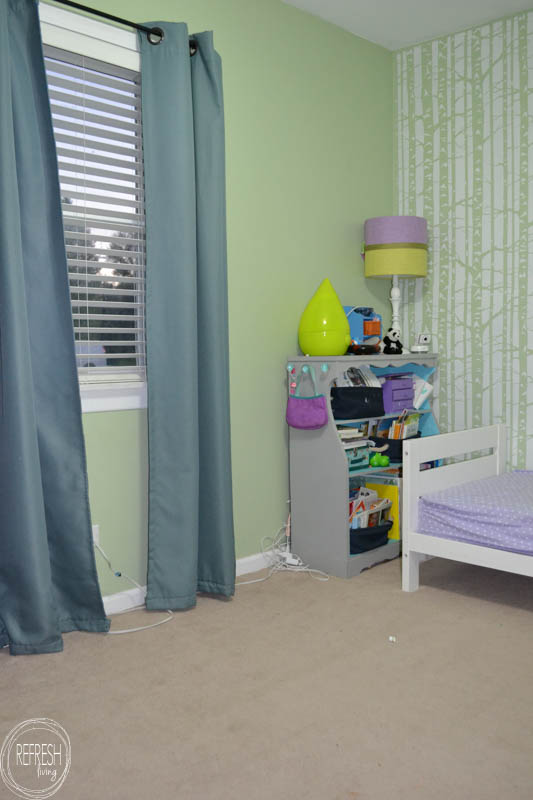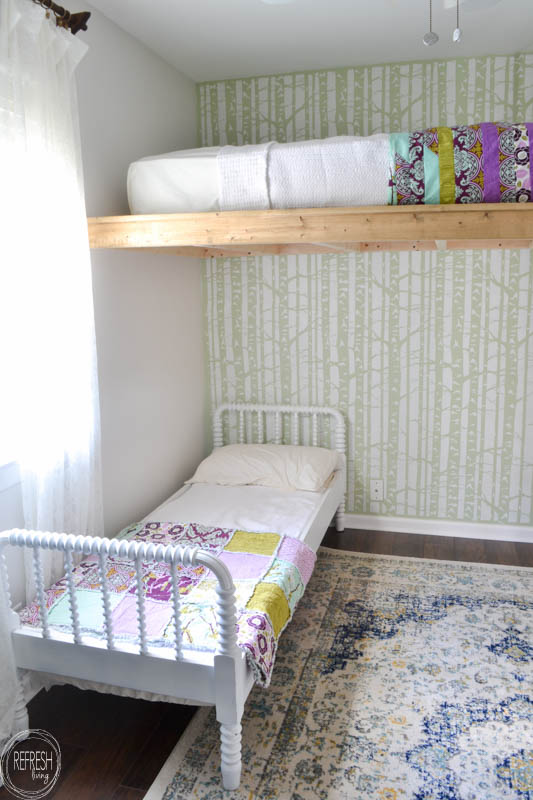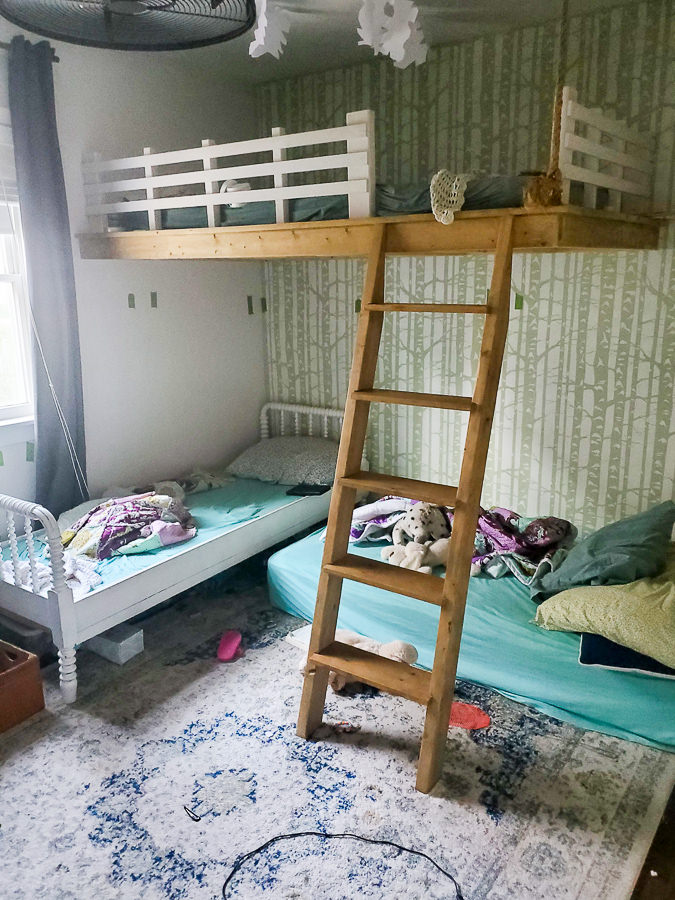 To help give us a little wiggle room, we recently converted our attic into a bedroom. The middle two girls wanted to move up to that room together, and my oldest was very excited about getting a room to herself. So, although I didn't do any major changes, I was able to give the room a completely new look with a ton of budget friendly DIY projects.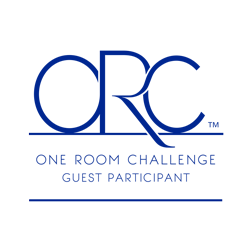 As part of the One Room Challenge, I set out to transform this room into a bedroom for a young girl. This year, due to Covid-19, it was an 8 week (as opposed to 6) challenge where 100s of bloggers, designers, and DIYers tackle a room makeover in their homes. At the bottom of the post, you'll see a link to visit the amazing transformations of the other participants. But, without any further delay…
Here's how the room looks now!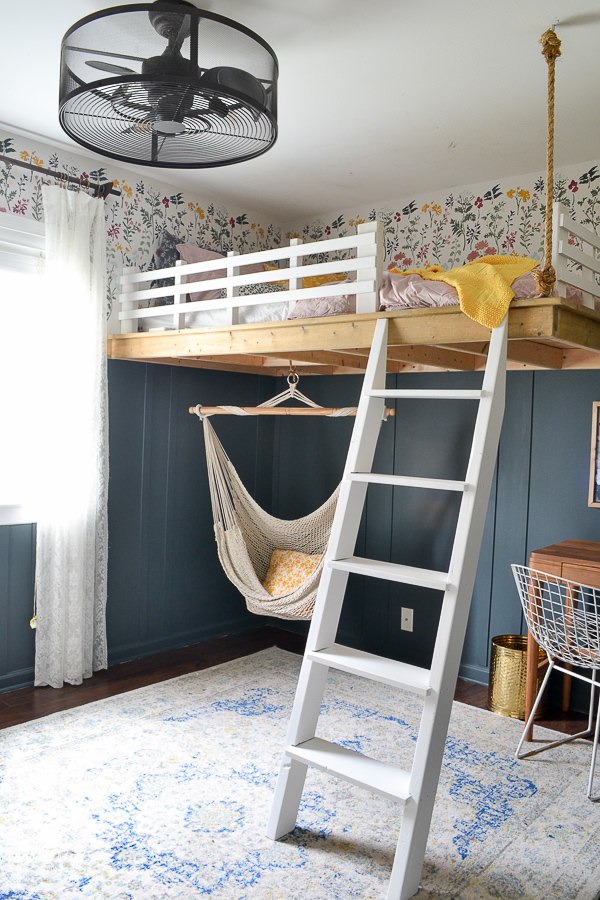 As you can see, the lofted bed is still here. (Here's the tutorial on how to build a loft bed.) I had no intentions of getting rid of it, as it helped to free up so much floor space in this small room. But, I finally finished the ladder and installed a ceiling fan that is actually safe for a lofted bunk bed. (Here's a full post on the best ceiling fans for rooms with bunk beds.) For at least 2 years we just had to turn the ceiling fan off at night so the girls didn't lose a limb climbing up to the loft, so it feels so good to have that project checked off the list.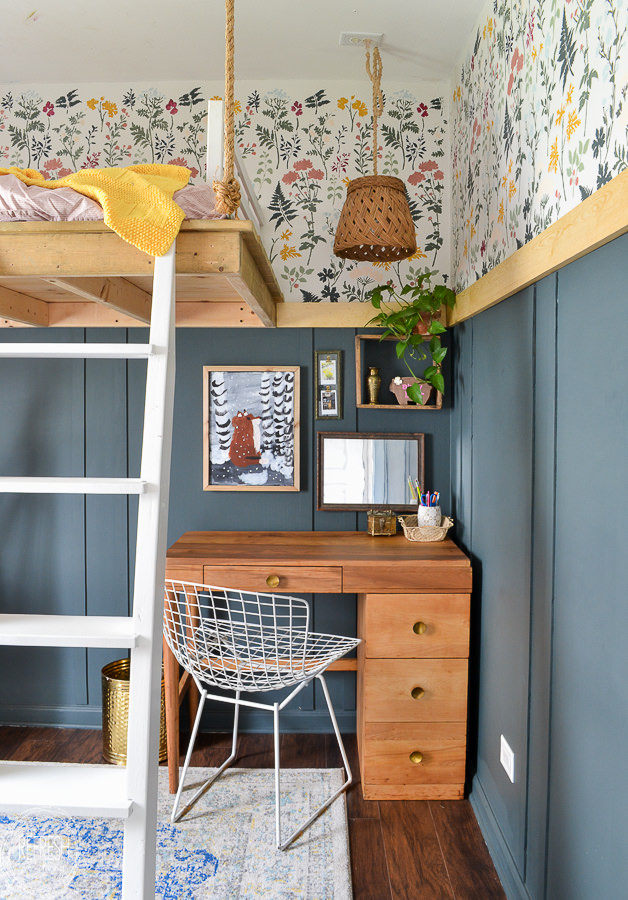 Now that there's not one (or two!) extra beds in the room taking up floor space, there is finally room for a little desk. I found this simple vintage desk on Facebook Marketplace, stripped it down to the natural wood, and sealed it with clear coat acrylic. That chair was an estate sale find that I went to for the sole purpose of (hopefully) taking home one of the three chairs that the pictures showed. I waited for the last day of the sale (1/2 off day!) because I didn't want to pay the original $40 they were asking per chair. Thankfully, there was still one left when I went on the morning of the last day!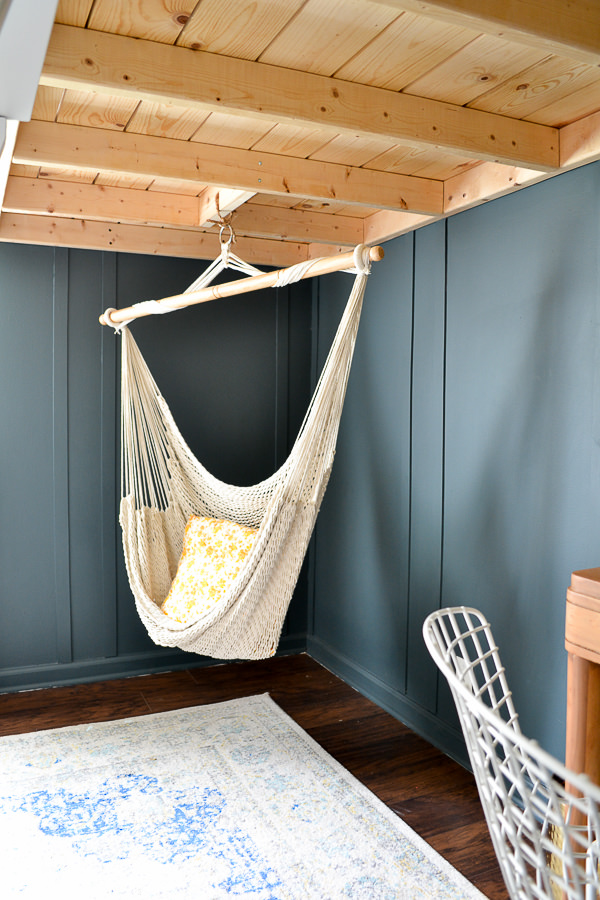 All of my girls are in love with this hammock chair, and thankfully they've all agreed that anyone can use this chair as long as they are reading (or looking at pictures, since the 3rd is only 3). It's actually even bigger than I thought it would be, so I had to twist the rope on the top bar to shorten it up so it didn't hit the floor. The girls can sit in it, or there's enough fabric to extend their legs and lay in it too!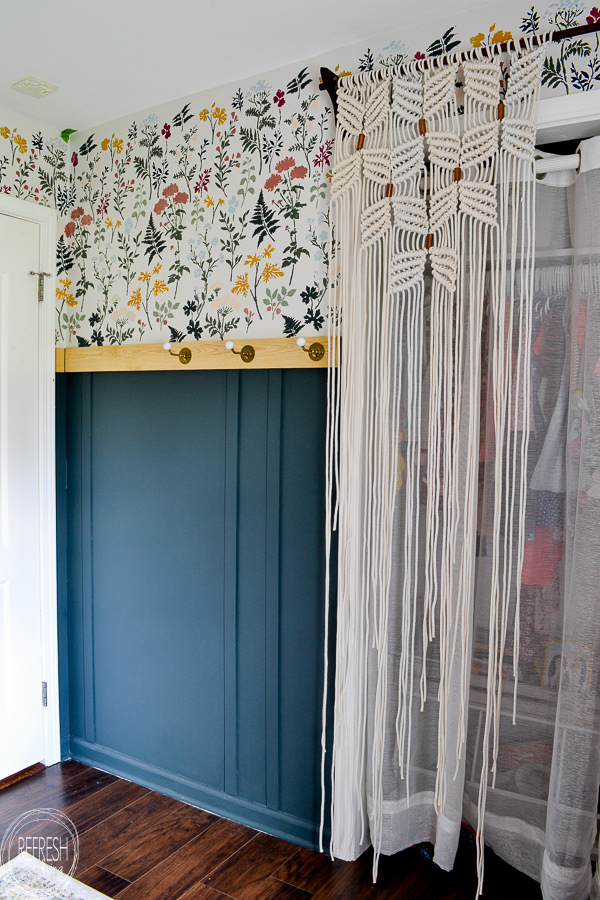 I made this macrame curtain last time I updated their bedroom (at the same time I built the loft bed) and decided to keep it as well. I love how it distracts from seeing inside the closet since it doesn't have any doors, and I just wasn't willing to part with it considering how much time it took for me to 1. teach myself how to tie macrame knots and 2. actually make this curtain with said knots that I didn't know how to make. (If you asked me how I made this curtain today, I would tell you I have no idea. I should really try to reteach myself and write a post about it, though!)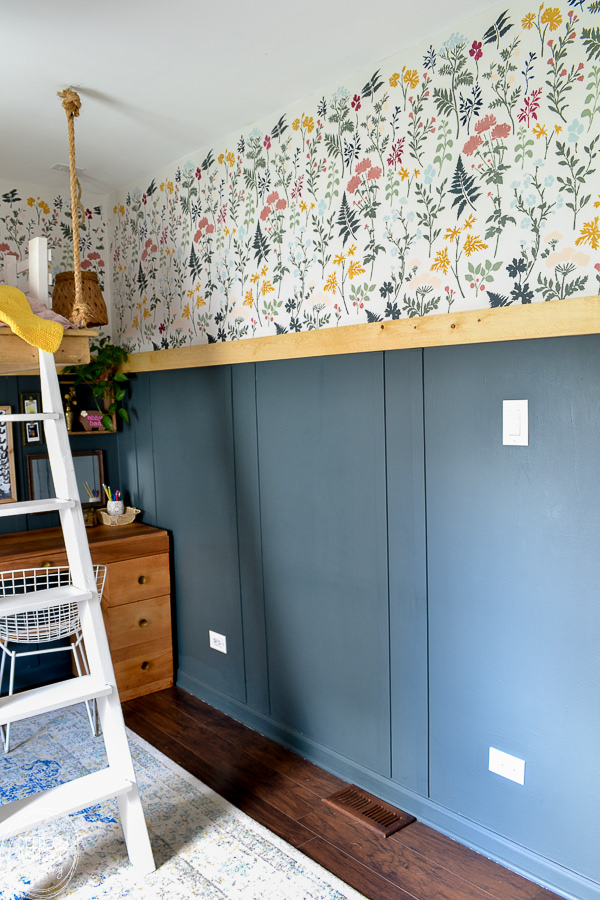 And, of course, the walls obviously look just a little different than before. This faux DIY wallpaper that's actually just a stencil ended up taking way longer than expected. The first few were fun, and then it just got a little monotonous so I would wait days between doing each one to muster up the motivation to tackle the next one. In the end, I'm so glad I did it, and my daughter loves it, so the time spent was well worth it.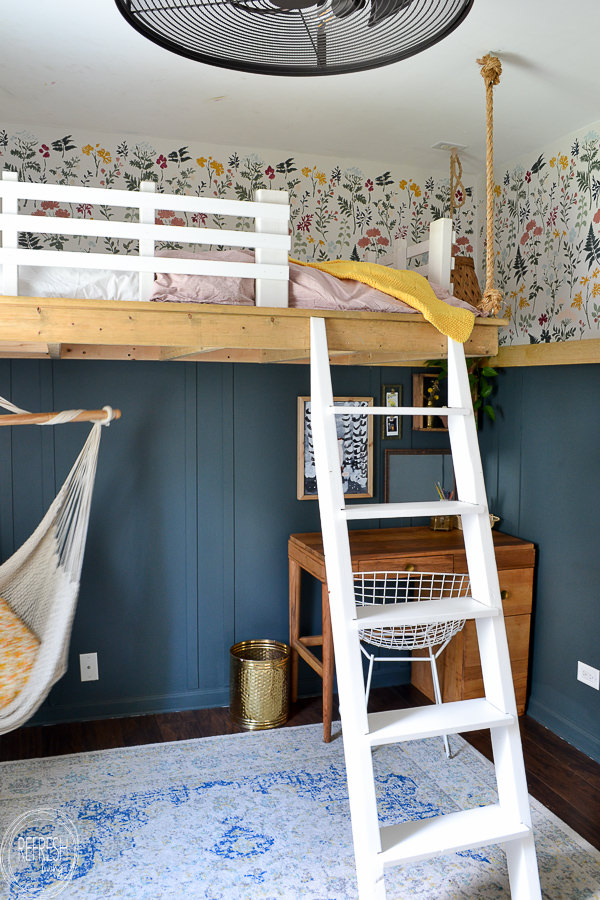 I wrote a whole post on how to stencil with clean lines and no bleedthrough, along with tricks for painting multiple colors on a stencil to give you the look of wallpaper. Stenciling this floral pattern saved me so much money. Wallpaper was looking to be around $350 for the amount I needed, while this stencil (Woodland Botanicals from Cutting Edge Stencils) and a couple of small bottles of acrylic paint (most of the paint I used was leftover paint I had in my stash) cost a total of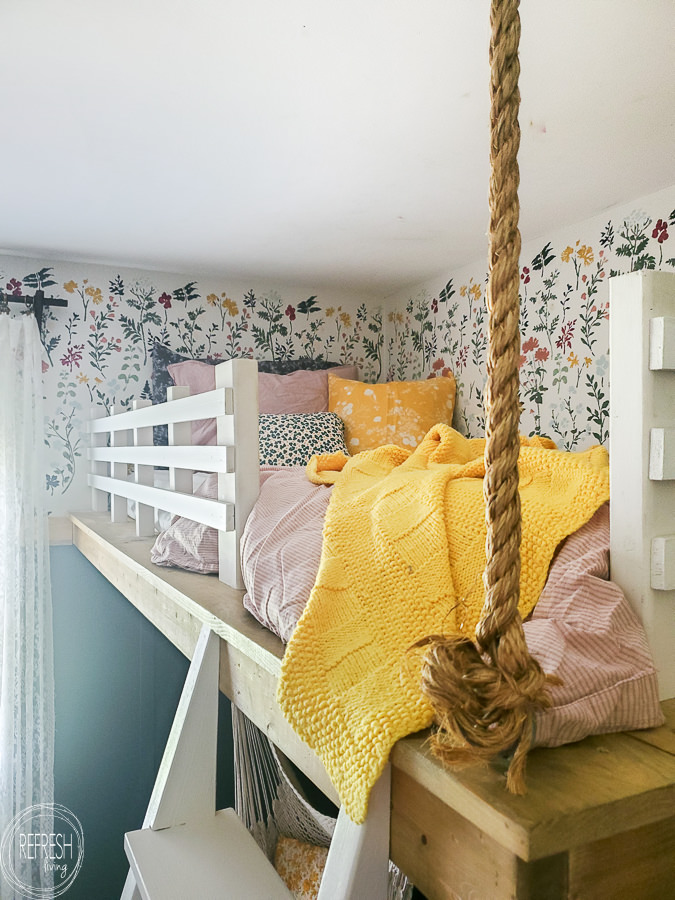 My daughter has requested a little bookshelf for up near her bed, which I still need to build. I plan to make these easy shelf book or picture frame ledges I made in the nursery a few years ago.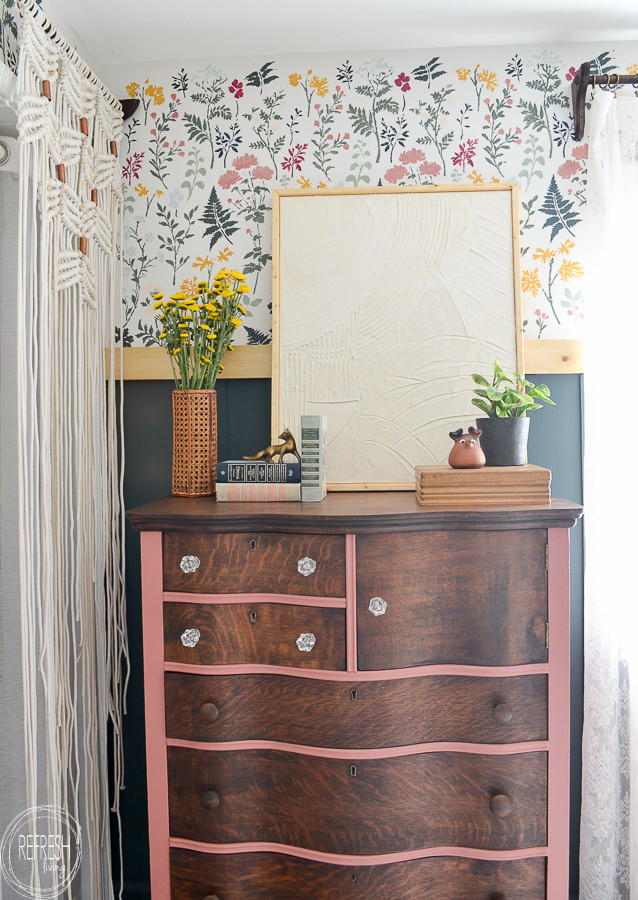 I still love this dresser I found at our local Restore about 10 years ago. Its veneer is still in great condition, and those serpentine drawers are just everything! Here's how I refinished this vintage dresser several years ago. This time, I just used a sample can of paint on the sides to give it a fresh new look.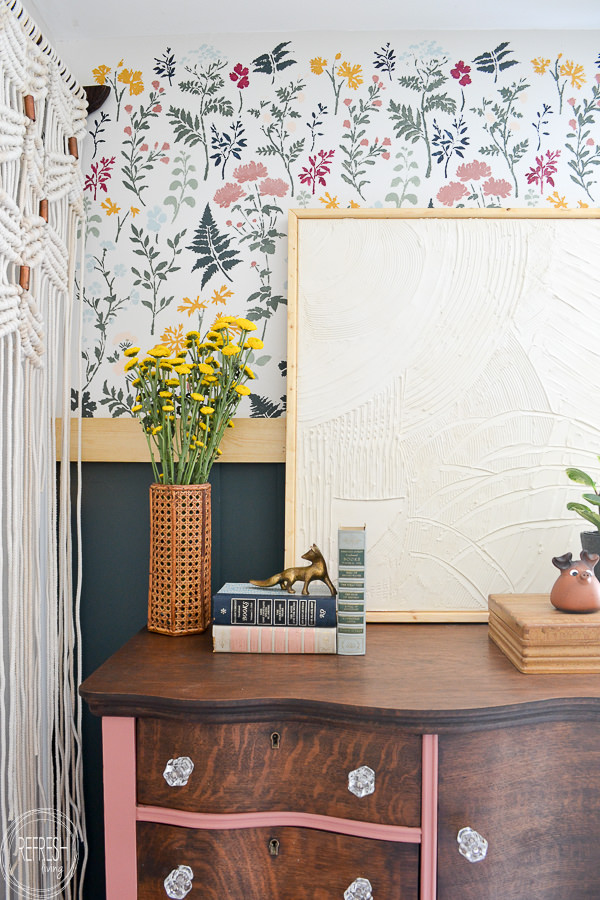 I wanted a large scale piece to put on the dresser, but with how busy the wall stencil is, I needed something that didn't have too much color. I made this very amatuer piece of art by slapping some leftover drywall mud on a piece of canvas, and used a couple of trowels to give it different textures. I'm not sure how I feel about it, but my daughter likes it, so I guess that's all that matters!
Budget Breakdown
Because I believe that making your home beautiful and a place you love can be done without spending a lot of money or buying everything new, I wanted to include how much I spent on the items in this room.
Wall stencil ($46) and paint – $50
Wall paint (Midnight in NY by Behr) for bottom of wainscot – $30
1/4″ plywood board to use for wainscot stiles – $18
4″ pine boards for top rail – $20
MCM desk from FB – $30
Hammock chair – $50
IKEA duvet cover and sheets – $30
Canvas for DIY wall art – $12
Leftover clear coat and stain for desk and white paint for ladder – $0
Reused the rug (even though I was so tempted to buy a new one!) – $0
For this update, I spent about $250, but if you add in the other DIYs from the last room update (macrame curtain rope cost $50 and the wood for the loft bed cost $40), the total still comes in below $350. Building the bed and buying second hand furniture definitely helped me to create this look without spending much money at all!
Just realized I forgot to include the cost of the ceiling fan. That was almost as expensive as the entire room – $160. But, it was a necessity and was the most budget friendly option I could find.
I rounded up a few products you could buy instead of DIY with a similar look.

I love decorating (and redecorating!) my home. This hobby of mine could become very expensive, very quickly, but instead I make it my goal to decorate by reusing, refinishing, and thrifting. There's something about pulling together a space with "leftovers" that is just so fun for me. Here are a few of the other rooms I've created in our home and cottage on a tiny budget with a whole lot of repurposed vintage goodness.
Be sure to check out all the other amazing room transformations as part of this round of the One Room Challenge!
Check out all the tutorials for this room:

Join the Refresh Living DIY & Upcycling Community
Join the subscriber list to receive one to two emails per month with updates from the blog. PLUS, you'll gain access to my printables and graphics library. Every new design I create will be added here, and you'll have free access - forever!