If you have a small room with bunk beds, these are the types of fans to install! Here are 10 ceiling fans that are much safer for rooms with bunk beds compared to normal blade ceiling fans.
We have small bedrooms in our home, which is why we built a loft bed for our girls' room – to free up some much needed floor space! But, because the room is on the small side, once the lofted bed was installed, the ceiling fan became super dangerous. The fan blades were uncomfortably close to the ladder and the edge of the bed, so we ended up keeping the fan off at night, and anytime someone needed to climb up there.
After living with this less than ideal situation for two years too long, I finally looked into the best ceiling fans for rooms with bunk beds. Usually, I can search for something like this and someone else (or many others) have already done the hard work for me and rounded up a list of different products. Well, I had no such luck with this a year or two ago, so I thought I'd put together the ceiling fans I found that would well for a room with bunk beds.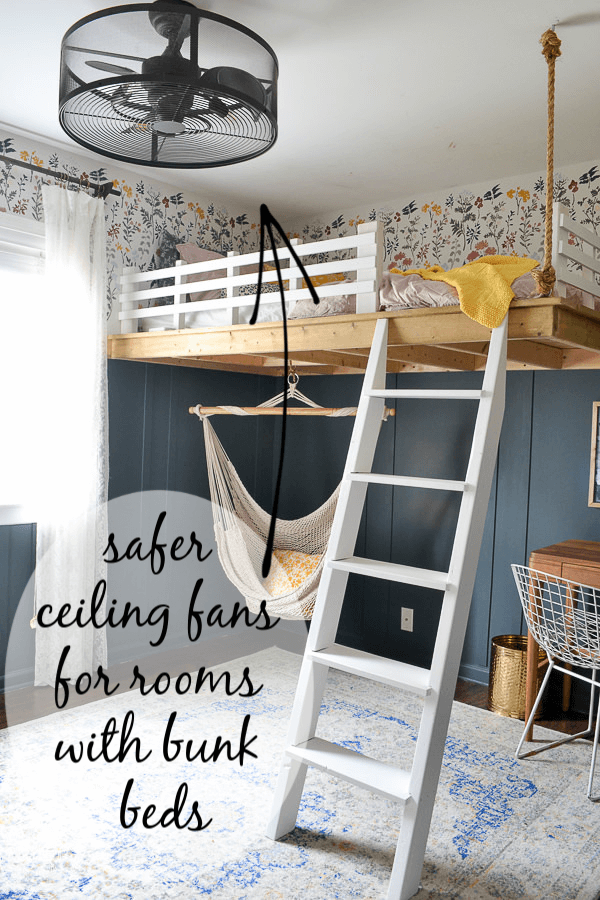 Please note: These ceiling fans are safer for rooms with bunk beds, but of course there is still the possibility for accidents to occur. The blades on some of these are still accessible. Please consider this when choosing and installing in your room.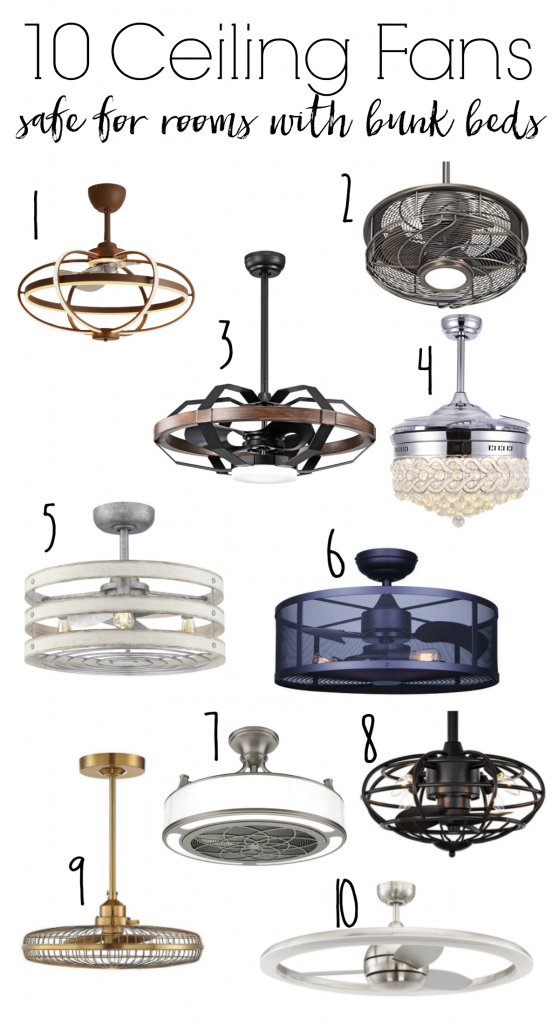 While searching for different options for ceiling fans with a cage or small blades, I learned that a lot of these fans are far more expensive than a normal bladed ceiling fan I'm used to buying. With that being said, there are a range of prices on these fans. I purposely collected ones that are less expensive and ones that are apparently more high end.
Throughout this process, I also learned that the type of ceiling fan I was looking for is actually called a fandelier! Maybe you already have heard of fandeliers?? I sure had not, but now that word is part of my design vocabulary!
I linked the website and price below each fandelier (see what I did there?). Please note these were the prices when this post was published. I would suggest visiting the links of any you might be interested in to be sure the price hasn't change significantly.
I ended up choosing #6, primarily because I'm cheap and actually found it on sale at Menards for $160! They still have it in-stock at my store, so if you live in the Midwest and have a local Menards, you may want to check there. Or, even with paying the shipping fee, it'd still end up being one of the least expensive options!
I hope this round-up was helpful in your search for "ceiling fans with a cage" (which is what my Google search started as)!
You can see the post on my oldest daughter's modern girls bedroom here.

Join the Refresh Living DIY & Upcycling Community
Join the subscriber list to receive one to two emails per month with updates from the blog. PLUS, you'll gain access to my printables and graphics library. Every new design I create will be added here, and you'll have free access - forever!