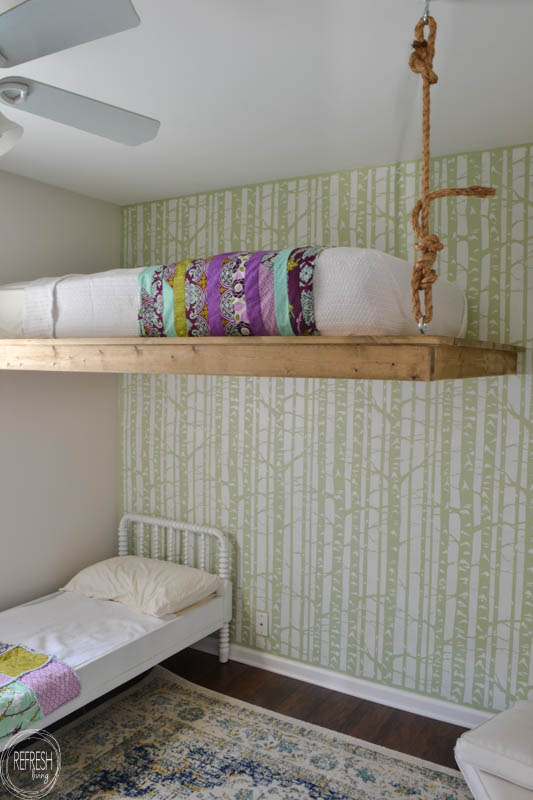 I've been envisioning this bed for a long time, and now it's finally finished! To give more floor space in my girls' small shared bedroom, I knew I needed to bring one of their beds off the floor.
I kept dragging my heels on constructing it, but to be honest, it was a pretty simple build, and only took 3 hours to complete and hang. I followed the measurements and basic directions from this amazing tutorial by Ana White. If you're not familiar with her site, she has thousands of building plans, many of which a novice builder or DIYer can easily complete! I ended up modifying a few things, which I will discuss in a little bit.
I started with pine boards, which are a cheap, but solid, building material. Although pine doesn't stain as beautifully as something like oak, it's budget friendly and has served me well for many building projects.
Basically, this bed is made up of two types of board, 2″ x 4″ boards for the frame (I used 3), and 1″ x 6″ boards for the top (I needed 8 boards). (In Ana's plans, she uses 2″ x 4″ boards for the top, but I liked the looked of the slightly thinner and wider boards which is why I opted for 1″ x 6″ boards.)
This post was sponsored by Kreg Tools. Please understand that all descriptions and opinions are 100% my very own. I only write posts about products I love and personally use.
To build the bed, I first made the frame using the 2″ x 4″ boards. You can refer to Ana's cut measurements and diagram, which I followed. In the tutorial, she suggests drilling into the long 2″ x 4″ to secure the smaller cross boards to it. I personally don't love all the steps needed to countersink, fill, and sand all those screw holes, so I chose to use my Kreg Jig to create these joints instead.
This little tool allows you to pre-drill holes, at the perfect angle, to join boards together. You can use it to make 90 degree joints, or if you want to join boards of wood laying flat (to make a sign or something), it can be used for that as well. Then, if you're really talented you could use it to make cabinets or pieces of furniture.
My dad is an amazing carpenter (not by trade, but as a hobby) and when he first saw the Kreg Jig in action, he was very impressed. Let me tell you, he is not one to purchase tools he doesn't need. He finds ways to save money and create his own way to complete the same process. For him to comment that this little tool was actually really useful and would save a lot of time is HUGE.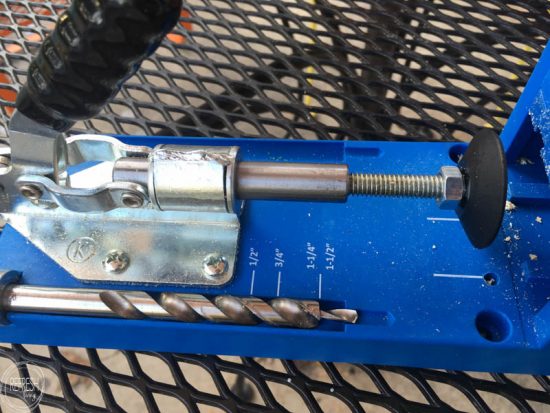 I set up my Kreg Jig drill bit so it was the correct length for my 2″ x 4″. These boards are really only 1.5″ wide, so I set the large part of the bit at that mark.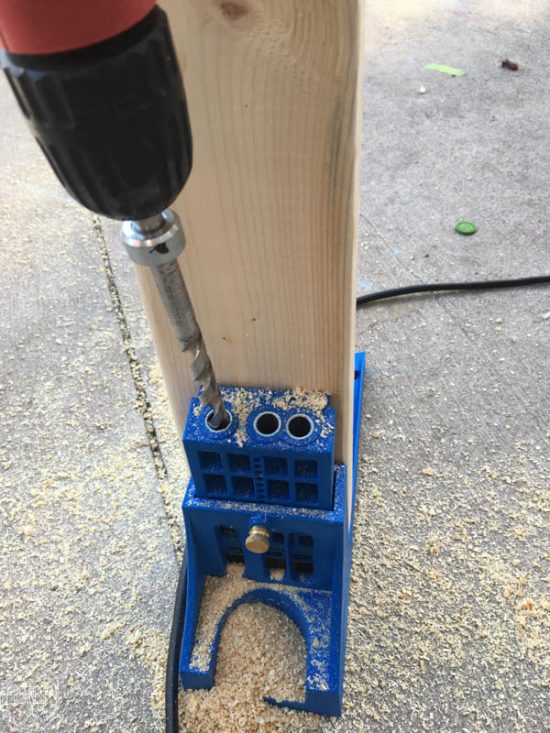 I drilled two holes into each board, and then used Kreg self drilling 2.5″ screws to attach the inside boards to the long board. I've found this chart to be very helpful in selecting the correct screw length in order to create the strongest joint possible.
After the base was built, we decided to hang the bed in the room. I called in my dad to help me with this part. I had an idea of how I should hang it, but I didn't completely trust myself to hang a heavy bed in a room where my little girl would be sleeping underneath it every night. I do, however, complete trust my dad's skills to do so!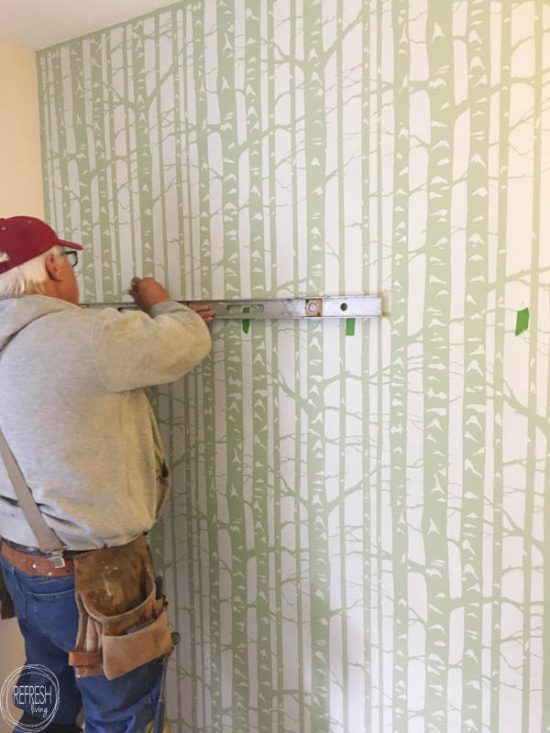 First, we found the studs using a stud finder, and then testing each spot with a nail to ensure there was a stud in that spot. After deciding how high to hang the bed, we used a level to mark a level line on each of the walls it would attach to.
I measured the distance between each of the stud marks, and then drilled pilot holes in the frame of the bed (2 holes for each stud). Drilling pilot holes ensures that the wood will not split when screwing into it to attach it to the wall.
I took one side and my dad took the other, and we held the bed up while he used 3″ wood screws to screw into our pilot holes and attach the bed to the studs.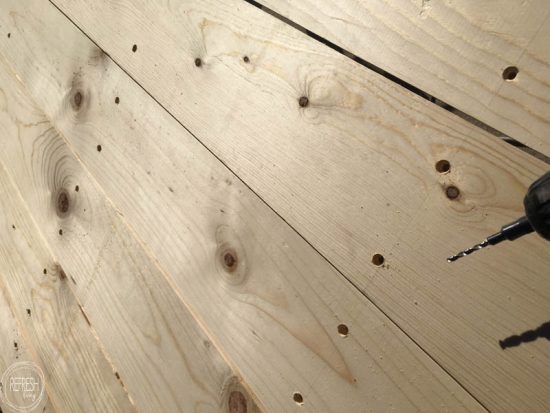 For the top, I decided to use Ana's instructions to just screw the top boards from the top, and into the frame of the bed. I figured that a mattress would be covering most of these holes, and I didn't mind seeing the holes on the top. I measured the distance between the boards and then went outside to pre-drill the pilot holes in each of the 1″ x 6″ boards using a countersink drill bit. (Here's a prime example of my dad's philosophy. He doesn't own a countersink bit, because he just drills a hole with a small bit, and then goes over it with a larger bit just slightly to create the hole where the screw head can rest in. It works, but I'm all about efficiency, and a countersink drill bit definitely makes this process much faster!)
For the final step, we used eye bolts in a joist in the ceiling and in the top of the bed. (If you don't have a joist right above the place you need it, you could also attach the eye bolt to the top of the wall, and have your rope angled from the wall to the corner of the bed.)
I stained the bed using Minwax Stain in Driftwood and used Kreg wood plugs to fill in the pocket holes underneath the bed (I purposely drilled the pocket holes on the side of the boards that would be seen less, but once these wood plugs are added, you can't really see the holes anyway!) I can't tell you how much easier it is to stick a piece of wood in a hole than it is to fill countersunk holes with filler. Plus, I've always found wood filler to accept stain in a weird way (even the type that says it's "stainable"). These plugs are made of pine, so they match the wood perfectly. I opted to not stain the bottom of the bed for now, but I may change my mind.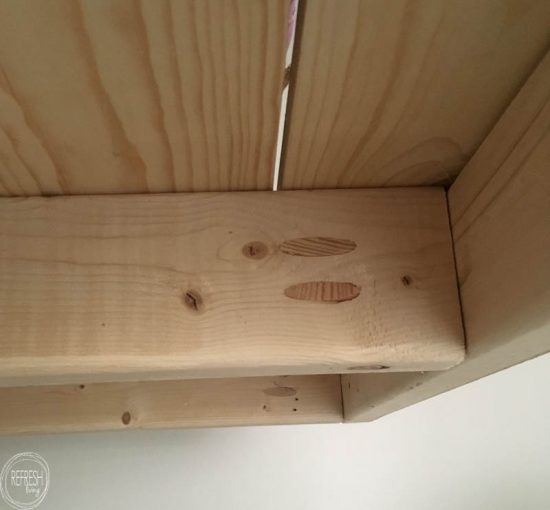 Now all that's left is to build a ladder so my daughter has a way to actually get up on her new bed!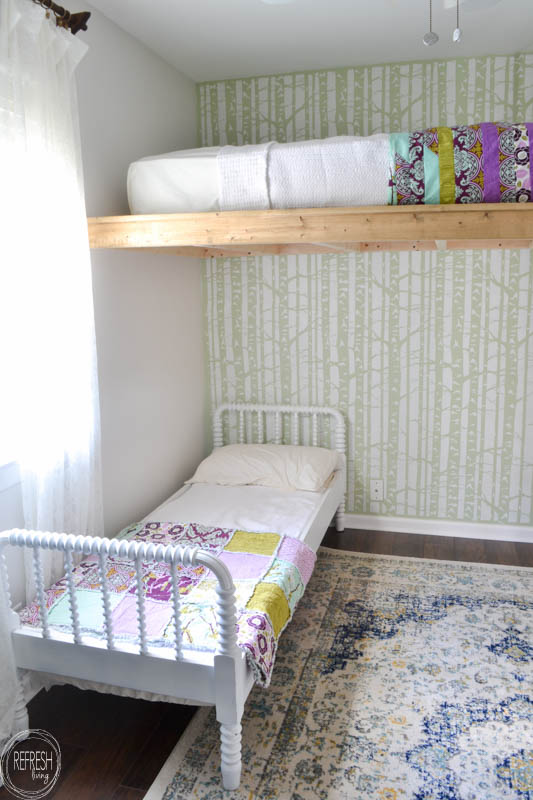 You can see the entire shared bedroom reveal here!
Like what you see? I'd love for you to follow along!
Facebook || Pinterest || Instagram || Google + || Bloglovin'

Join the Refresh Living DIY & Upcycling Community
Join the subscriber list to receive one to two emails per month with updates from the blog. PLUS, you'll gain access to my printables and graphics library. Every new design I create will be added here, and you'll have free access - forever!