These L-shaped DIY raised garden beds or planter boxes are easy to build from cedar deck boards. Step by step tutorial on how to build raised garden beds including the lengths of boards to cut, how to install a raised garden bed, and how to attach a fence to keep the bunnies out of the raised garden beds. Putting four of them together makes an enclosed garden!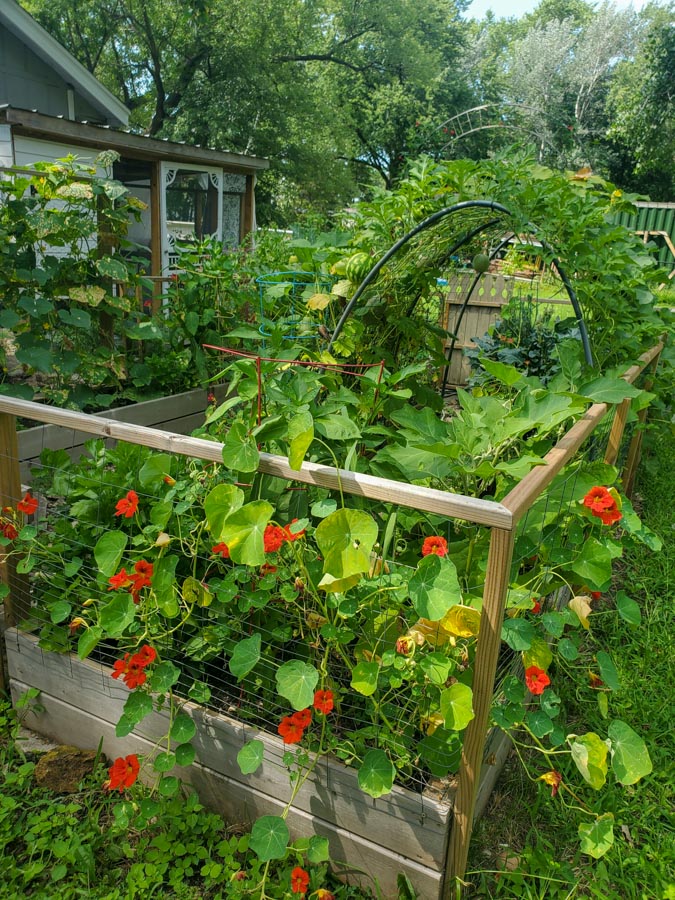 I've been dreaming up this simple raised garden bed design for years. Two years ago, we finally finished removing the last of the heavy brush, trees, and an old foundation from the back part of our yard and I installed my little vegetable garden! It was easy to make by putting together four L-shaped raised garden beds. I added a gate on each end and an attached fence around the perimeter to keep the critters out.
This post contains affiliate links. You can read about this and other disclosures here.
Materials Needed to Make One L-Shaped Raised Garden Bed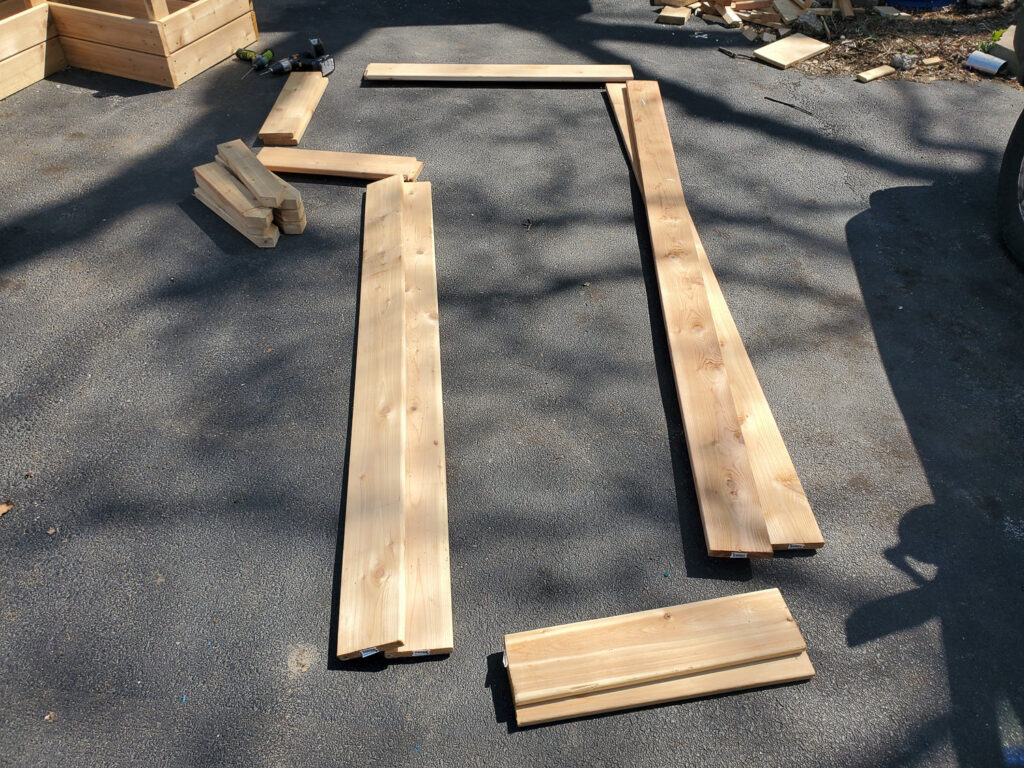 Materials list is to make one L-shaped raised garden bed. If you would like to create a full garden design, you will need to multiply the list by 4.
2 – 8 foot 2×4 boards
wood glue
drill with small drill bit and screwdriver head bit to match the shape of the deck screws
Notes on using deck boards instead of standard boards or fence boards: Deck boards are traditionally labeled as 5/4″ thick, but their actual thickness is about 1″. Standard boards are labeled as 1″ thick but actually measure about 3/4″ thick. Fence boards are even thinner than that, usually measuring between 1/2″ – 3/4″. Of course, choose the thinner boards will save you a bit of money, but in the end the slight difference in price might be worth it for thicker, studier boards.
When I compared the price between buying 8 foot deck boards versus 8 foot standard boards in cedar, the difference in price was very minimal. Granted, the price of wood is drastically different than it was several years ago, so I'm not sure if this is still the case. Standard cedar common boards should also work perfectly for this project. I personally would avoid fence boards.
Cut List for Raised Garden Beds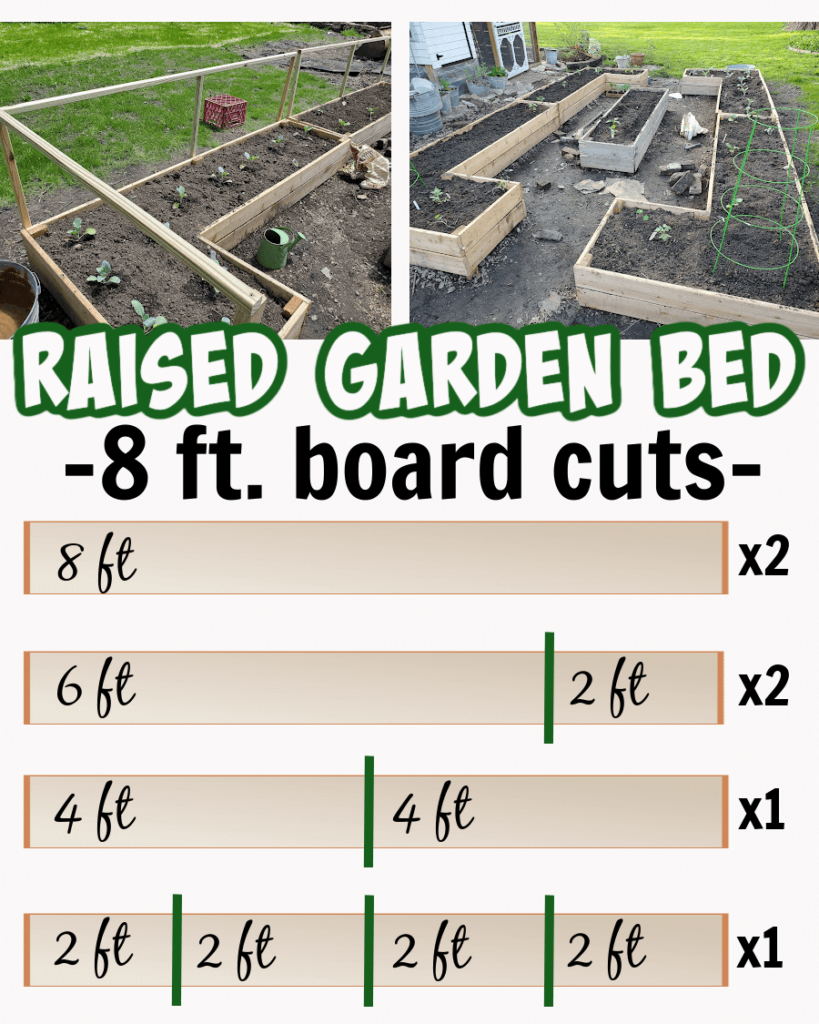 To make one L-shaped garden bed, you'll need a total of six 8 foot cedar boards. To get the most out of the wood you purchase, make everything last inch count! If you use the cuts shown above in the image, you'll have exactly what you need to make the garden bed. Measure twice and cut once for this one.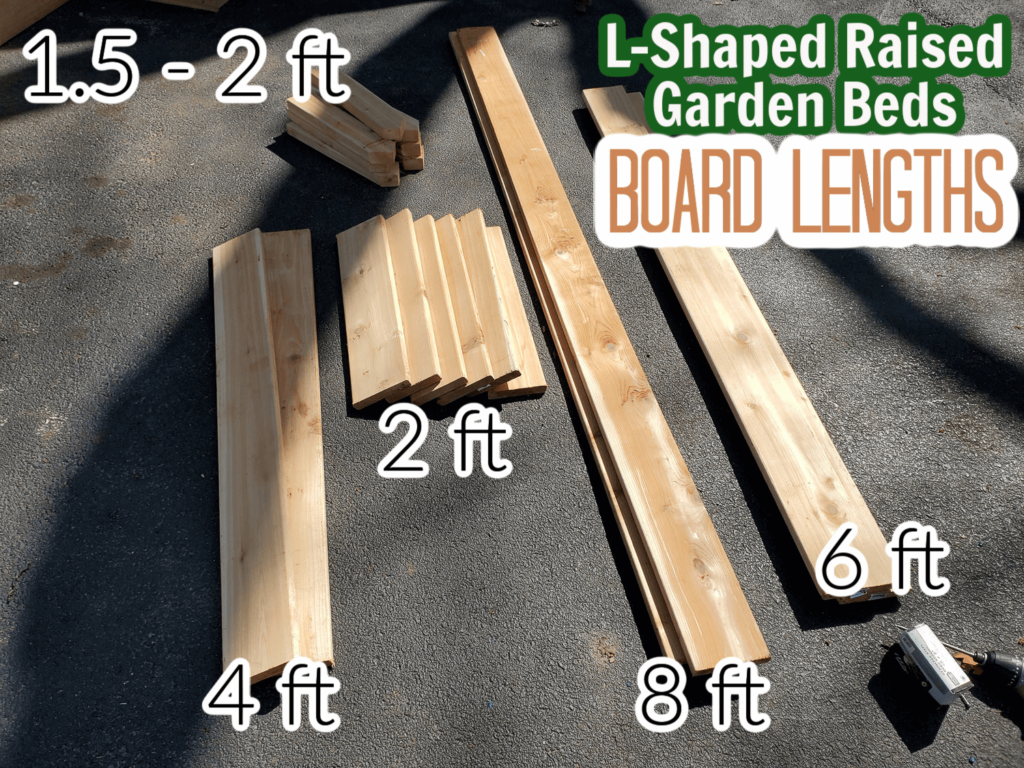 To cut the "legs" of the bed, cut the 2×4 boards into lengths of 18″. When I made the support legs, I cut the ends of each leg into a pointed shape. In retrospect, I really didn't need to do this, because we ended up digging the holes where the garden beds would sit and then backfilled the holes in.
Should I Seal My Raised Garden Beds?
I chose not to do anything with my raised beds and just kept the wood natural. Personally, I wouldn't have wanted to put any sort of finish or sealer on the inside of the beds anyway, since that will be in contact with the growing vegetable plants.
You could easily stain and seal with an outdoor wood finish to change the color of the exterior and give the wood more durability throughout the years. Choosing a waterproof stain that's made for fences and decks would work great for this type of project. Again, I would not advise sealing the inside of the beds due to the fact that they will be in contact with food.
I made rectangular raised garden beds from cedar fence boards that I did not put any finish on 5 years ago (and cedar fence boards are even thinner than deck boards) and they are holding up really well. Our back yard takes quite a bit of water in the spring, so sometimes these beds are exposed to standing water for a bit of time, and they are still holding up well (not rotting or decaying) without any sealer on the wood.
If you leave the cedar unfinished, it will change color over time. So the pretty, bright color you start with will very quickly age to a grayer color. The image below shows the weathered middle garden bed (that I built five years ago) compared to the newly built L-shaped beds.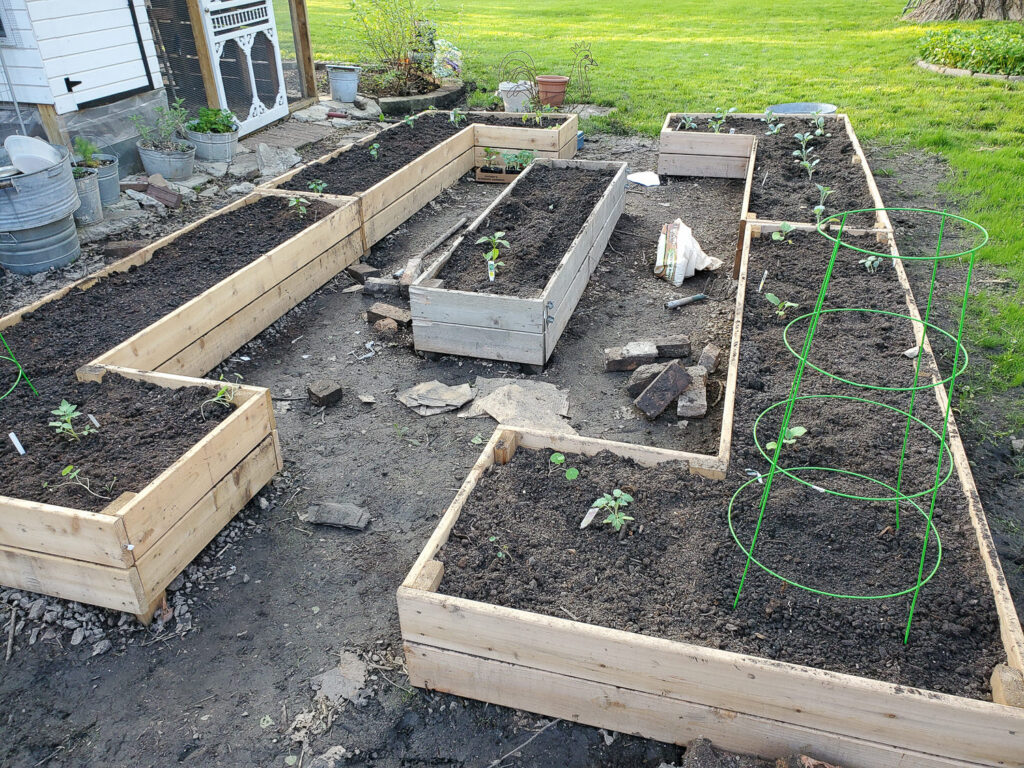 Building the Raised Beds
Scroll to the bottom of this post for a full video tutorial of this process!!
No matter what shape you choose to make your garden beds, the building process is similar. Use 2×4 "legs" as the posts for every corner and as a post in the middle of the span of board over 4 feet in length. Assemble the garden bed upside down (so the top of the garden bed is laying flat on your work surface) and attach the boards into the posts.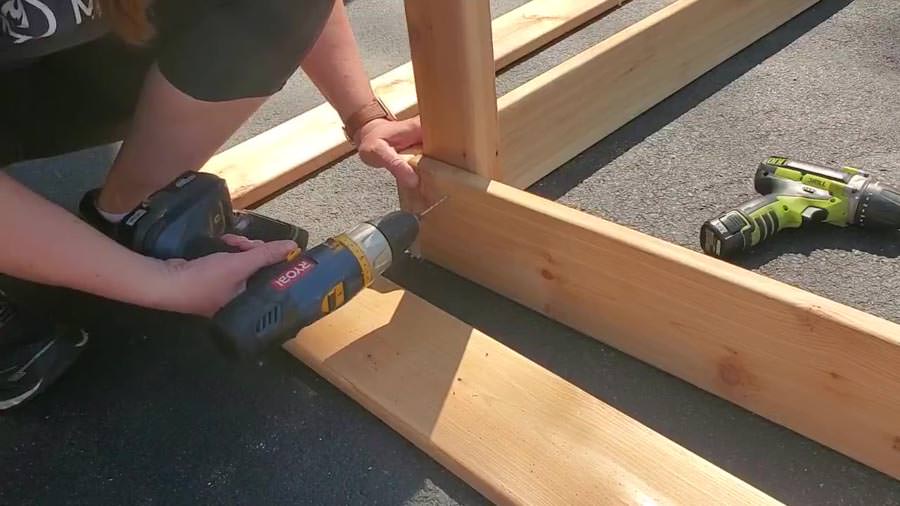 To attach a board to a post, drill a pilot hole through the board and very slightly into the post with a 3/8″ drill bit. Then, add wood glue and attach the board to the post with a 2 1/2″ deck screw. For each board I used two screws to attach it to each post. (Although many deck screws are self-drilling, I prefer to drill a pilot hole through the board first. Because the boards are being screwed in right by the edge, predrilling helps eliminate any splitting of the boards.)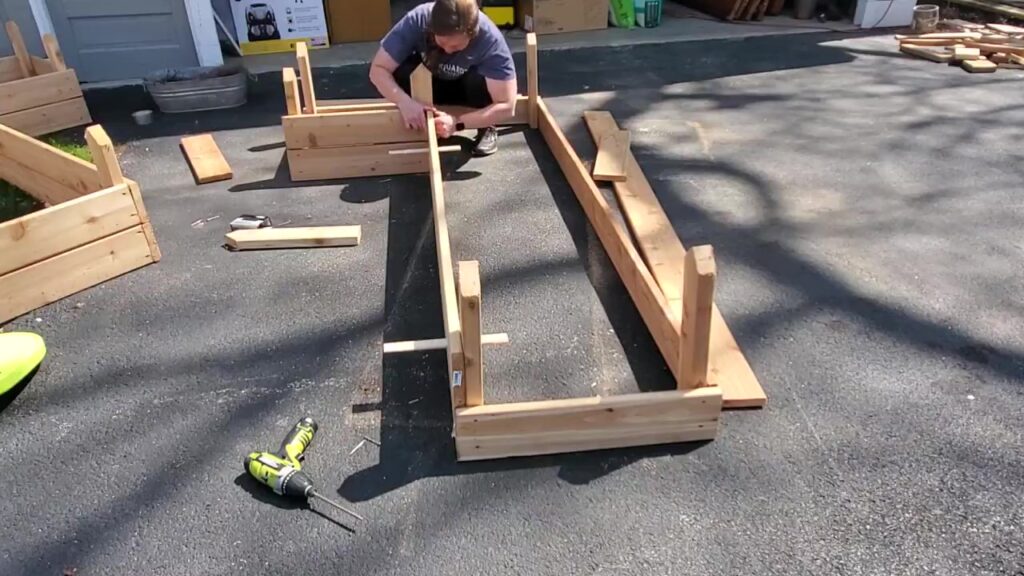 After attaching the first layer of boards to the posts, use shims or other pieces of thin wood to make even gaps for the second layer of boards. These are attached in the same way by drilling pilot holes and then screwing the boards into the 2 x 4 post.
Installing the Raised Garden Beds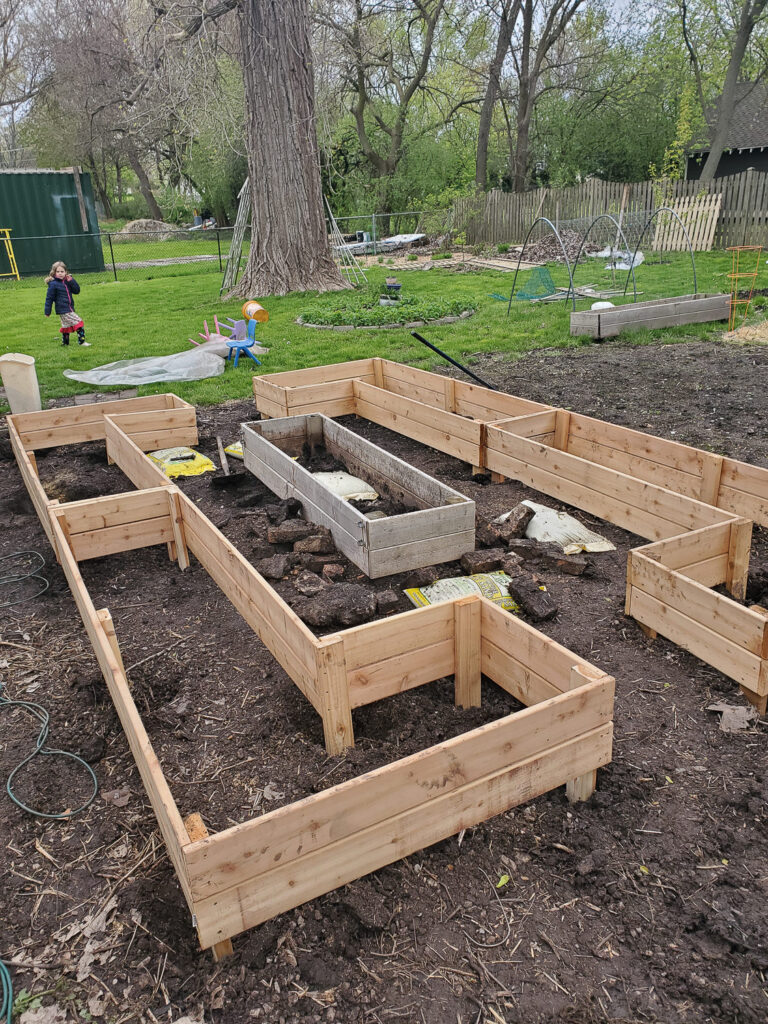 The goal when installing the raised garden beds it to make them as level as possible. I don't know about you, but my yard is nowhere close to level or flat! We used the garden bed posts to our advantage here, because we were able to dig out the holes to the depth that would help the garden bed to be as level as possible. Then, we backfilled the dirt back into the holes and around the beds where the sides were raised up. We didn't use any sort of cement here, because the posts were certainly not deep enough to extend beyond the frost line.
How to Fill Raised Garden Beds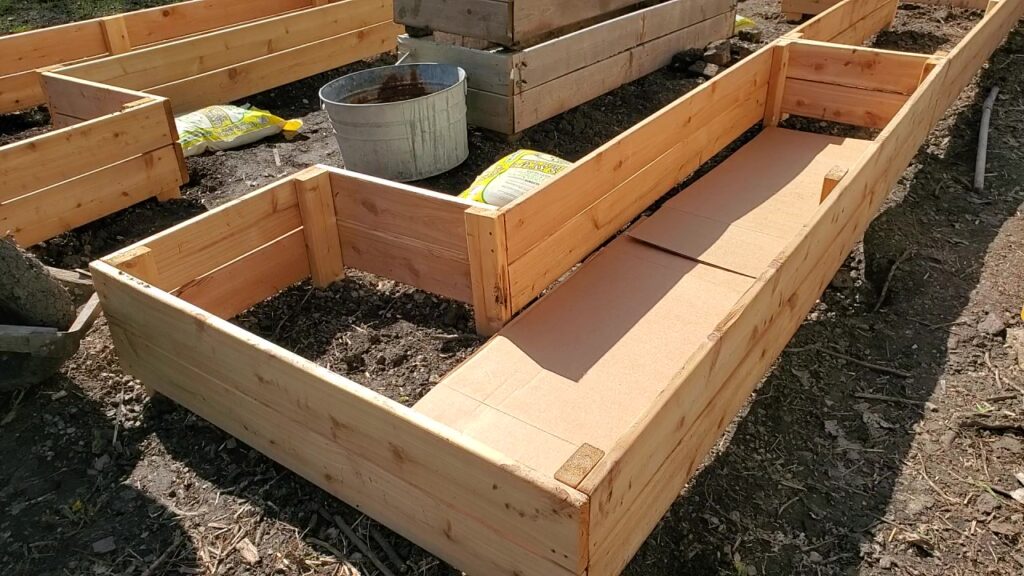 Yes, you can definitely purchase the premixed bags of raised garden soil from home improvement stores, but the cost will quickly add up. Especially when filling empty raised beds, I would recommend filling in space with other organic materials and then making your own soil mix for raised beds.
Video Tutorial
How to Install a Fence on a Raised Garden Bed
The second part of this tutorial can be post at this post: How to Install a Fence on a Raised Garden Bed
Pin it for Later (Thank you!)
Other Posts You Might Enjoy

Join the Refresh Living DIY & Upcycling Community
Join the subscriber list to receive one to two emails per month with updates from the blog. PLUS, you'll gain access to my printables and graphics library. Every new design I create will be added here, and you'll have free access - forever!