This is the best soil mix for raised beds that will grow healthier plants and cost less than the premixed bags. Instead of buying the bags of raised garden bed soil (and paying the added price for them!), mix up your own blend with three "ingredients" you can buy at any home improvement store!
Wondering what type of soil to fill your new raised garden beds with? Or, looking to replenish the soil in your raised beds in the spring? You've come to the right place!
Over the last couple of years, as raised beds have gained popularity, I've seen a lot of different premixed "raised garden soil mixtures" at home improvement stores. Of course, the cost is significantly higher than it should be, and I've found that many of these bags have fertilizer already added into them. Personally, I don't use any fertilizer that isn't natural for my garden, so I prefer to purchase three separate bags of different products and mix them together for a much cheaper raised garden bed soil blend. It ends up costing way less AND grows healthier plants!
I've used this DIY soil combination in my simple raised garden beds and my L-shaped raised garden beds as well as the sofa table I turned into a standing garden bed.
Scroll down to the bottom of this page for a full video tutorial of this post!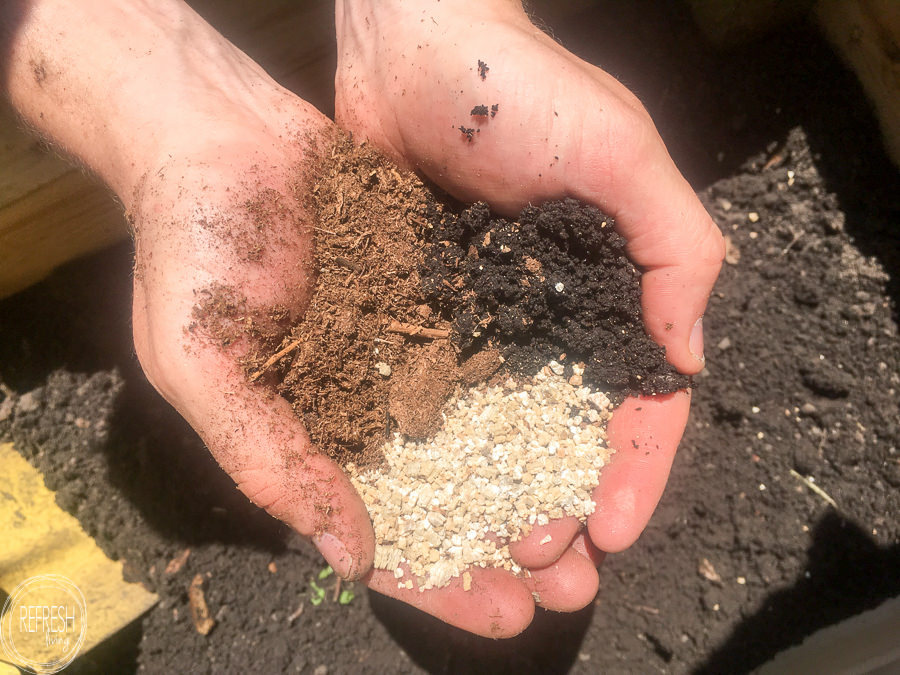 DIY Soil Blend Ingredients
compost (or top soil with compost added)
peat moss
vermiculite
Basically, you'll just mix those three products in equal(ish) amounts in your raised bed. Now, although there's not an exact science to this mix, there are a few things to note or understand about each of these ingredients so you can grow the healthiest plants!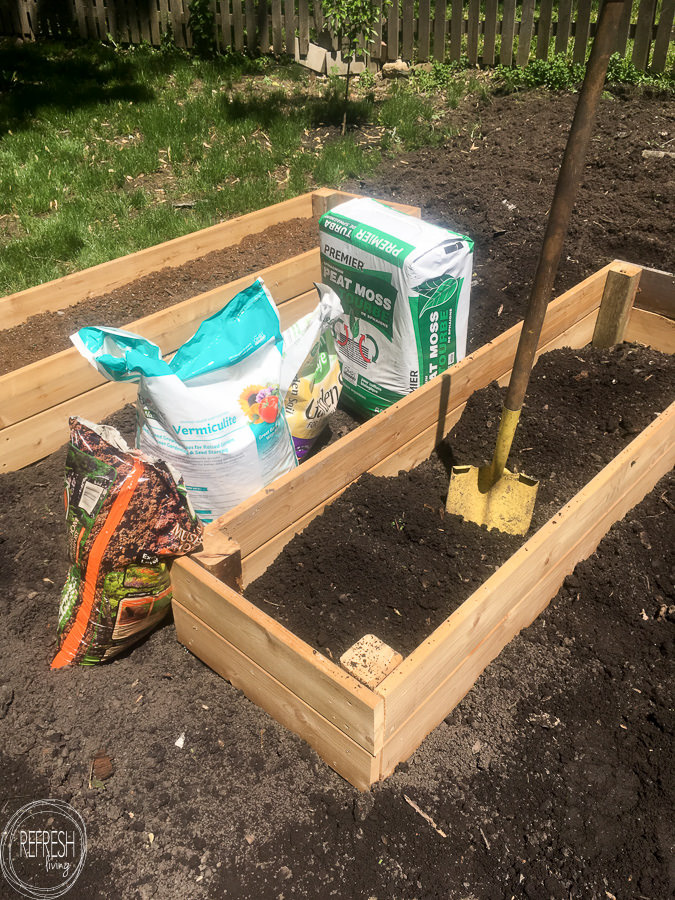 Compost
This is where all the nutrients for the plants come from. There are a lot of different types of compost you can buy prepackaged like mushroom compost, cow manure compost, chicken poop compost or worm casting compost. Home compost is my favorite (because it's free and packed with awesome nutrients), so if you have a home compost pile that counts too!
I would highly recommend using at least two different sources of compost for your raised beds. I find this gives the best range of nutrients and my plants have always grown well using this method. Which types you choose is of course up to you!
When filling empty raised garden beds, I prefer to use some top soil or enriched top soil (top soil with some compost already added) to help fill space without spending as much money. If I'm just replenishing soil in the spring, I do not add any top soil because I want as much compost (= nutrients) that I can fit in the space that's left to fill.
Peat Moss
Peat moss is basically dead moss that has decomposed for a really (really) long time. It is excellent for helping the soil to retain nutrients and helps to retain water long enough for the plants to get the water they need. It also helps to loosen up otherwise denser top soil and compost.
Vermiculite
Vermiculite is the key ingredient necessary for proper drainage and aeration of your raised garden beds. Garden plants do not like it when their roots are sitting in water, so it's important for the soil to drain water at an appropriate pace (not too quickly or too slowly, either). When mixed in with compost and peat moss, vermiculite provides the perfect amount of aeration.
Yep, and those are the only three "ingredients" you need to put into a raised garden soil mix, and all can be found at the store, right near that premixed bag with the higher price tag!
How to Fill a Raised Garden Bed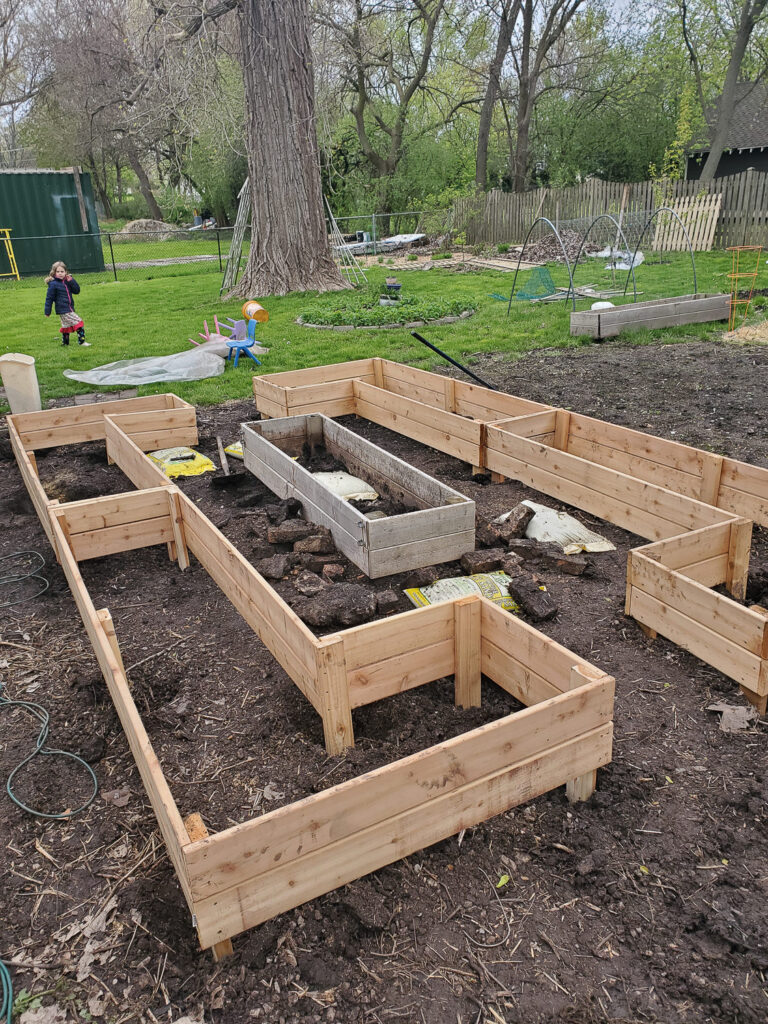 When filling a new or empty raised garden bed, I like to start by lining it with cardboard or several layers of newspaper. This helps deep weeds from growing up through the bed, and will decompose over time. Then, to save money and avoid filling your entire garden bed with the more expensive ingredients listed above, fill the bottom third of your raised bed with free organic matter from your yard. Dried leaves are my favorite because they don't often contain seeds or shoots that other material (like soil or mulch) from other places in your yard might be carrying. I've also seen people use large logs and branches to fill up space as well.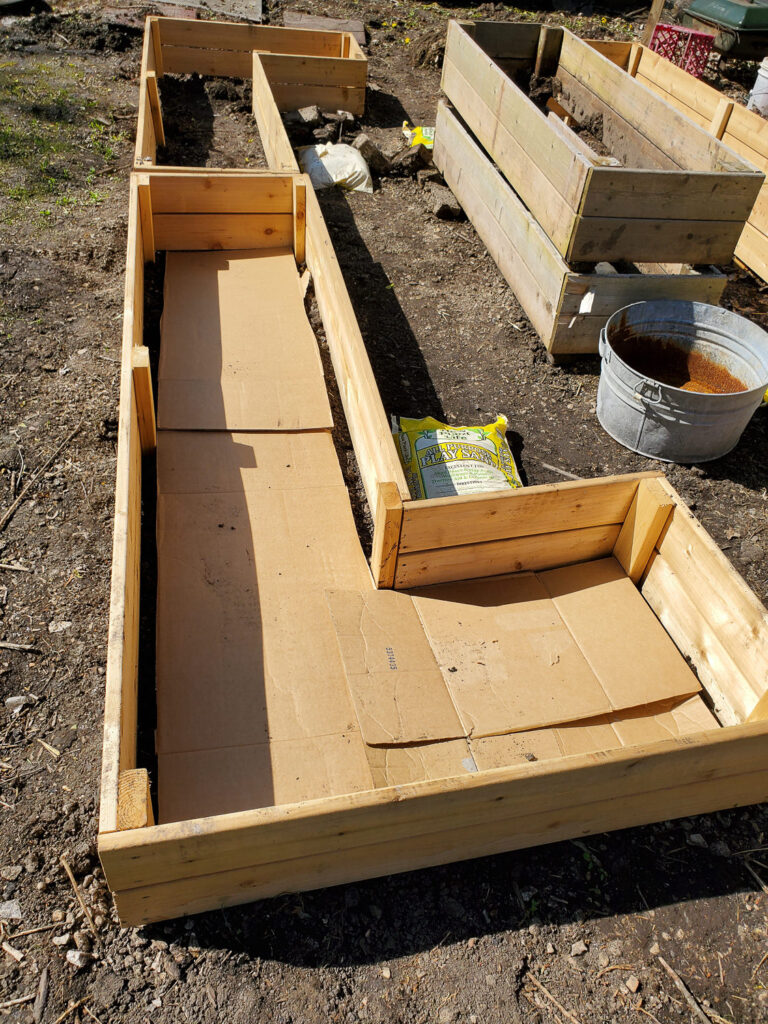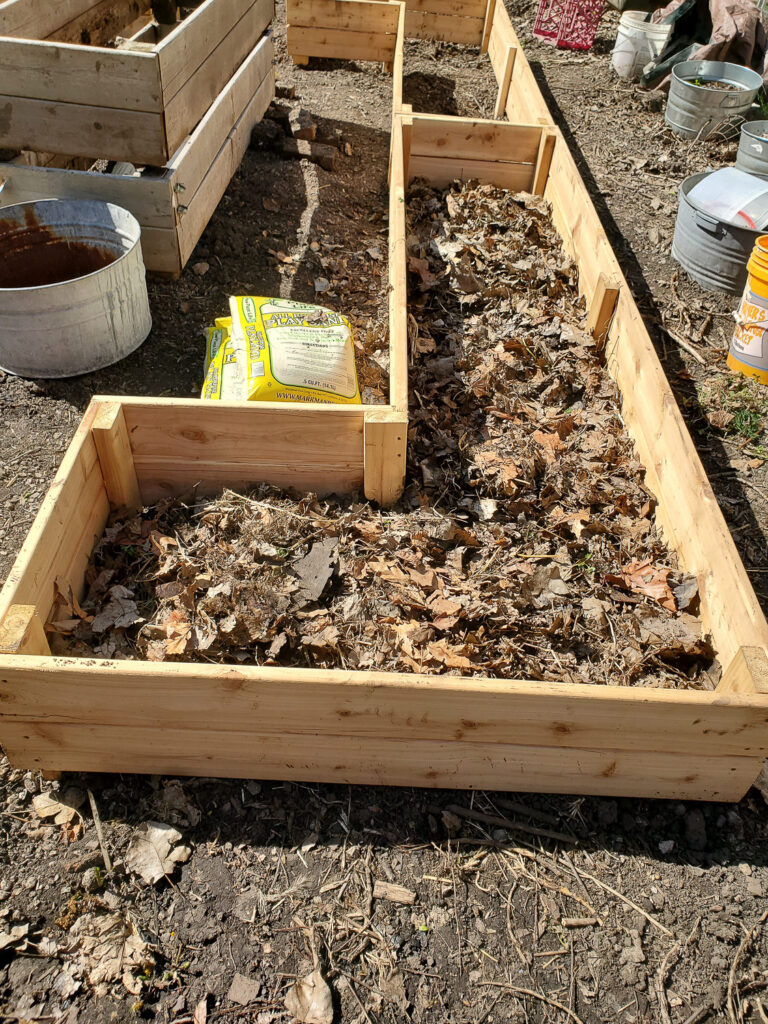 Mixing the Soil for Raised Garden Beds
If you have a large enough container, just mix equal parts peat moss, compost, and vermiculite and then add it to the raised bed. To mix directly in the raised bed, just layer each component in thin layers, and use a hoe or shovel to mix it all together after it's halfway filled, and then again once it's completely filled.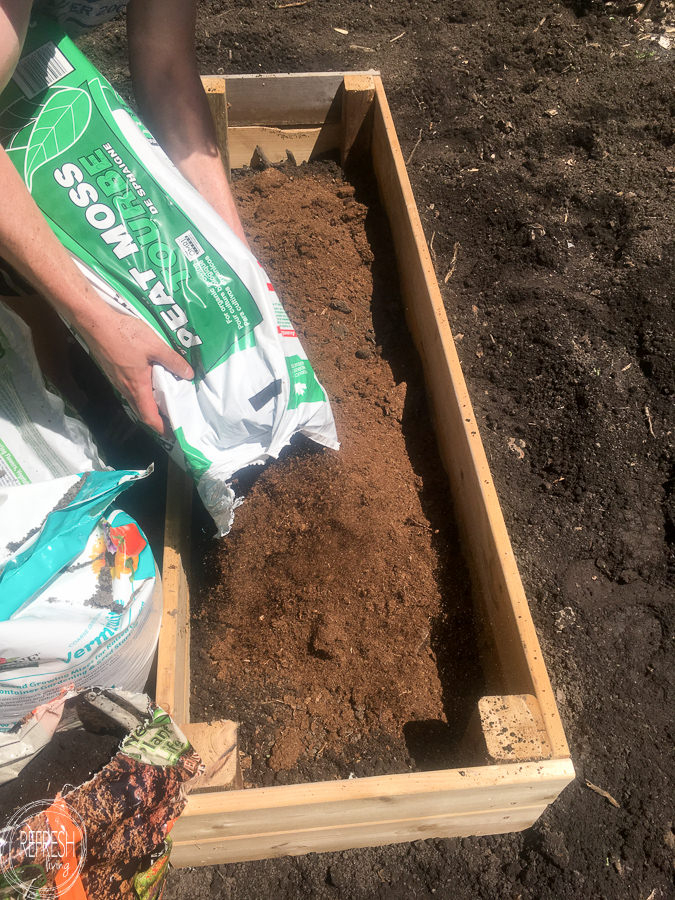 Filling my raised garden beds with this "DIY" mix of compost, peat moss, and vermiculite has helped me to save tons of money over buying the premixed bags AND continues to be the best mix for the healthiest plants that I have used.
Watch the Video Tutorial!
Tutorials for How to Build Raised Garden Beds
Pin it for later (thank you!)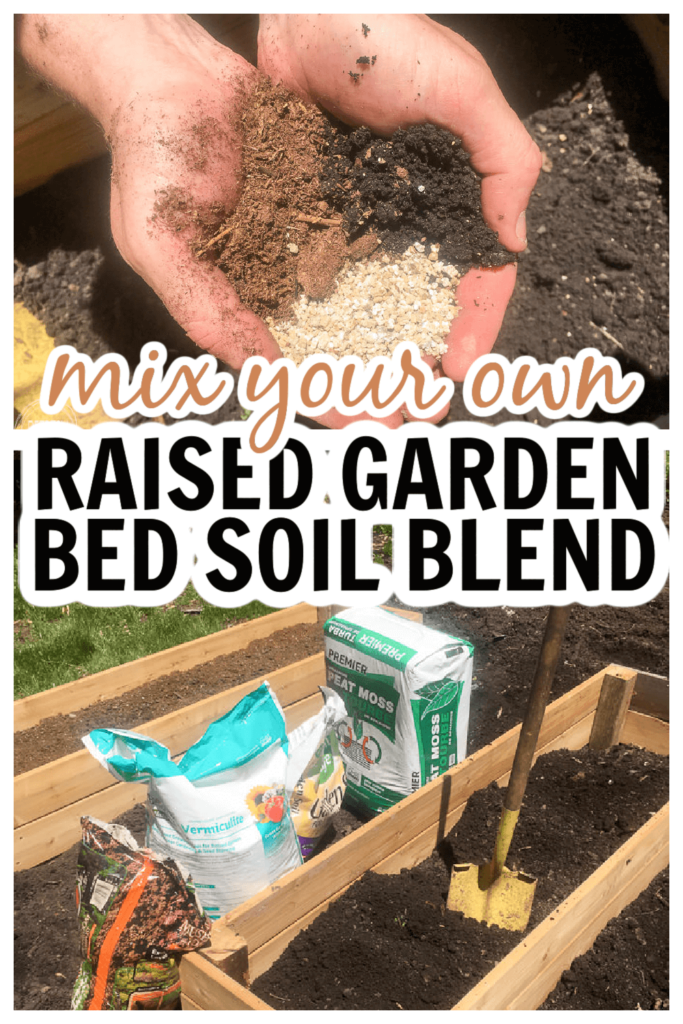 A Few Other Posts you Might Enjoy

Join the Refresh Living DIY & Upcycling Community
Join the subscriber list to receive one to two emails per month with updates from the blog. PLUS, you'll gain access to my printables and graphics library. Every new design I create will be added here, and you'll have free access - forever!