Reuse an old display cabinet to make an indoor greenhouse with grow lights and mini fans to create the perfect environment for starting seeds indoors or for housing happy indoor plants year round.
I've recently seen a few pictures of people using the IKEA Fabrikor cabinet or the IKEA Milsbo cabinet as an indoor greenhouse cabinet. I loved the idea, but wasn't super pleased with the price tag of anywhere between $170 and $200. Plus, I sort of have this philosophy that if I can reuse something before buying new, I will.
That's when I realized that these display cabinets from IKEA where nothing different than an old glass display or curio cabinet. After a quick Facebook Marketplace search I found that people were most definitely trying to get rid of their old cabinets, and my search was on for the perfect size.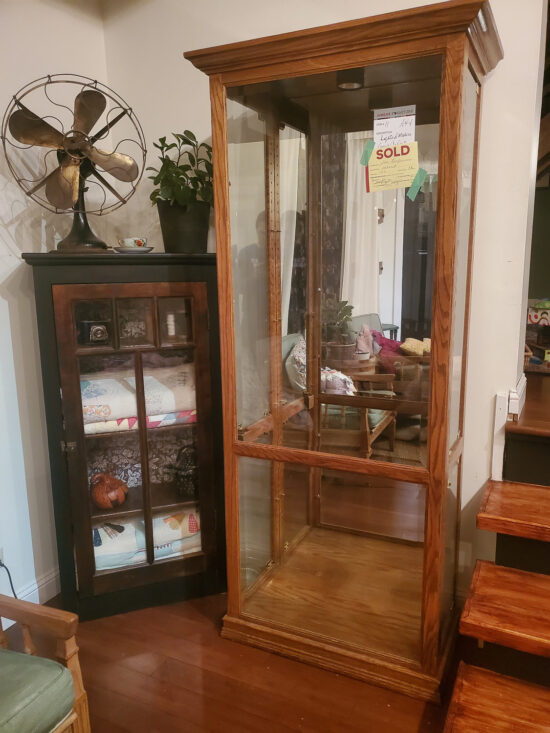 I ended up finding this cabinet at a second hand furniture store for $40. It is solid wood and has glass on three sides (exactly what I was looking for). Although it's pretty big, I was looking for something I could fit full seed starting trays in, and this worked perfectly.
This post contains affiliate links. Feel free to read my full disclosure policy here.
How to Paint a Display Cabinet to be Used as a Greenhouse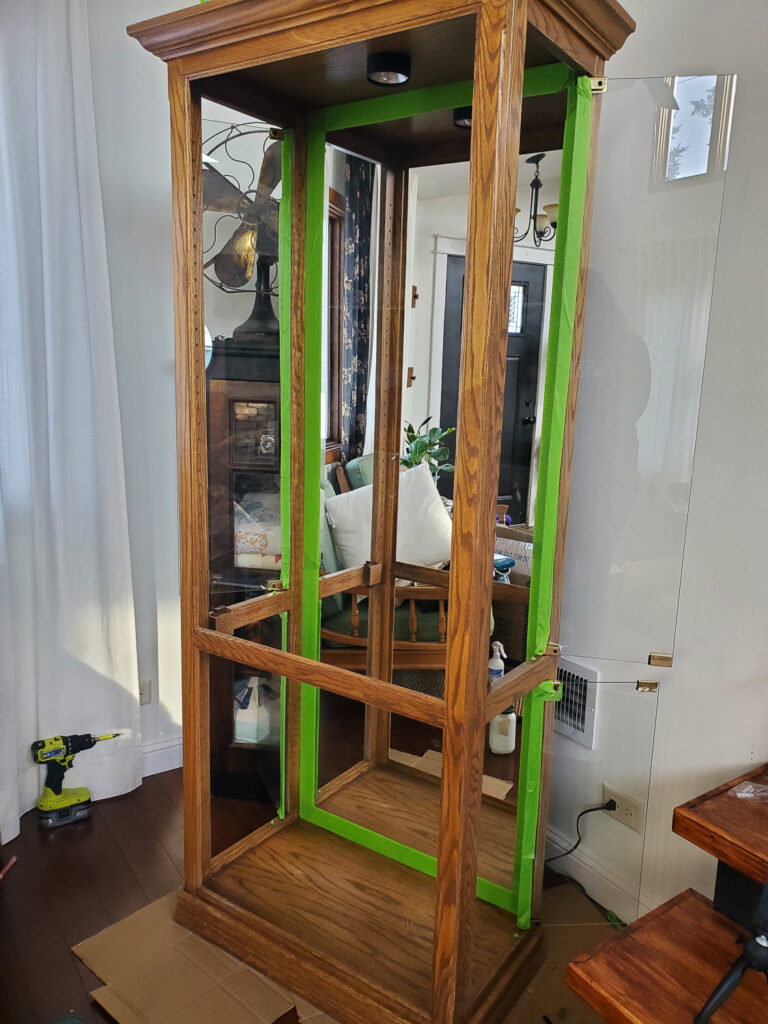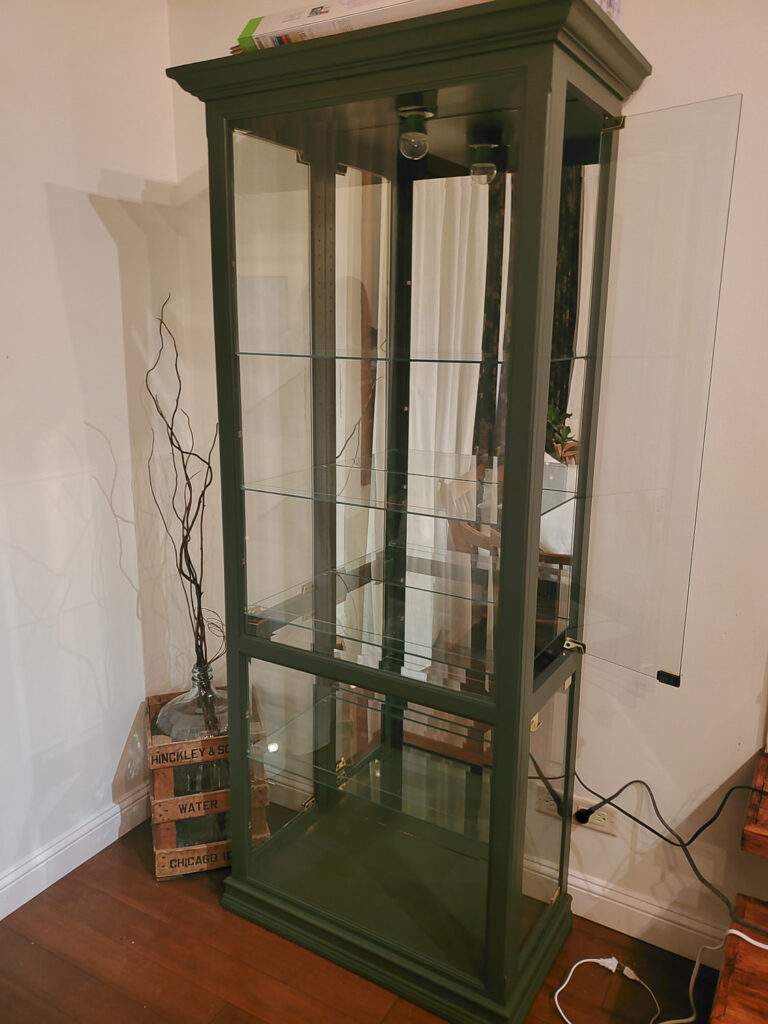 I removed the glass panels from the front (the doors to this cabinet are actually on each side) and taped off the back mirror and the hinges to the doors. I used two coats of Emerald paint from Sherwin Williams in the color Shade Grown.
This paint worked perfectly because it has the quality of oil-based paint (durable, wipeable finish that can handle some moisture) in a water-based, easy to apply and clean formula. If you're interested, I have a full post on this type of paint as it's my favorite paint for kitchen cabinets and one of my favorites to use to paint furniture as well.
How to Turn a Cabinet into an Indoor Greenhouse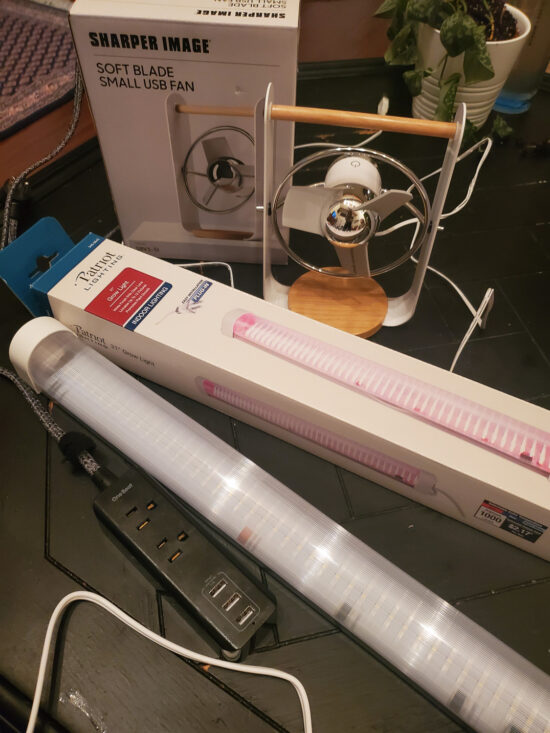 I purchased my grow lights and mini USB fans from Menards, but these strip grow lights and this Sharper Image USB fan are fairly comparable to the ones I bought. The power strip has USB ports and outlets so I was able to plug everything into one place.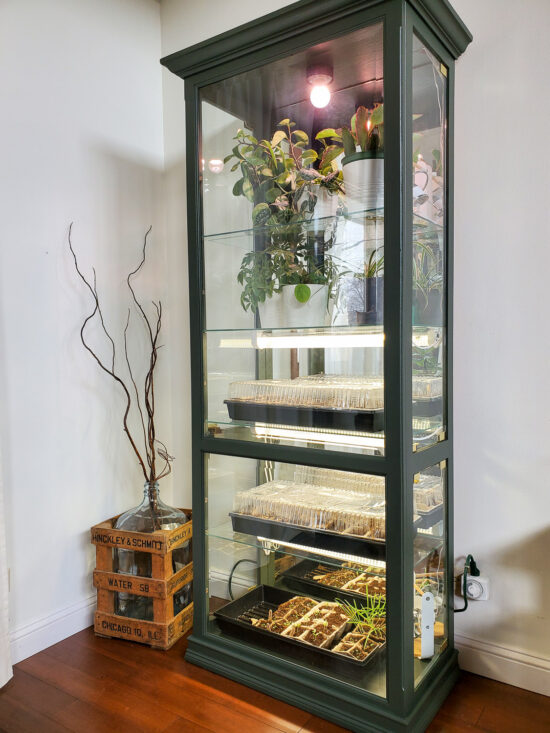 All the cords run up along the back edge and exit through a hole I drilled in the top of the cabinet. The power strip sits on top of the cabinet and everything plugs into that Then, I plugged the outlet strip into a standard timer on the wall so the lights switch on for about 15 hours a day and turn off all by themselves.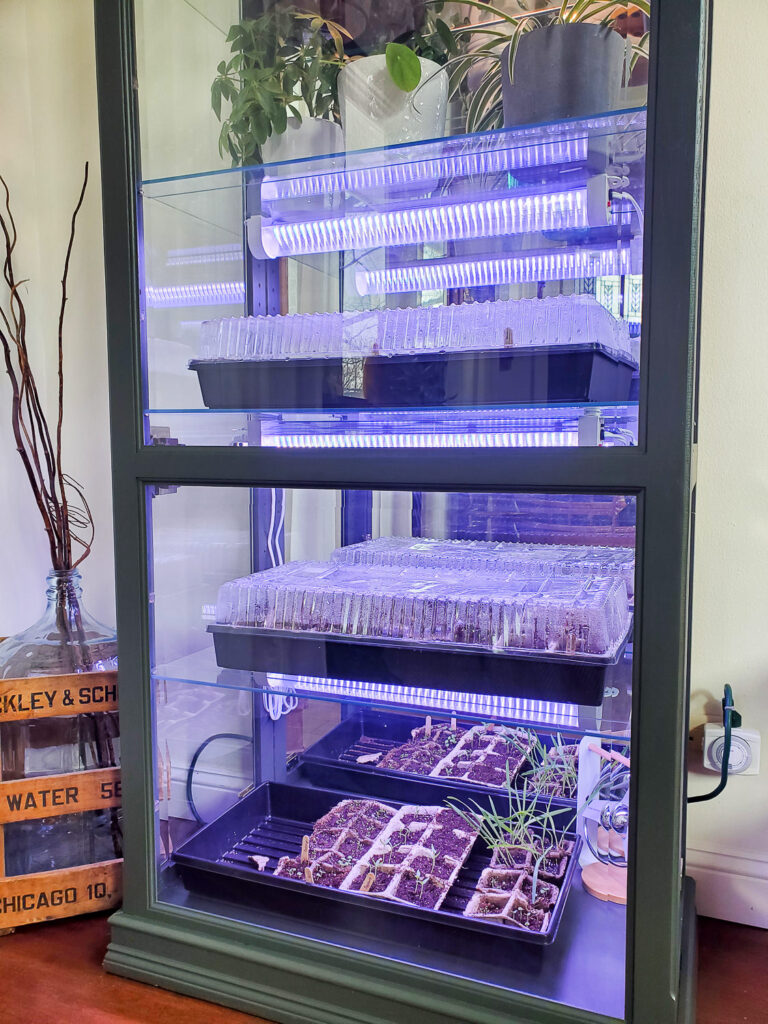 I've been using this indoor greenhouse cabinet for seed starting for the last month and my seedlings and indoor plants have never looked this good! I had always tried to use my basement windowsills to start seeds in the past, and although they worked, they've never looked as strong and healthy as these. It goes to show they probably weren't getting the amount of light they needed!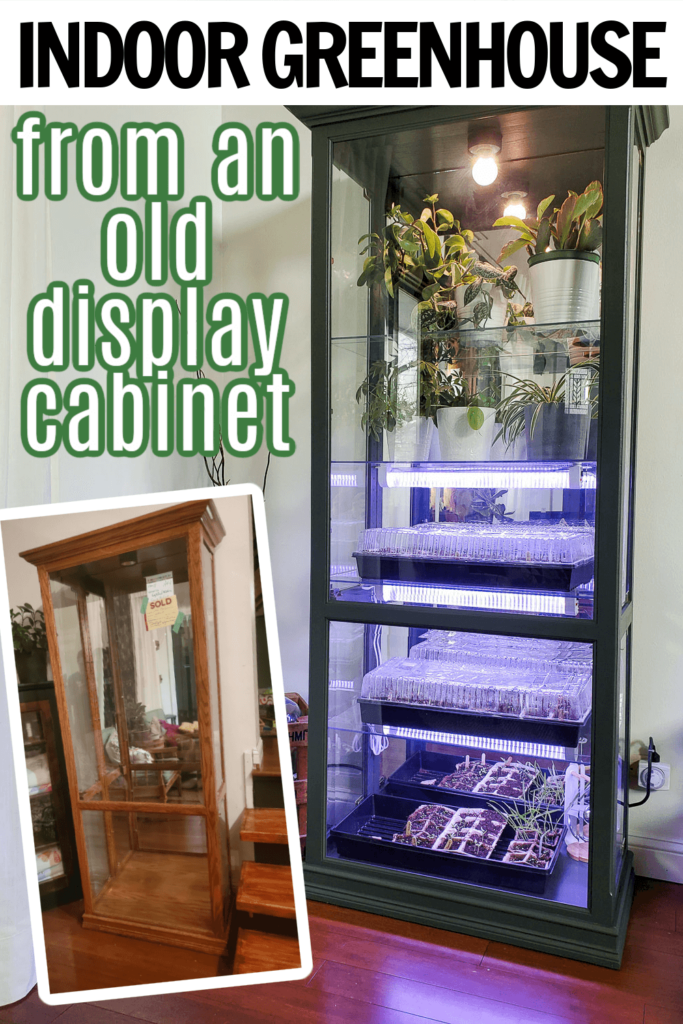 Other Posts You Might Enjoy

Join the Refresh Living DIY & Upcycling Community
Join the subscriber list to receive one to two emails per month with updates from the blog. PLUS, you'll gain access to my printables and graphics library. Every new design I create will be added here, and you'll have free access - forever!