Follow this easy tutorial to make your own raised garden beds using cedar wood. Once the raised beds are made, fill them with this easy DIY soil mixture to allow for proper drainage for your vegetable garden.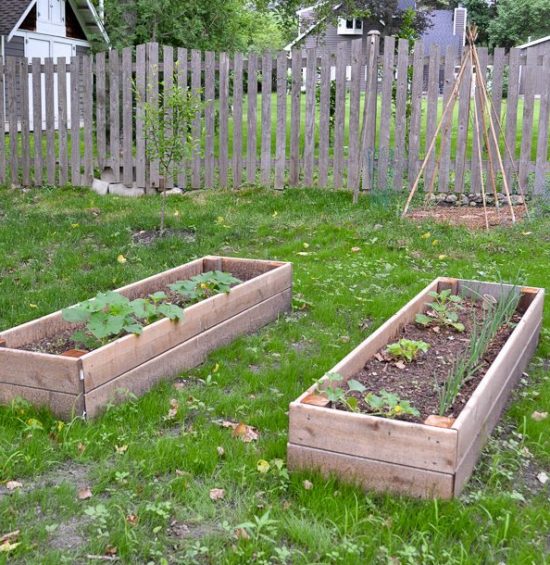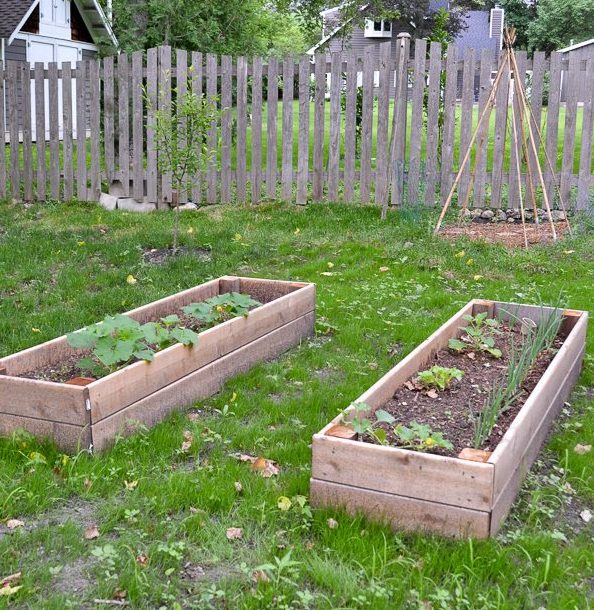 How to make a raised garden bed
Supplies Needed:
1″ x 6″ x 8″ cedar boards
4″ x 4″ cedar posts (2″ x 4″ cedar boards will also work)
2″ deck screws (or other screws made for exterior applications)
For my raised beds, I chose to use cedar, which is naturally rot resistant.  Another option would be to used treated pine, but because I am using these beds for my vegetable garden, I opted for the most natural product I could find.  As a cheaper alternative to the 1 x 6 boards, you could also use cedar fence boards.  They are thinner than boards, and you aren't able to find 8′ lengths, but you could use them to create smaller boxes.
Rather than purchasing 4″ x 4″ posts, I used scrap cedar posts from the used playground that was passed down to us a couple of years ago.  Some of the posts needed to be replaced due to deterioration, but I was able to cut quite a few solid pieces from the posts for these beds. Using 2″ x 4″ boards instead of the 4″ x 4″ will also work as a cheaper option.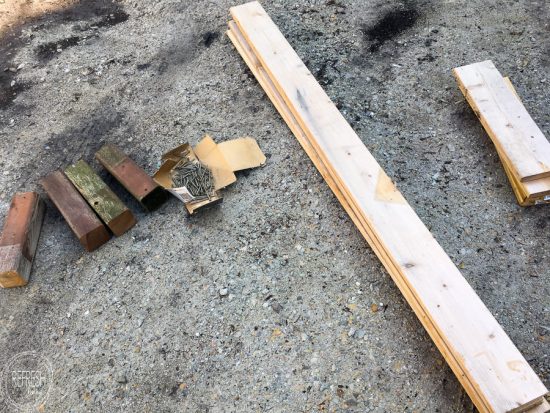 I cut 21″ from the end of each of the boards and used these pieces as the front and back sides of my bed.  The possibilities for dimensions and how you cut them from your wood boards are endless, but this size configuration allowed me to have no wasted wood.  Figure out what works bests for you and your space!
I then measured the width of one board, doubled it, and added 6 inches to determine the measurement of my posts.  I wanted the bottom part of the post to sit into the ground a bit, but I've seen them made where the post is flush to the bottom of the bed as well.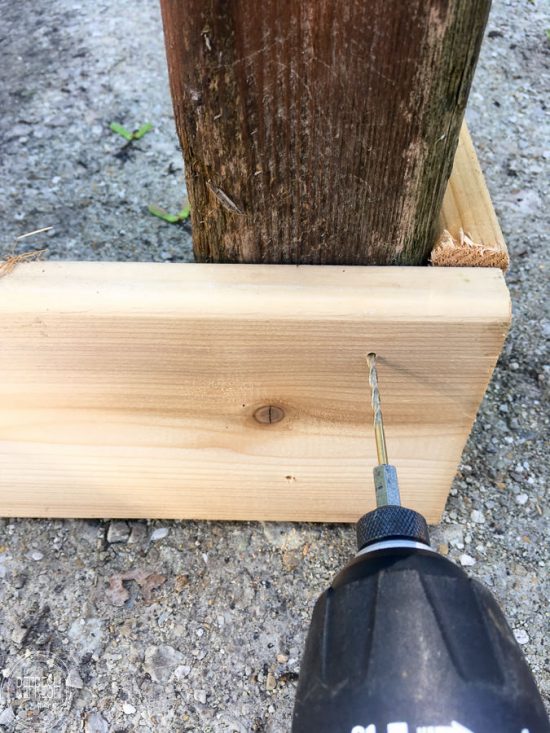 After all the pieces were cut, I drilled pilot holes through both the board and the post, and then used deck screws to secure each piece to the post. After the first layer of boards was attached, I completed the second layer, flipped it over, and placed it in my backyard.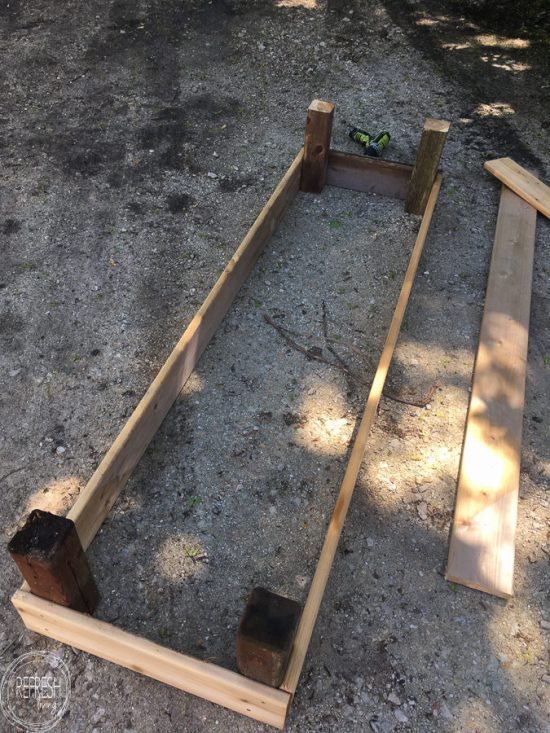 Soil mixture for raised beds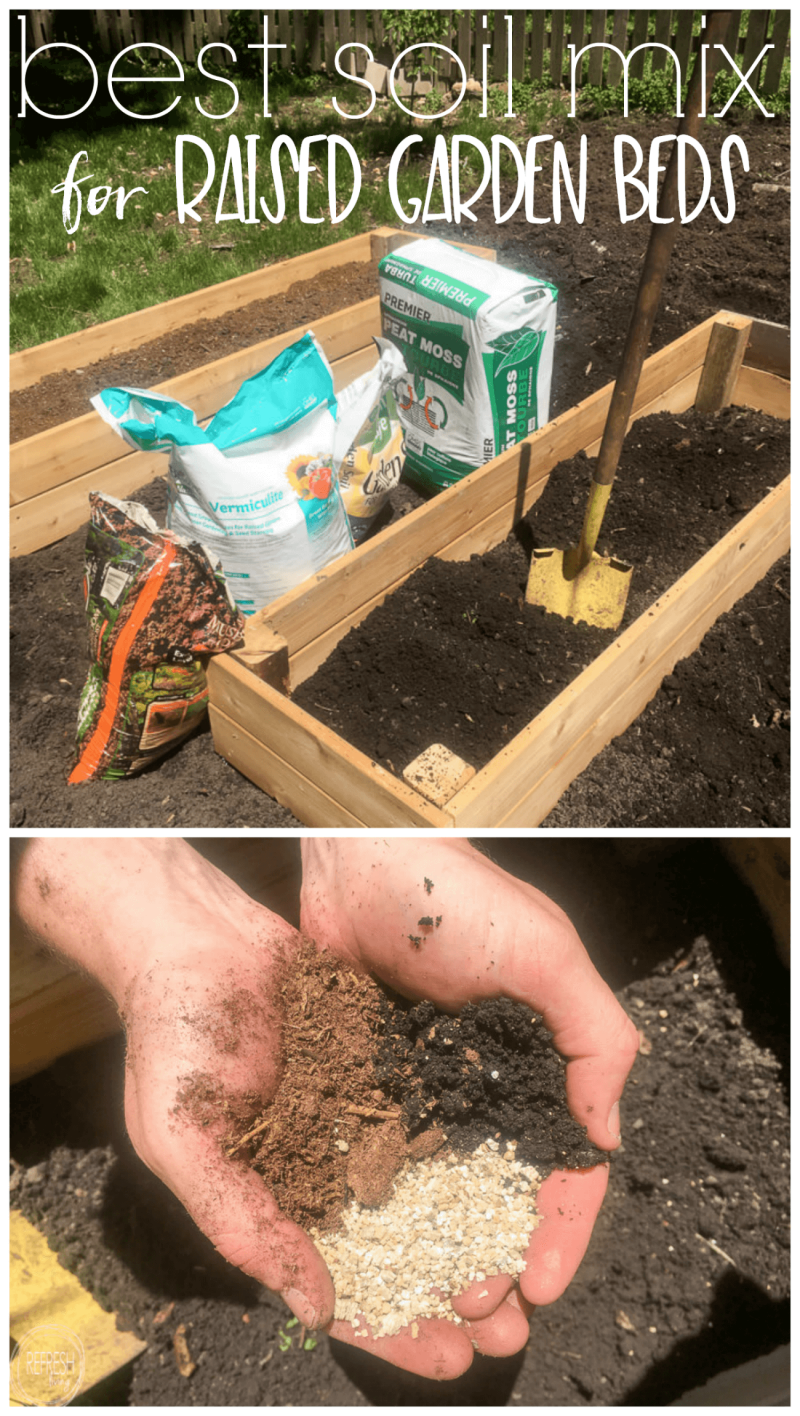 Over the last couple of years, as raised beds have gained popularity, I've started to see premixed "raised garden soil mixtures" at home improvement stores.  Of course, the cost is significantly higher than it should be, but I suppose we live in a culture reliant on convenience and people will totally buy it, not knowing that by purchasing a couple of different bags at that same store, they could make their own mix, and pay a lot less in the end.
Soil blend for raised beds
peat moss (or coconut coir)
compost (or garden soil supplemented with compost)
vermiculite
Yep, those are the only three "ingredients" you need to put into a raised garden soil mix, and all can be found at the store, right near that premixed bag with the higher price tag!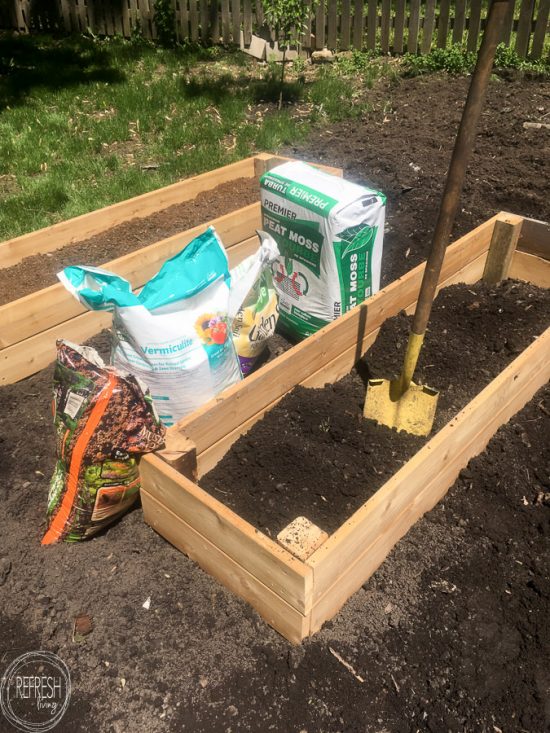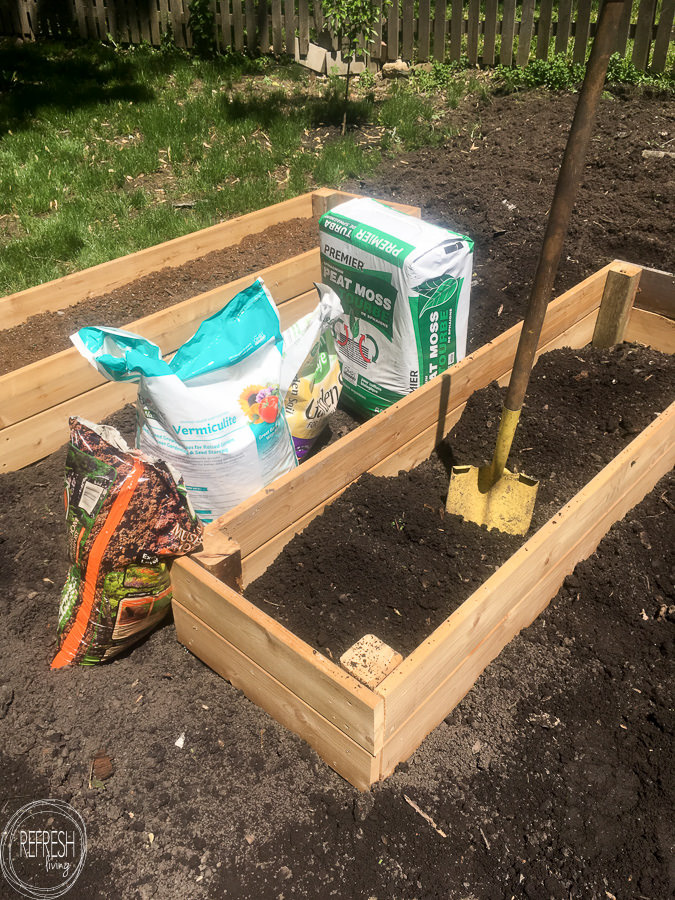 If you have a large enough container, just mix equal parts peat moss, compost, and vermiculite and then add it to the raised bed.  To mix directly in the raised bed, just layer each component in thin layers, and use a hoe or shovel to mix it all together after it's halfway filled, and then once it's completely filled.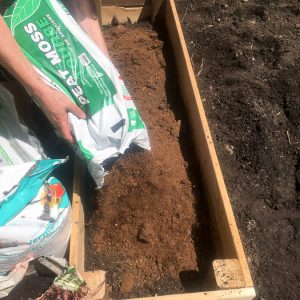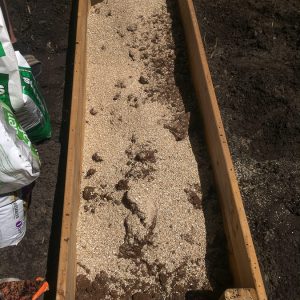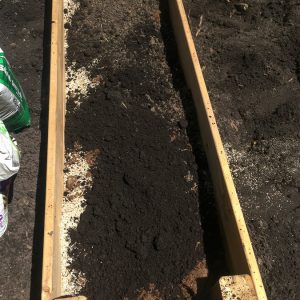 I planted squash and pumpkin plants in these raised beds, along with some onions, and made an arch spanning over the two beds for the squash to grow up.  I'm hoping in a month or so we'll have a covered squash tunnel for the kids to walk under!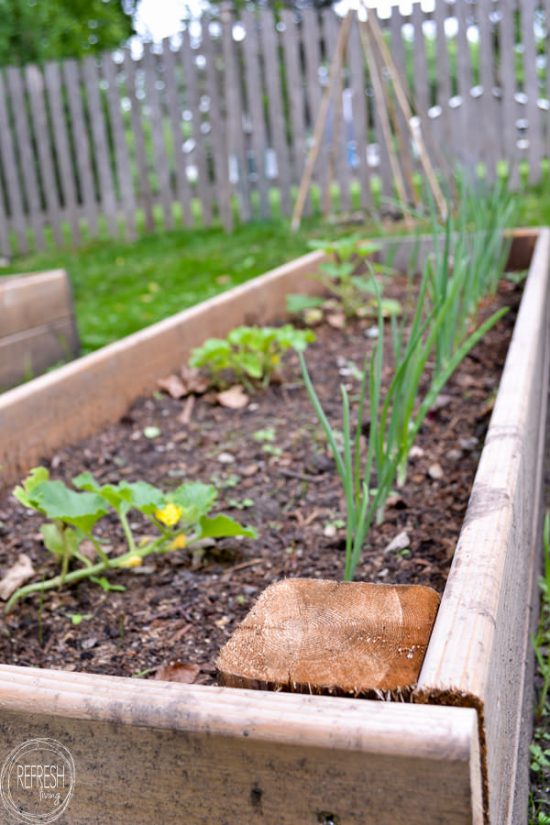 This area in our backyard is the last section of our yard, behind the garage. It has been a work in progress for years (and years and years and years).  All I can say is that we found the foundation, dishes, and chimney from a house that used to be back here, along with a half buried car, hidden in the brush and trees.  It's finally cleared, all the concrete foundations have been removed, and we're slowly landscaping, planting grass seed, and creating a mini orchard. Next year, I plan to make 6 more raised beds for this area and I'll move my entire garden here, but we first need to continue to level and ready the ground to the right of this area. Slowly but surely, it will get done!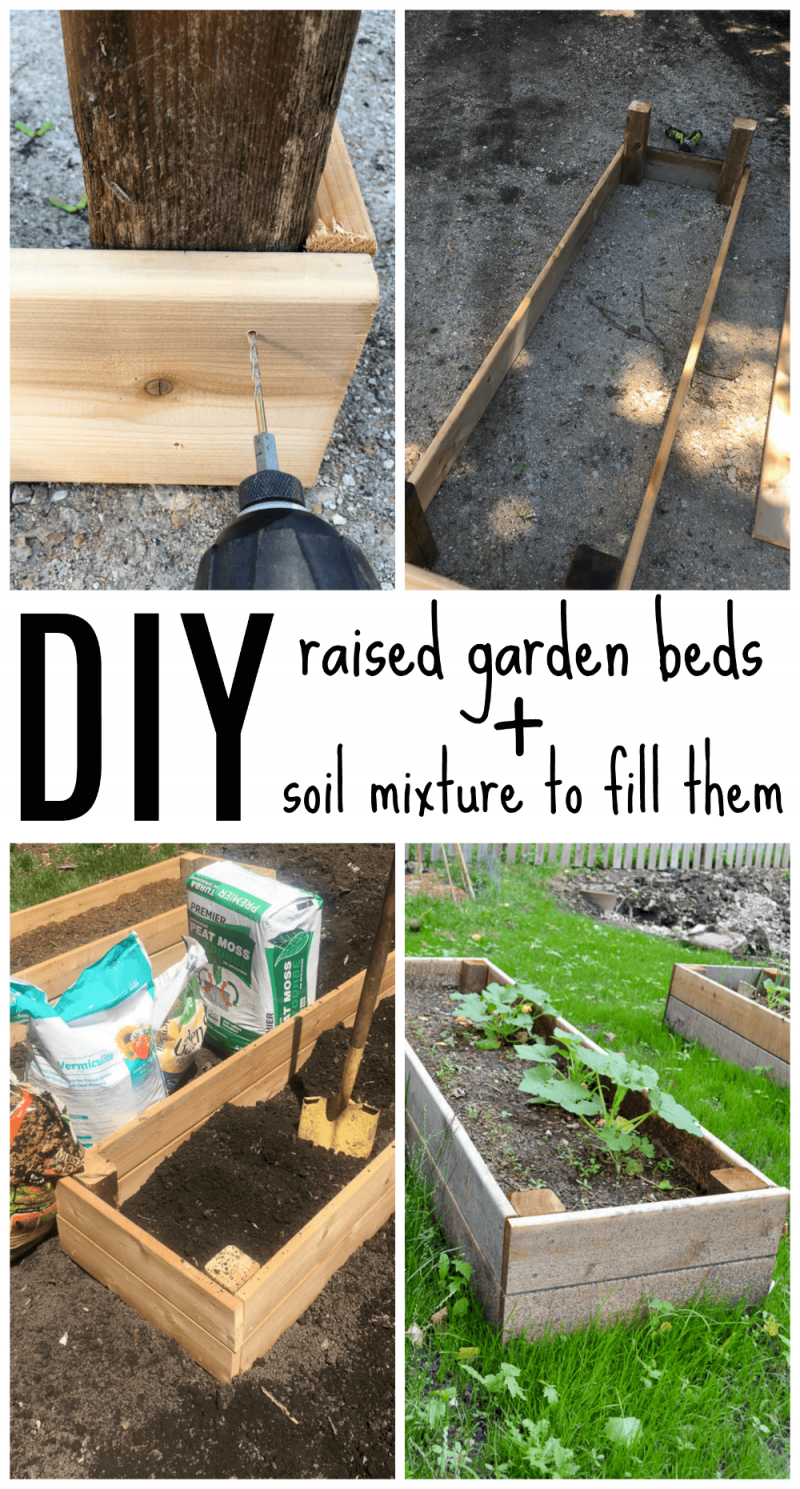 Like what you see? I'd love for you to follow along!

Join the Refresh Living DIY & Upcycling Community
Join the subscriber list to receive one to two emails per month with updates from the blog. PLUS, you'll gain access to my printables and graphics library. Every new design I create will be added here, and you'll have free access - forever!