I'm always looking for ways to reuse glass jars leftover from salsa, applesauce, and pasta sauce. I admit to having a box of glass jars in the basement stashed away for future projects. The only problem is that I don't exactly know what those projects will be yet. My one rule is that if the box gets too full, I won't let myself add to it, instead I'll recycle them (or figure out a project to use some of them up). I'm trying not to let my hoarding instincts get the best of me!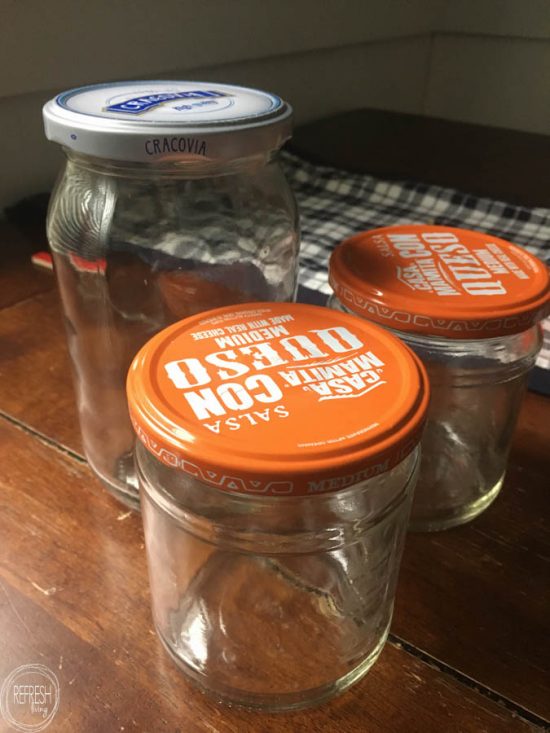 I had a slight obsession with salsa cheese in a jar during this last pregnancy, and as a result, I was left with a few small sized wide jars. (Yes, I know cheese in a jar is not a great source of nutrition for a growing baby, but a little snack once in awhile isn't going to hurt anybody!)
I painted the lids (both the inside and out) with a copper spray paint I had leftover from another project. Of course, you could use any color you'd like for this!
I used hot glue to attach the little figurines to the bottom of each lid. I found most of these little guys at Michaels, and I had a variety of bottle brush trees from this 10-pack of trees.
I brushed some glue on the inside of each lid and sprinkled fake snow over each one. After the glue dried completely, I added more fake snow to the inside of the jar and screwed on the lids.
It was strangely fun to decorate these little scenes. I let my girls help pick out some of the items, but I'll admit, Mommy had the final say in the arrangement of these. It brought out the kid in me for some reason!
It doesn't get any cuter than a deer family in my book! We actually had a doe and her three fawns near our cottage this fall. We've seen them every time we've gone up there, starting with when those little babies were only a couple of days old. My girls have loved watching them get bigger every time we see them!
Now it's time to figure out some more uses for all the other glass jars I have sitting in my basement!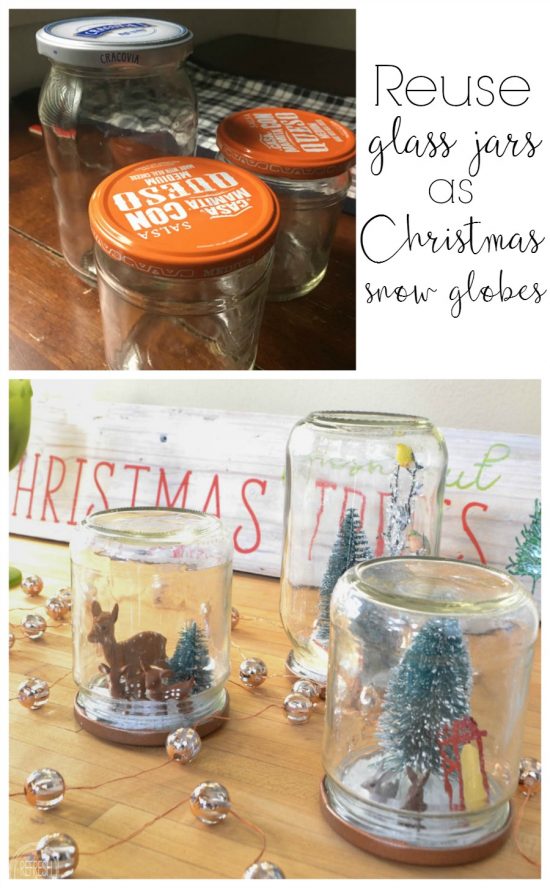 I also used some jars to make little storage containers for our bathroom.
I'm pretty much obsessed with reusing items to decorate our home for the holidays. You can find a bunch of other
upcycled creations for Christmas
(and most of the other holidays, too) by clicking on this image: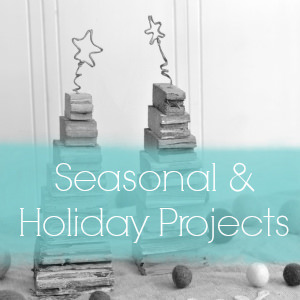 Like what you see? I'd love for you to follow along!
Facebook || Pinterest || Instagram || Google + || Bloglovin'

Join the Refresh Living DIY & Upcycling Community
Join the subscriber list to receive one to two emails per month with updates from the blog. PLUS, you'll gain access to my printables and graphics library. Every new design I create will be added here, and you'll have free access - forever!