Easily update any ceramic figurine with this DIY antique mirrored glass tutorial. By using black spray paint, vinegar, water, and mirror glass spray paint, you can give basically any home decor item a new antique glass finish.
I love "window shopping" around the holidays. Basically, I browse the Christmas section of any store I visit and search through the holiday items at West Elm, Crate and Barrel, and Pottery Barn online. (You'll rarely find me physically in these stores unless I'm buying a wedding gift for someone – they're way too pricey for my budget!)
I don't usually buy anything when I'm walking through the Christmas items. Instead, I stash away little ideas in my head of how I can replicate a look I love for a lot less. I saw these antique glass Christmas trees at Crate and Barrel and these mercury glass trees at Ballard Designs (at the hefty price of $40-$50, per tree!) and I knew I could easily replicate the look.
I've also created a DIY Christmas village from thrift store finds, made free snowflake ornaments from toilet paper rolls, and upcycled an old scarf to make a DIY winter wreath.
This post contains affiliate links. You can read my full disclosure policy here.
How to Make Clear Glass Look Like an Antique Mirror
Basically, to make clear glass look like antique glass, all you need is a spray bottle, some vinegar, water, and mirror effect spray paint to create an antique mirrored look on clear glass. Rustoleum now makes Mirror Effect spray paint in both gold and silver, so you have a couple of choices when it comes to the finish.
You simply mix a 50/50 ratio of water to vinegar in a spray bottle, give the glass a quick mist, and then spray the mirror glass spray paint right onto the glass.
While the paint is still wet, use a paper towel to dab at the paint, and the places where the vinegar/water spray hit will lift off the glass.
For any subsequent layers of paint, you'd go through the same steps: spray, paint, dab. I've had the best results with doing two coats using this technique, as different amounts of coats of paint will give different effects.
How to Make any Object Look Like an Antique Mirror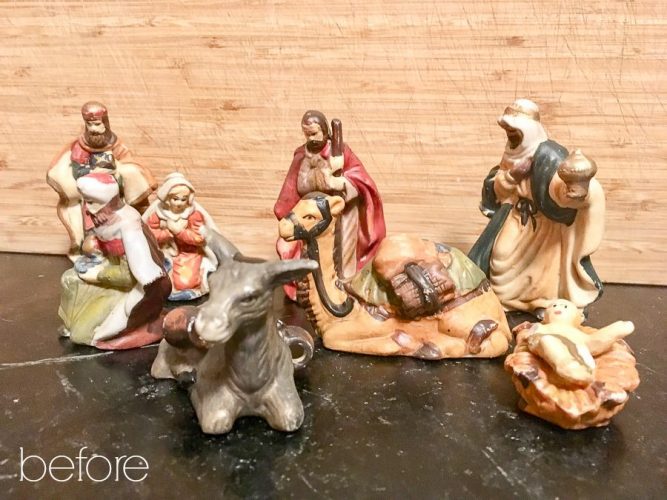 I've used the technique described above on glass with great success, but for this project, I wanted to transform this nativity set I found at an estate sale for $2.
Of course, the problem was that the figures weren't made of clear glass. I first tried to just use the the same technique with the vinegar and spray paint, but I didn't like how the original colors showed through. The mirror effect paint doesn't give a full coverage over the painted ceramic, so it just looked a little strange.
I then decided to give all of the pieces a consistent base color of black and after finishing them, I loved the look.
Here are the steps to give any object an antique mirror or mercury glass finish:
Clean all surfaces and then wipe down everything with rubbing alcohol and let dry completely.
Mix water and vinegar at a ratio of 1 part vinegar to 1 part water and add to a spray bottle set on mist (not stream).
Lightly spritz the surface of the object with the vinegar/water mixture.
Then, immediately spray a coat of mirror effect paint all over the object.
While the paint is still wet, lightly dab at the surface with a paper towel to remove some of the paint (in the places where the vinegar/water hit).
Let dry, and then you can repeat steps 3-5 until the desired finish is achieved.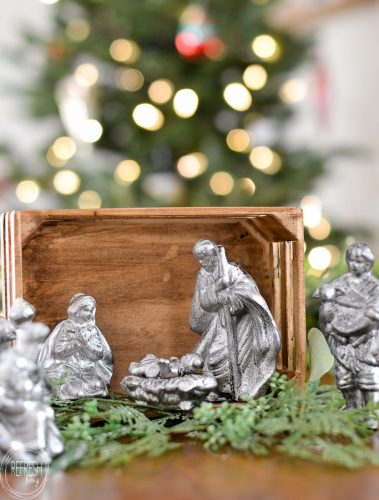 I know these aren't the lighted Christmas trees I linked to at the beginning of this post, but I still wonder what a mercury glass nativity set would sell for at a store like Crate and Barrel. I'm guessing more than $2 and a can of spray paint that I already had sitting around the house.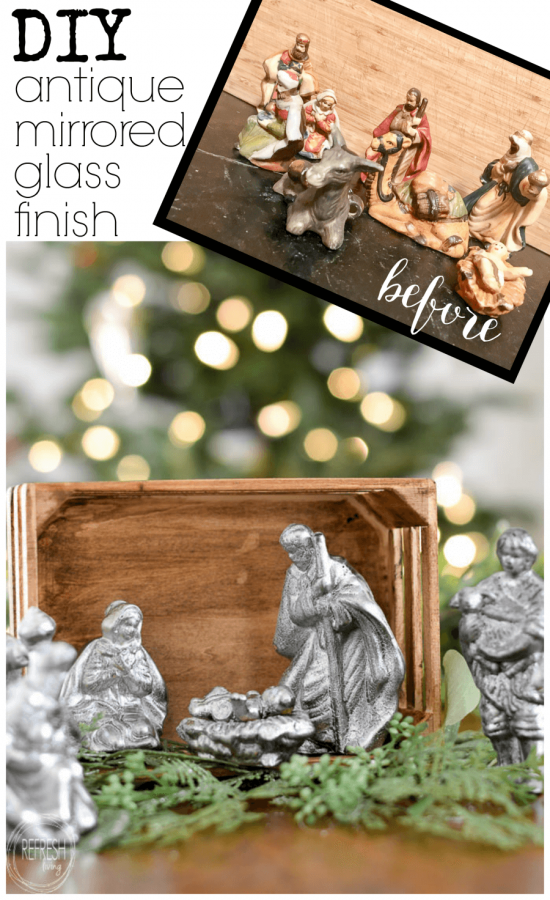 If you're a Christmas decorations window shopper like me, I think you'll like some of these other upcycled and DIY holiday projects:
You can find all my DIY Christmas projects here:


Join the Refresh Living DIY & Upcycling Community
Join the subscriber list to receive one to two emails per month with updates from the blog. PLUS, you'll gain access to my printables and graphics library. Every new design I create will be added here, and you'll have free access - forever!