Easy and inexpensive holiday craft! Reuse old toilet paper rolls to make beautiful snowflake ornaments perfect for the holiday season. Plus, they can stay up as decorations well past Christmas as winter decorations.
These DIY snowflake ornaments are made from old toilet paper rolls and are so cheap and simple to make! I've made a bunch to decorate my home, and I've also made them with my students as a great holiday craft for middle school. One toilet paper roll makes one snowflake and there are so many different ways to change the design slightly to give each snowflake a unique look.
I love decorating for holidays on a budget, and this snowflake craft definitely fits as a budget-friendly craft. In fact, if you already have glitter, you might very well have all of the supplies needed already making it virtually free! I've also created a DIY Christmas village from thrift store finds, upcycled an old nativity set with an antique mirror finish, and reused old glass jars to make snow globes.
In this post you'll find a video tutorial, variations for how to make snowflake ornaments, and a few different design ideas! This post contains affiliate links. You can read my full disclosure policy here.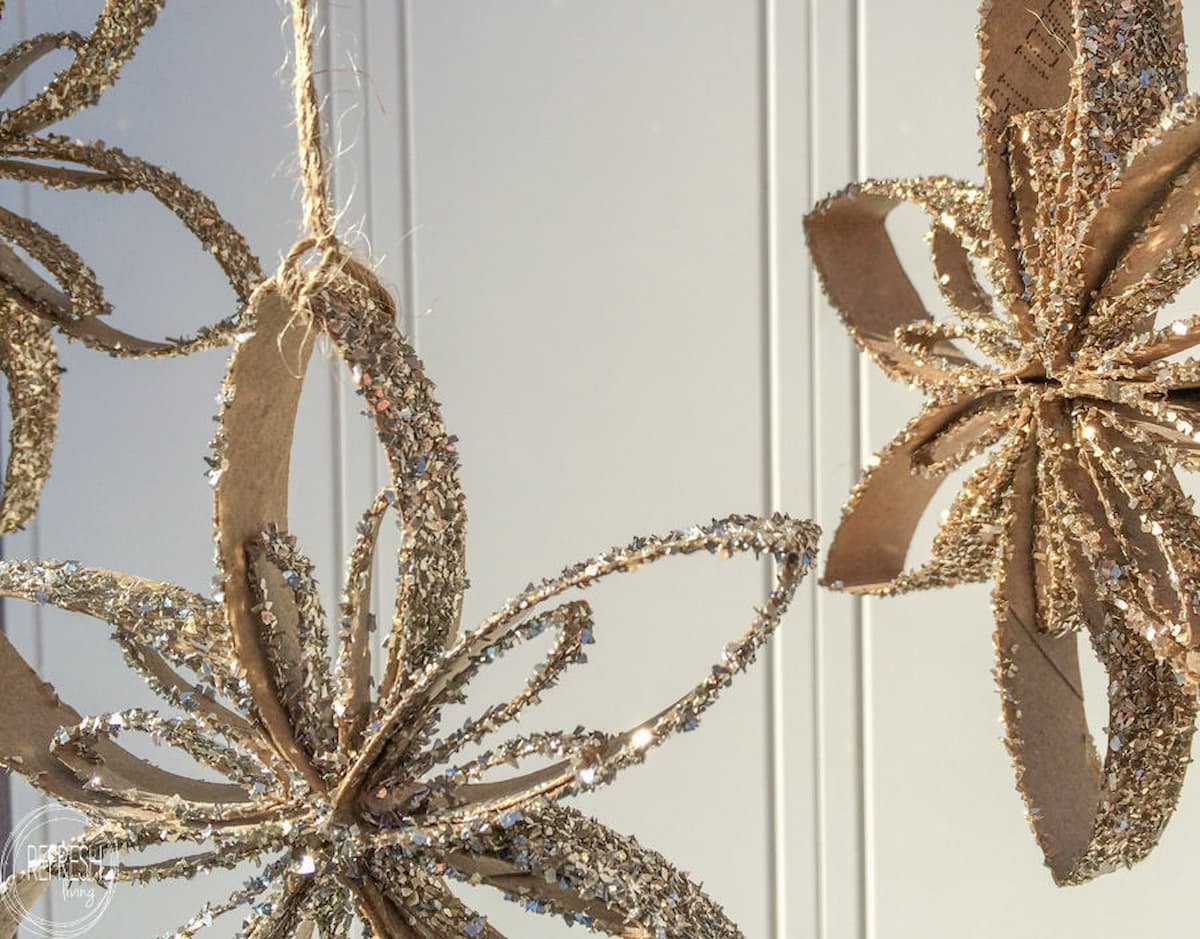 Supplies to Make Snowflake Ornaments
Create the Snowflake Shape
First, collect up some empty toilet paper rolls or paper towel tubes. One toilet paper tube will make one snowflake.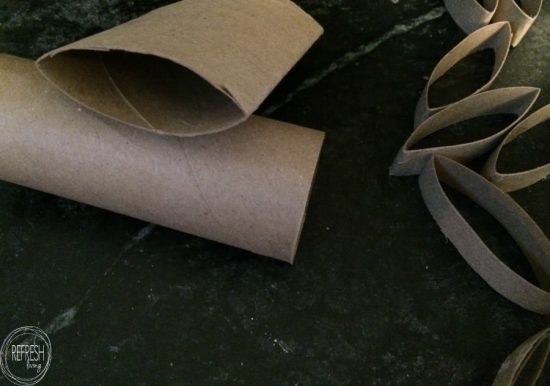 Next, crease the tube down flat, and cut it into 6 strips about 3/8 inch thick.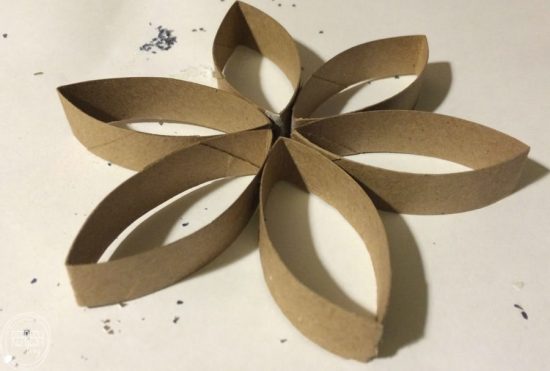 Use hot glue or double sided glue dots to glue the points of the tube to one another, forming the snowflake shape. White glue does not work as well for this step, as you need to hold together each piece and allow it to dry before moving on to glue the next piece. Hot glue or glue dots make this step very quick. (I made the mistake of giving 6th graders tacky glue for this step and I had a lot of kids give up halfway through because they were sick of holding it together to dry!)
Use the leftover amount of tube to cut 6 thin strips, about 1/4 inch thick, and fold each of those pieces in half. These small pieces can be glued to the snowflake in two different places (or both!) to give different looks.
Snowflake Design 1
Glue the small folded pieces to the inside of each tube ring.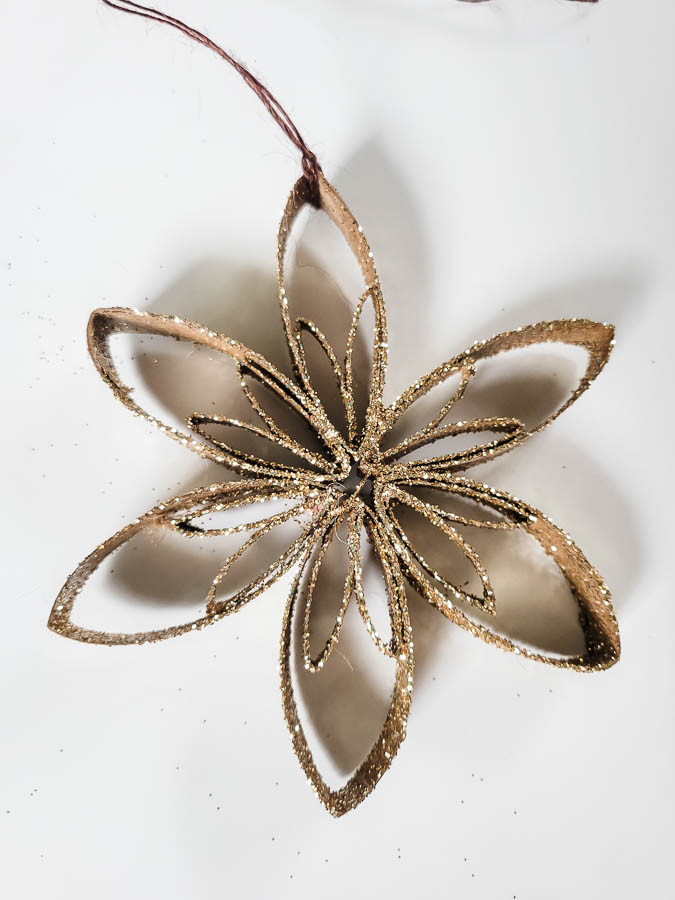 Snowflake Design 2
Glue the small folded pieces to the outside of each tube ring, forming points on the outside of the snowflake.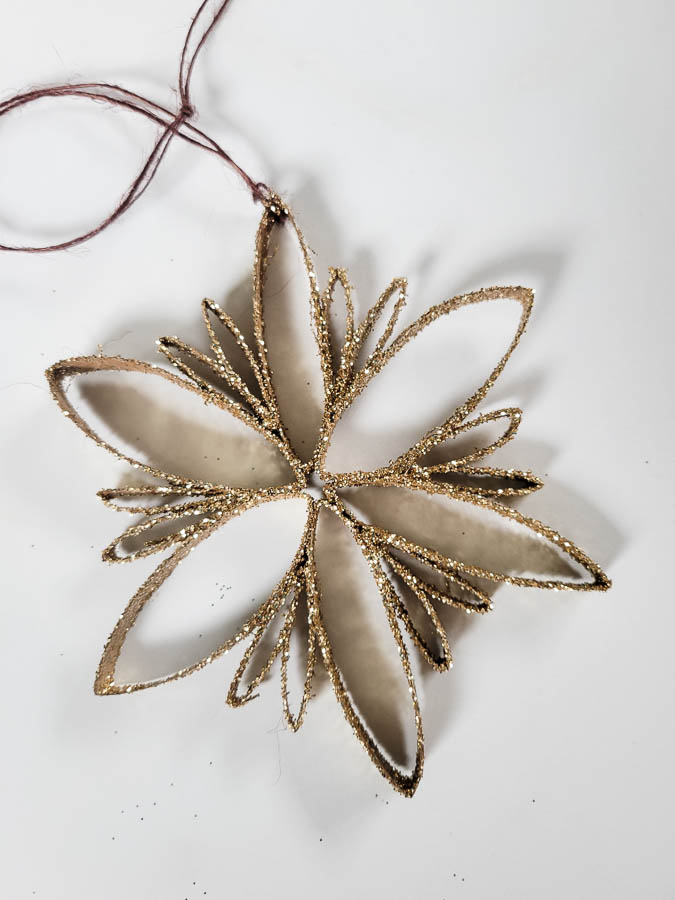 Snowflake Design 3
You'll need a little more than one toilet paper roll for this, but you can also glue the small folded pieces to both parts of the snowflake as well!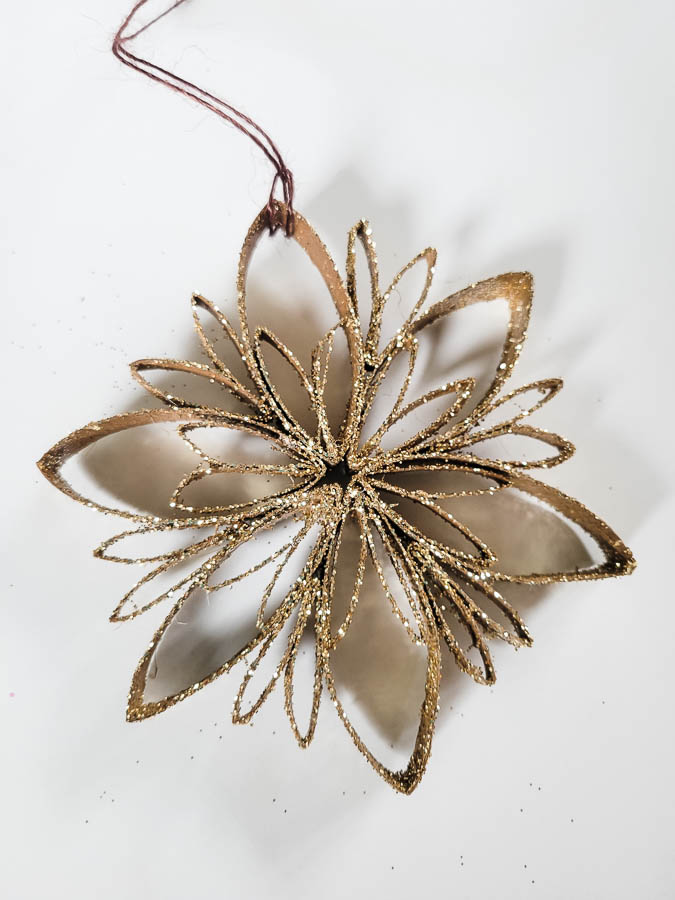 Add Paint and Glitter to Snowflake
You can customize the look of your snowflake ornament by painting the toilet paper rolls or applying the glitter in different ways.
Paint the Tube First
If you want to give the toilet paper roll some color, you'll want to paint it before adding the glitter. I spray painted one in white and one in black to try out different looks, but you could use any color of any type of paint here to completely customize the look.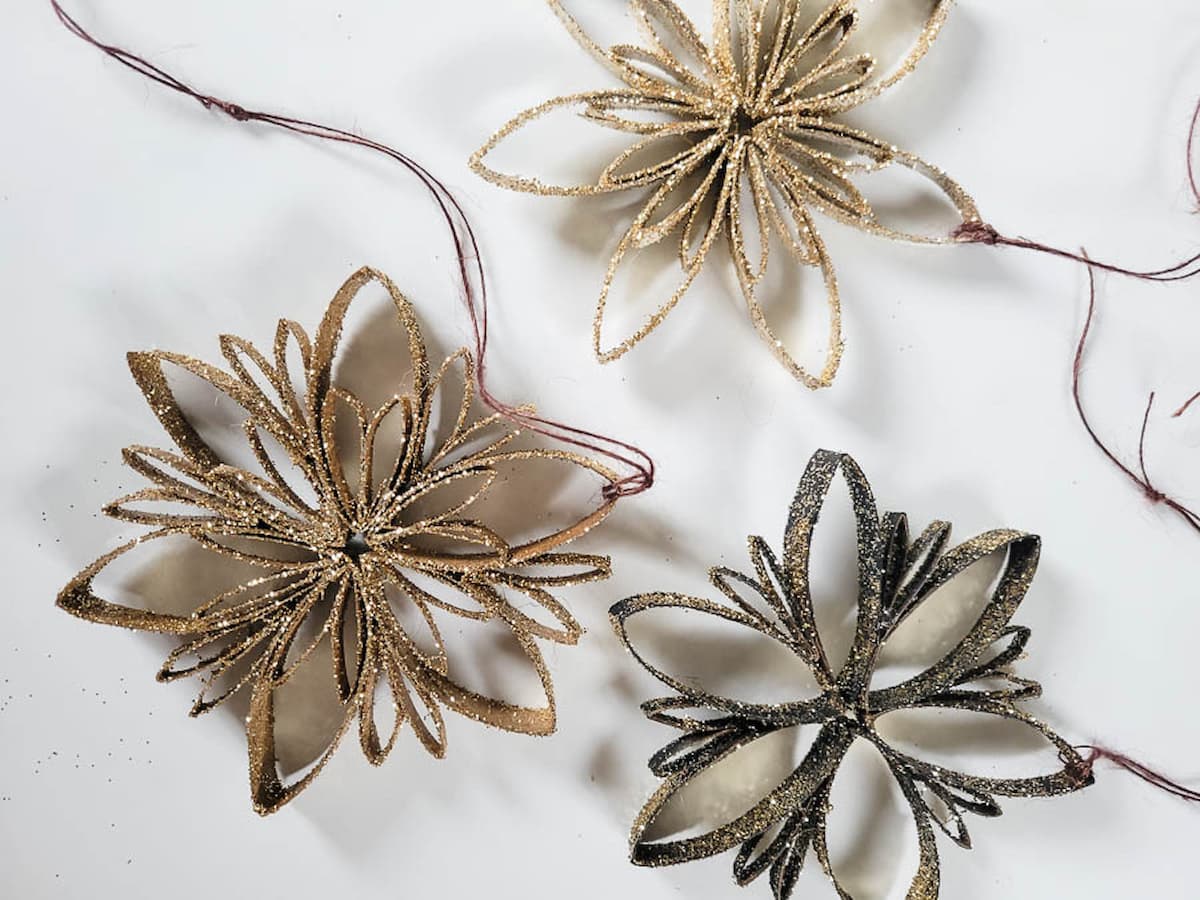 Add Glitter with White Glue
If you're looking for a ton of sparkle on your snowflake, I'd recommend using white glue. The only downfall with this method is that it's difficult to get the glue into all of the grooves and on both the inside and outside of the flake. It's possible, just a bit messy. I found it helpful to add the glitter to the small folded pieces first, before gluing them to the large snowflake.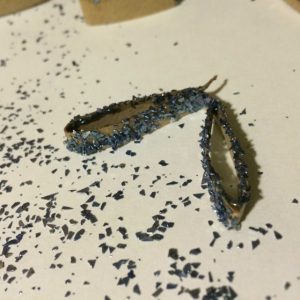 If you wanted to add glitter to the inside of the snowflake, you'll want to do that before gluing in the small folded pieces. Then, just sprinkle glitter over the areas with glue and let it dry.
Add Glitter with Spray Adhesive
This method for applying the glitter is much faster than using white glue. After gluing together all the pieces of your snowflake, simply spray it with spray adhesive. This allows you to easily apply glue in any area of the snowflake. Then, add glitter and let dry.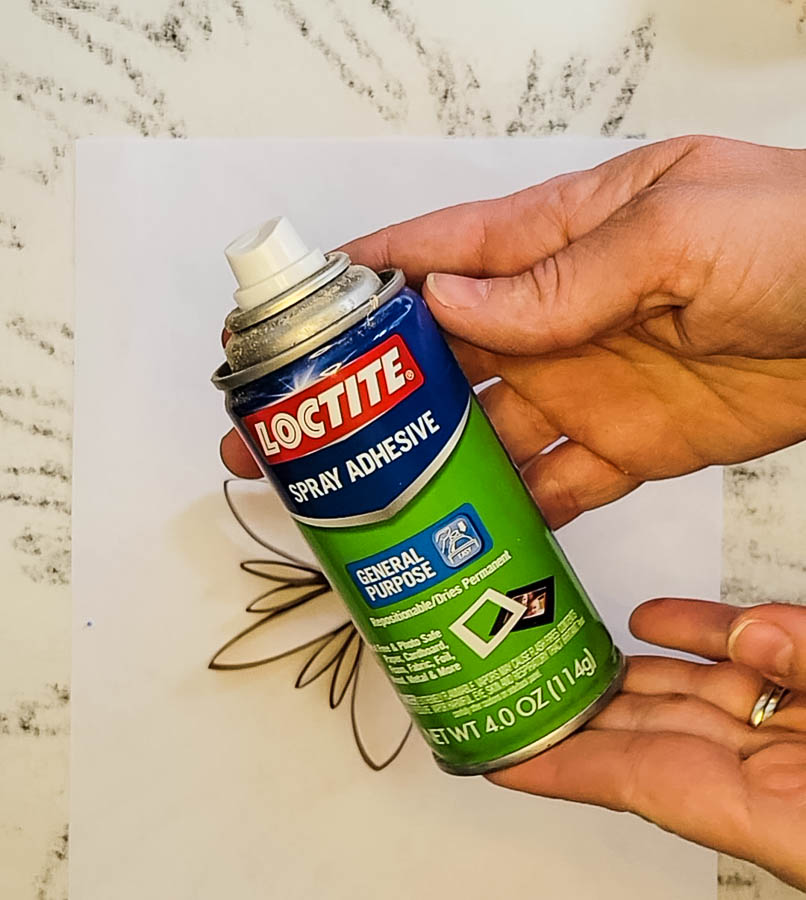 The downside to using spray adhesive is that I've found the glitter doesn't stay quite as well as compared to white glue. If you're going to be moving these around a lot or in a place where they will be touched often, I'd recommend using white glue. If you're just hanging them for display, spray adhesive will work just fine.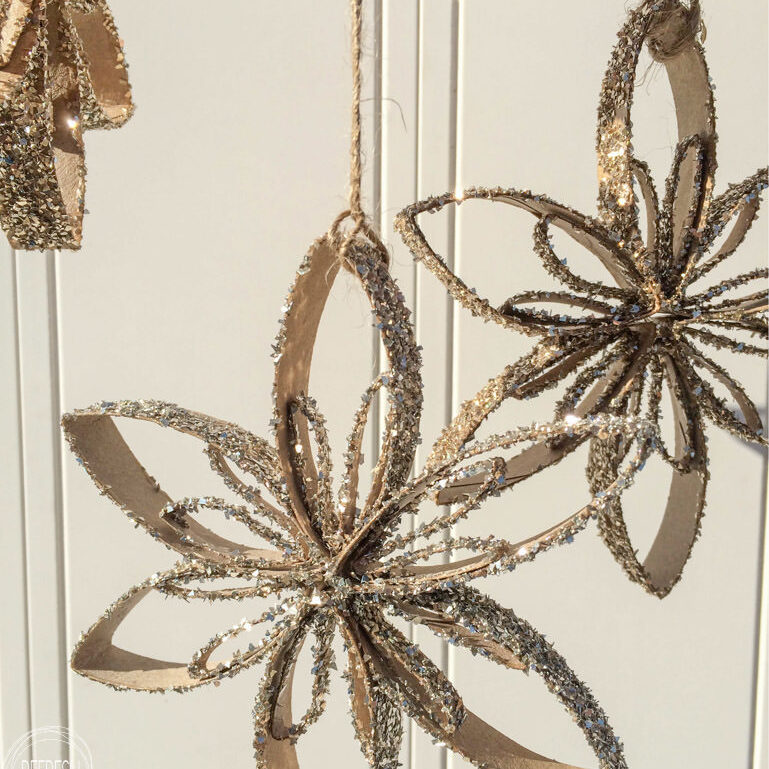 Tips for Making this Holiday Craft with Upper Elementary, Middle School, or High School Students
Use double sided glue dots (unless you have access to a decent amount of hot glue guns!)
If you're having them paint their snowflakes, have them assemble and paint on the first day. Then, on a second day have them add the glitter.
I've only had students use white glue to attach the glitter. They've come up with some cool variations of colorful glitter!
Make a glitter station (a couple of desks pushed together with a plastic tablecloth on top). Have all the students apply the glue at their seats, and then go to the glitter station to add the glitter.
Put a large drop cloth or table cloth on the ground to catch all the glitter that will inevitably get on the ground. Your custodian will thank you!
You could have students glue a small picture of themselves in the middle to give as a gift (although middle schoolers will not like this idea)!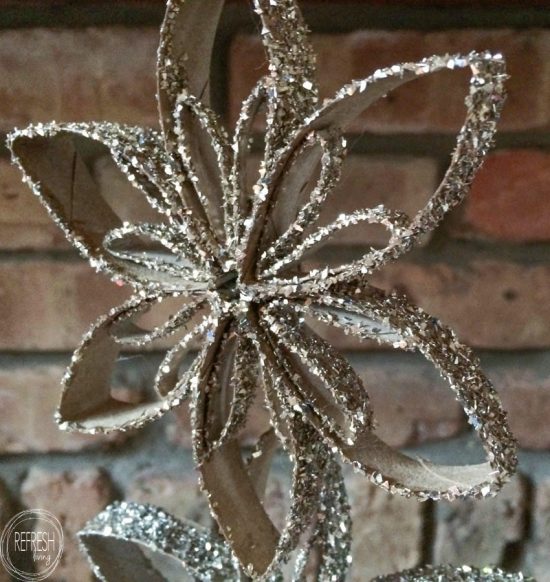 You could use these as DIY ornaments, make a garland out of them, hang them in your windows, or use them as little stocking ornaments. I'm thinking of try to make a full wreath with them this year!
Like it? Pin It. (Thank you!)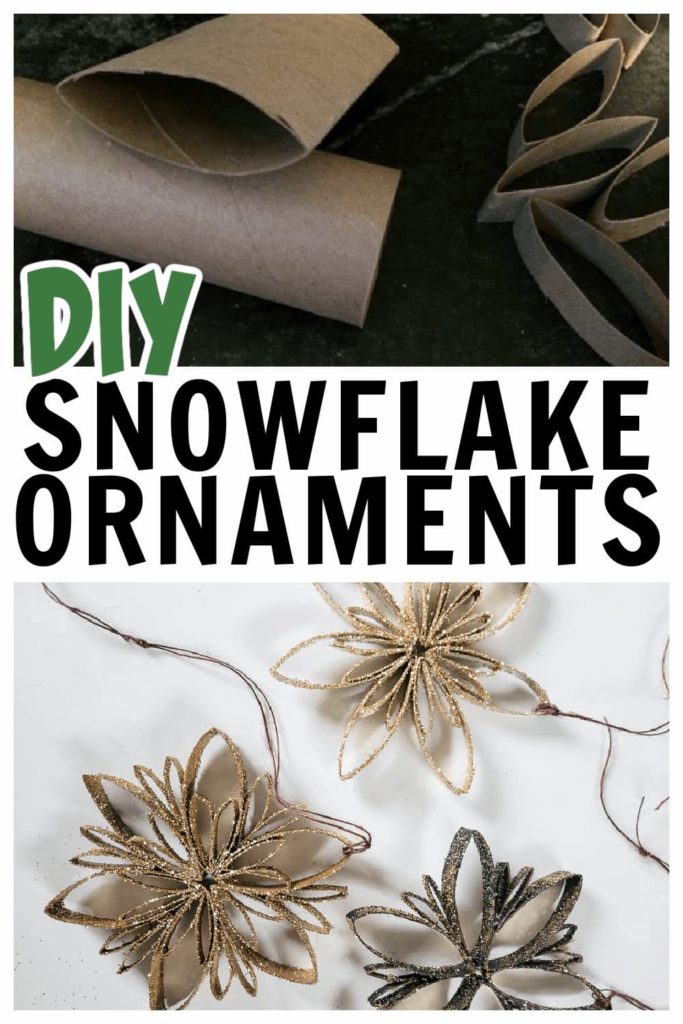 Even More DIY Christmas Decorations

Join the Refresh Living DIY & Upcycling Community
Join the subscriber list to receive one to two emails per month with updates from the blog. PLUS, you'll gain access to my printables and graphics library. Every new design I create will be added here, and you'll have free access - forever!